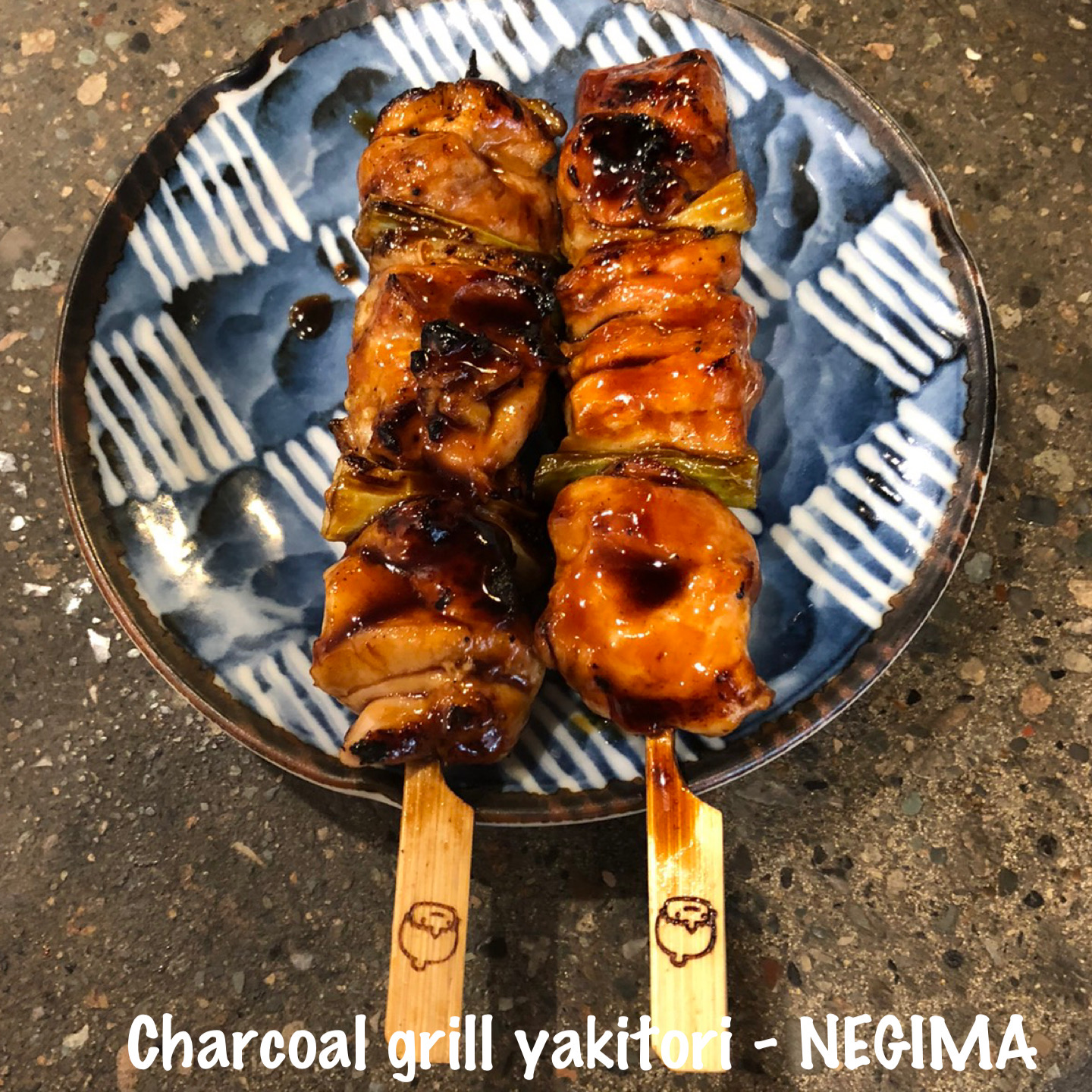 In Japan, Yakitori is a typical kind of snack you have with drinks after work on the way home.  There are many Yakitori restaurants near Shinbashi station called Yakitori alley. Shinbashi is a town among buildings with a lot of salary-men or as we say, "blue collar workers".. Now after covid, some people are choosing to work from home which means fewer are out in Yakitori alley with colleagues and more are eating at home with loved ones.
What is Yakitori 
YAKI means grilled and TORI means chicken. Yakitori is grilled bite sized pieces of chicken on skewers with seasoned salt or original sauce. This food has been eaten for 350 years in Japan, from the Edo era, as this style according to Edo Ryori Shu and Gourui Nichiyo Ryori Syu. Yakitori was eaten at a food vendor during the annual festival held in Shrine at the time.
The chicken used for Yakitori has changed over time. Mainly wild birds were eaten before Showa era and imported cheap broilers from USA after WWⅡ which increased the number of Yakitori restaurants in Japan, and now, in Reiwa era, people prefer branded chicken because it's more certain where the chickens come from in terms of sustainability.
The main reason why Yakitori is so popular, is because it is grilled on charcoal. The high grade charcoal called Bincho would be the best for cooking Yakitori to keep the temperature high and stable. We love to watch grilling Yakitori on charcoal in front of us. There are more than 20,000 Yakitori restaurants in Japan now and maybe around 10 Yakitori restaurants in Australia (here is a part of).
Yakitori in Australia 
Yakitori is a new boom among a multicultural country, Australia. Kebab with their origin is Middle Eastern, varieties are popular in Australia. My first experience of Kebab was in Tokyo, Roppongi, there was a food vendor selling kebabs after drinking food just like ramen for Japanese people. I still remember how interesting it was to see the way to eat Kebab. In Australia, because it is so multicultural, there are kebab varieties from Turkey, India, Africa, Bangladesh, China, Greece, Iran, Iraq, Pakistan, Indonesia and so on. Churrasco, Brazilian barbecues, is also popular as skewer based food too. Grills and skewers are common things between Yakitori and other types of grilled skewers food. But in many other ways they are totally different dishes.
Skewer three years, Grill life time,
an ancient tradition in Japan for Yakiori
Japanese chefs of Yakitori must train three years for mastering the art of cooking with skewers. It sounds crazy, doesn't it? It shows a Japanese food culture based on craftsmanship. They care how perfectly the skewer would be, so carefully skewer the centre of bite sized chicken of each part to even think about the symmetric shape when it's all grilled. And the skill of grilling is even more challenging. They must calculate the perfect time for how long grilling should be depending on each part of chicken which all need different time to grill. And also seasoning, chefs must know what seasoning would be the best for each part. They use very fresh chicken so don't need strong spice to kill the smell. They use seasoning to bring out the original taste of chicken.
Yakitori At Home 
Bite sized pieces of chicken thighs and spring onions are threaded onto bamboo skewers, and grilled on charcoal, it's called Negima in Japanese. This Yakitori goes well with original teriyaki-graze to be seasoned. Also chicken hamburger on bamboo skewer is a very popular Yakitori called Tsukune. These teriyaki sauces taste better when they're sealed in vacuum packs because the taste soaks into yakitori for days. Yakitori Yurippi in Crows Nest is excited to release their first Yakitori product for eating at home. These Negima and Tsukune are grilled on charcoal and seasoned with their original teriyaki sauce at a restaurant, sealed in vacuum packs and delivered to your home. When you feel like a drink at home, you can just microwave them to go with your favourite drink. Or it's very good with steamed rice for dinner too. Find out more from here.
It's getting more popular to eat at home in Japan too. One of the most prestigious Yakitori restaurants, Toriko, has restaurants in Tokyo and New York, to let gourmet customers match Yakitori with world famous wines. After covid19, Toriko released Yakitori At Home set with ten different yakitori which are sealed with each seasoning and a grilling recipe specifically made for Yakitori.
I sent this gift to my father on Father's Day, 6th June in Japan, and he was extremely excited to receive it and ate it all on the day with my mum 🙂
We have more choices now to enjoy meals whether at home or restaurants. It would be good to try something new and find your joy in your way 🙂
Happy Washoku 😊