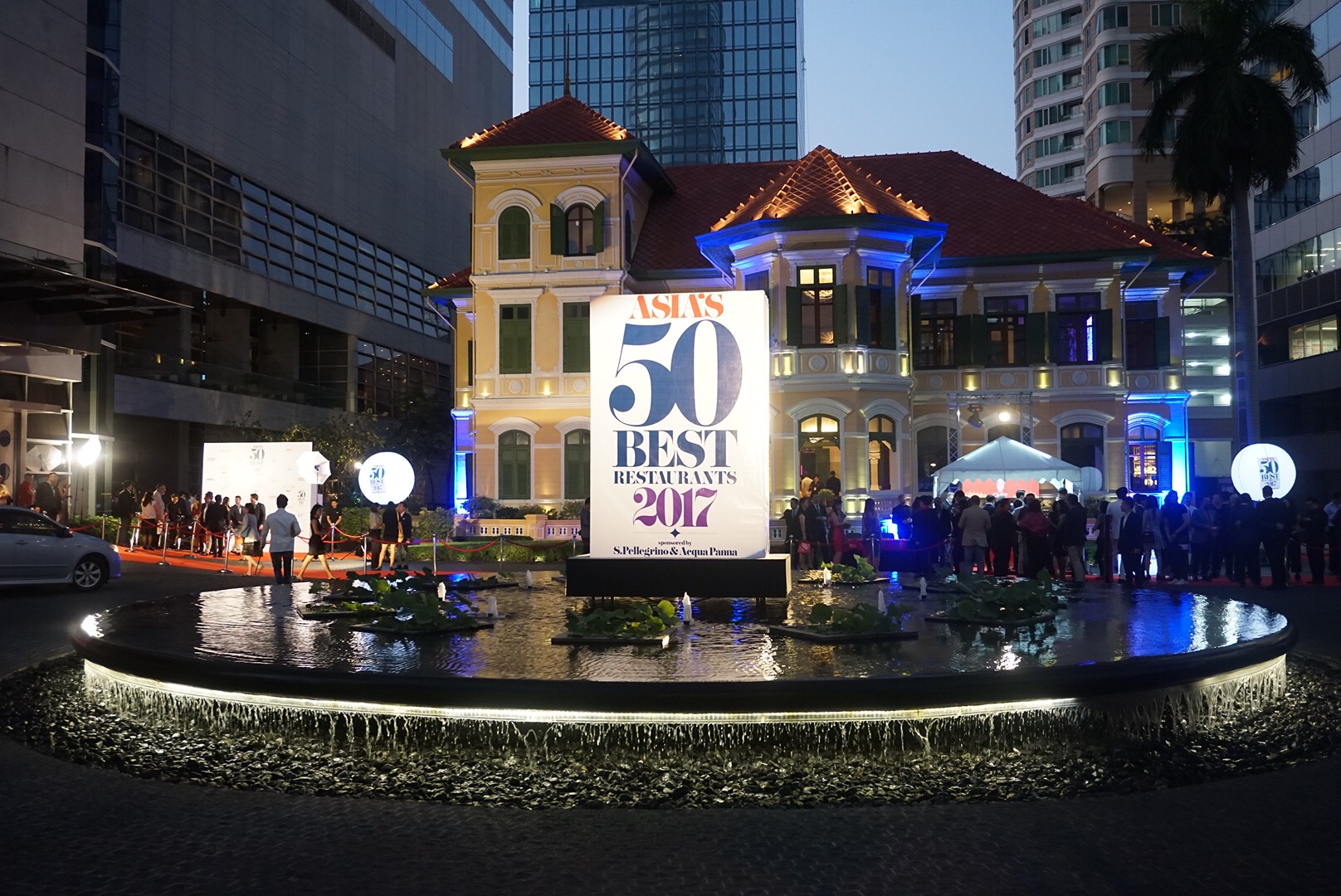 Washoku Lovers was proudly invited to the Asia's 50 Best Restaurants 2017 Awards, held in Bangkok, to support the Japanese chefs and the chefs who use Japanese ingredients outside of Japan. I was hoping Australia would be included in these awards, but unfortunately no Australian restaurant was featured in the top 50. Asia covers a number of countries, including India and Pakistan, East Asia and South East Asia, and a number of island nations including the Philippines. Even though Australia missed out, don't worry! The World 50 Best Restaurants 2017 will be held in Melbourne this year! Please keep your an eye open in April!
However, I was still able to meet Australian chefs who were nominated for Asia's 50 Best Restaurants 2017! David Thompson from Nahm in Bangkok, Kai Ward and Richie Lin (former chefs at Quay) from Mume, Taipei, and Dave Pynt from Burnt Ends, Singapore!! You can see what rank they were awarded at the bottom of this post!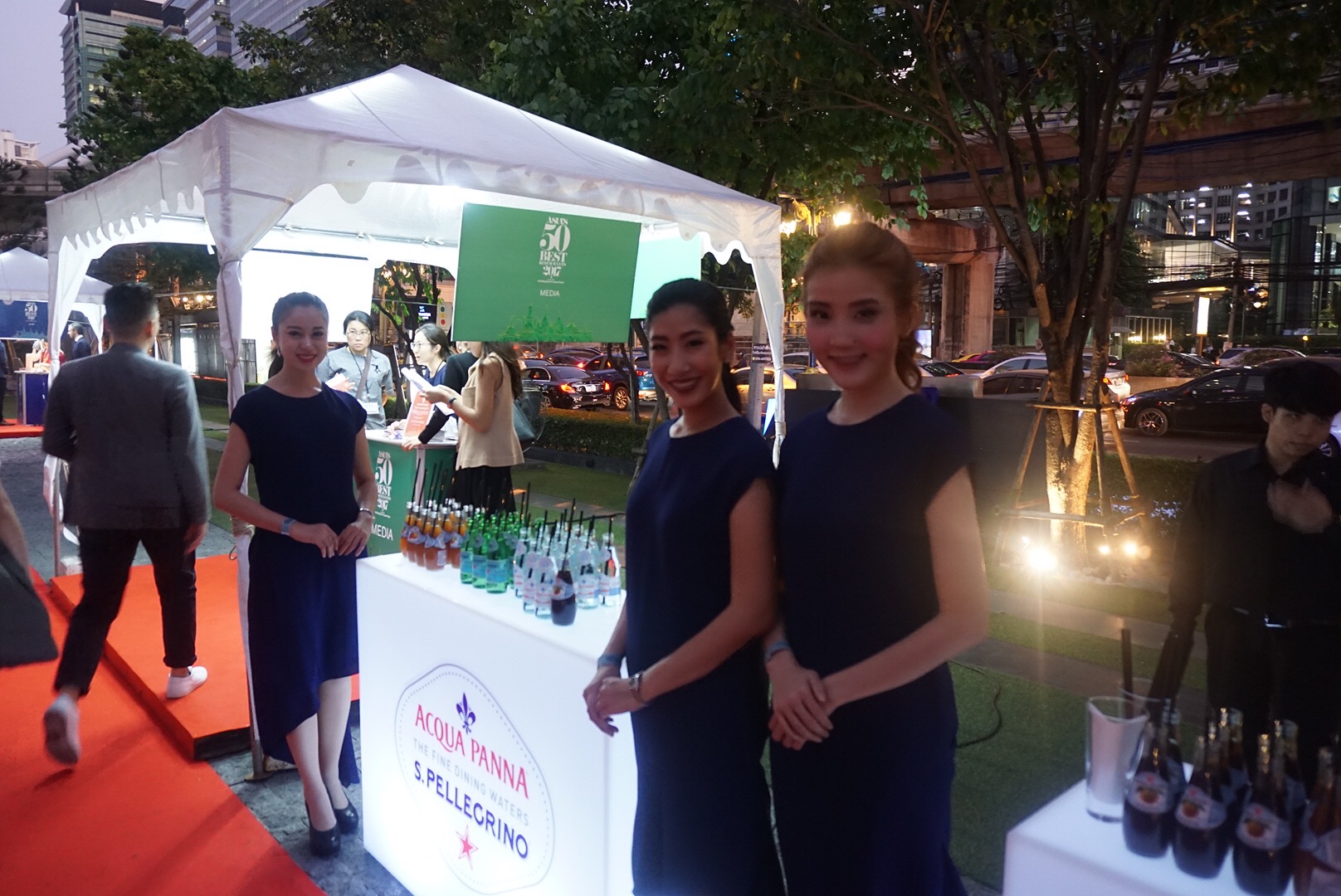 Pellegrino cocktails were handed out upon arrival at the House on Shathrn. Even though the event focused only on Asia, media outlets from all over the world were in attendance. Bangkok was chosen as the host city, not just because of its reputation for good restaurants but also safety, convenience and the city's atmosphere itself.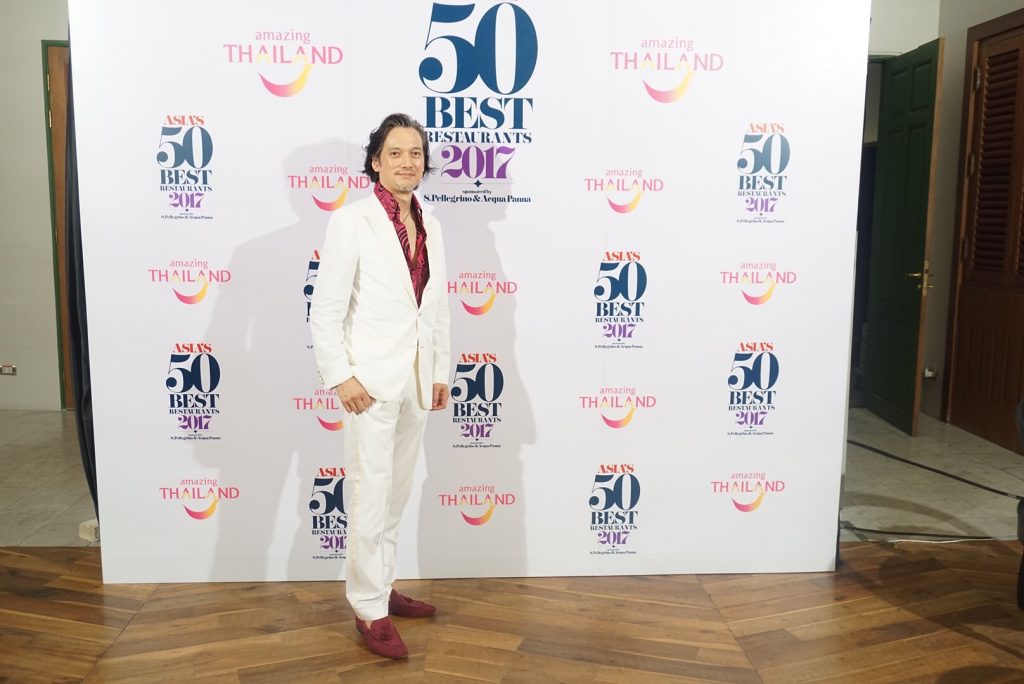 I was very happy to see Takanori Nakamura, who is one of the academy chairs of The World 50 Best Restaurants. I visited his tea house in his office which was a brilliant experience. He extremely knowledgeable about Japanese culture and also all cuisines as a food writer. He has a strong passion to support all the chefs in the world, and tries to eat as much as he can. I would like to introduce him to our Washoku Lovers Restaurants one day 🙂
I was honored to meet Koichiro Oshino, and Shunsuke Yoshizawa, both are amazing chefs working in Singapore and they were happily wearing kimonos supplied by Kanesaka in Singapore. I couldn't help but wonder how they manage to cook such beautiful washoku outside of Japan, though they assured me that compared to Australia it's quite easy in to get fresh ingredients in Singapore, they're even able to get fish delivered from Tsukiji fish market!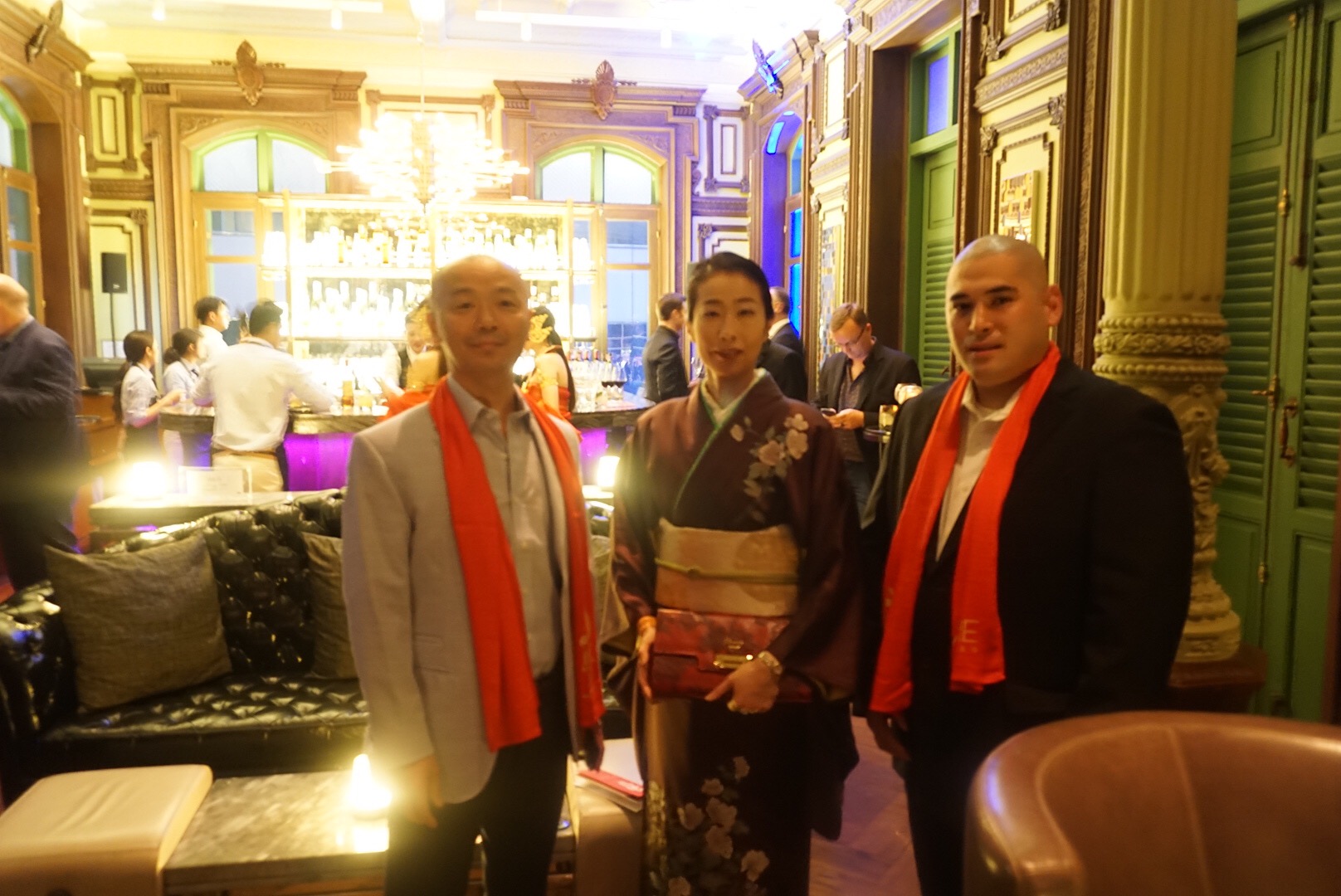 Here is the team of Hajime, a gastronomy restaurant in Osaka! The king himself, Hajime Yoneda, looked super comfortable and relaxed while his restaurant was receiving an award for being the 34th best restaurant in Asia! I've had the pleasure of dining at Hajime, the creativity is incredibly impressive and it's not hard to see why it's ranked so high.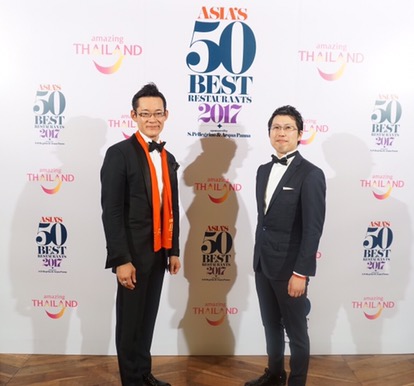 I also met the very very friendly chef Hasegawa from Den Restaurant. He was also excited to talk about Australian chefs such as Chase Kojima and Martin from Sepia. He loves to collaborate with wonderful chefs! His passion is so pure and it can be seen in his cooking.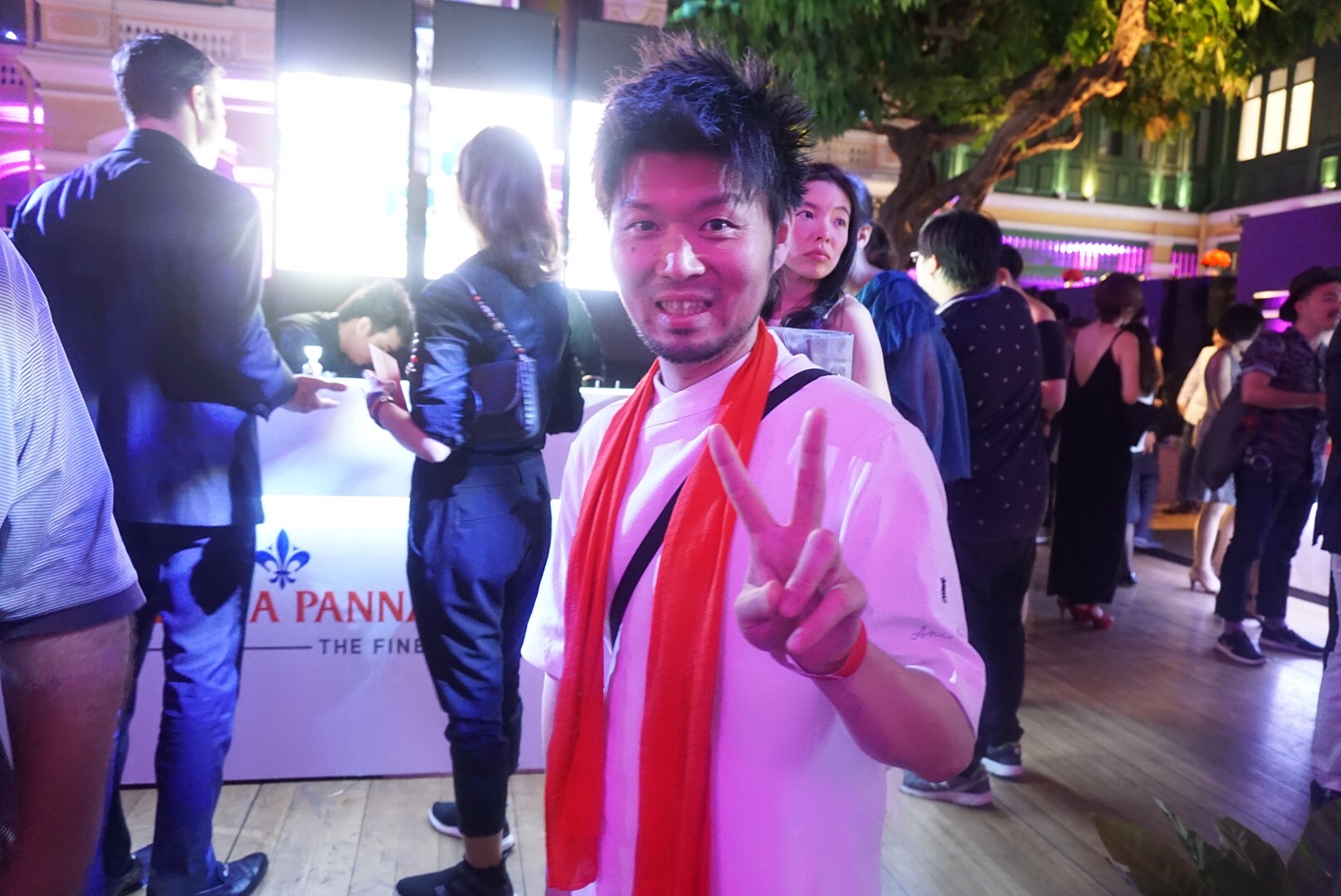 I heard some Japanese being spoken in the crowd and looked over to find chef Munidasa Dharshan – half Japanese half Sri Lankan and owner of the fine dining restaurant Nihonbashi in Sri Lanka. Munidasa is also an ambassador of the Cool Japan campaign.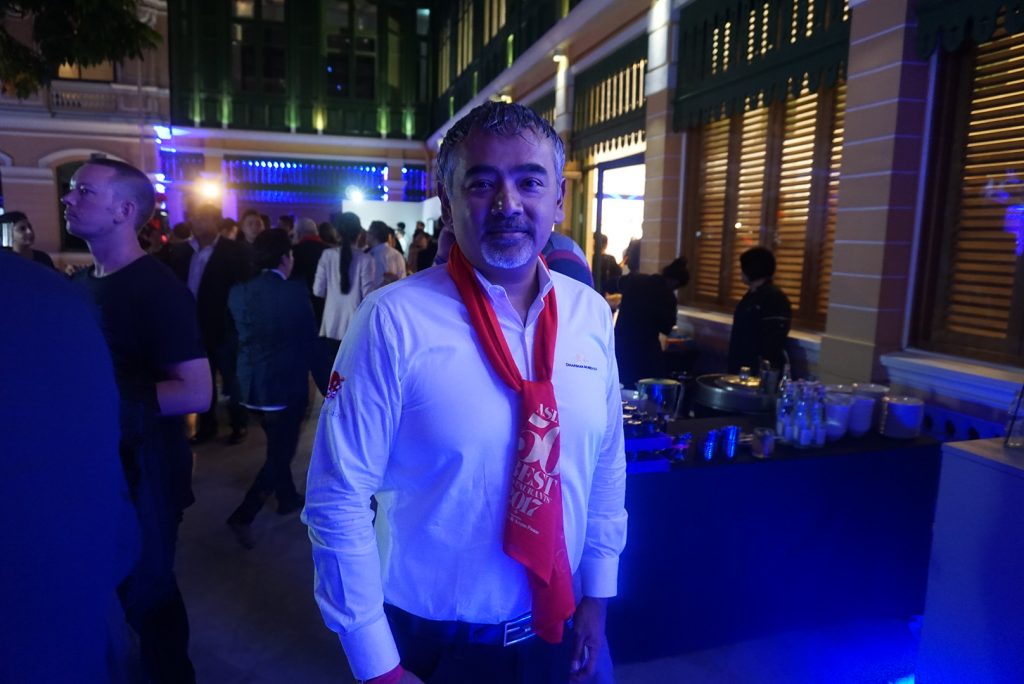 And finally I found the big star, Chef Narisawa, just before the ceremony started. He was not easy to find because he didn't wear the red symbol which all of the top 50 chefs were presented with. In response to my question about what is most important in washoku, he replied that the culture of Japanese food needs to be displayed in the dishes. It doesn't just come down to the ingredients, but the entire culture! You can definitely see his vision when you visit his restaurant, Narisawa.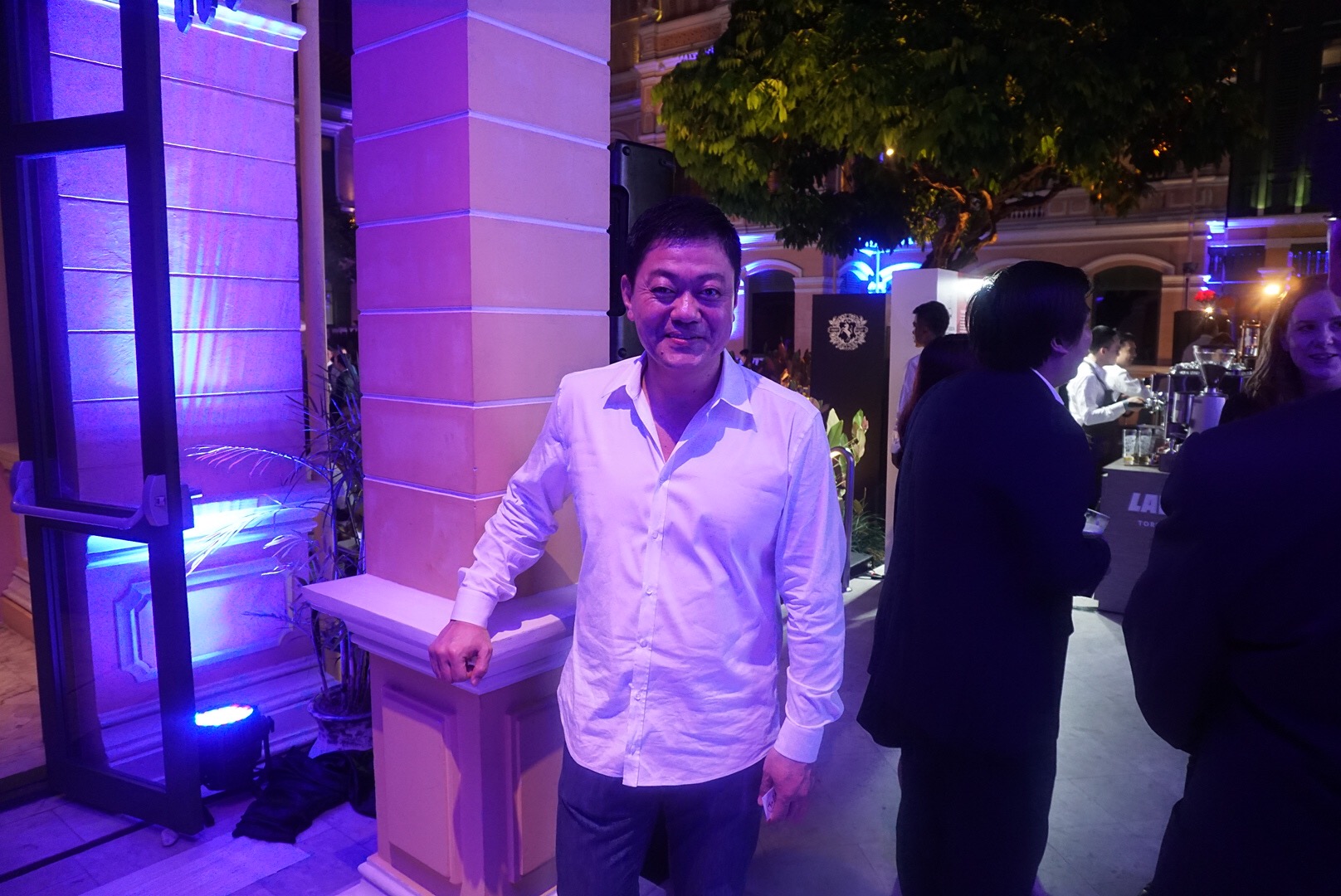 After the cocktail party, all of us moved to W Hotel Bangkok for the announcements – Asia's 50 Best, 2017!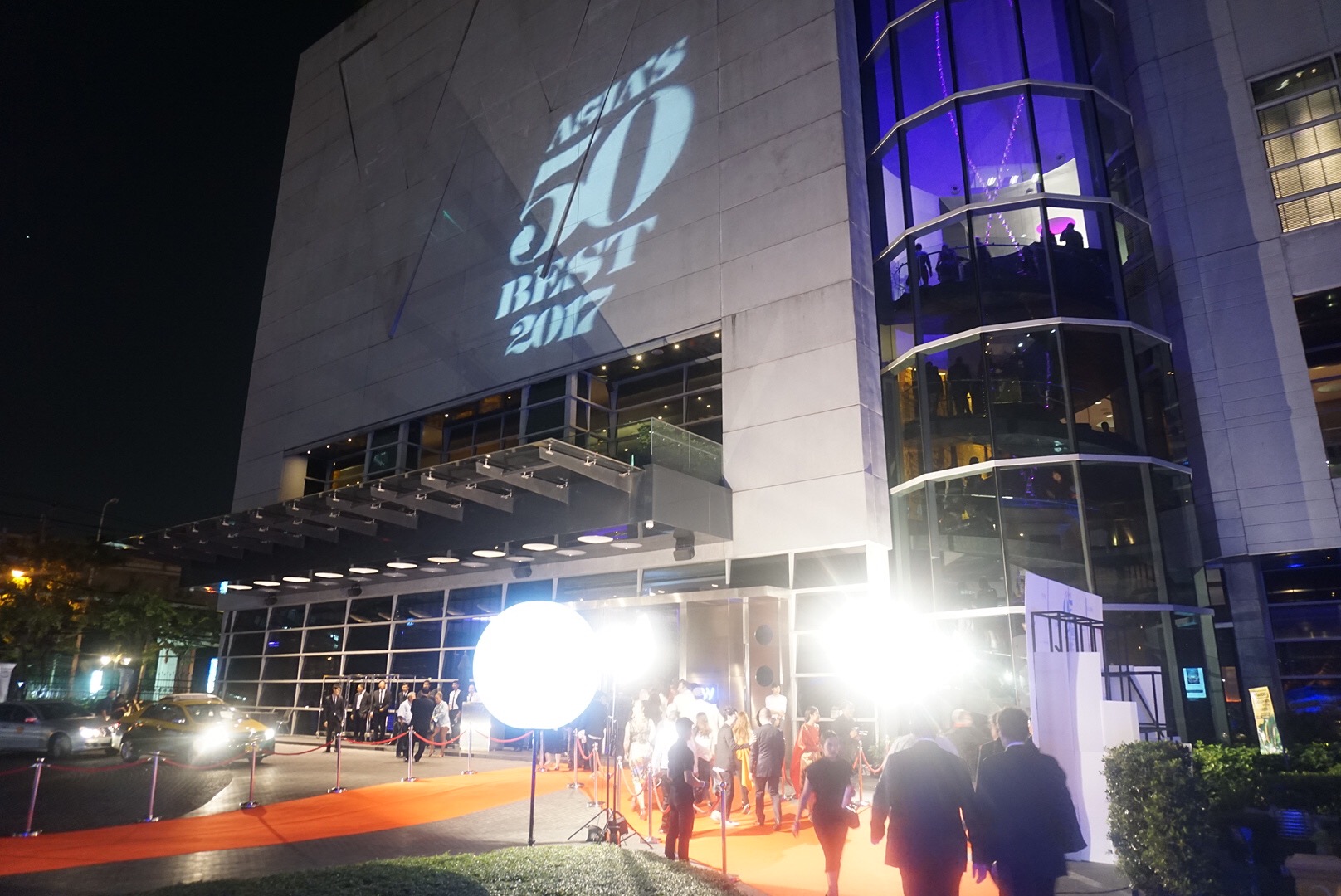 As a Japanese person, of course I am always very proud of the washoku chefs, especially the chefs who got nominated!
All of the chefs nominated said that originality is the most important thing, but it's also important to show the culture of food as a unique point. Since the nominated chefs were from a variety of countries, they have a lot of uniqueness to share. Some chefs know their cuisine from growing up in that environment, while others studied foreign cuisines like French and so on to create influenced and fusion dishes. Nowadays, it's difficult to categorise the type of cuisine because so often chefs are influenced from so many places!
Here is the full list of restaurants for 2017 and we have highlighted the nominees from Asia's 50 Best 2017 which are inspired by or are serving Japanese cuisine – we really recommend you get a reservation at these restaurants next time you're travelling!
50, Takazawa, Tokyo, Japan!
49, Nihonbashi, Colombo, Sri Lanka!
48, Fu He Hui, Shanghai, China
47, The Chairman, Hong Kong, China
46, Wasabi by Morimoto, Mumbai India!
45, Ronin, Hong Kong, China
44, SHINJI BY KANESAKA in Singapore!
43, Mume, Taipei, Taiwan
42, Jaan, Singapore
41, L'Atelier de Joel Robuchon Hong Kong, China
40, L'Atelier de Joel Robuchon Bangkok, Thailand
39, The Tasting Room by Galliot, Macau, China
38, La Yeon, Seoul, Korea
37, Le Du, Bangkok, Thailand
36, The House On Sathorn, Bangkok, Thailand
35, Gallery Vask, Manila, Philippines – The Best Restaurant in Philippines!
34, HAJIME, Osaka, Japan!!
33, Ta Vie, Hong Kong, China
32, Jade Dragon, Macau, China
31, Eat Me, Bangkok, Thailand
30, Indian Accent, at The Manor, New Delhi, India – The Best Restaurant in India!
29, Ministry of Crab, Colombo, Sri Lanka – The Best Restaurant in Sri Lanka!
28, Le Mout, Taichung, Taiwan – The Best Restaurant in Taiwan!
27, Tippling Club, Singapore
26, Sushi Sato, Tokyo, Japan!
25, Jungsik, Seoul, Korea
24, Raw, Taipei, Taiwan
23, Corner House, Singapore
22, Locavore, Bali, Indonesia – The Best Restaurant in Indonesia!
21, Issaya Siamese Club, Bangkok, Thailand
20, Waku Ghin, Singapore!
19, Bo. Lan, Bangkok, Thailand
18, QUINTESSENCE, Tokyo, Japan!
17, Lung King Heen, Hong Kong, China
16, Les Amis, Singapore
15, Mingles. Seoul, Korea – The Best Restaurant in Korea!
14, Florilege, Tokyo, Japan!
13, Suhring, Bangkok, Thailand
12, L'Effervescence, Tokyo, Japan
11, Den, Tokyo, Japan!
10, Burnt Ends, Singapore
9, Odette, Singapore
8, Ultraviolet, Shanghai, China
7, Nihonryori RyuGin, Tokyo, Japan
6, Narisawa, Tokyo, Japan! – The Best Restaurant in Japan!
5, Nahm, Bangkok, Thailand
4, 8 1/2 Otto E Mezzo Bombana, Hong Kong, China
3, Amber, Hong Kong, China – The Best Restaurant in China!
2, Restaurant Andre, Singapore – The Best Restaurant in Singapore!
1, Gaggan, Bangkok, Thailand – The Best Restaurant in Thailand!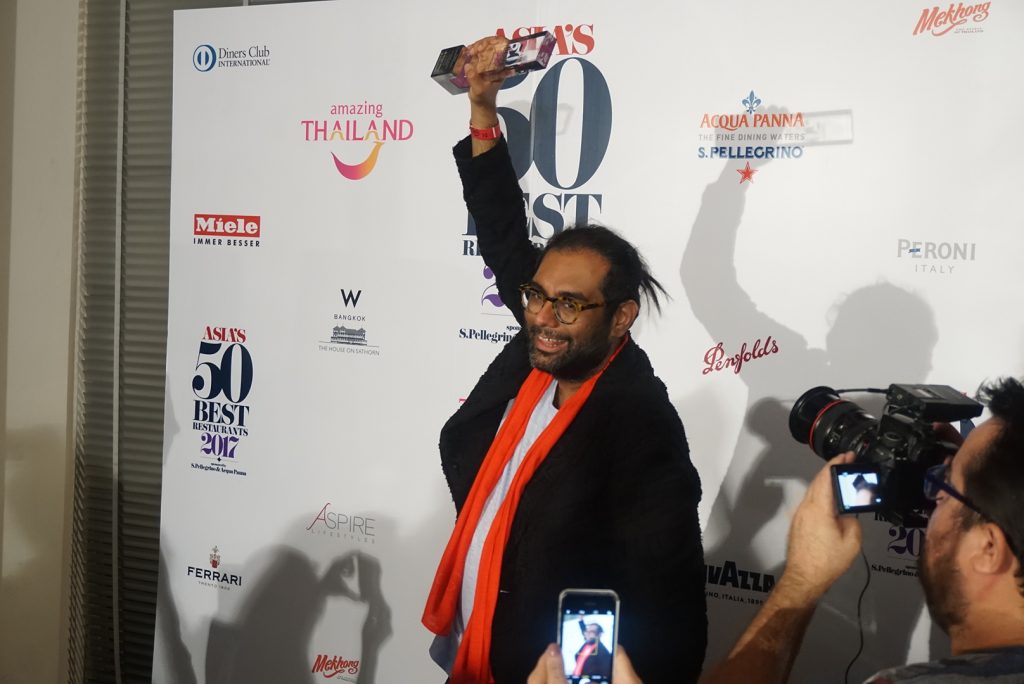 The number 1 Best Restaurant in Asia 2017 is Gaggan! He said all the chefs present were worthy of being number 1, though he is extremely appreciative of being awarded top 50 for the last 3 years in a row. He and his team will try to take 1st place again next year, but the competition is tough!
Individual Awards:
Asia's Best Female Chef went to May Chow from Little Bao, Hong Kong, Bangkok
Highest New Entry Award, sponsored from Mekhong went to Julien Royer by Odette, Singapore
Highest Climber Award went to Eelke Plasmeijer and Ray Adriansyah from Locavore, Bali, Indonesia
Chef's Choice sponsored by Peroni went to Dave Pynt (Australian chef!!) from Burnt Ends, Singapore
The Art of Hospitality in Asia went to Zaiyu Hasegawa from Den, Tokyo, Japan!
The Diners Club Lifetime Achievement Award went to UmbertoBombana by 8 1/2 Otto Mezzo Bombana, Opera Bonbana, Hong Kong Macau, Shanghai and Beijing, China
Miele One to Watch is Kim Day-Chun by TocToc, Seoul, Korea
Asia's Best Pastry Chef is Kazutoshi Narita by Esquisse, Tokyo, Japan!!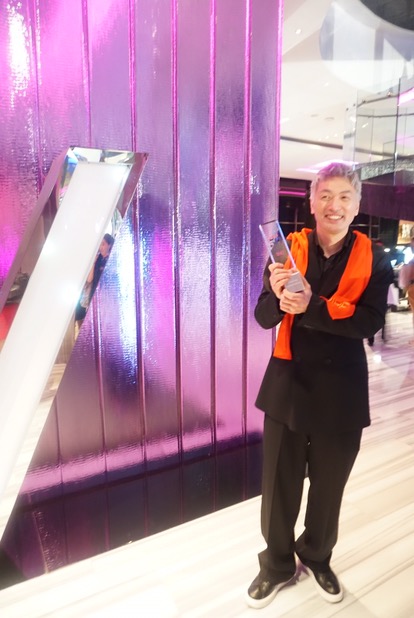 Washoku Lovers interviewed him at the end of the event. He worked at Joel Robuchon with Chef Inukai (most famous in Sydney for being the founder of Ramen Ikkyu!), such a small world. He also stressed the important of originality, a common theme throughout the night. He's always trying new things and never copying another chef.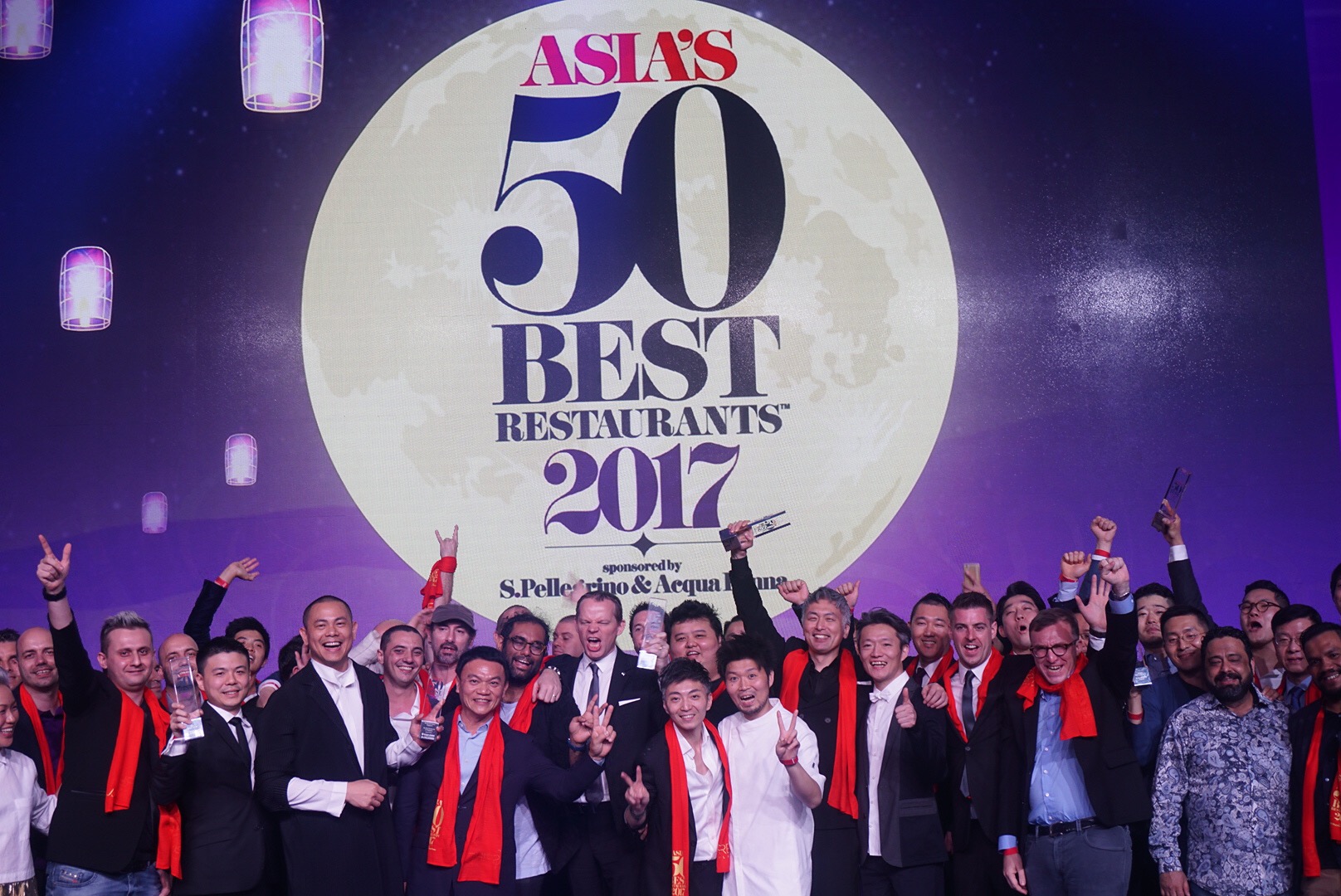 All the chefs who were nominated for these awards are all equally hard workers, doing their best to continually improve. The Japanese chef community has great friendships within it, even though they are competing with each other they're also encouraging each other. For 2018, they will all work even harder to climb the rankings!
As the Washoku Lovers ambassador, I asked the Japanese chefs who were based in Japan, 'what is Japanese food culture (washoku) for you?' All of them answered very similar things – the most important thing is to show guests at the restaurant Japanese culture as well as Japanese cuisine.  Use not just Japanese ingredients but also Japanese hospitality (omotenashi) and Japanese manners. It is important to show guests why they are in Japan as well as what they are eating. For example, why should you visit a French restaurant while you're in Japan? It must have value in it for the guest. But you will find that people want to eat there simply because it is in Japan. It has Japanese influences, and will not give you just French food, but also Japanese culture. It becomes an interesting experience, not just a meal. It is original, experimental, enjoyable.
Congratulations all the chefs in Asia's 50 Best Restaurants 2017! Will look forward to seeing you again soon at The World 50 Best Restaurants which will held in Melbourne in April!
Have you signedup to our newsletter yet? It's absolutely free and you will receive Washoku news every week!