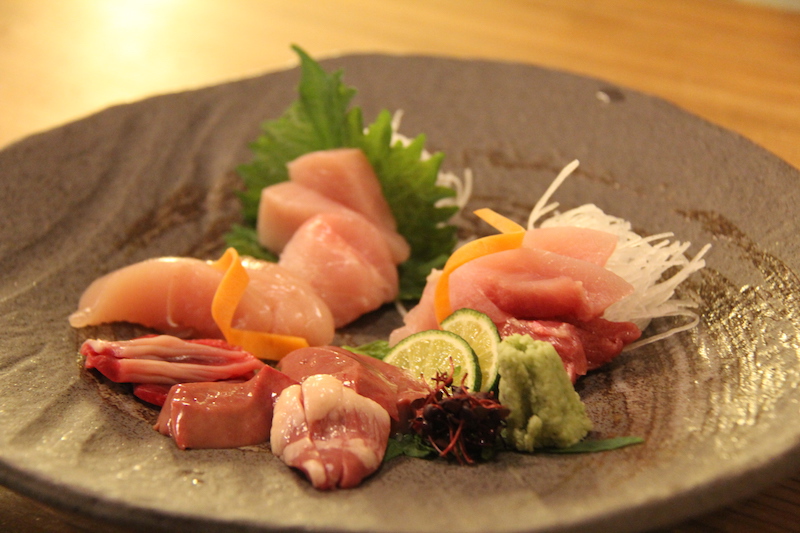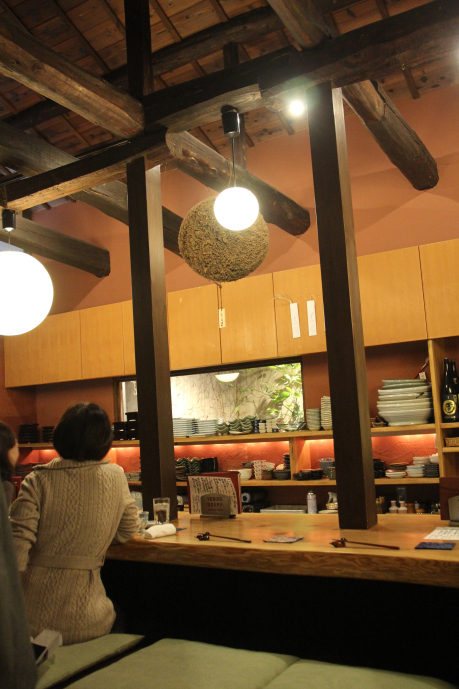 Hello Washoku Lovers!
I'm honoured to be writing my very first post for this site. I'm in Japan for several months each year (mostly in Kyoto) hosting my Japanese Cuisine and Culture Tours and am always finding new and wonderful places to eat, drink and discover and learn about Washoku.  I'm happy to be now be able to share my experiences with you here as well as on my blog Zenbutours.com!
Chisou Inaseya is yet another excellent Kyoto restaurant I've walked by a million times and not realised was there.  While they specialise in Chicken Sukiyaki (that's the local style – not beef like you might be used to) they also do great chicken nabe (hotpot) and at lunch time they have a very reasonably priced Obanzai set – Kyoto homestyle dishes featuring lots of Kyo-yasai (revered Kyoto vegetables) and of course… chicken!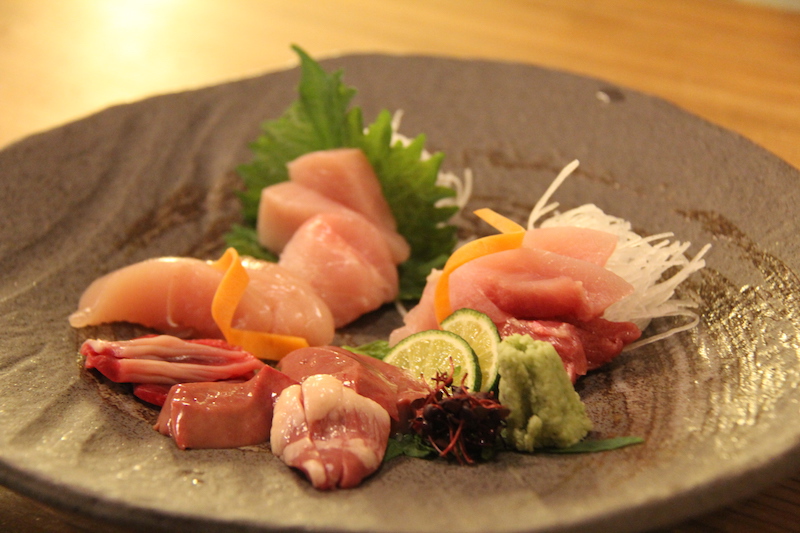 Foreigners are often a little squeamish about chicken sashimi but the chook at this restaurant is uber-fresh fresh so no worries at all for me and my Kyoto friends  – and boy, fresh raw chicken liver is surprisingly creamy yet clean tasting.  I do recommend giving chicken sashimi a try –  however I won't hold it against you if you'd rather not dive in on your first trip to Japan!
Chisou Inaseya also has a great selection of quality sake with which you can happily wash it all down with -perfect for slowing down any possible residual bacteria from the chicken sashimi you may try 😉  That's if the wasabi doesn't get to first -yes that's right – whenever you eat sashimi of any kind make sure you get a good dose of fresh REAL wasabi in you as it is prized for its anti-bacterial qualities as well as amazing flavour and intensity.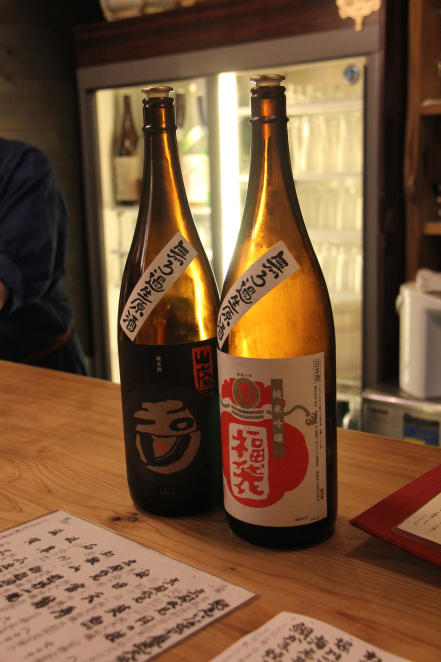 To introduce the menu to you a little further – here's a little peek at what we enjoyed on a recent visit:
Naturally Sake was the first thing we ordered and with it came a tiny amuse. I love these blue and white sake cups !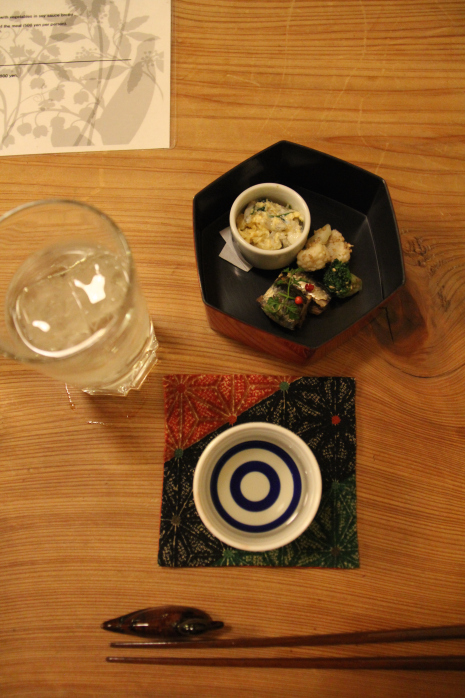 The chicken sashimi was up next – you can see just how fresh it is!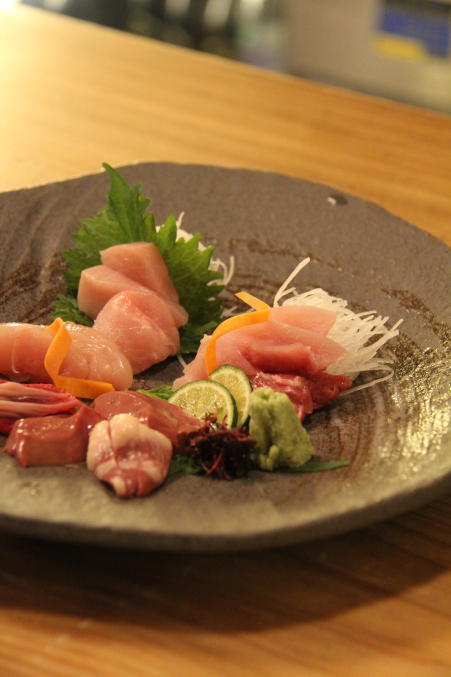 Shortly after some perfectly grilled, juicy chicken with pickles arrived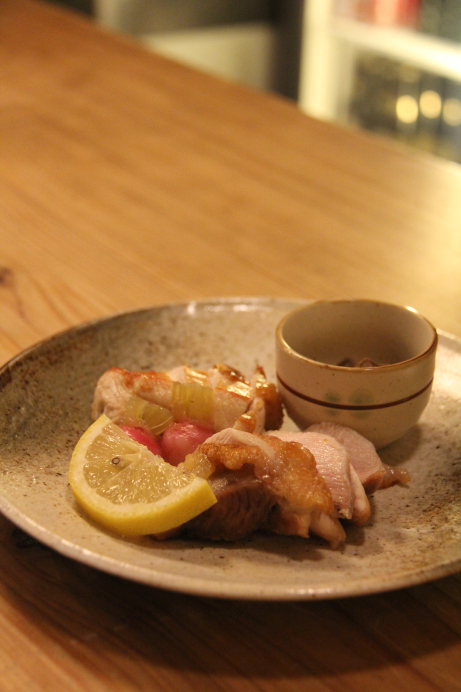 Popular winter vegetable Daikon featured in a thickened chicken dashi, slow cooked and spoon-tender – served with nama yuba (fresh soy milk skin) and freshly grated ginger.
While we waited for the Nabe (hotpot cooked in a Donabe or nabe pot)  to simmer away we ordered some tempura Horikawa Gobou (large local burdock root) and ebi-imo (creamy prawn shaped/striped potato/yam) – both delicious winter Kyo-yasai specialities (Kyoto vegetables).
The nabe was then presented and we served ourselves – little by little. By this stage we were getting pretty full but you know.. it would be rude not to finish. Choc-full of tsukune (chicken meatballs), tofu, veggies… damn fine on a cold evening.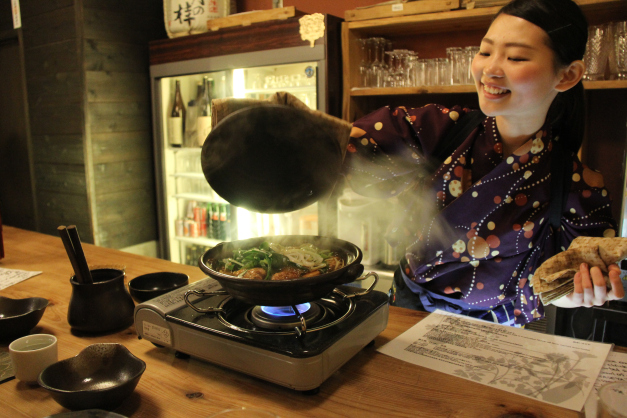 Once the contents are done you can choose to have beaten egg added to the remaining stock which soaks up all the flavours as it simmers into an omelette like delicacy.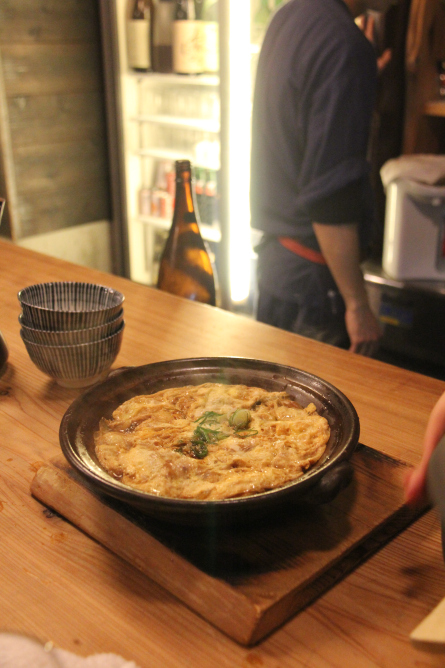 We finished with a refreshing leaf and apple salad. Not exactly traditional but it was a really lovely and unexpected finish to our meal.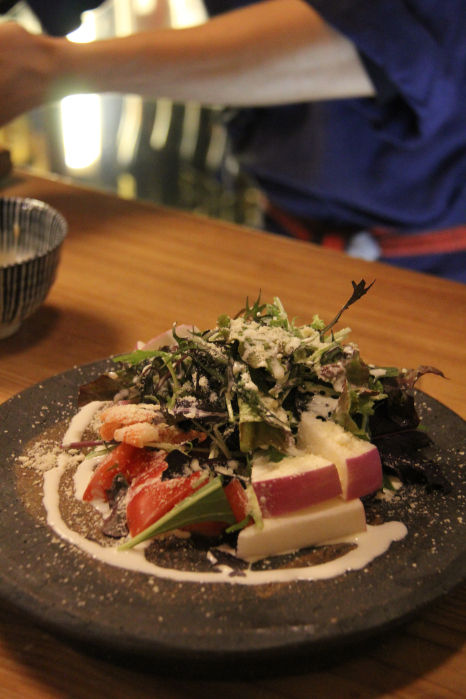 If you are in Kyoto please check it out – the owners are very friendly and speak some English.
Open 365 days – lunch and dinner. Now that's what I call service! Something the Japanese are so very good at.