In conjunction with the Japanese Film Festival this year, Washoku Lovers is holding a series of curry related events, including cooking classes! Last Thursday we held our blogger-only event which was super fun. Supported by Daiso and held at Hideo Dekura's culinary school, you'll learn how to make Japanese style curry from scratch using ingredients which can all be found at Tokyo Mart.
Even though they're all called "curry", Japanese, Indian, and Thai curries are all very different. Japanese curry has a distinct flavour with a thick sauce-like consistency and is usually brown to dark brown in colour. Thai curry is made with coconut milk and is quite runny. It can be any number of colours, famously red and green, with a lot of spice depending on which type you get. Indian curries have the most variety of flavour that comes from the many spices used to make them, the curry itself is less sauce-like and more of a paste.
Almost any combination of vegetables and meats can be used in Japanese curry. The most common vegetables are onions, carrots, and potatoes. For meat, beef, pork, and chicken are the most popular. Katsu-karē is a crumbed deep-fried pork cutlet topped with curry sauce. Curry was introduced to Japan during the Meiji era (1868–1912) and since then, the dish has become popular and available for purchase in supermarkets and restaurants. Japanese curry has evolved since it was first introduced, and it is now so widely consumed that it can be called a national dish. Not Indian, and not Thai, this is Japanese curry.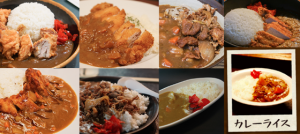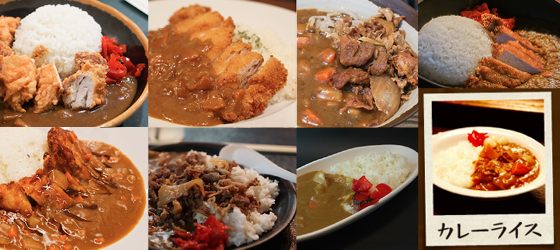 Fukujinzuke is a type of Japanese pickle that is often used as a topping for Japanese curry.
The introduction of fukujinzuke may have been in response to the use of chutneys as an accompaniment to Indian curries. It is said to have first been used on Japanese curry served on board luxury ships in the Showa Period. The ingredients for fukujinzuke correspond to the seven deities of good luck – found in daikon (radish), turnips, eggplant, lotus root, beans, uri, and perilla.
There is still one more topping, called rakyo. The allyl sulfide found in rakyo is said to prevent the feeling of a bloated stomach when you eat too much curry rice. The benefits of rakyo aren't limited to just that, though. It also helps recovery from fatigue, and is good for increasing stamina. When eaten with brown rice, you can expect to absorb more of the nutrients as allyl sulfide will increase your body's ability to absorb vitamin B1.
We are also running a competition to win tickets to our next cooking class, which will be curry! This time it's open to the public, not just bloggers. Time to get eating so you can upload and tag #japanesecurry! A list of our restaurants which sell curry can be found
here
.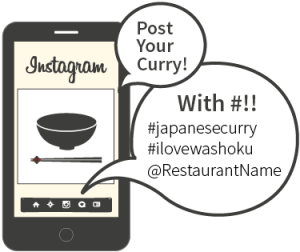 Go to any of our partnered restaurants on the list and take a photo of your curry!
Post it on Instagram with hashtags!
Prize before 31st October:
A pair of tickets (Complimentary pass) for Japanese Film Festival 2015.
*1 Prize after 1st November to 15th:
$50 Voucher*2 or
A pair of tickets for next cooking class event "Washoku Lovers Kitchen – Japanese curry" on 22nd November!!
*1 A winner will get to choose which prize to get.
*2 $50 Voucher can be redeemed only at Washoku Lovers partnered restaurants.