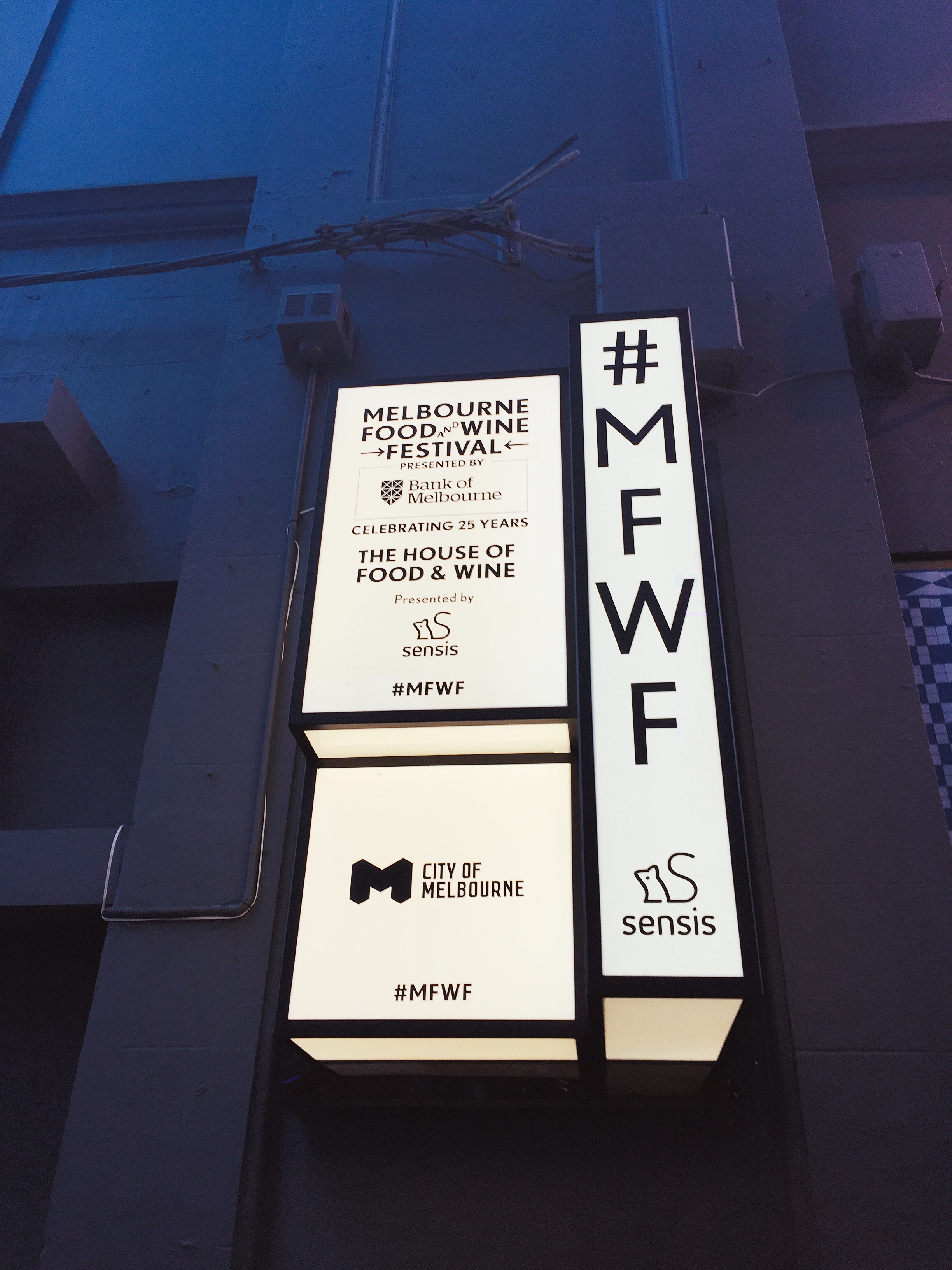 Washoku Lovers was really excited to go to Fire 2.0 at Melbourne Food & Wine Festival (MFWF), 2017.
Held in Melbourne's House of Food & Wine which is located in one of Melbourne's wonderful little side streets, Fire 2.0 was a mini food and wine festival all of its own. The exciting and notable difference being that some of Australia's finest chefs and their teams were cooking for guests with fire, smoke and coals.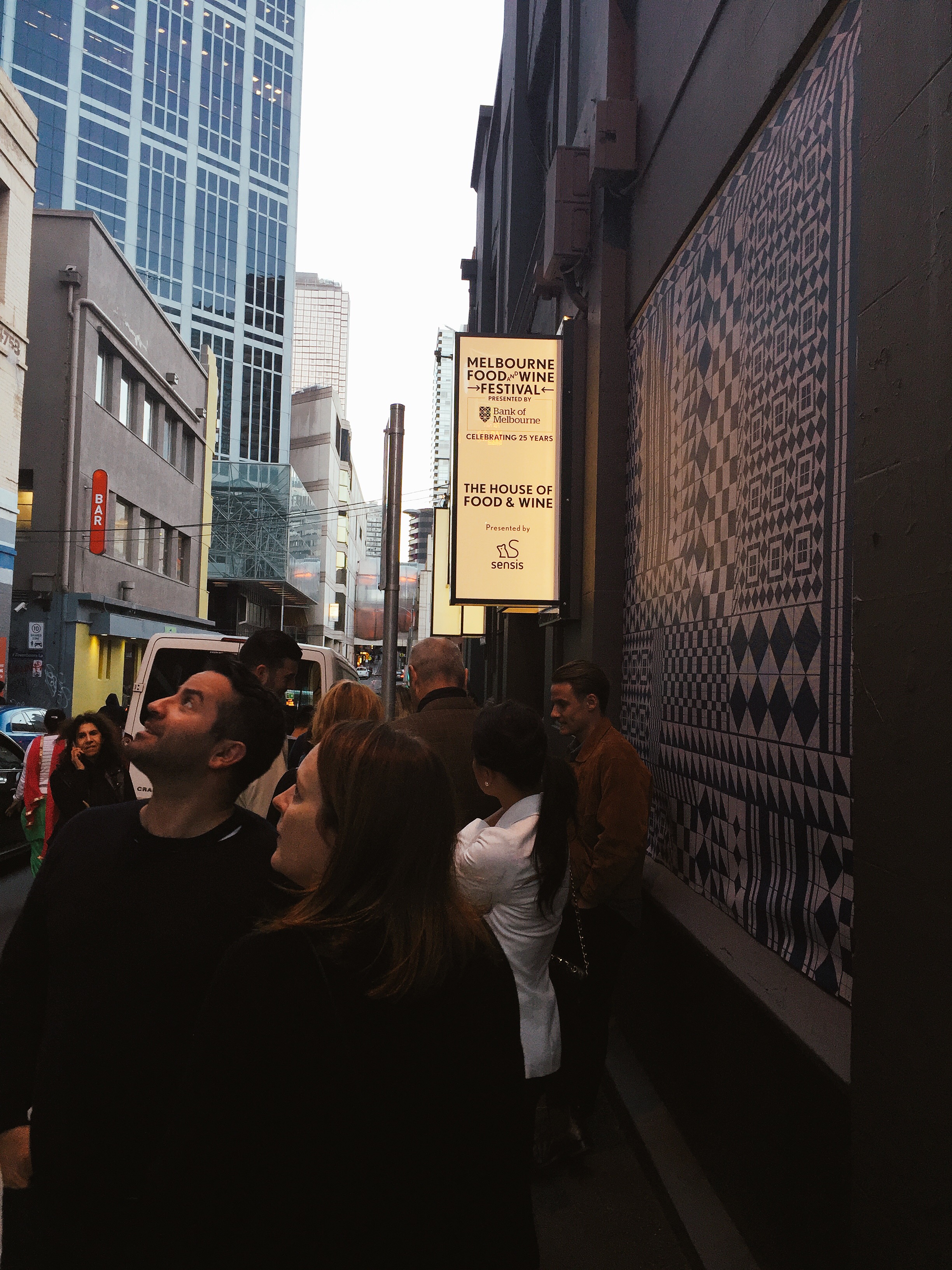 We arrived at 6:00pm at and were surprised by the long queue outside the House of Food and Wine! Everyone was waiting to try the oldest and the most primal way of cooking – by FIRE!
This Fire 2.0 event was an unofficial party to cerebrate MFWF 2017. The ticket cost $125 per person to try dishes cooked with flame, smoke and coals from celebrity chefs such as Neil Perry, Paul Carmichael and Lennox Hastie, plus Danielle Alvarez, Jake Nicolson and Dave Verheul. Yes, this is the greatest opportunity to meet celebrity chefs and to try their foods!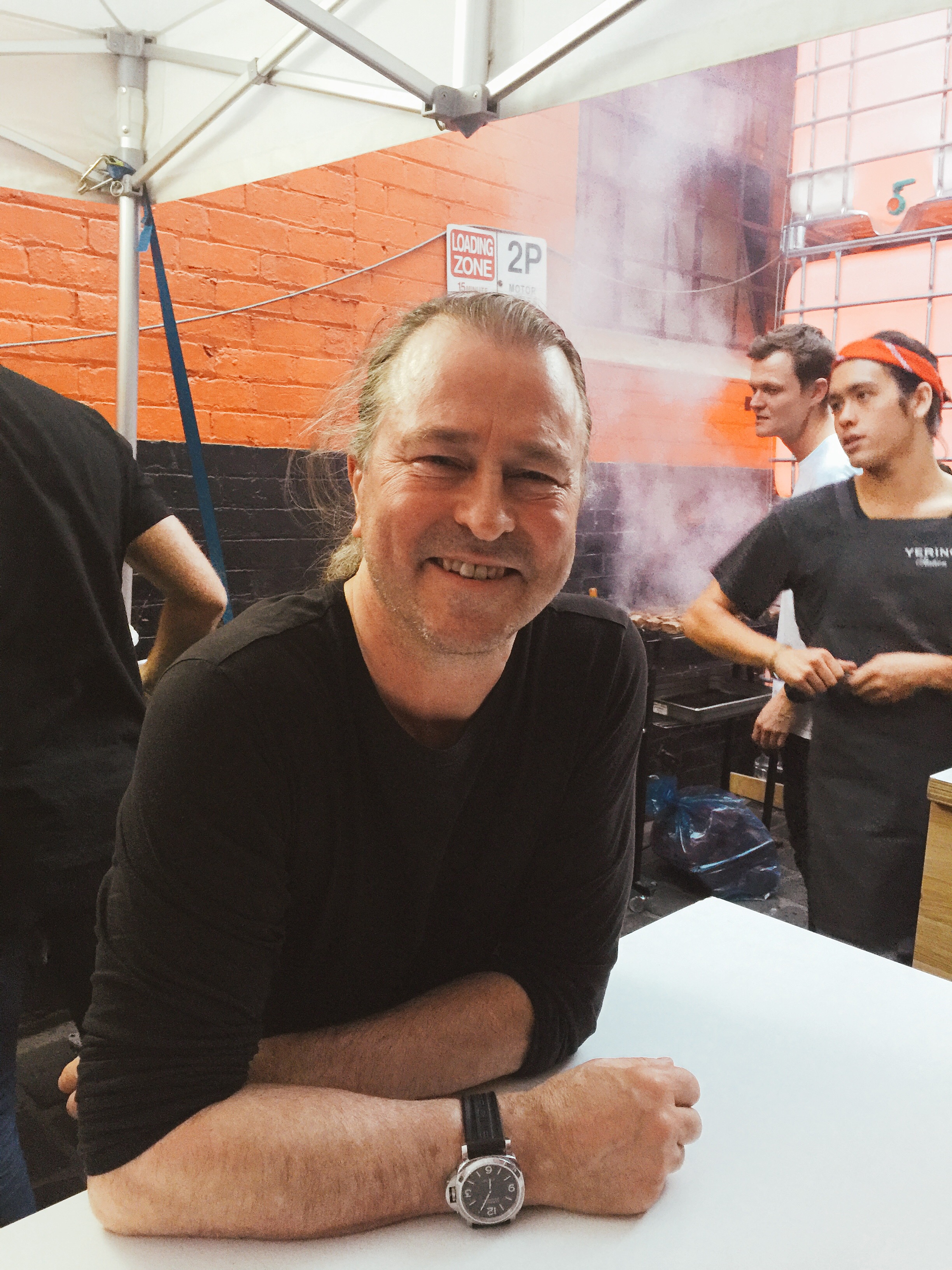 Such a nice man and wonderful chef!
After we went through the entrance, at the first booth was Neil Perry! I was dying to take some photos of him. I thought that he might say no to me because he was very busy and he is one of most successful chefs in the world!! But look at his smile! He is super friendly and a very, very nice person.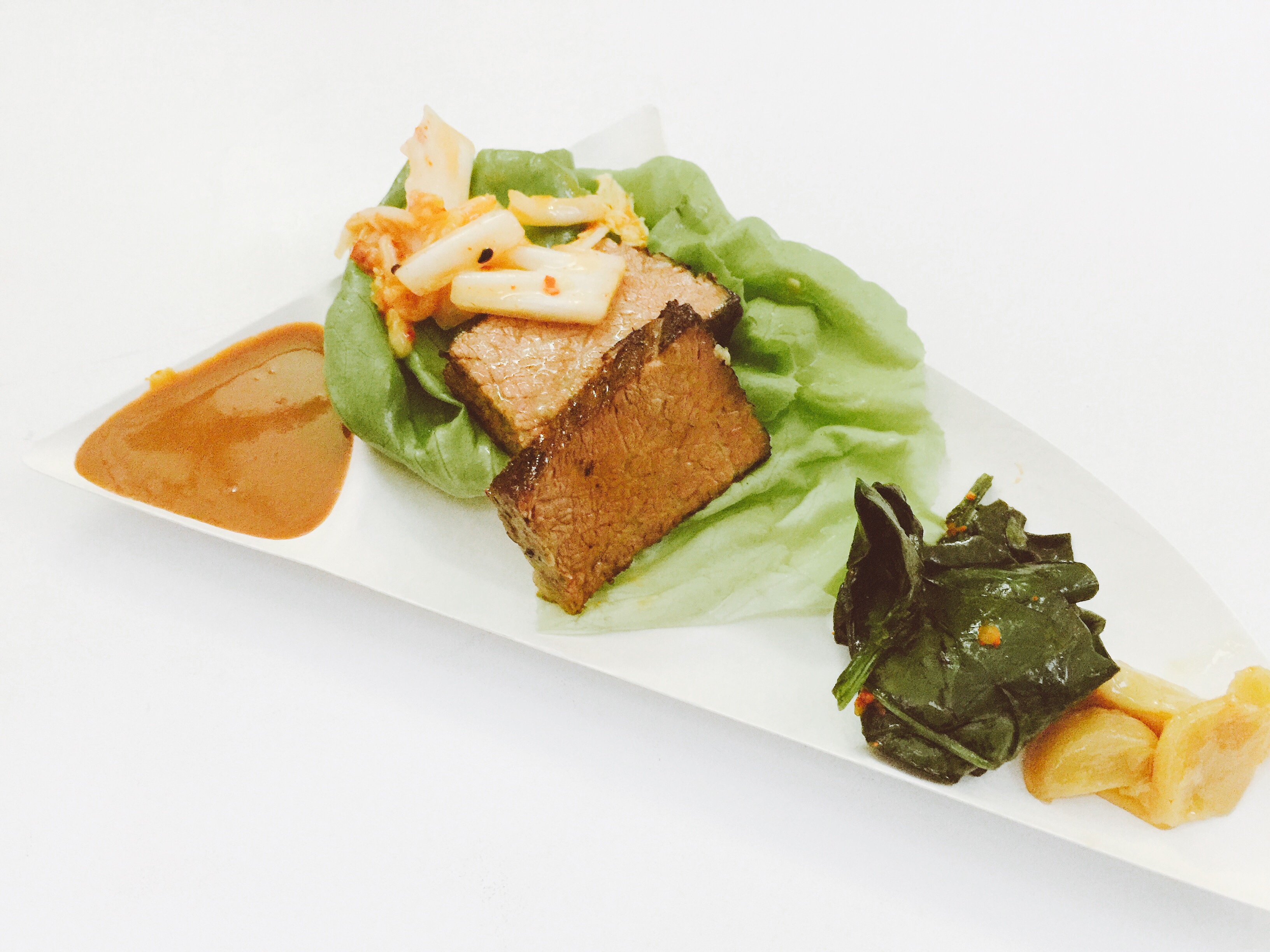 He told me that has been inspired by Japanese food culture and regularly uses Japanese ingredients, like miso, in his dishes. And I have some more exciting news! Neil has kindly agreed to speak with Washoku Lovers again soon and to tell me more about how he uses Japanese ingredients in some of his wonderful dishes. I honestly can't wait!
His dish, beef cooked over coals, was unbelievably tender and cooked to perfection. It was perfectly matched with a delicious miso sauce. I was disappointed I couldn't return and have seconds!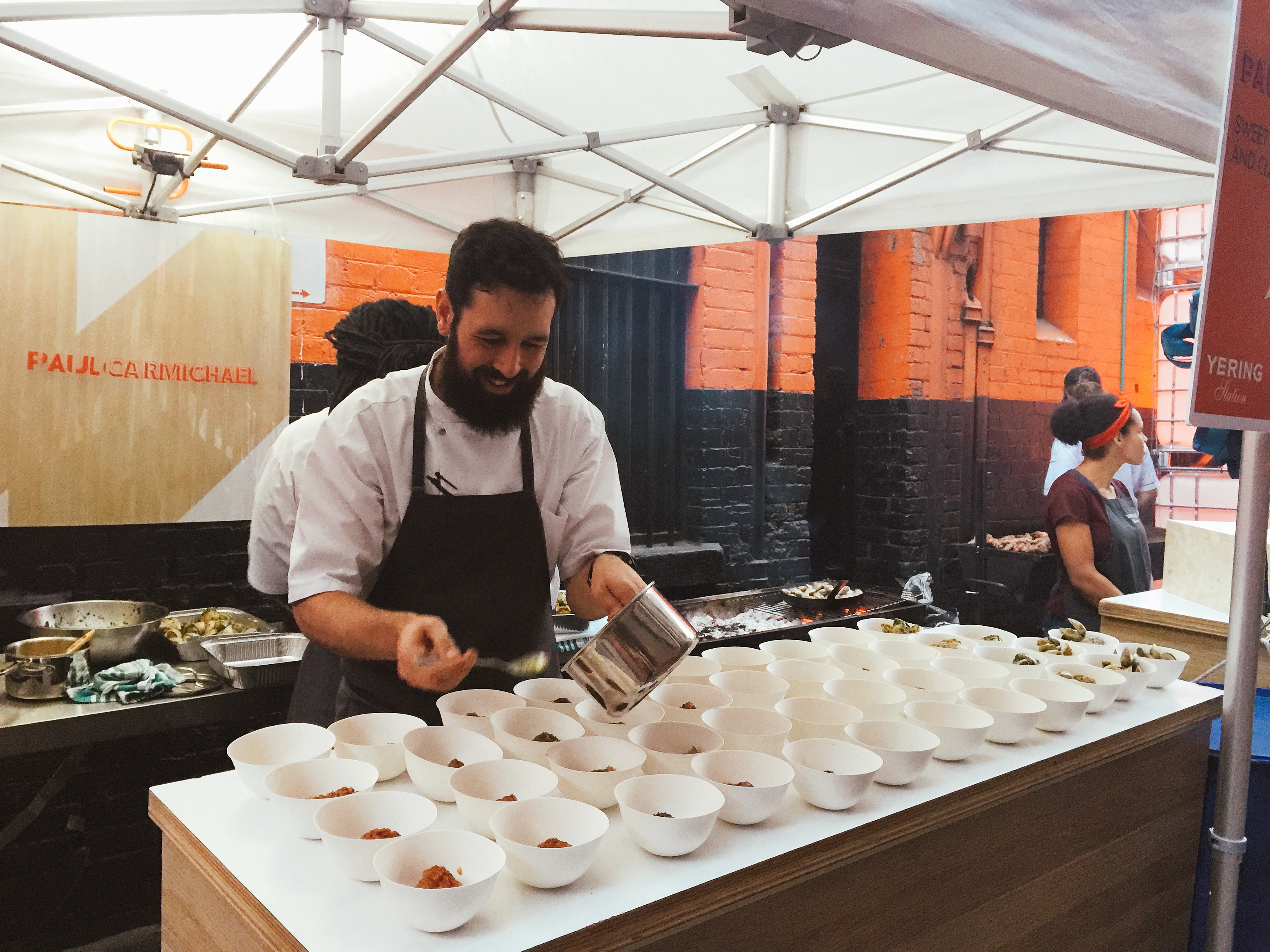 At the next stand was Momofuku Seiobo's Paul Carmichael and his team. Helping him was this nice man with a great beard 🙂 They were also very friendly and making amazing creations!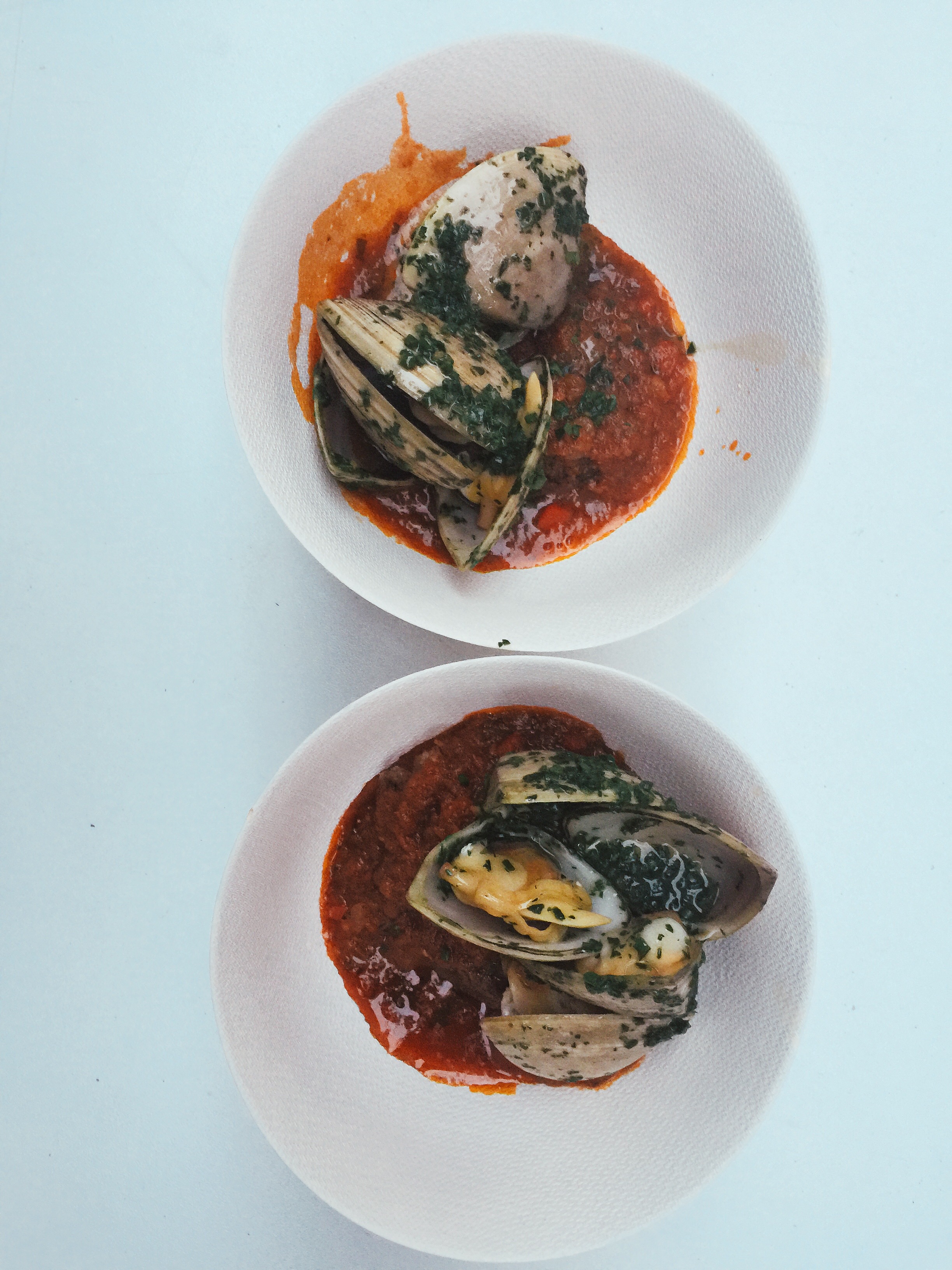 Paul's dish was cooked clams with tomato sauce made with banana leaves and, I think, banana pieces. The flavour from the sauce and it's texture was just so good!! I could easily have another bowl.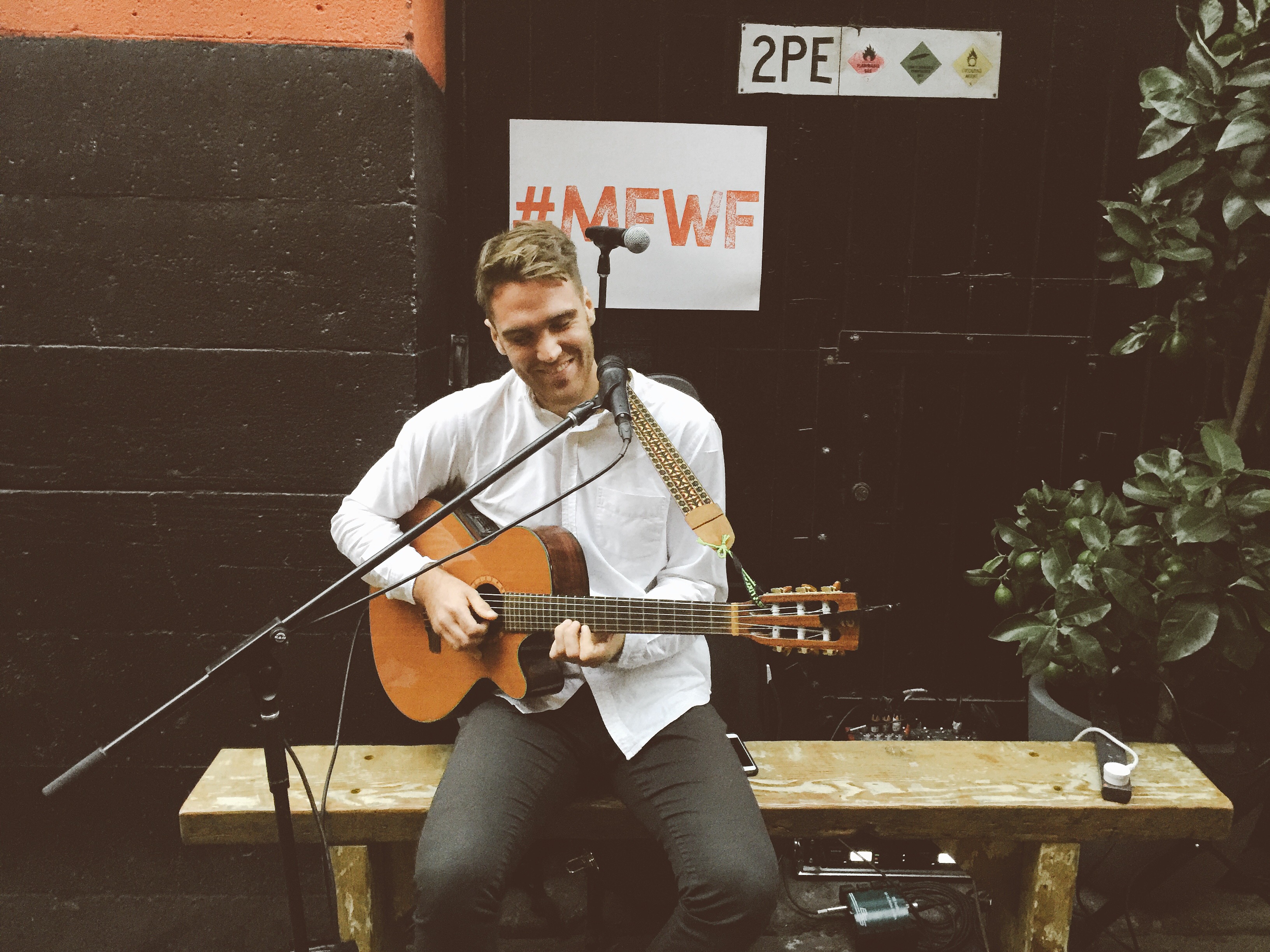 Nice music is the perfect company for nice food and wine, don't you think? 🙂 MFWF 2017 Fire 2.0 event had it all!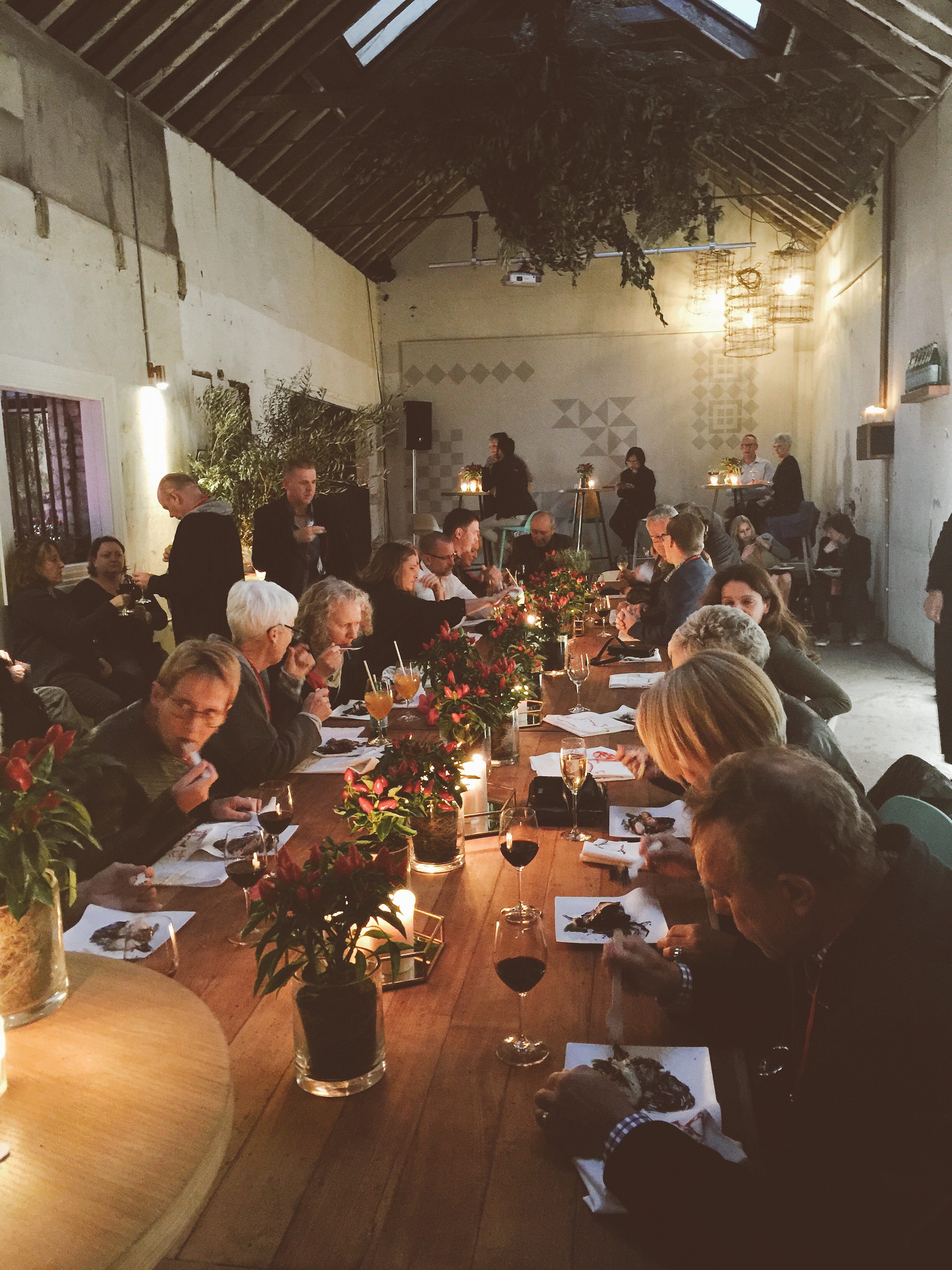 Some people chose to sit at this nicely decorated table with flowers and candles inside the House of Wine. Otherwise you could try to find a spot outside to sit in the narrow alleyway. I actually loved sitting outside. It felt more in tune with the 'FIRE' concept of the event. The organisers of the MFWF, Fire 2.0 were very successful in organising this event and allowing people to enjoy their own preferences.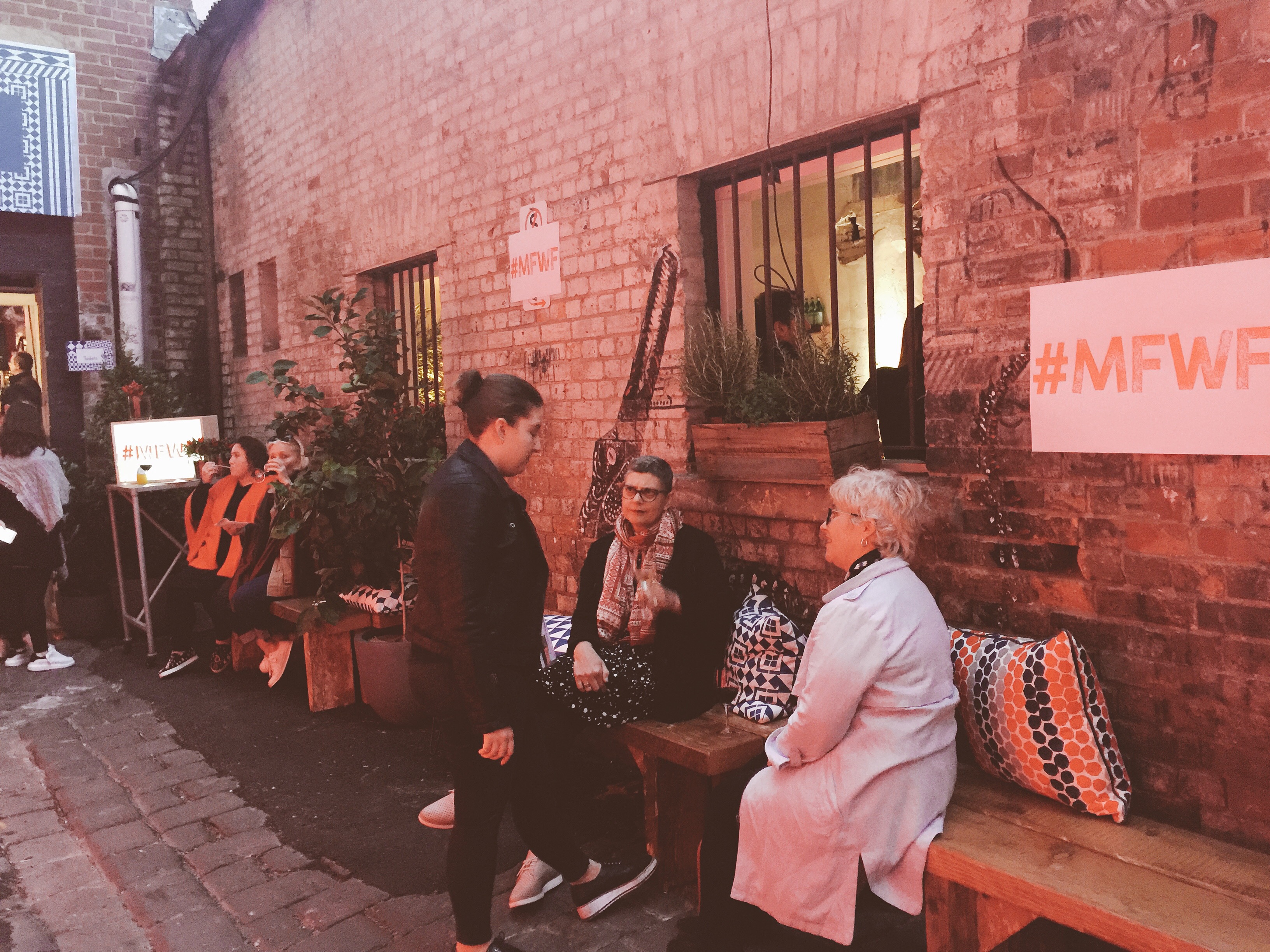 Next stop for me was with Chef Lennox Hastie from Fire Door in Surry Hills, Sydney. I asked him, 'Are you hot there?' He just smiled and answered, 'Yeah, I'm a bit warm' 🙂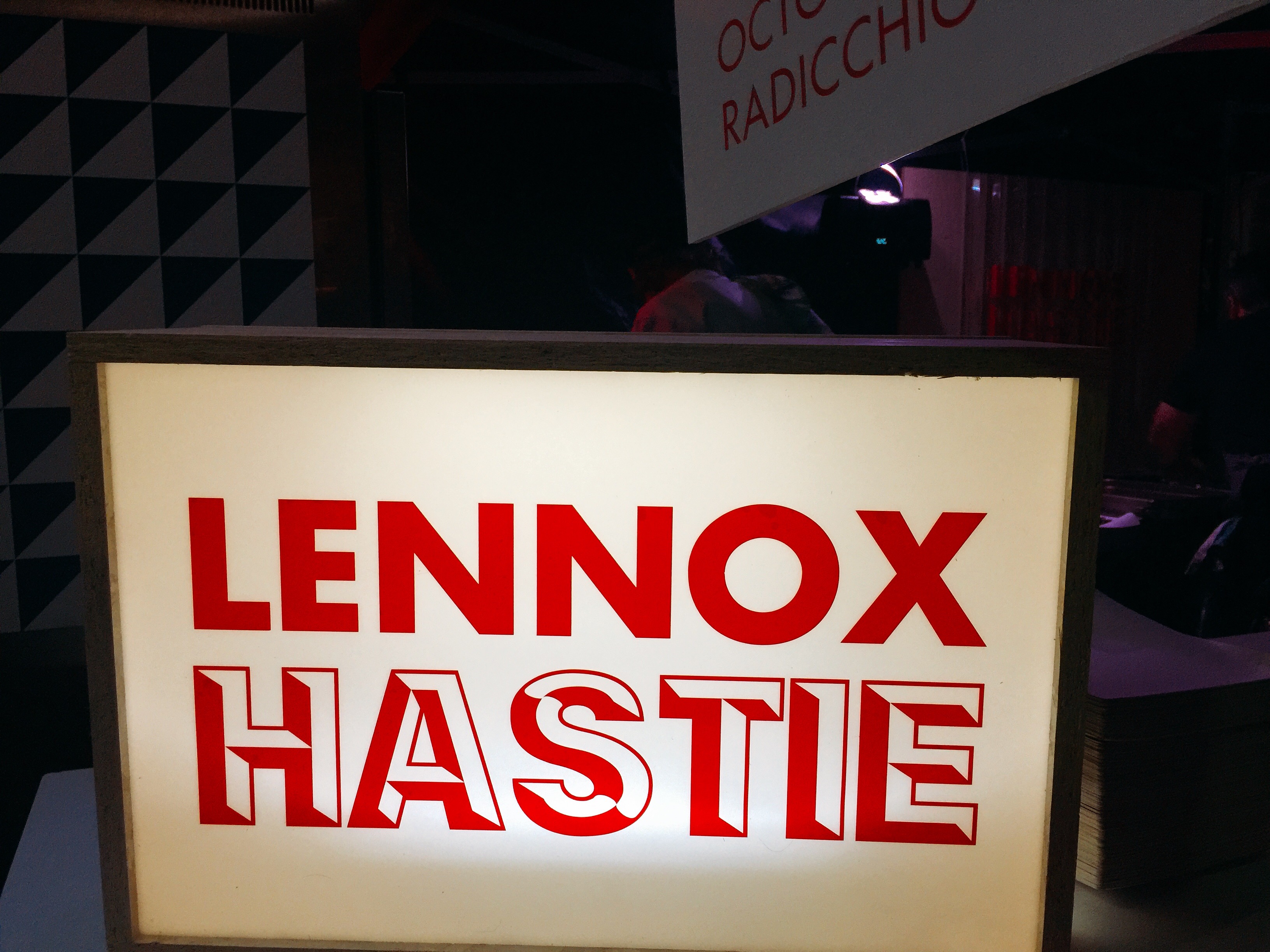 I wonder if he set up his booth and setting especially for this event? It looked really great and really seemed to blend in very well with the graffiti on the wall behind, the fabulous coal fire oven and his BBQ stand!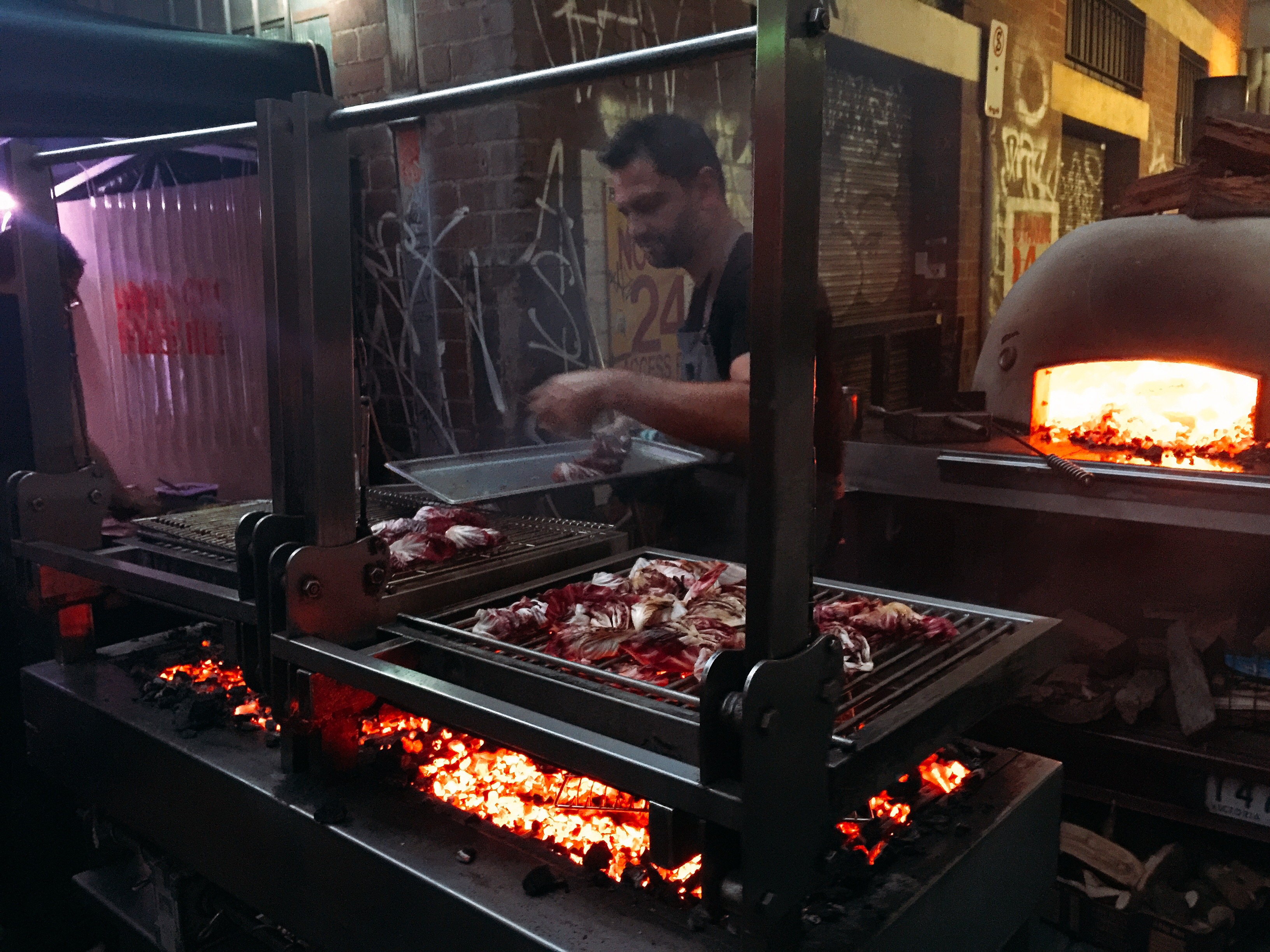 Lennox's BBQ octopus was amazing and perfectly cooked with a rich flavour from the coal fired BBQ. I couldn't find out what was in his delicious black sauce but it was a perfect match with the other ingredients. Yes, Lennox Hastie is a Master of Fire.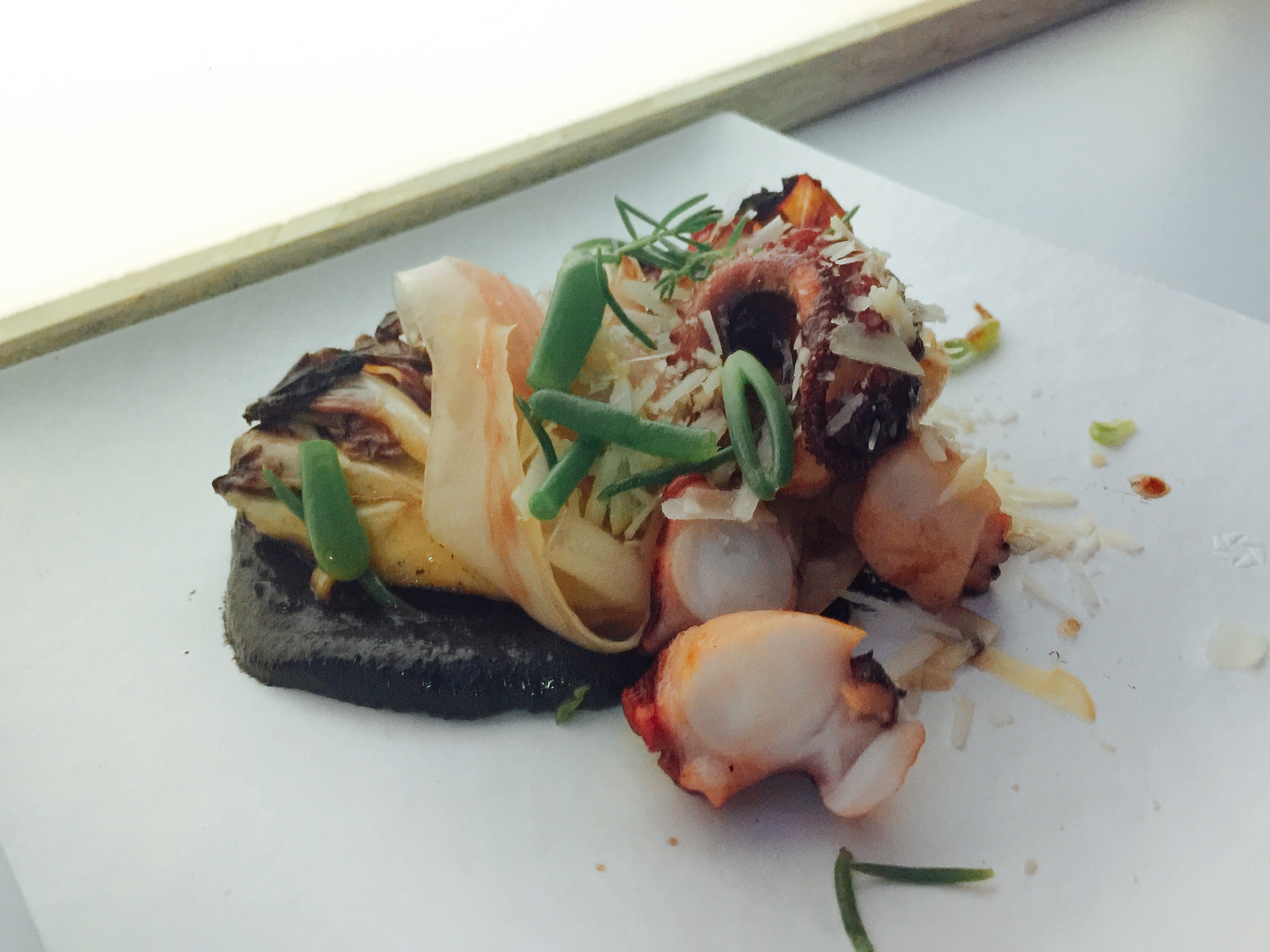 Next stop was with Jake Nicolson. He was busy cutting fish (Murray cod) at the front of a long queue. It was so great to see celebrity chefs busy and cooking right in front of us at MFWF Fire 2.0!!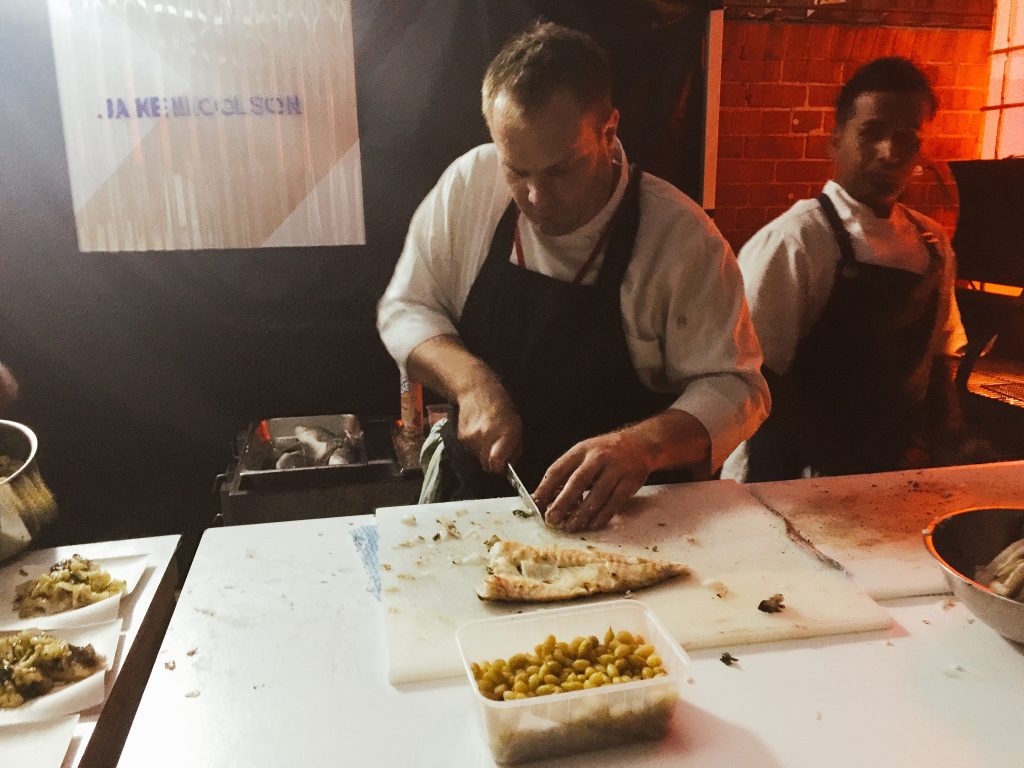 Jake's dish – and fish – was perfect cooked and included a wonderful, extremely delicious cauliflower type salsa.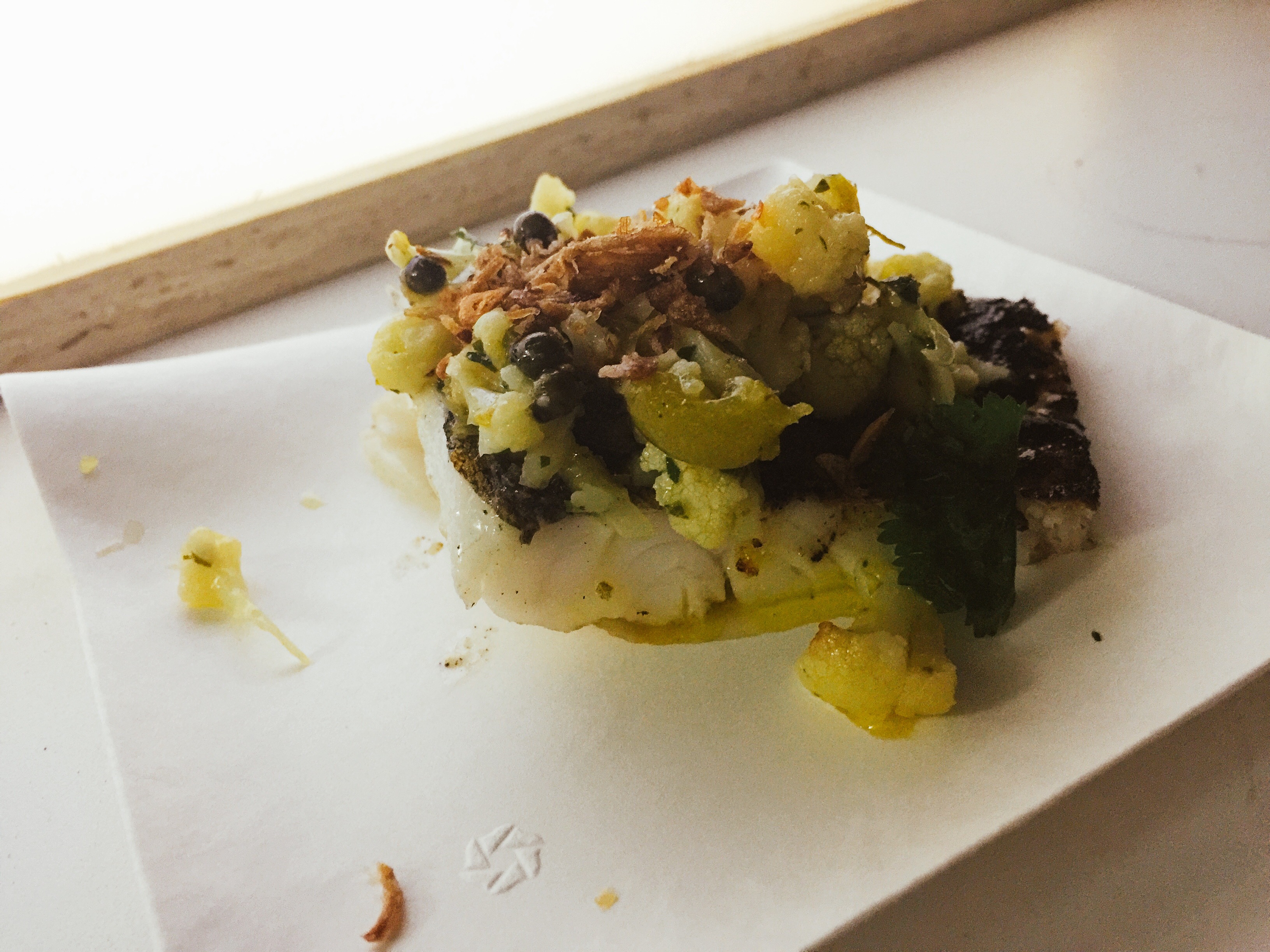 And the last stop for me was with Dave Verheul from The Town Mouse in Melbourne. I actually wanted to visit his restaurant on this trip but it was so hard to get a table! Next list, I hope 🙂 Well, I guess I have to be happy that I had his delicious, melt in your mouth salmon dish this time and to have taken take this great photo of him!! 🙂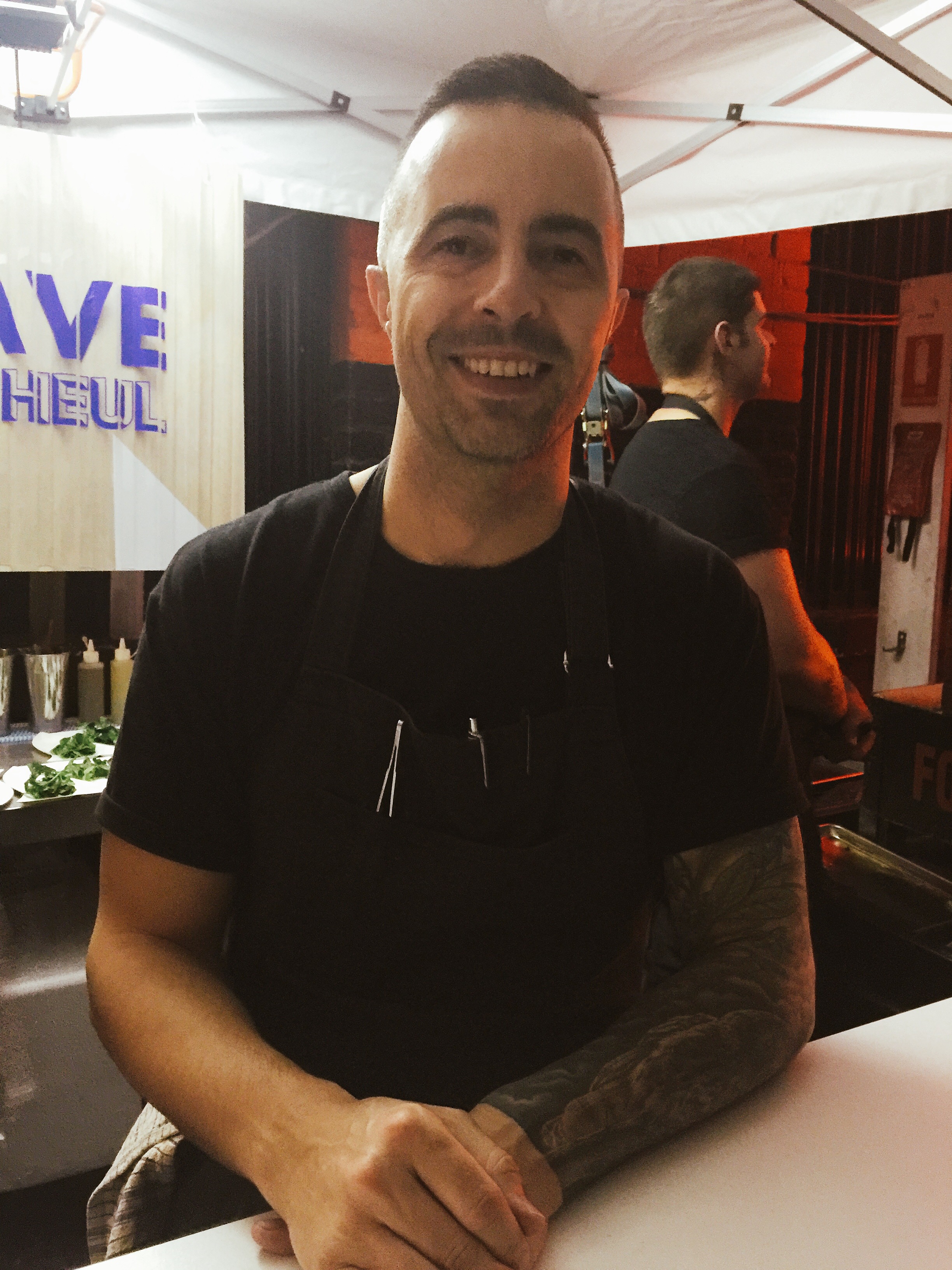 That's a great smile, Dave! 🙂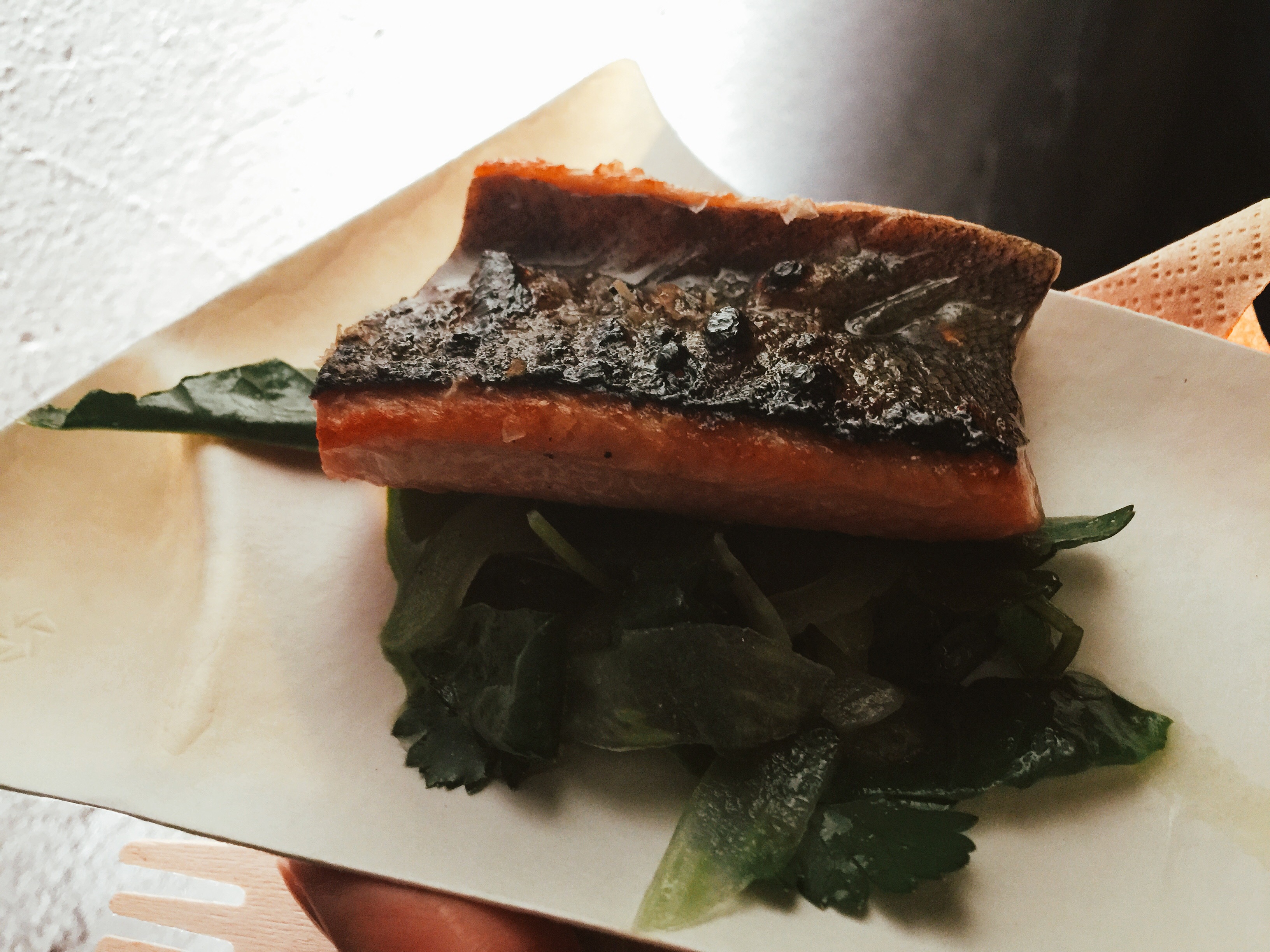 Yummy salmon dish. Oishii!! (Oishi means delicious or yummy in Japanese, in case you didn't know – just in case for newbie Washoku Lovers) 🙂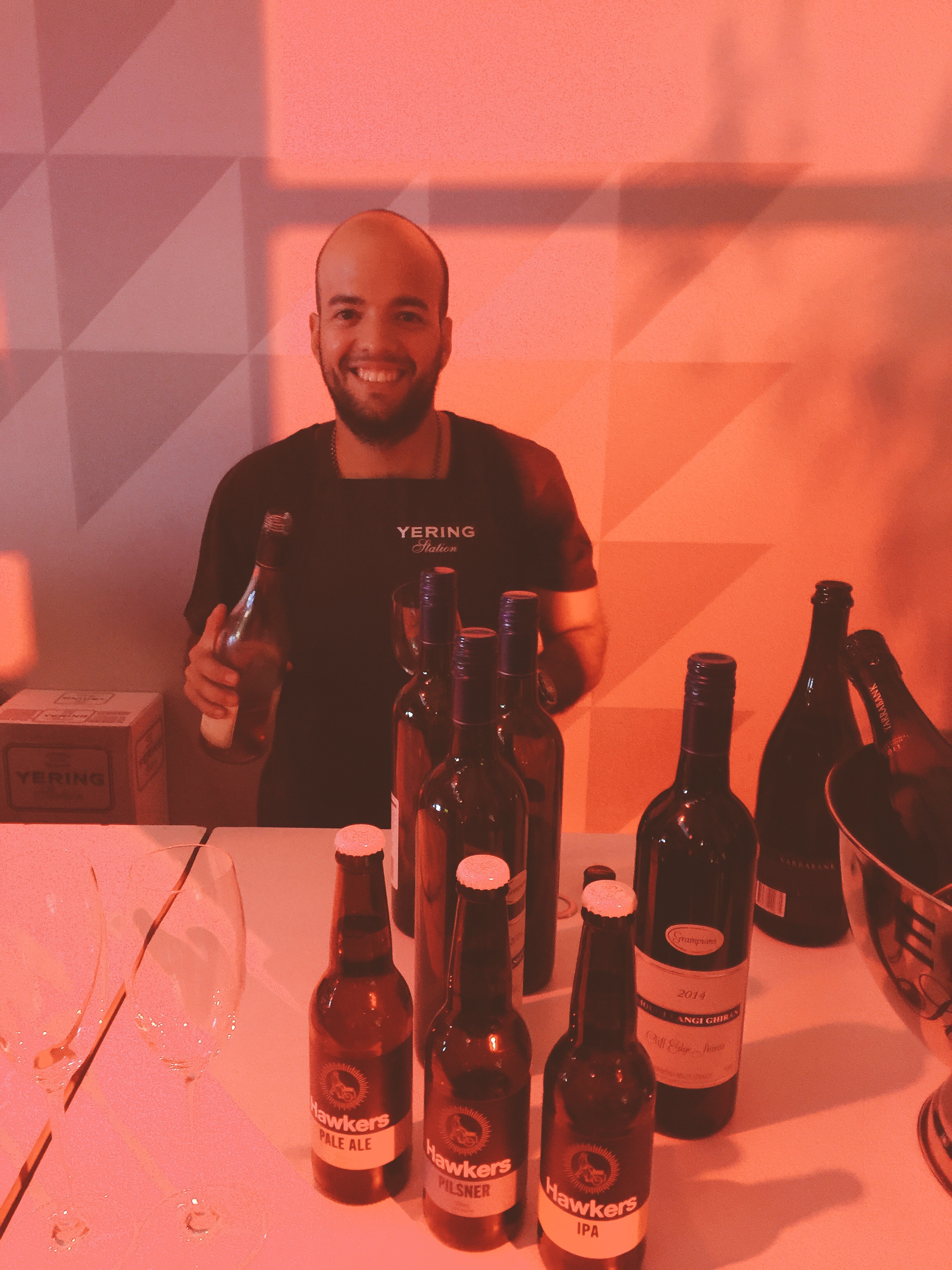 Unfortunately I don't remember this guys name, but I do remember he is from Mexico! He was one of the drinks waiters at Fire 2.0. He was very friendly and always wore a delightful smile 🙂 Everyone was smiling and happy at Fire 2.0 – from the celebrity chefs, to the musician and the drinks staff! I highly recommend doing your best to get tickets to Fire 3.0! The gastronomic delights that await you will make you smile too!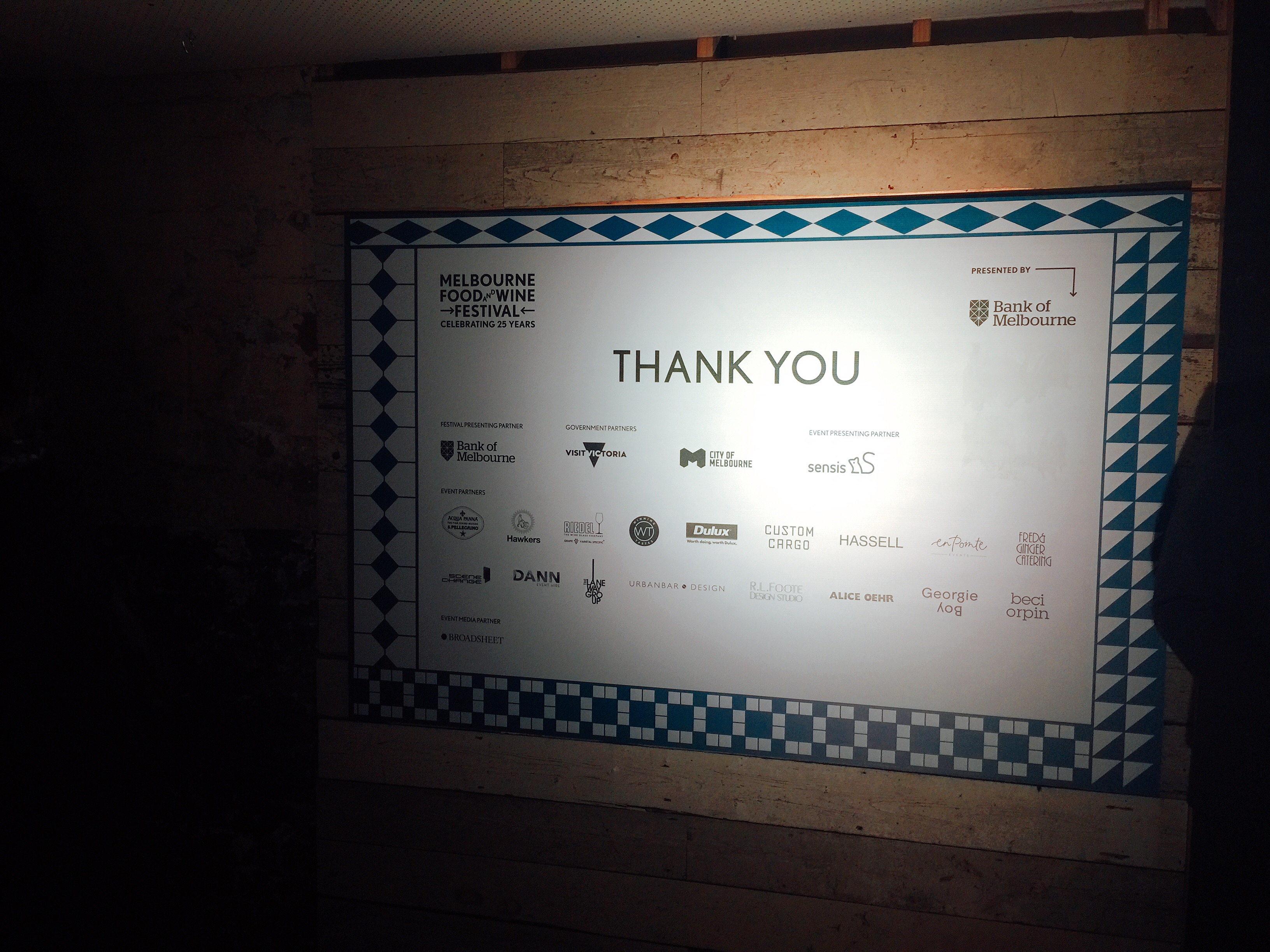 A big thank you to the many wonderful sponsors of MFWF 2017 who made this event possible.