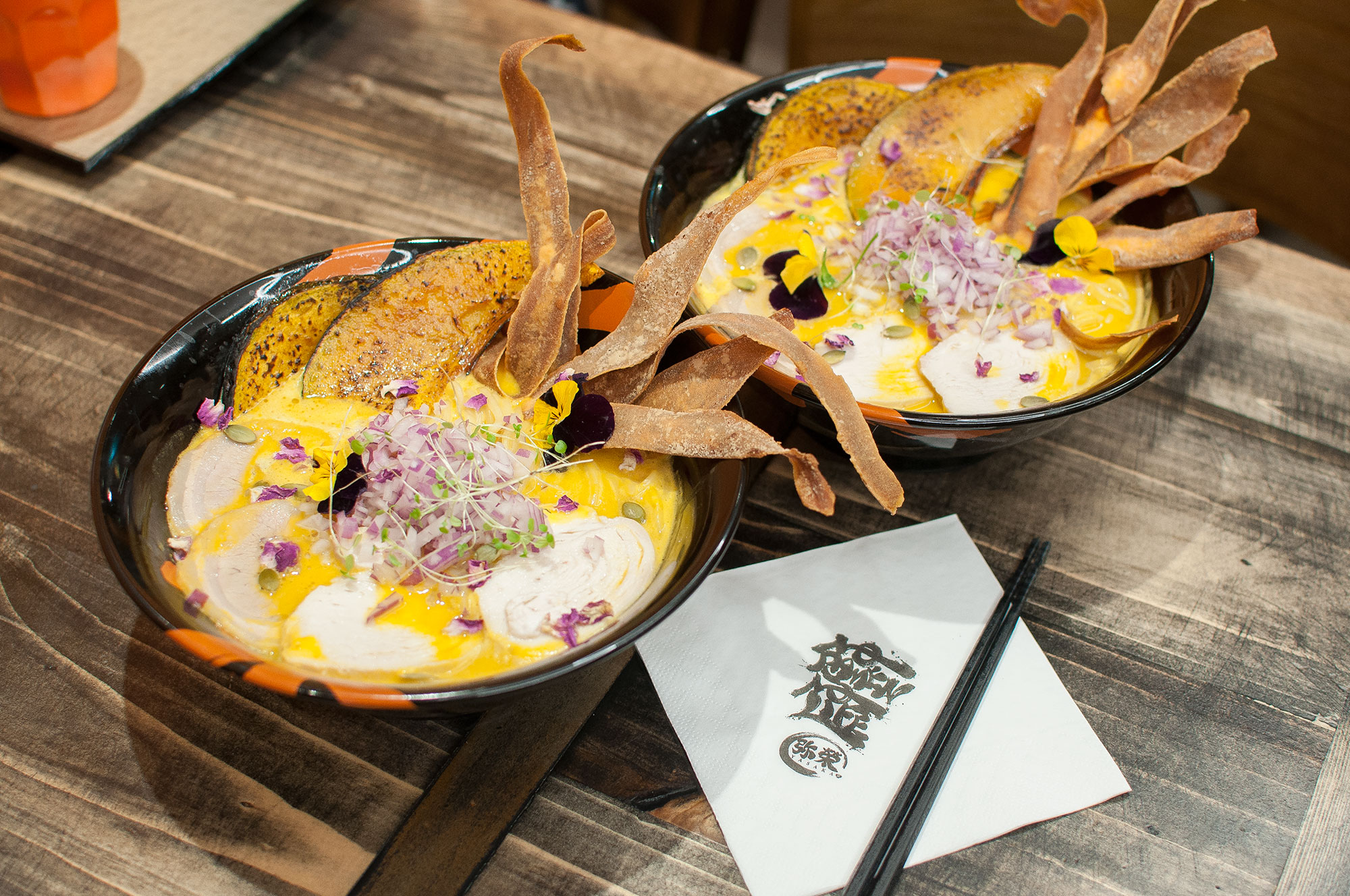 Yasaka Ramen, both the city store and the Neutral Bay location, are adding a one month only menu item just in time for Halloween.
The Jack-O-Lantern pumpkin ramen is one of the most creative and visually stunning ideas to come from Chef Takeshi Sekigawa, and it's full of flavour. The Yasaka tori paitan base stock is blended with pumpkin puree to make the soup, it's paired with house made, thick, chewy noodles, and topped with two slices of chicken chashu, two slices of regular chashu, two slices of blow torched pumpkin, fried sweet potato skins, diced red onion, and decorated with edible flowers.
The colour scheme fits right in not only with Yasaka's interior but also with traditional Halloween colours – it's a perfect match. While the soup is creamy and reminiscent of a traditional pumpkin soup, the tori paitan adds the flavour of more vegetables (celery, onion, and chinese cabbage) in the background, while the red onion topping gives a freshness to round it all out. The noodles don't go soggy, even if you eat really slowly, probably thanks to the thickness of pumpkin which coats the noodles rather than be absorbed by them. Amazingly, it also adds to the already golden colour of the noodles.
What really stands out in the toppings, though, is the blow torched pumpkin which has a lovely smokiness and the deep fried sweet potato skins. Thinly sliced, the skins have a great crunch and a great flavour which had us happily munching away on them, and it'd be great to get a whole bag of them! Even with so many toppings, and a thick soup, the ramen still feels light and doesn't leave you bloated.
This is a visit to Yasaka that you'll need to plan out though – only 10 bowls are available per store per service (i.e. 10 bowls for lunch, 10 bowls for dinner).  Go in small groups to avoid missing out, and go early because they won't last long! This is definitely a very special bowl of ramen you should look forward to, and it'll be gone after October 31st. The limited bowls and the effort it takes to combine the soups and decorate the dish means it has a higher price tag of $19.80, but for one month only and the most inventive and creative ramen we've seen, it's worth getting before it's gone.