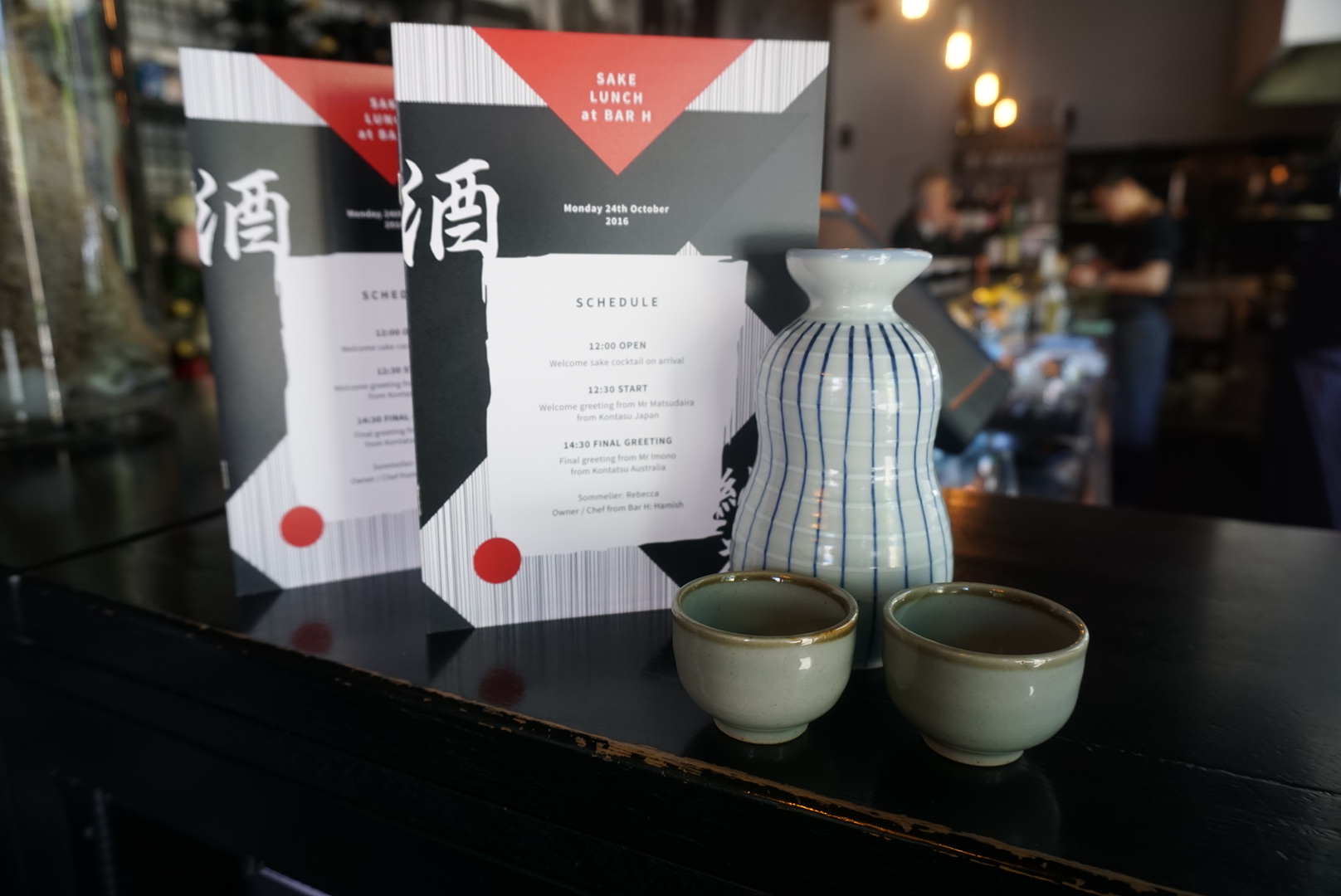 On the 24th of October, an inspirational sake matching lunch was held at Bar H, attended by various local bars and restaurants and supported by Zenbeiyu. The purpose of this event was to suggest how to match sake with local foods for local restaurants. Kontatsu Australia invited 40 people including chefs, sommeliers, and bartenders. Rebecca, a sommelier, organized the menu using sake from Kontatsu Australia .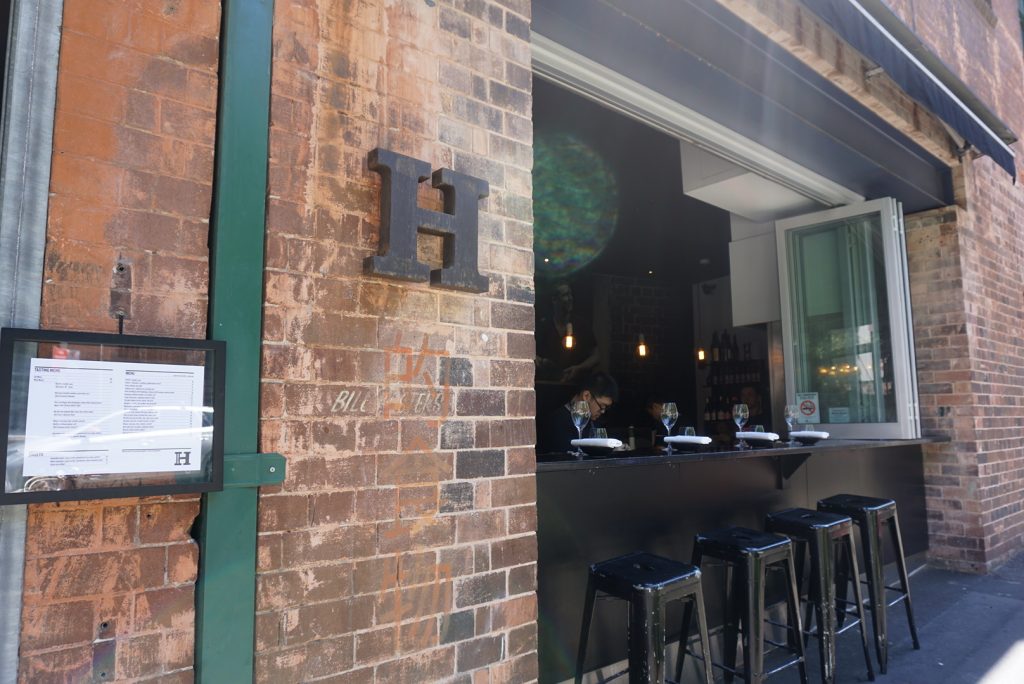 The ambiance at Bar H is nice and cozy. Many wine bottles and some sake bottles decorate the walls. You can enjoy watching  the chefs cook from the counter.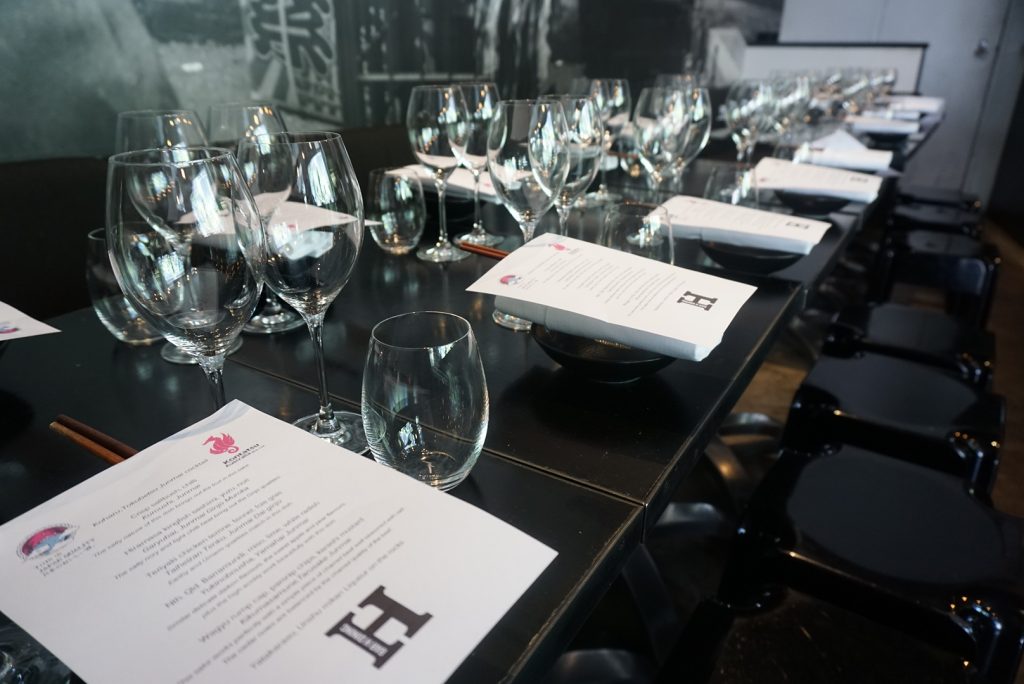 There were 7 different kinds of sake selected for the lunch and 5 dishes served. All the dishes were cooked by head chef Nobu.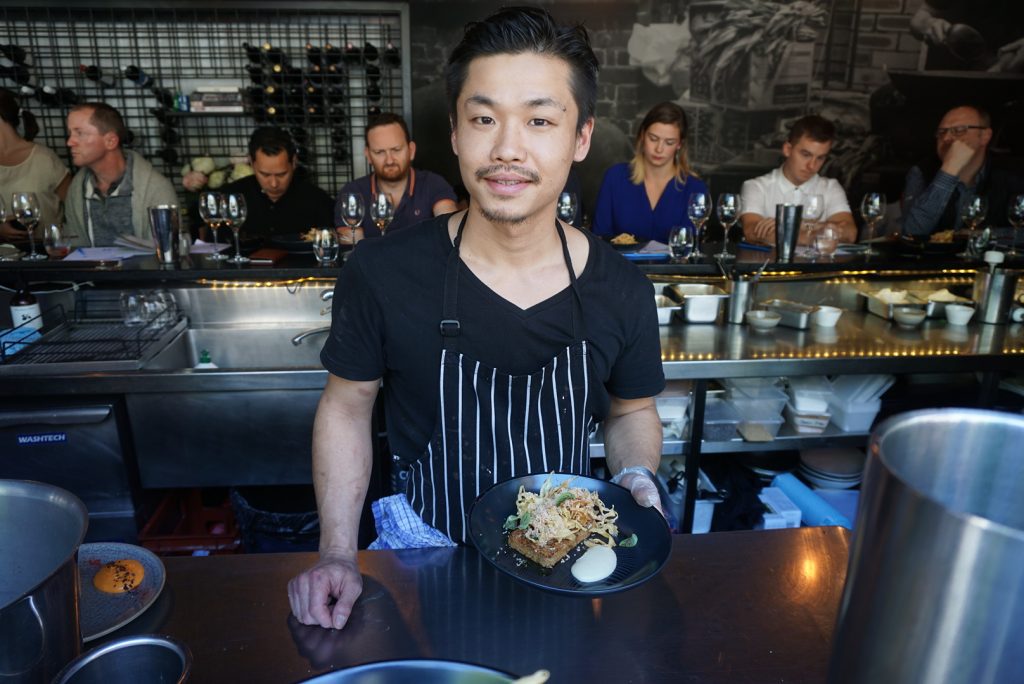 Welcome Drink: Koharu, Tokubetsu Junmai Cocktail
This unique sake is fruity like pineapple. The lovely pink cocktail is perfect for spring.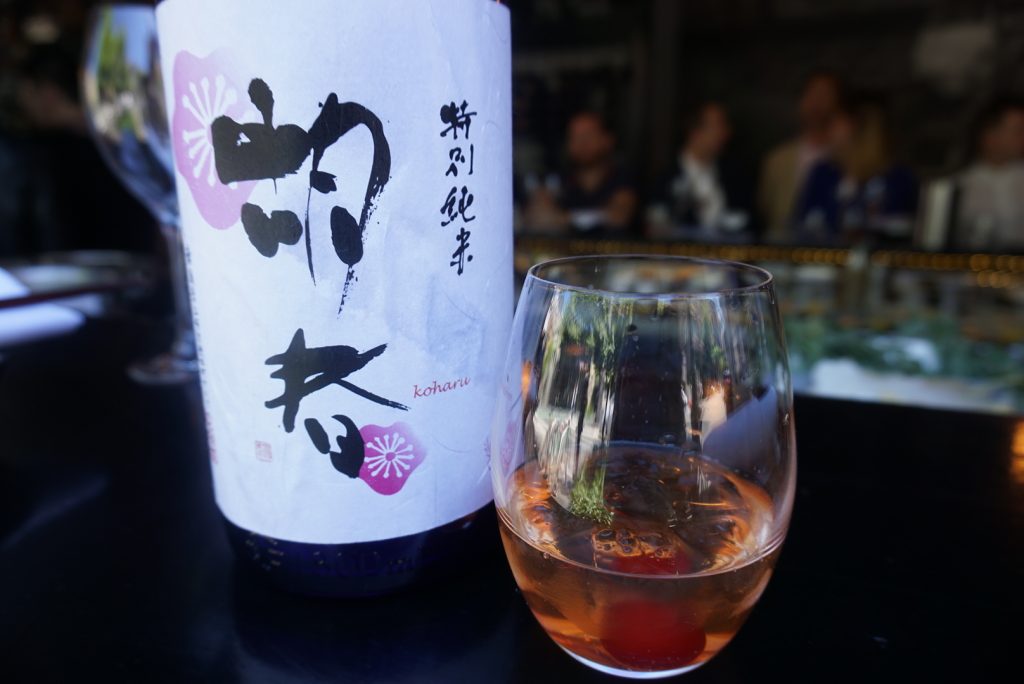 First dish: Kuroushi, Junmai and  Crisp Salt Bush with Chilli Sauce.
I really enjoyed the tempura's crunchy texture with some natural saltiness and adding lemon or chili sauce depending on your preferences can really add a nice zest. This sake has a full body with a mellow taste. It can match many dishes.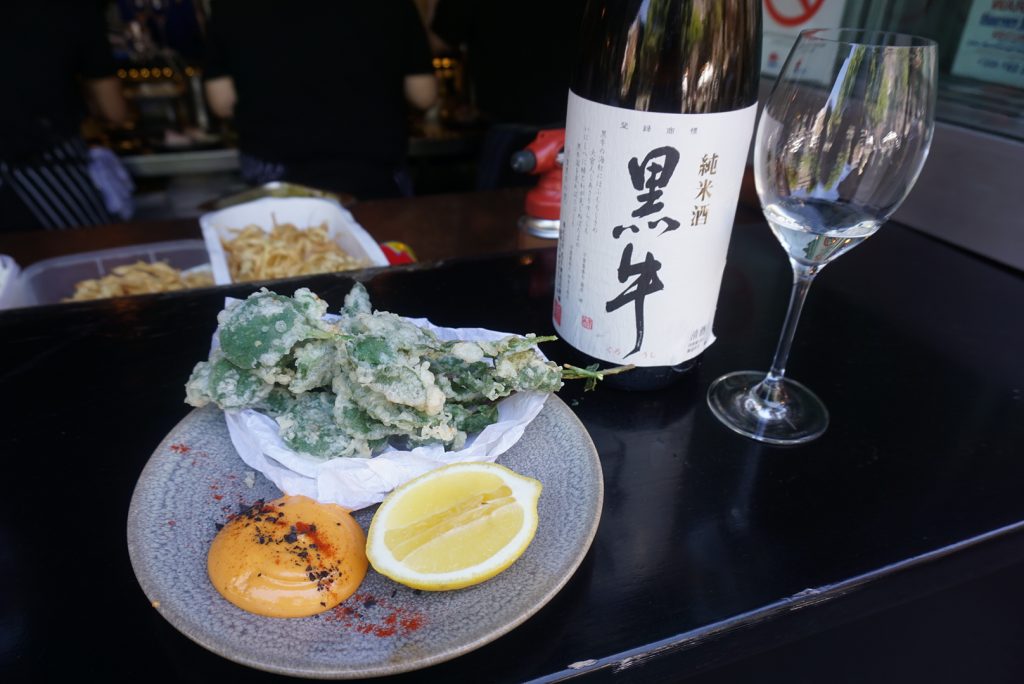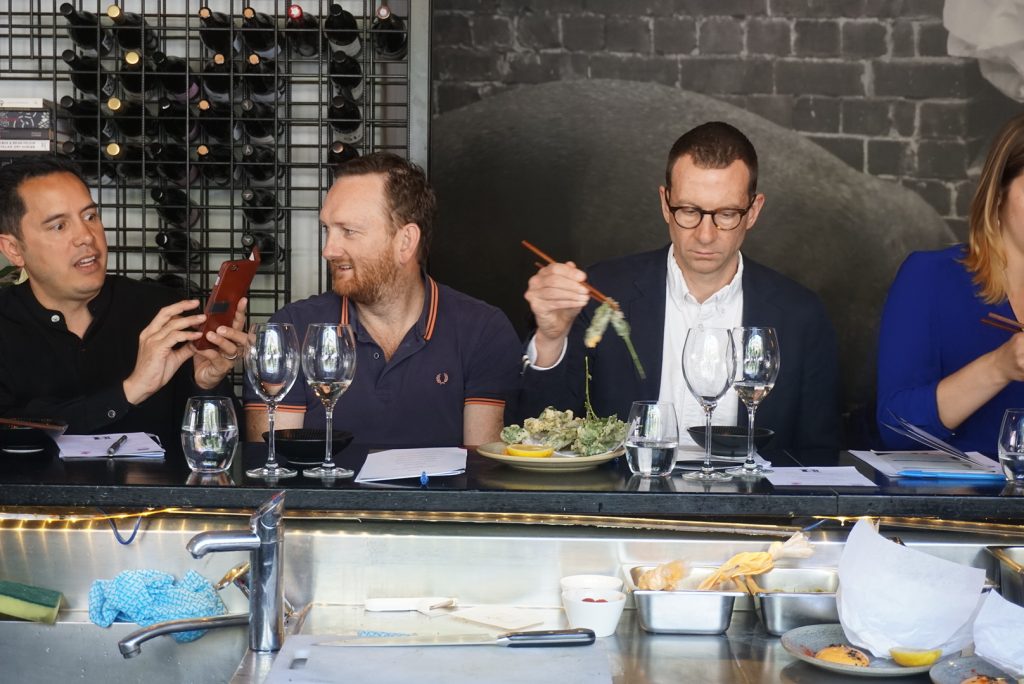 Second Dish: Gayubai, Junmai Ginjo Muroka and Hiramasa Kingfish Sashimi with Yuzu and Nori.
When we eat sashimi, we normally use soy sauce, but I had never imgined eating sashimi with nori. This sweet-salty nori is well known as a food eaten with rice. The sake matched with this dish is dry and fruity.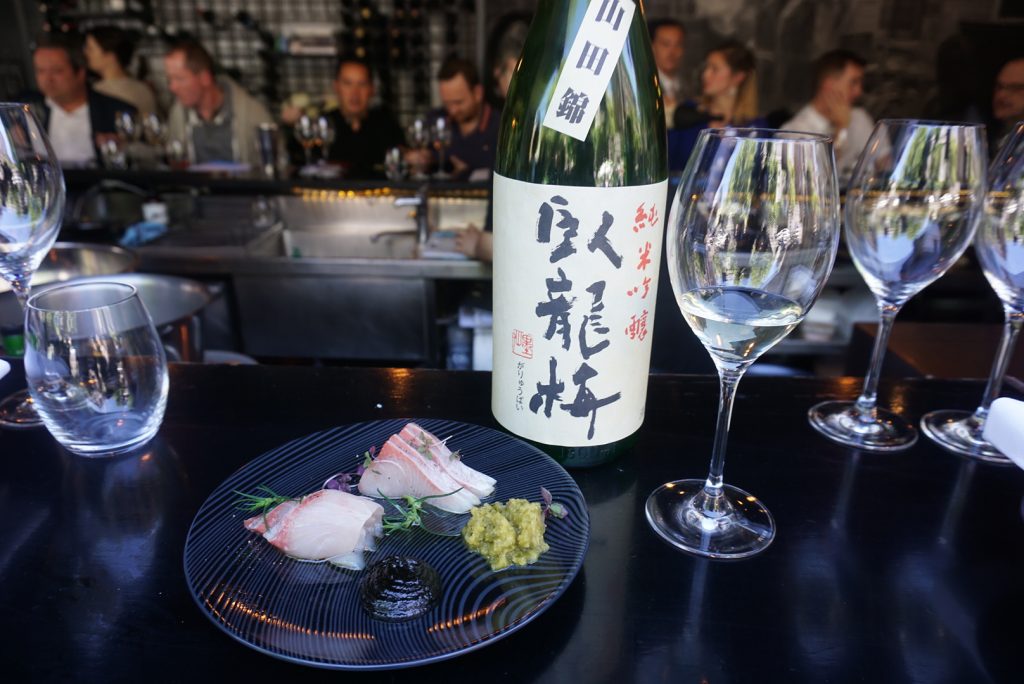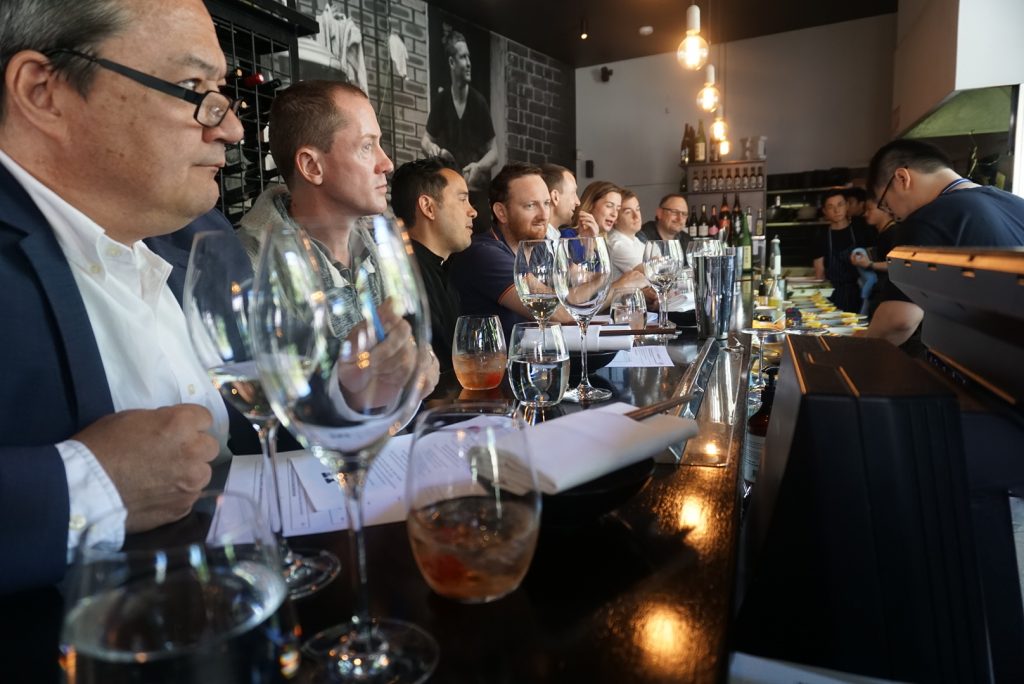 Third Dish: Taiheizan, Tenko, Junmai –Daiginjo and Teriyaki Chicken Terrine.
Completely different from the teriyaki we're all familiar with. The teriyaki is not sweet, and served as a terrine the chicken flavour is more prominent. A totally new and creative fusion food. The sake is a completely handmade, premium sake. Very fruity taste all the way through.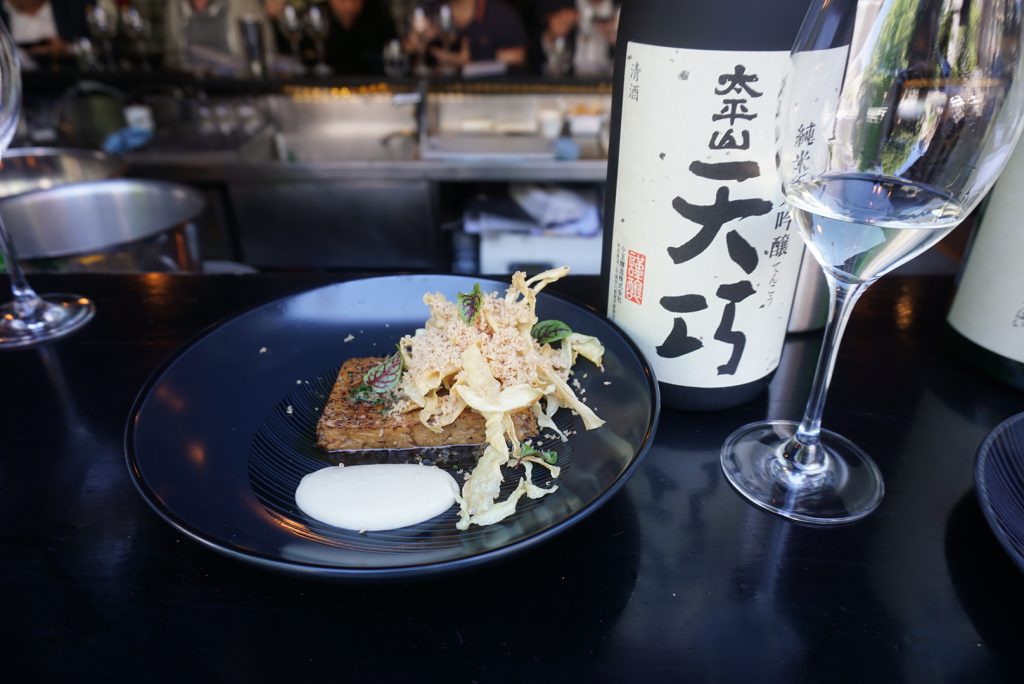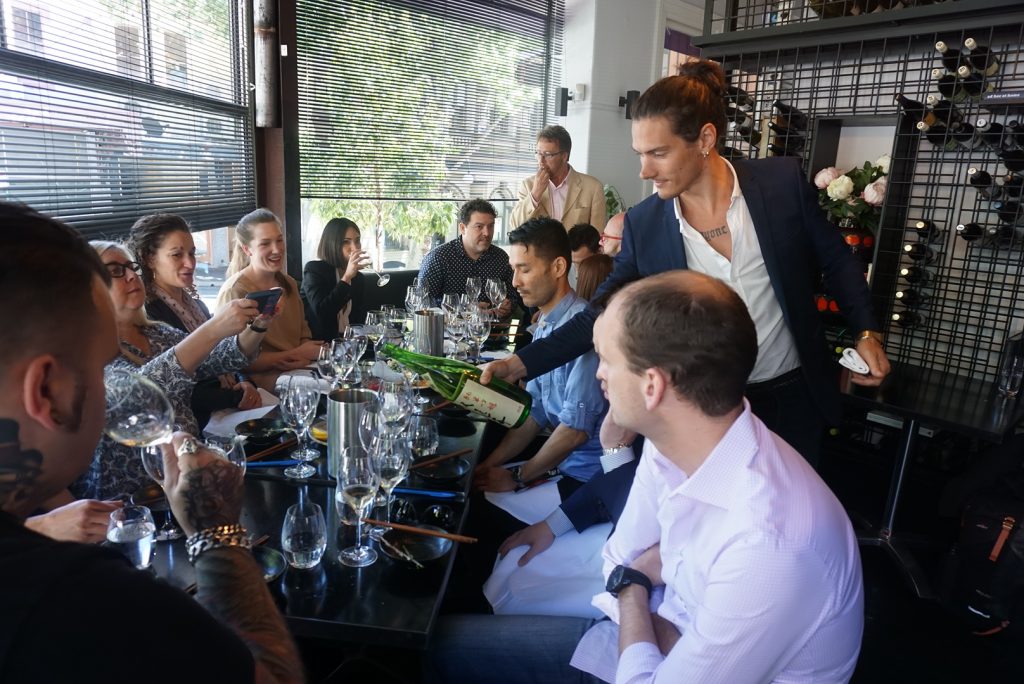 Fourth Dish: Yukinobousha, Yamahai Junmai and Nth. Qld. Barramundi with Miso.
This was my first time eating Barramundi. Plain white fish with miso is a great combination. The sake, which is made using the traditional process, features a wild thick texture and sharp sensations.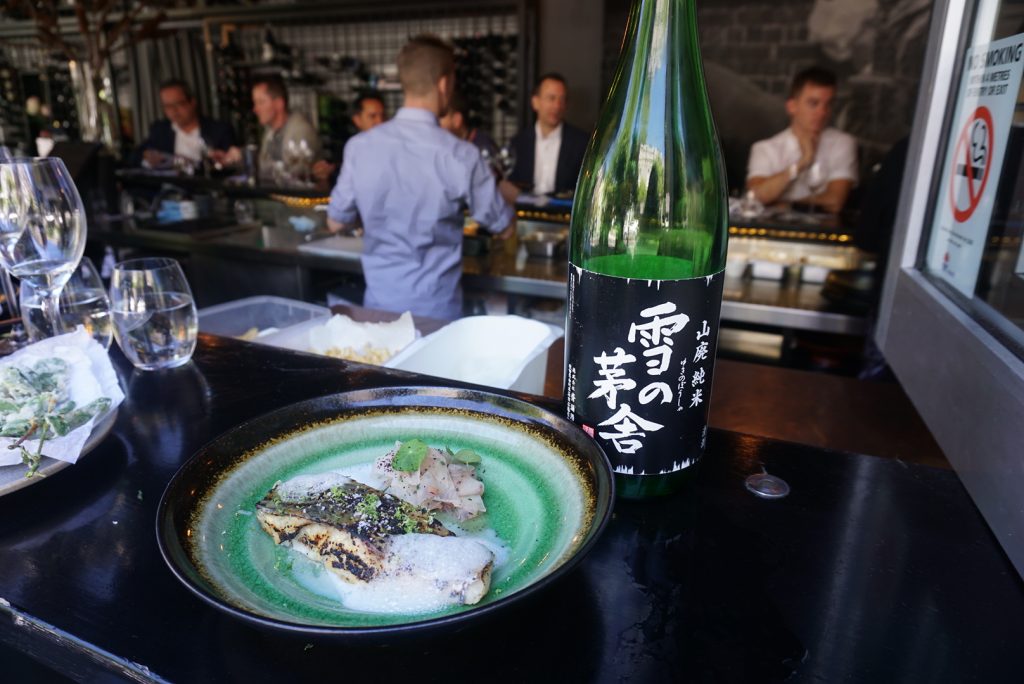 Final Dish: Kikumasamune, Taruzakejunmai and Wagyu Rump Cap, Parsnip Chips with Karashi Mustard.
'This sake works perfectly with a simple piece of charred beef well seasoned with salt.'" This aged sake is a specialty, with the wooden aroma of "Yoshino Cedar".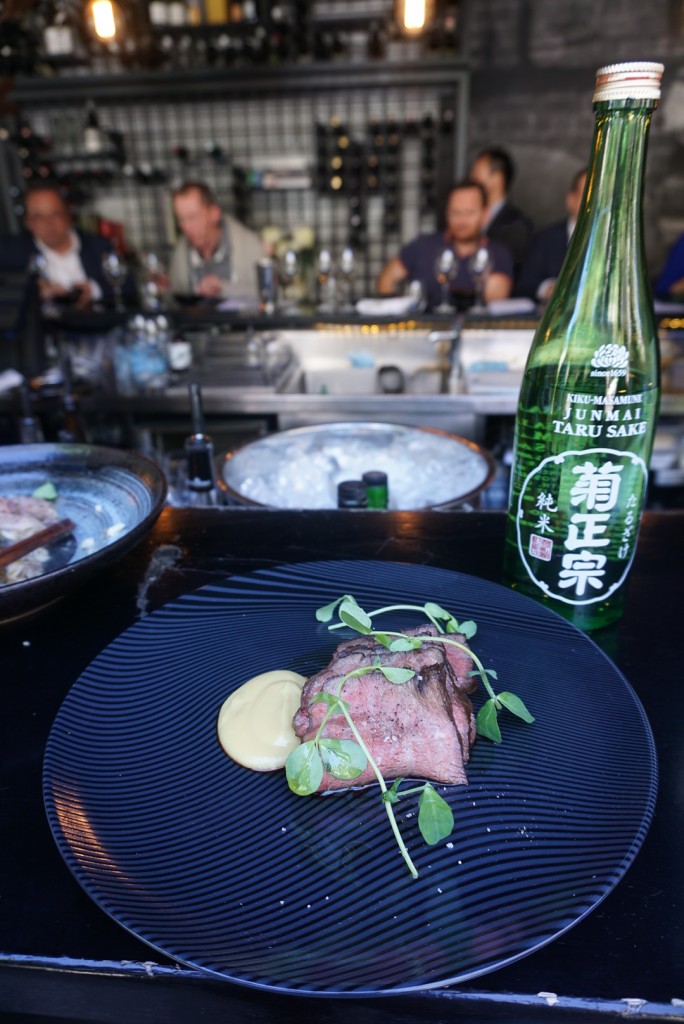 Instead of dessert, Yatakarasu, Unshu Mikan Liqueur was served at the end, on the rocks of course.  It is easy to drink, like juice, in spite of being 8% alcohol. You can also enjoy the lumpy texture at the same time.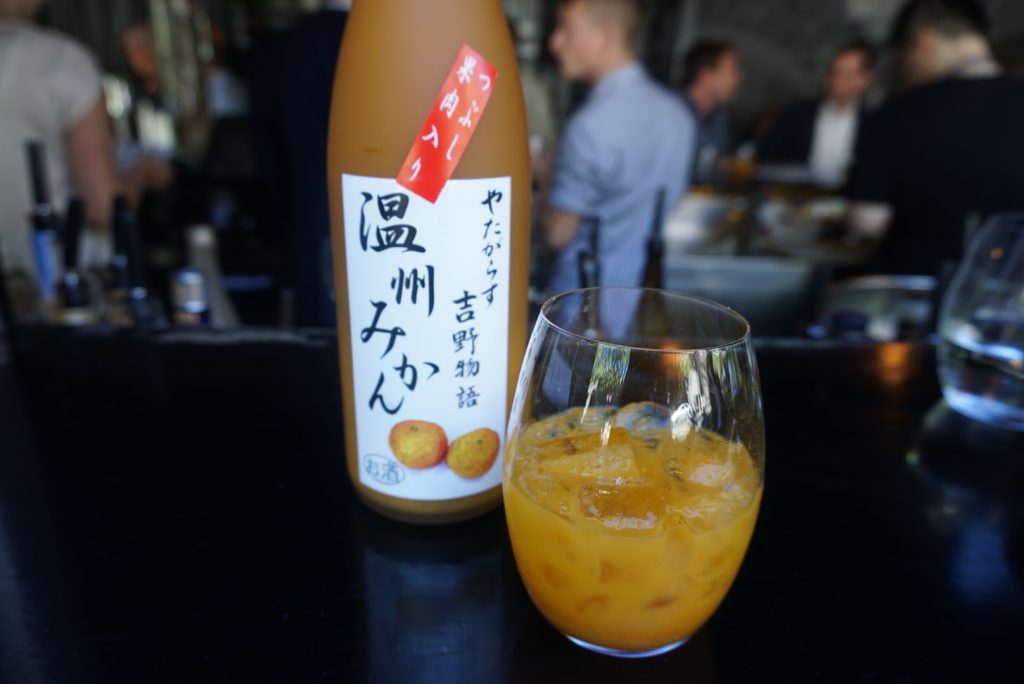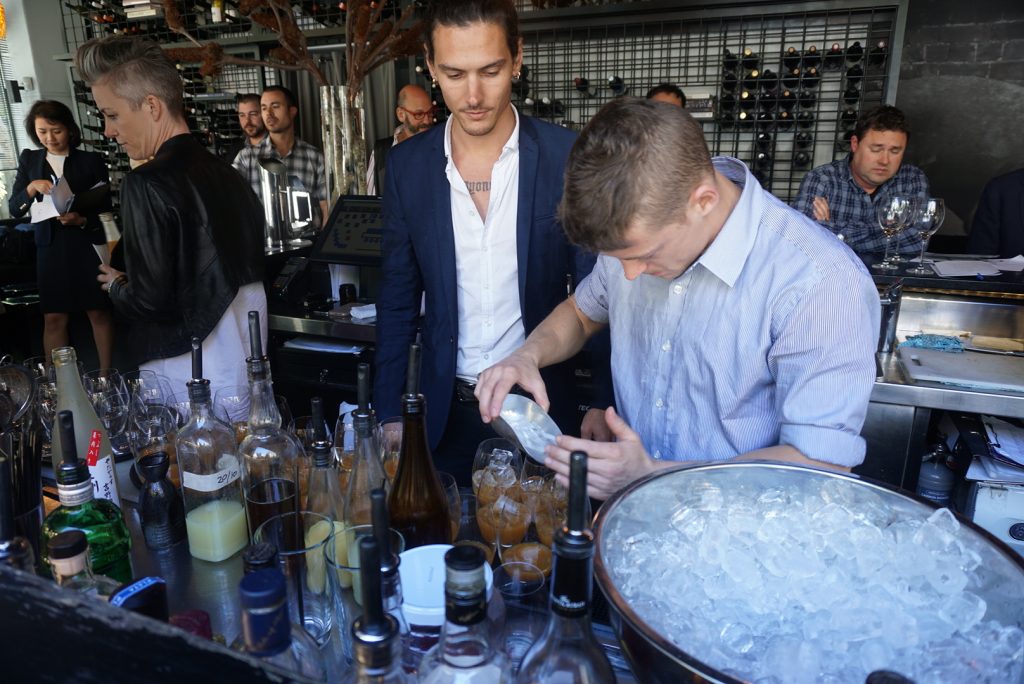 Rebecca gave a great piece of advice about matching sake with food, saying "dishes which have strong acidity are not a good match with sake, unlike wine."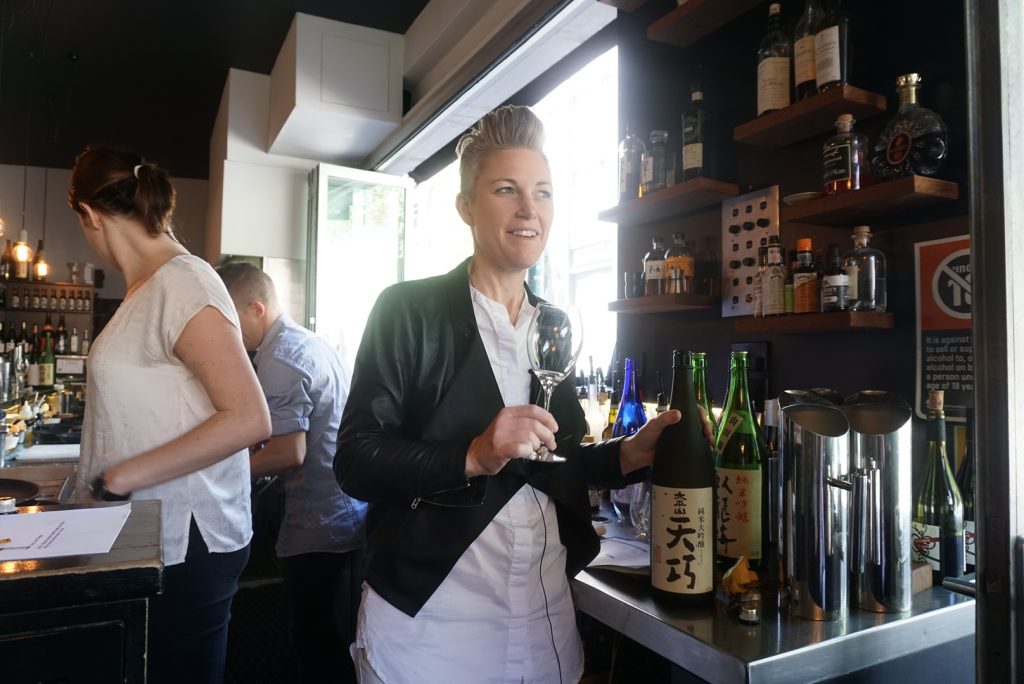 Mr. Matsudaira from Kontatsu, a sake master and wine adviser, told us the processes of sake and wine are similar as both of them are fermented. While wine is made from grapes, sake is made from rice, so sake can combine with certain foods better than wine in some cases.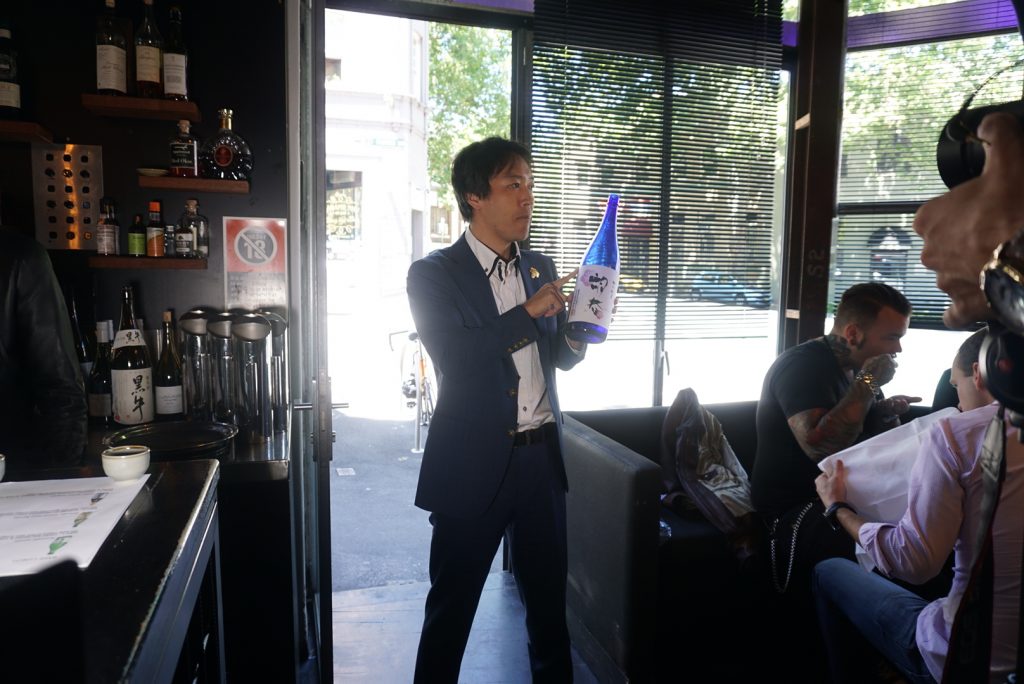 The aim of this event was to introduce a variety of ways that Japanese sake can be matched with Australian style menus. The Australian perspective, when it comes to food especially, doesn't have much in common with Japanese foods which allows for a lot of creativity, and as a Japanese person I also learned a lot!