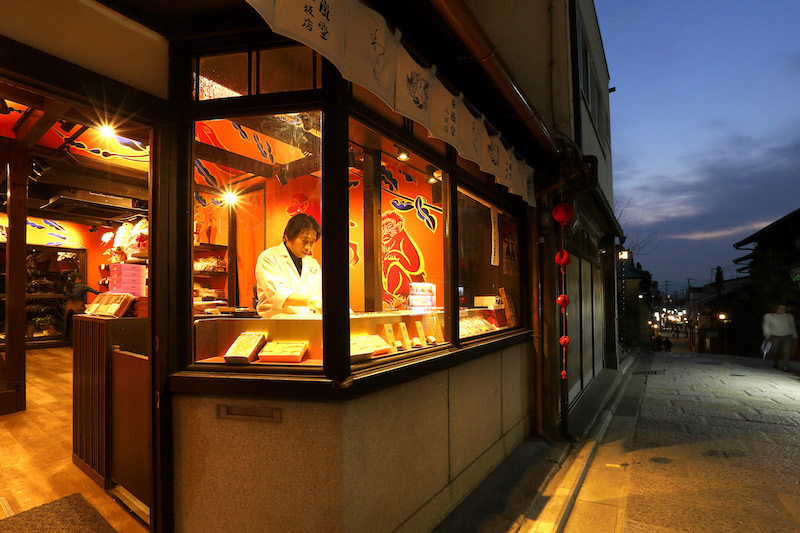 Photo by K.Uchida
Hello WASHOKU LOVERS!
I am honoured to be writing my first post for the Washoku Lovers blog.
My name is Marta, and I lived in Japan for 16 years, experiencing many beautiful Washoku restaurants before moving to Sydney. From this post on I would like to share with you some Washoku restaurants, cafes and shops located in Kyoto, which I am introducing in my latest book Ki-Yan's Kyoto Food & Art Explore Kyoto through the Artwork of a Japanese Pop Artist, an English – Japanese pictorial guidebook featuring the amazing mural art by a contemporary Japanese pop artist Ki-Yan (Hideki Kimura). Just before moving to Sydney, while still in Kyoto I encountered Ki-Yan and his spectacular artwork that eventually resulted in collaborating on publishing this book. You can find more information about the book and my other works on happydarumacreative.com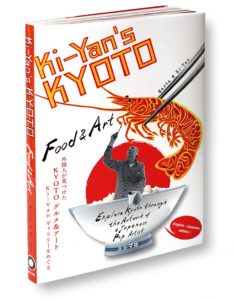 So, if you travel to Japan, and especially to Kyoto, you will have the opportunity to enjoy not only the delicious Japanese food in these restaurants but also experience the dynamic, colourful, and contemporary yet still inspired by traditional art, unique murals by Ki-Yan!
Today's post, the first part of the series Ki-Yan's Kyoto – Washoku restaurants, café & shops, introduces two Kyoto branches of Hourandou, a specialty shop selling mamegashi (beans snacks) and warabimochi (a Japanese confection made from bracken starch) – Hourandou Yasaka, established in March 2014 and Hourandou Heian-jingu in October of the same year, are both run by owner and chef Nobuyuki Maeba.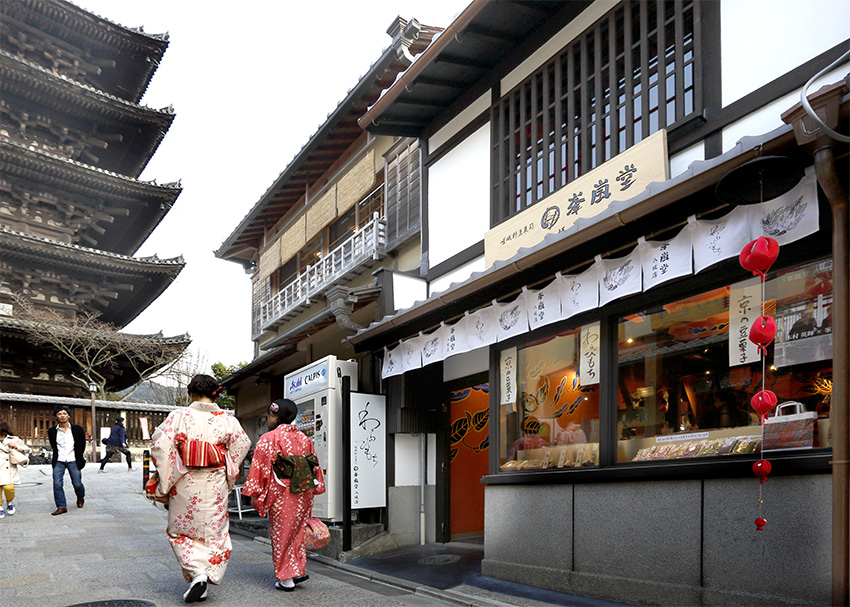 Photo by K.Uchida
 If you are in Kyoto sightseeing through the Higashiyama district, it is definitely worth taking a break at the cute Hourandou Yasaka branch, located in a machiya (traditional Kyoto townhouse).
Located just below Yasaka Pagoda, the Yasaka branch of Hourandou offers 40 kinds of mamegashi .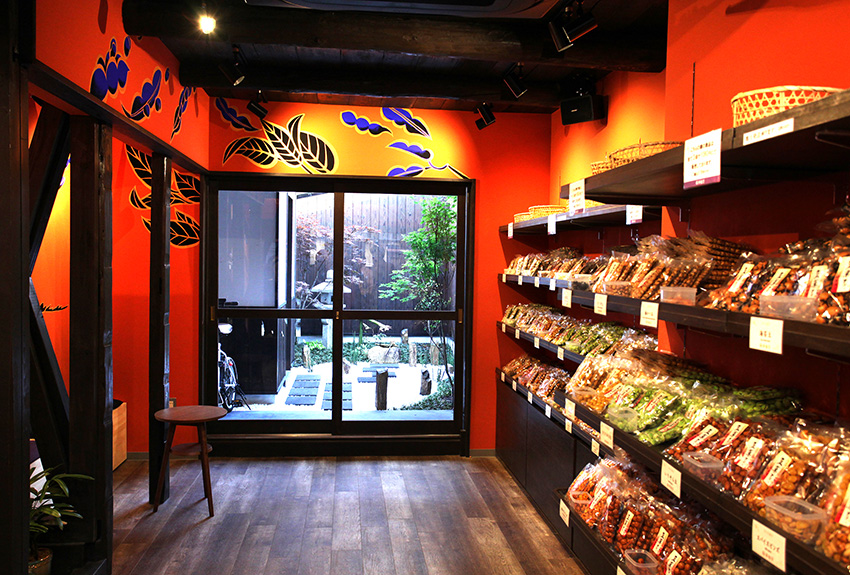 You can find here the famous dried kuromame (black soybean snacks) from Tamba as well as kuromame matcha version, saku-saku wasabi mame (crunchy wasabi flavoured beans) or koume-mame (pickled Japanese apricot flavoured beans), and much more!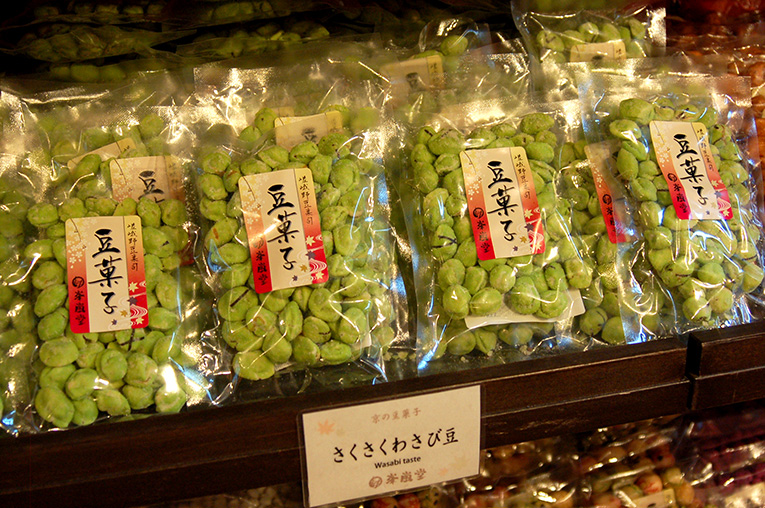 And you can try them all for free !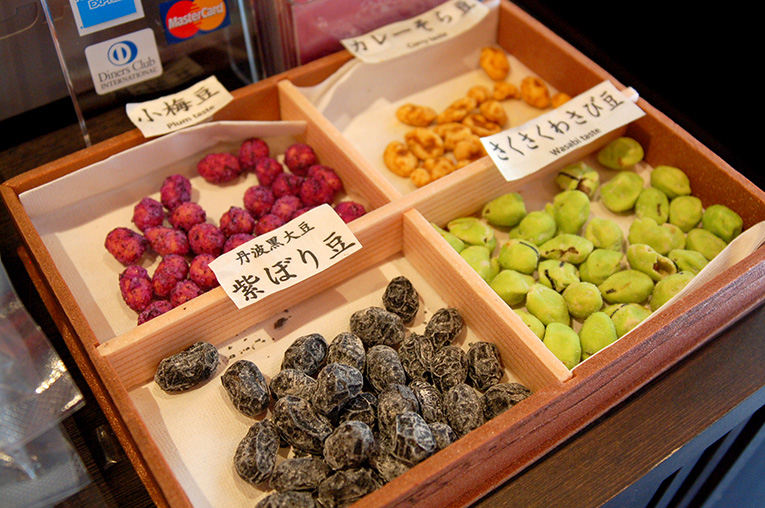 Photo clockwise: kuromame, koume-mame, karee-soramame (curry flavored broad beans) and saku-saku wasabi mame.
Upon entering Yasaka branch of Hourandou you will be surprised by the pop-art on its walls – Ki-Yan's monkeys flying across the vermillion red walls, a motif that comes from the neighboring Yasaka Koshindo Temple, and giant blue beans, the symbol for both specialties of the shop – mamegashi beans snacks and warabimochi.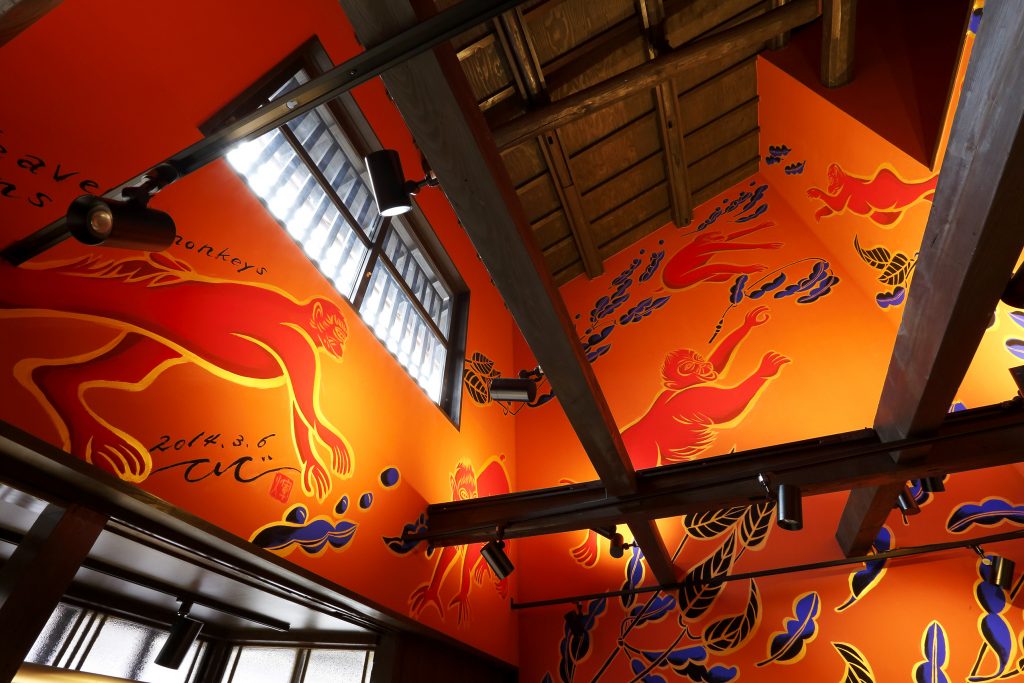 Photo by K.Uchida
So, if you want to try or are already fan of warabimochi, this shop is for you!
Here in the shop you can not only buy this traditional Japanese bracken starch sweets, but even enjoy watching how warabimochi is made!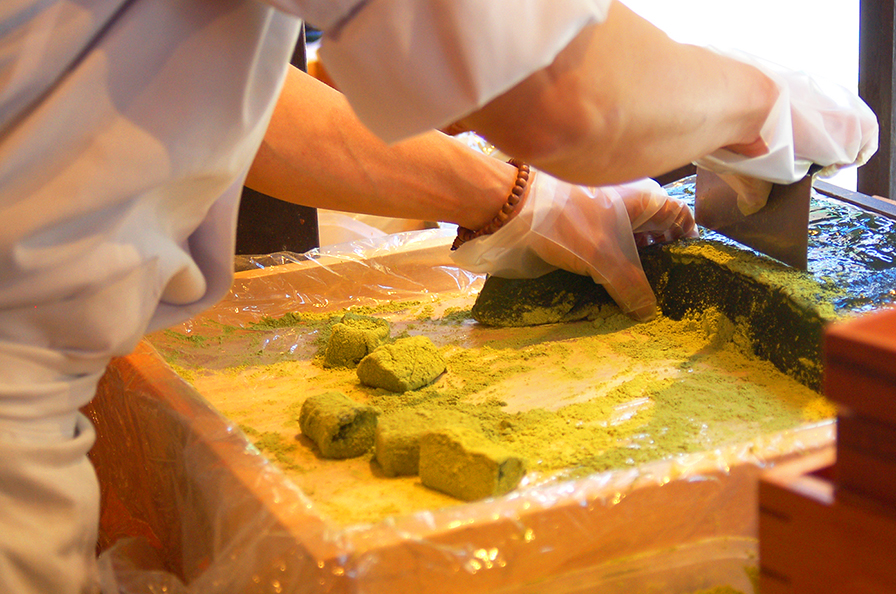 But if it just so happens you are strolling around Okazaki area, you can experience the other branch – Hourandou Heian-jingu.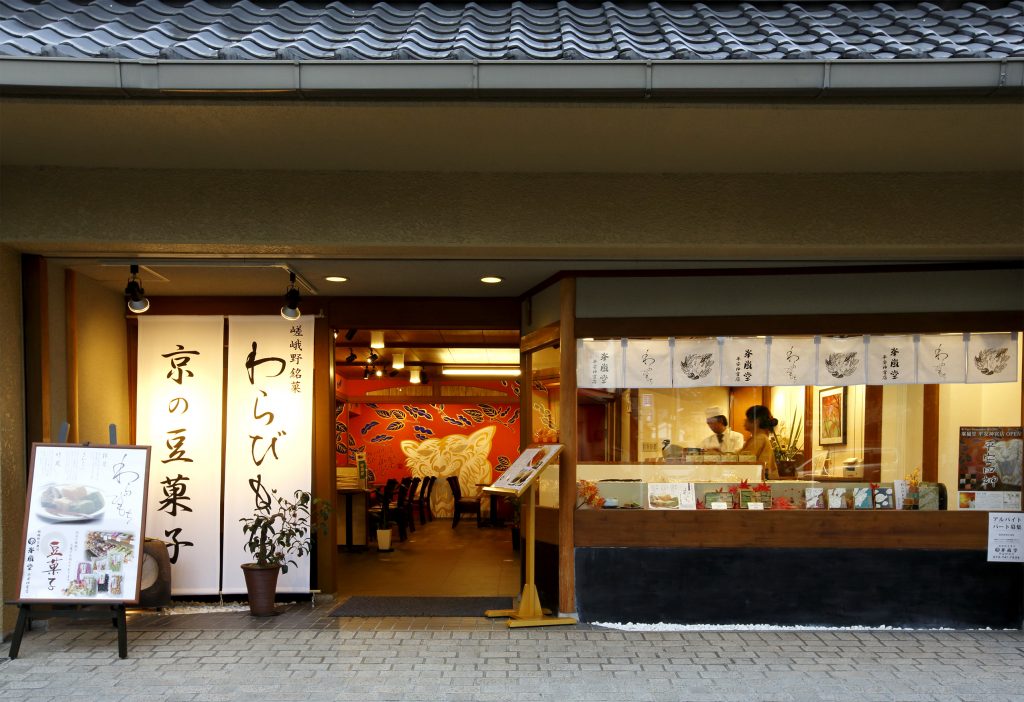 Photo by K.Uchida
This branch of Hourandou offers the same product range as Yasaka branch, but what differs is that here in the café corner you can sit down and enjoy a beautiful set of freshly made warabimochi and matcha!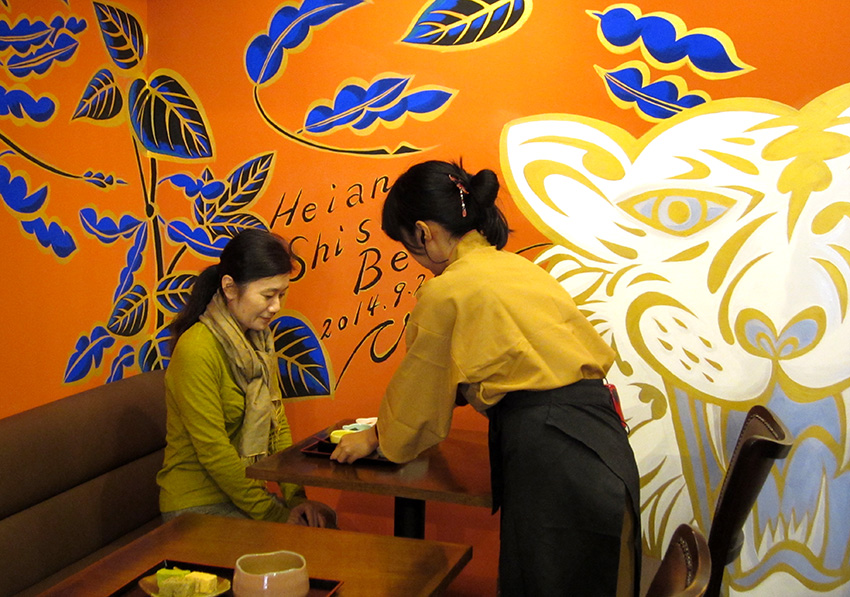 You can choose between two types of warabimochi sets.
One is the melting warabimochi set served with matcha and three flavours of soft warabimochi – kinako (roasted soybean flour), matcha and charcoal topped with black sesame.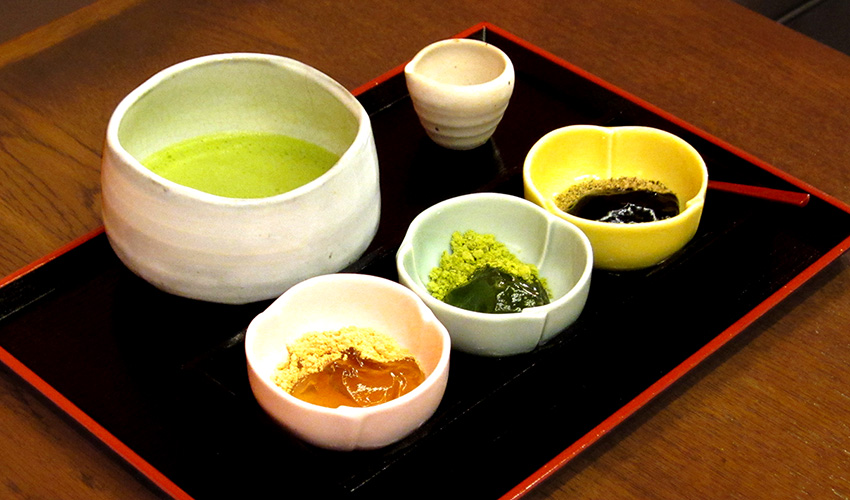 Or the second option, a simple set of matcha and warabimochi (kinako and matcha).
What makes Hourandou Heian-jingu branch especially attractive is Ki-Yan's impressive mural work, titled Heian Shishin & Beans. The motifs of 'Four Deities' (shishin) painted on café's walls are connected to the neighboring Heian-jingu Shrine and represent the four cardinal directions in Japanese geomancy (hoi – Japanese Feng Shui): Tiger for the West, Peacock for the South, Turtle for the North and the Carp for the East.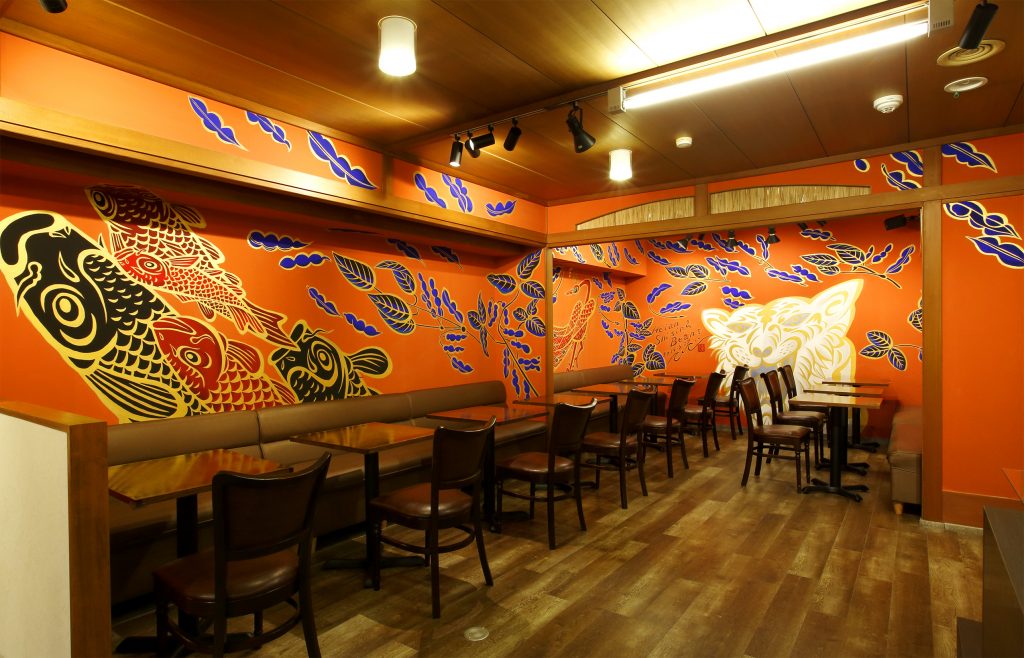 Photo by K.Uchida
Like at Yasaka branch, here you can also take a look through café's window how the warabimochi is made :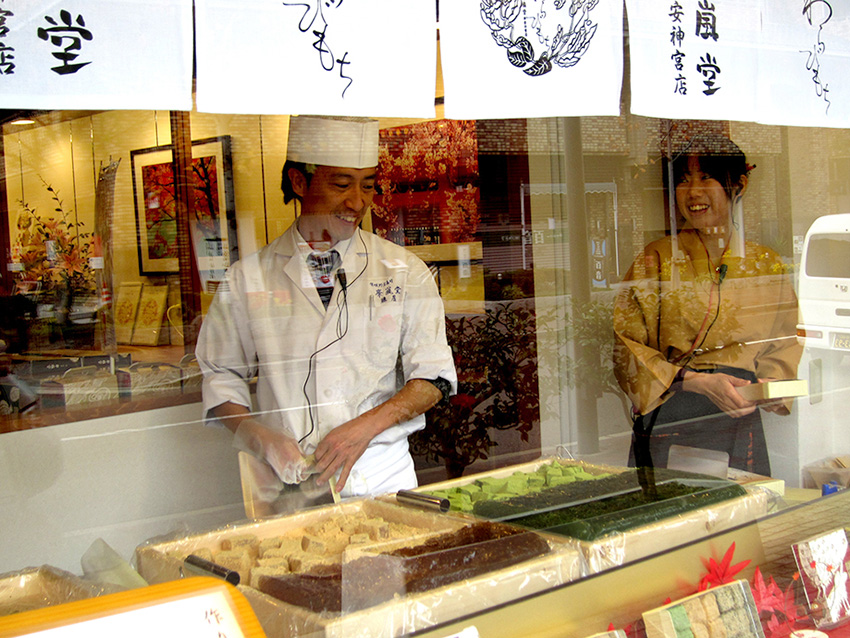 Hourandou, which supplies Kyoto restaurants with soybeans, kombu and other dried ingredients, is especially proud of its high-quality kinako, developed to perfectly match the taste of its homemade warabimochi.
If you need an original souvenir, you can purchase the four flavours of warabimochi packed separately in beautiful gift boxes or as a set – featuring Ki-Yan's motifs from the mural Heian-Shishin & Beans: the Four Deities – Turtle, Peacock, Carp and Tiger.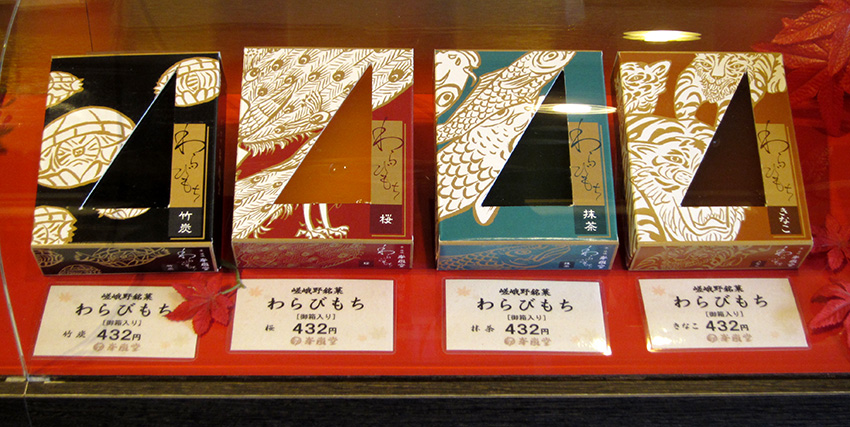 I hope you enjoyed this post and if you want more information about Ki-Yan and Washoku restaurants (more shop details, maps in English etc.) head on to see the book Ki-Yan's Kyoto Food & Art, which is recently also available in Sydney bookstores: Kinokuniya Books, MCA Store, Gleebooks, Better Read Than Dead, The Cross Art + Books, Art Gallery NSW and soon coming in Published Art.
Look forward to the following posts of the series Ki-Yan's Kyoto – Washoku restaurants, cafes & shops!
* Artist's bio: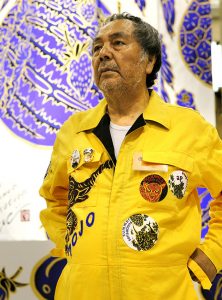 Photo by K.Uchida
Ki-Yan (Kimura Hideki)
Born in Osaka in 1942, painter Hideki Kimura (Ki-Yan) graduated with a degree in design from the Kyoto City University of Arts. Upon graduation, Ki-Yan first worked as a lecturer at his alma mater, then as a rock music producer. As an ambassador of rock and roll in Japan's early days of rock music, he produced the Japanese rock band Murahachibu, co-produced the world rock concert with Yūya Uchida, and organized many other legendary events, including Japan's first rock festival. Ki-Yan began his work as a mural artist at the age of sixty. Pursuing a form of ultimate amateurism he has already painted more than 150 murals around Japan and abroad. His books include 'Ikiru Mama', 'Muga Muchū' and 'Live'. Ki-Yan is based in Kyoto. His biggest exhibition was held in September 2015 in Takashimaya Department Store Kyoto. Ki-Yan's newest work includes his first ever musical—'Panorama Rimpa Rock'—which has been performed in Kyoto on 15th and 16th December 2015.