Kirin Australia has just opened up shop in the form of a pop up at The Oaks Hotel! The 1936 bar space has been decorated and renewed, with red and white lanterns, bamboo, and paper wall partians for the pop up, which runs until August. Washoku Lovers was invited along to the opening night for a sneak peak at the menu – both the food and the beers!
The night started off with some speeches about how Kirin is made, specifying that Kirin Australia uses Australian ingredients, and is brewed here as well, but uses the Japanese method of ichiban shibori meaning first press. What this means is that Kirin is a smooth malt flavour with a creamy head, a delicate fruity taste and a subtle bittersweet taste. They also have both pear and apple ciders for those who aren't too big on beer.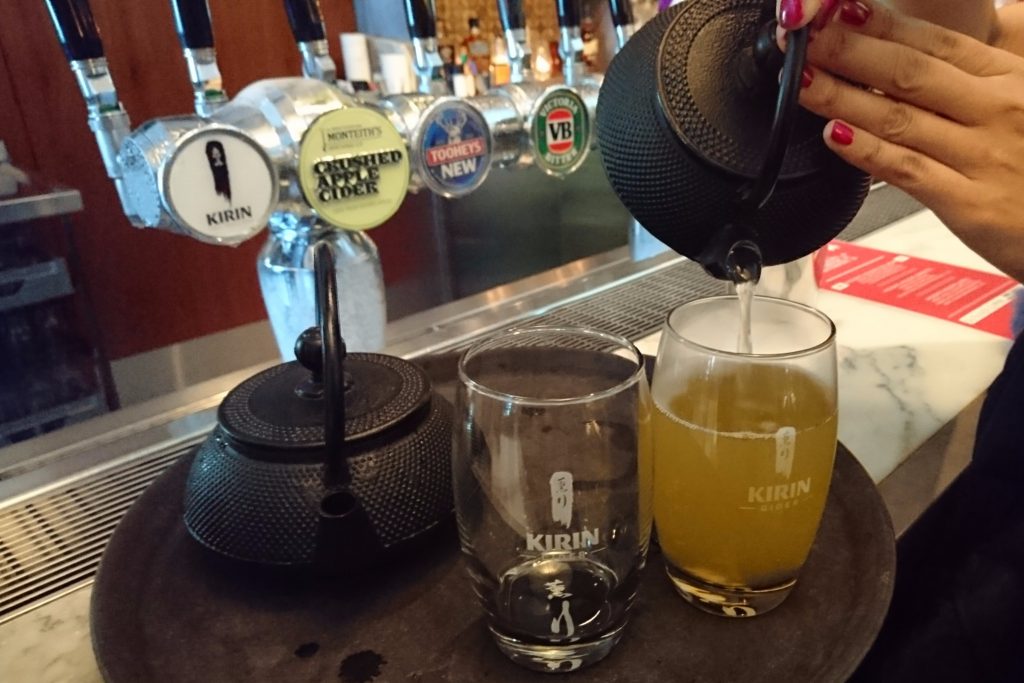 On the night we were presented with a selection of Kirin beers and both hot and cold served ciders. We decided to start with a mulled apple cider, since we'd just stepped in from the cold street! Served in a teapot, the cider has a kick of spices and since it's warmed up, you don't feel any bloating from the bubbles – a pretty good way to start the night!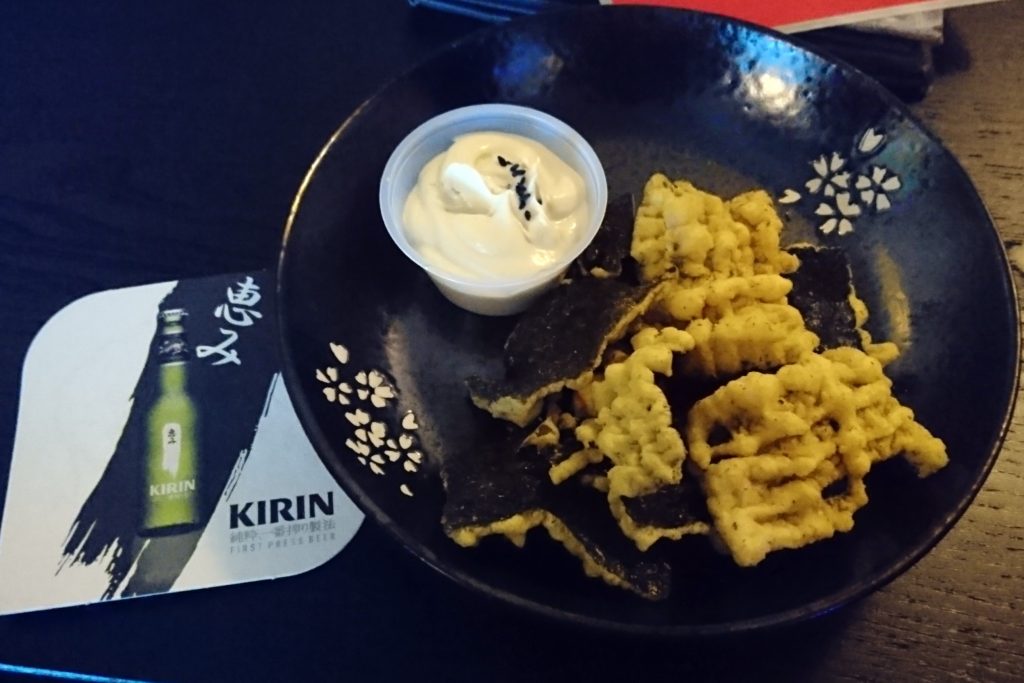 The Oaks Hotel and Kirin Australia also teamed up with celebrity chef Danny Russo to create an Asian inspired fusion menu. The first meal we received was the Nori Crackers ($9), served with a smoked bonito aioli and garnished with black sesame seeds. This was probably my favourite dish of the night, and I think it was the most clever mix of Japanese flavours! Nori seaweed sheets were dipped only on one side in tempura batter than fried. They were warm, crispy, and served with aioli, what more can you want! They do have a mild wasabi flavour which builds up after a while, but they're also addictive.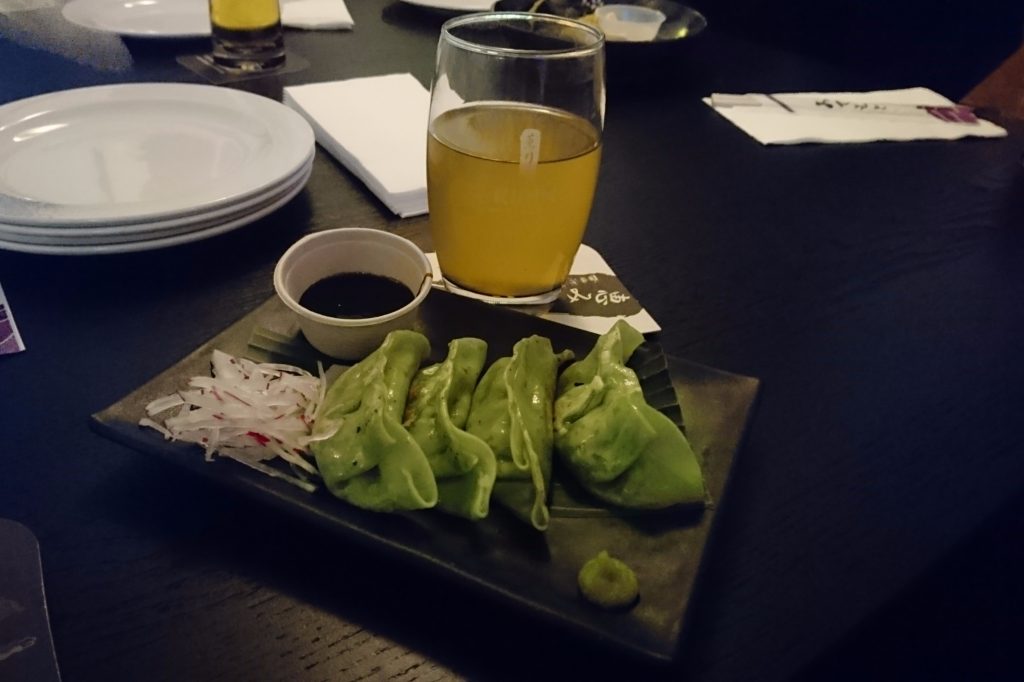 After another round of ciders (pear this time, nice and light), we were served the Vegetable Gyoza ($12) filled with radish and nashi pear, accompanied by a small salad and a thick dipping sauce. The green wrappers were definitely something to look at, and they were perfectly cooked.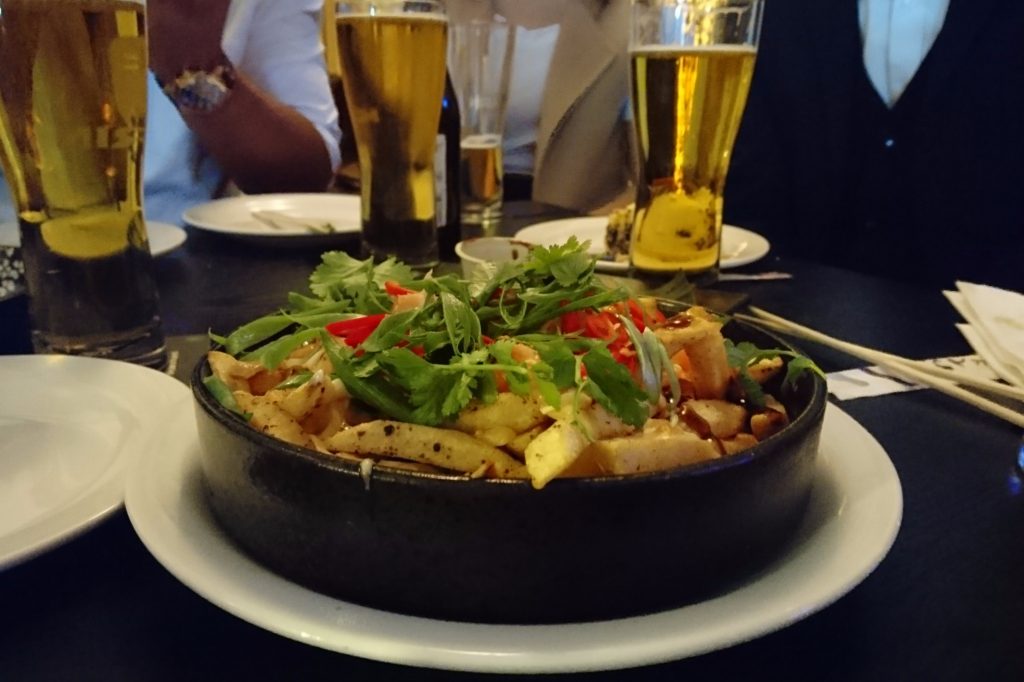 Another favourite of the night was the Disco Fries ($12). Topped with house smoked salmon, cheese, red chillies, teriyaki sauce, and coriander, the fries are actually pretty much perfect on their own without the toppings. The toppings just bring it to a whole new level, and I almost polished off a share plate all to myself. This would be the dish I recommend the most (I loved the nori crackers, but understandably some people can't handle wasabi) not only is it a safe option for picky eaters, fries are a crowd favourite, easily shared, and filling.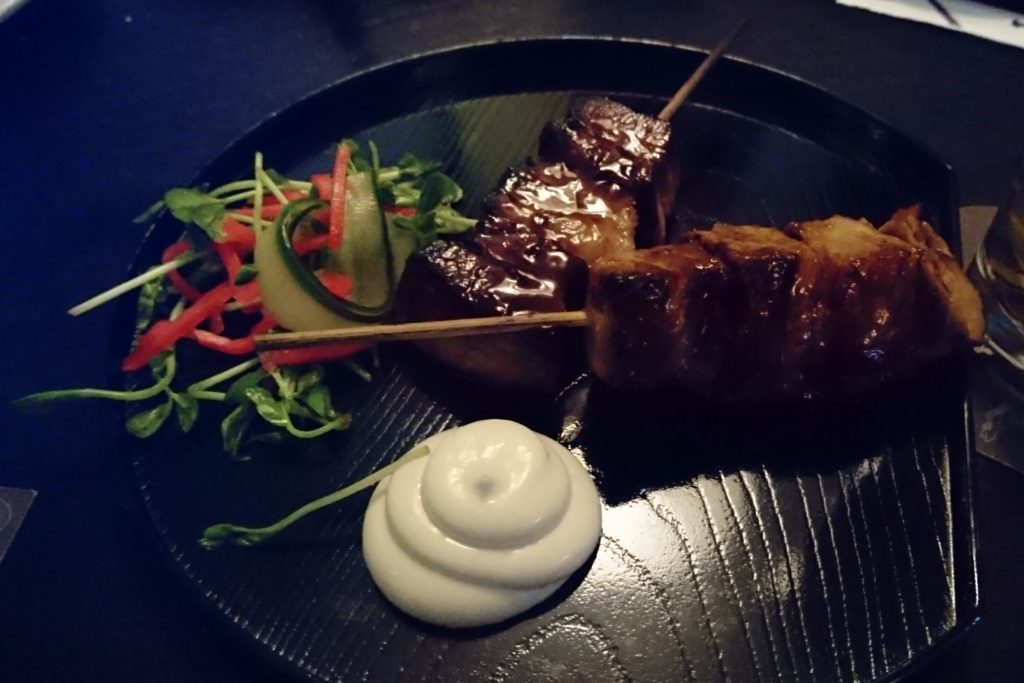 The Pork Belly Yakitori ($12) is a steal for the price. Large chunks of succulent, perfectly cooked pork belly are skewered and served with a small salad and aioli, making for a very happy tummy. The squares of meat really are quite big, it's a generous serving size so make sure you share. It comes with a cucumber, snow peas, and pickled ginger salad.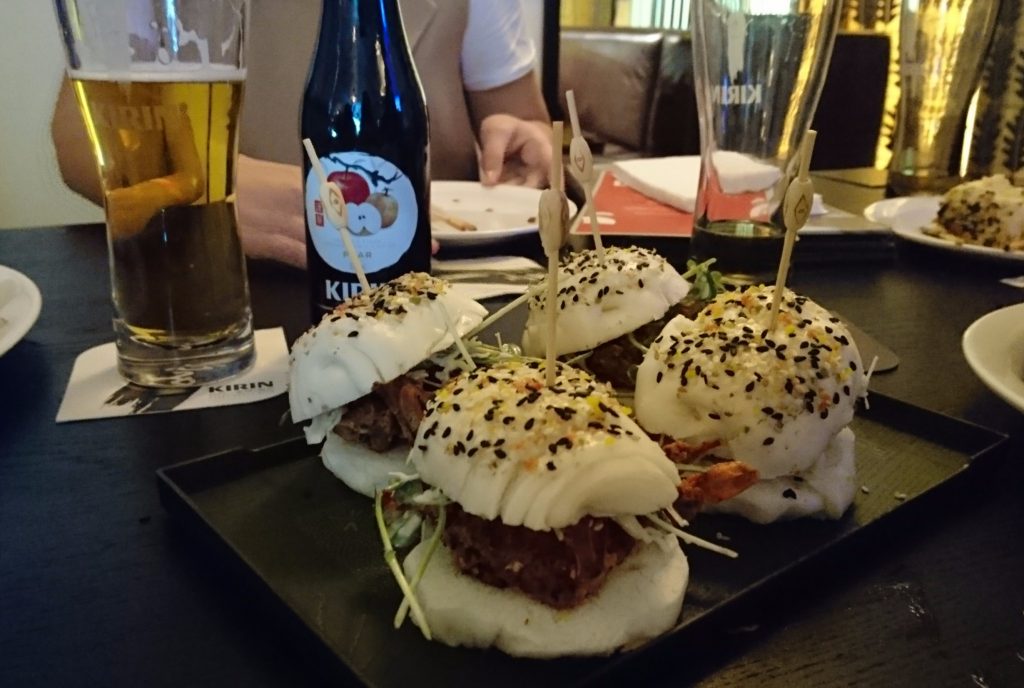 I am a firm believer that soft shell crab is delicious, and so are burgers, so combining the two into the Shichimi Spiced Soft Shell Crab Slider with Slaw ($15) saw my eyes light up instantly. They were popular at our table, with a few people grabbing a second one despite how much food had already come out. The crispy, salty coating of the crab had us all licking our lips, and the bao bun was perfect to help clean out your palette afterwards.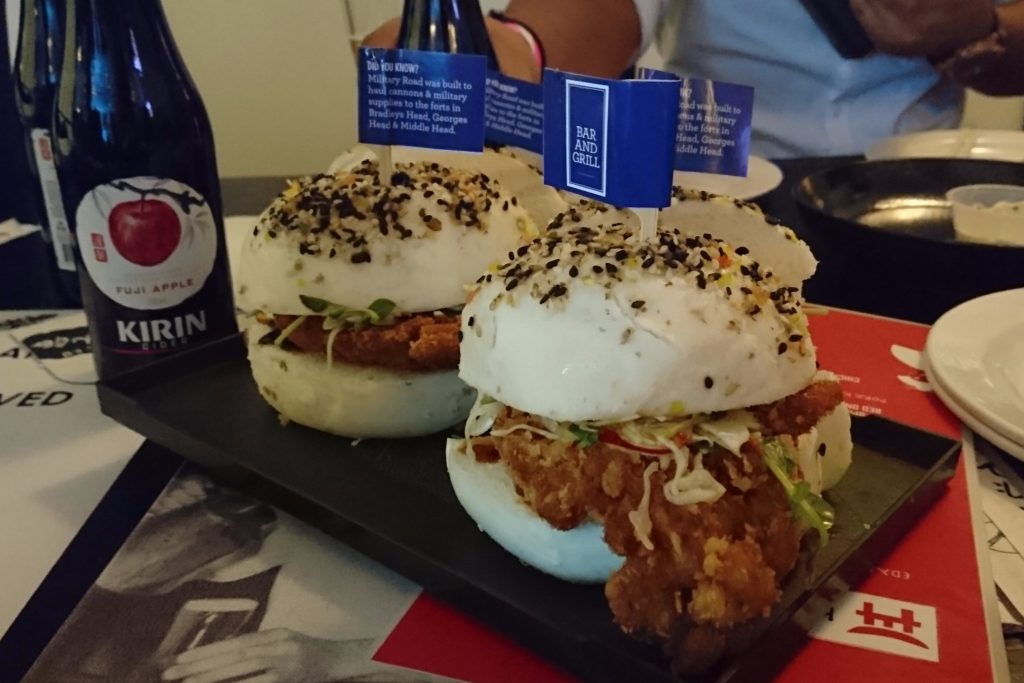 The bao bun (in a full burger sized version) is also used in the Pork Katsu Burger ($14). Much of the katsu was hanging out the sides of the burger, meaning once you finished the bun you still hand a nice handful of pork to eat. The filling also included a nashi pear slaw, and teriyaki sauce.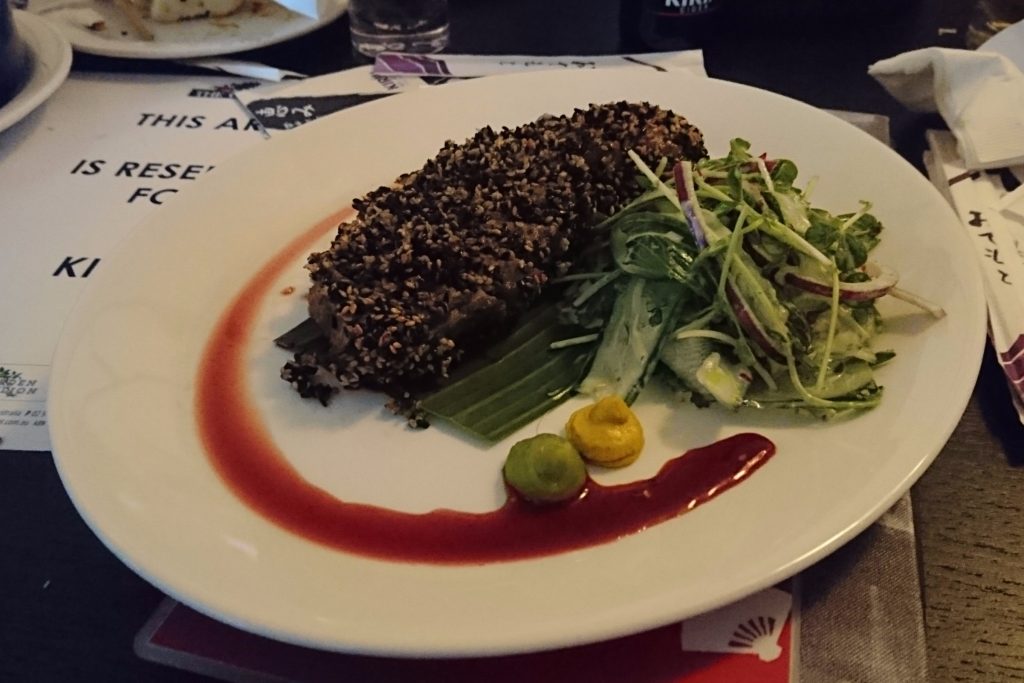 Almost at the end and incredibly full of cider and food, the Smoked Rump Cap ($16) was placed in front of us, coming with a radish, cucumber, red onion salad and wasabi sauces. Absolutely covered in sesame seeds, the medium rare steak was hot, juicy, and crunchy. The salad was one of the best of the night, and the portion was huge so again, it's good for sharing!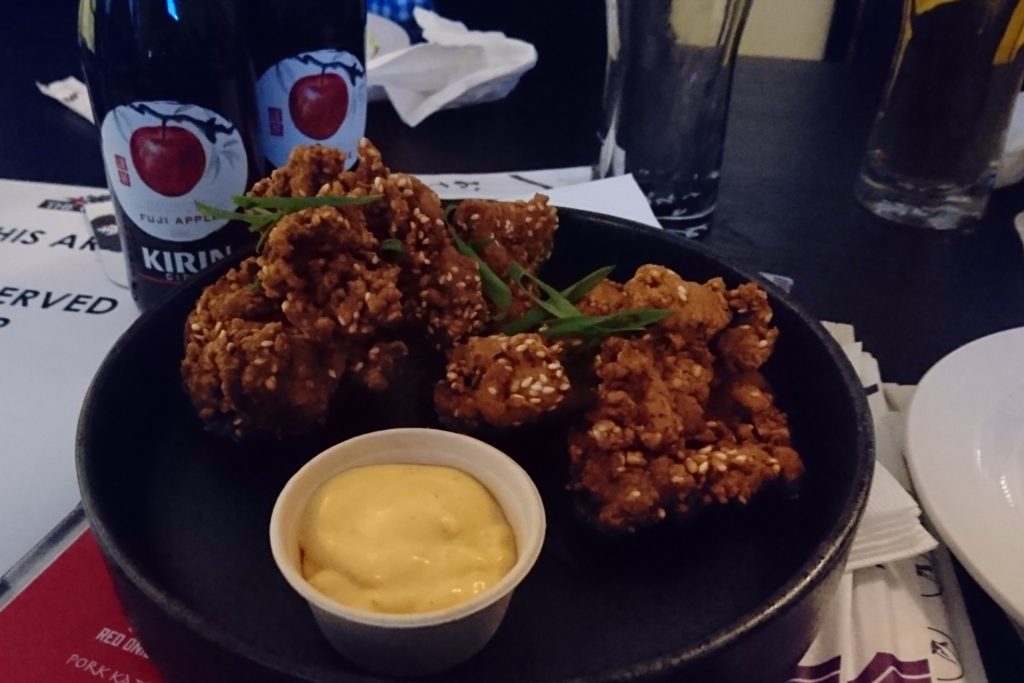 Finally, our last dish was the Chicken Karaage ($16) served with chili aioli. The theme of the night seemed to be generous serving sizes, because the chicken was huge! Too big for chopsticks in fact, and most people got their hands dirty (although that may also be a result of Kirin beer…!).
Only 20 minutes by bus from Wynyard, The Oaks Hotel is a lovely venue, made even better by the indoor electrical cherry blossom tree that Kirin has put in. Pop in to the pop up for dinner with a large group, as Kirin is best shared.
The Oaks Hotel is at 118 Military Road, Neutral Bay.