In Japan, Children's Day or Kodomo no Hi is a national holiday where children are respected and honoured. This day is celebrated every year on May 5th to wish the children individual strength and happiness. It was originally a day of celebration for boys, but this was changed in 1948 to celebrate the health and growth of both boys and girls. Also, there is another festival called Hinamatsuri (Girl's Day or Doll's day) which is celebrated each year on the 3rd March. 
On Kodomo no Hi, Koinobori or cloth carp streamers are flown on poles outside of public buildings, such as schools and home to bring good luck and fortune to the children, as well as wishing them to become brave and strong individuals. Koi fish or Carps symbolises determination as they swim upstream through powerful waterfalls. 
Typically the Koinobori set, from the top of the pole down, consists of a pair of arrow-spoked wheels (矢車 yaguruma) with a ball-shaped spinning vane, flying-dragon streamer (飛龍吹流し hiryū fukinagashi) that looks like a windsock. Traditionally, the set would contain a black koinobori representing the father, followed by a smaller, red koinobori representing his eldest son. If more boys were in the household, an additional blue, green and then, depending on the region, either purple or orange koinobori were added. After the government's decree that converted Boy's Day (Tango no Sekku) into the present Children's Day (Kodomo no Hi), the red koinobori came to represent the mother of the family and it is not uncommon for the color to be varied as pink. Similarly, the other colors and sizes of carp came to represent all the family's children, both sons and daughters, in a decreasing order by age.
Japanese families will display Kabuto (samurai helmets) and Gogatsu-ningyo (Samurai dolls and their armaments). These represent the traditional folktale such as Kintaro and Momotaro who symbolises courage and strength. On this day kashiwa-mochi (rice cake stuffed with bean paste, wrapped in oak leaves) and Chimaki (dumplings wrapped in bamboo leaves) are often consumed.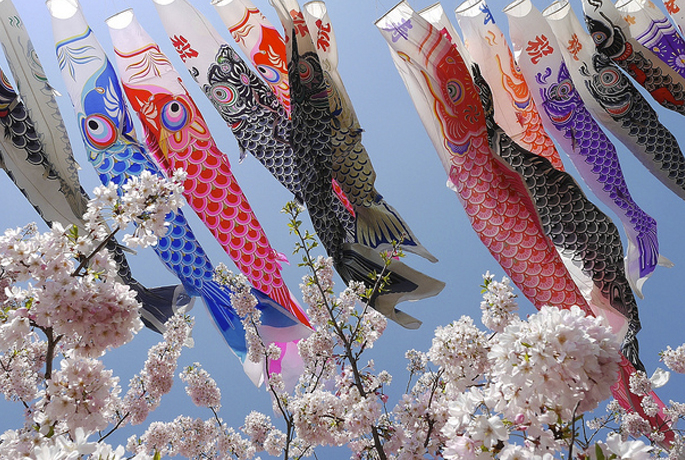 You can visit my personal blog at "here"