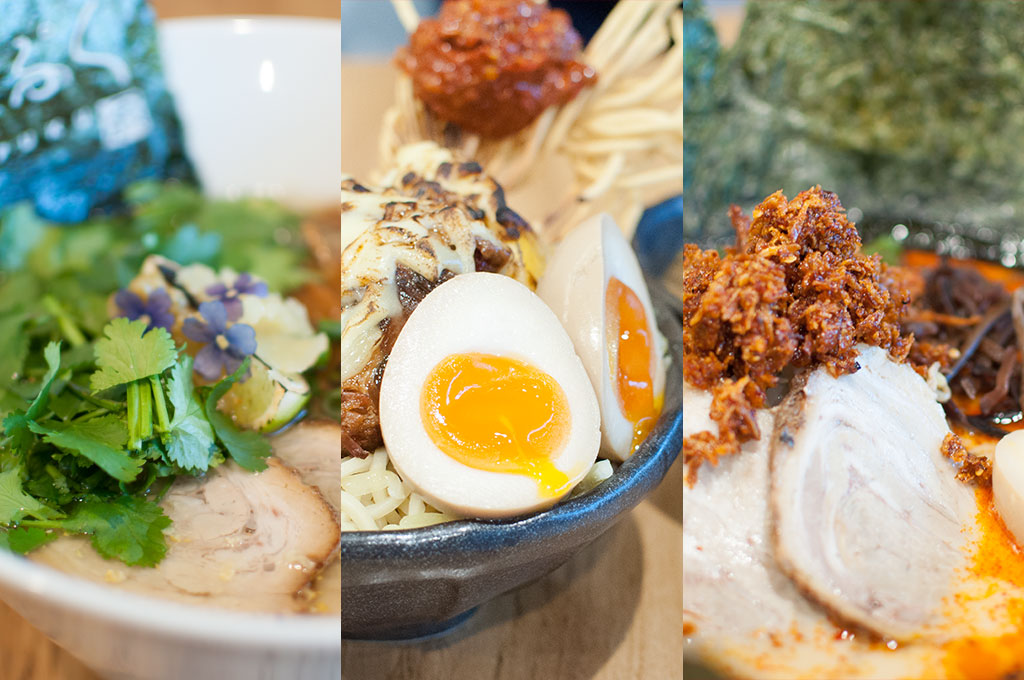 Manpuku Ramen is well known for having amazingly rich and deep flavour in their chicken ramen, which they specialise in. Combined with making their noodles in house, they've developed a reputation for having a high level of sophistication in their bowls. They also regularly release special ramens available only for a limited time, and as of TODAY! they're releasing three new ramens, available until September 4th. Each of the ramen have a Street Fighter character and colour theme. Available at both Chatswood and Kingsford locations, you need to try these limited time only ramens. Check them out below!
Guren Enjin Kyaku ($18.90)
Guren Enjin Kyaku is the Street Fighter Ken's critical art, and in English it's called "Crimson Lotus Flame Swift Leg". Manpuku Ramen head chef Hide-san, first made the special ramens before matching them with a complementary character. A previous menu item was Manpuku Red, and Manpuku have been flooded with messages asking when it's going to come back. Well it's back! Building up from the previous Manpuku Red, they've developed this absolute monster of a dish! A tonkotsu shoyu broth topped with spicy fried onion, bean sprouts, baby pak choy, shallots, thinly sliced kikurage mushrooms, powdered shrimp, nitamago egg, chashu, and 4 giant pieces of nori that surround the ramen. Paired with medium-straight noodles, this is a dish for lovers of spice. The first mouthful has quite the kick to it, and it did get us breathing heavily for a few minutes! The toppings help to take away some of the heat, especially the nori seaweed sheets and deliciously gooey egg.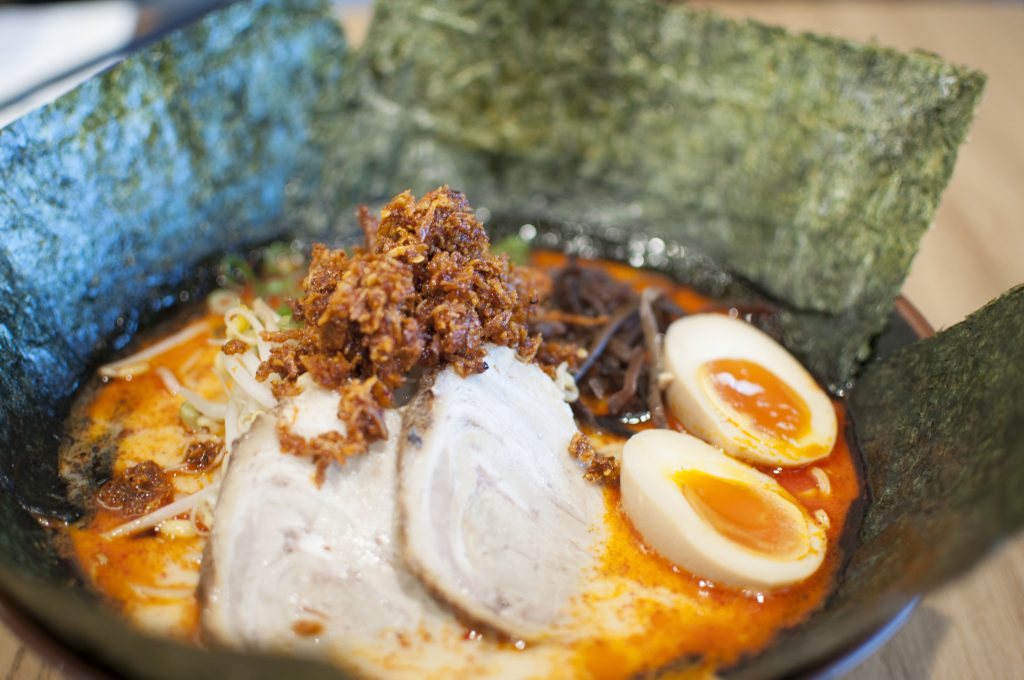 The volcano like presentation (and flavour hit) make this impressive to look at and eat. The longer it takes you to eat, the more the tonkotsu flavour comes out and the heat dies down a little bit thanks to the milkiness of the pork. The chashu is super tender and falls apart easily, but the fattiness matches well with the thicker broth. If you love spice, this is one you can't miss.
Yoga Sun Burst ($20.20)
After red is yellow! Tone down the spice with this cheese and curry tsukemen! Paired with Street Fighter Dhalism and his special ability, this dish is wavy noodles, topped with soft pork rib chashu, menma bamboo shoots, nitamago egg, a lemon wedge for when the noodles stick together, all covered in cheese then blow torched, and also served with some dried noodles, twisted and topped with a spice bomb that looks like Dhalism's Yoga Sun Burst! This is such a fun dish. It's a little bit hard to eat because both bowls of the dipping curry sauce and the noodles are absolutely overflowing, every element is well balanced and a delight to eat. The charred cheese is melty and the soft pork rib chashu is sweet and melt in your mouth. The curry is made with tonkotsu, and is a very simple Japanese curry with onion. Curry is usually a soul food on its own, so pairing it with another soul food is genius. I actually thought the curry was just fine as it was, and didn't think it needed the spice bomb added, which you add yourself. After trying it though, it added a whole new element of light spice (nowhere near the spicy level of Guren though!) while still being sweet and retaining the curry flavour.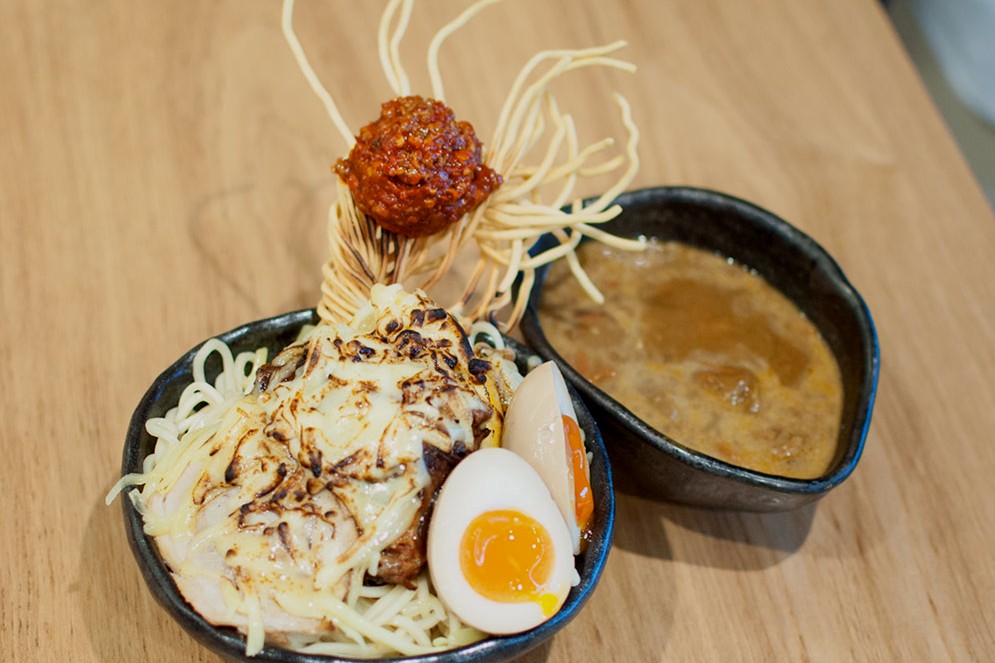 As this came to our table, the cheese smelled good. Luckily, there's a lot of it and so even if you take a big bite of the cheese before you get to anything else, there's still more for later! The most fun part, however, was eating the dried noodles. It made us think of eating Mami Noodles as part of lunch or recess in primary school, but now as high class adults of course. They're crunchy and covered in the spice bomb, and even after dipping them in the last bits of the curry, they still make a satisfying snap sound when you bite them.
Inazuma Spin Hold ($18.90)

This yuzu lime coriander chicken ramen has got to be the most refined and delicately balanced of the three ramens. With a beautiful green theme and paired with Laura, we agreed that this was a stand out dish. A chicken shio soup with toppings consisting of chashu, nitamago egg, menma bamboo shoots, shallots, Manpuku signature stamped nori seaweed, and sliced dried chilli. It's also served with a wedge of lime which is covered in yuzu jelly and yuzu salt, something we only realized after eating about half the bowl – we're so glad we didn't miss this tiny detail which provided a zesty layer of citrusy goodness. The soup sticks perfectly to the medium straight noodles and the fatty chashu (same as in the Guren) adds just enough fattiness to this light broth which is a little bit pho like thanks to the coriander but still unmistakably ramen.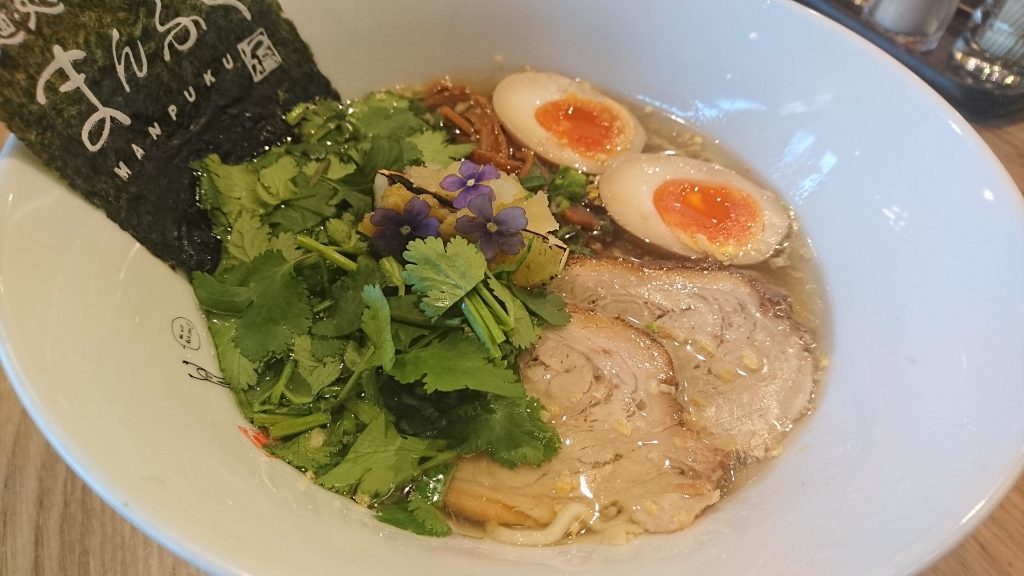 The presentation also sets this ramen apart as the most visually stunning. The vibrant green of the coriander, lime, and seaweed make for a feast for the eyes, and we highly recommend you try this ramen. This is one of the best displays of culinary skill and talent from Chef Hide and his team, and we hope this ramen comes back just like the Manpuku Red has!
WIN!
These aren't just any old special ramens though, they also come with the opportunity to win some Manpuku Ramen goodies. Upload a photo to Facebook and hashtag #manpukuspecialramen while the ramens are available and enter the draw to win
A special mystery prize
1st place gets the point balance increased by 5 times on Manpuku's loyalty program and a Manpuku T-shirt
2nd place gets 3x VIP points balance and a Manpuku T-shirt
3rd place gets 2x VIP points balance
Winners will be contacted by September 12th. Remember to like Manpuku's Facebook and follow them on Instagram! The Street Fighter theme is in line with the Street Fighter tournaments organised by OzHadou. Registrations are closed to enter the tournament, but you can join in the audience! Check out their website for more details.
Thanks also to RamenWithFriends who helped us eat our way through all 3 ramens and took some of the photos!