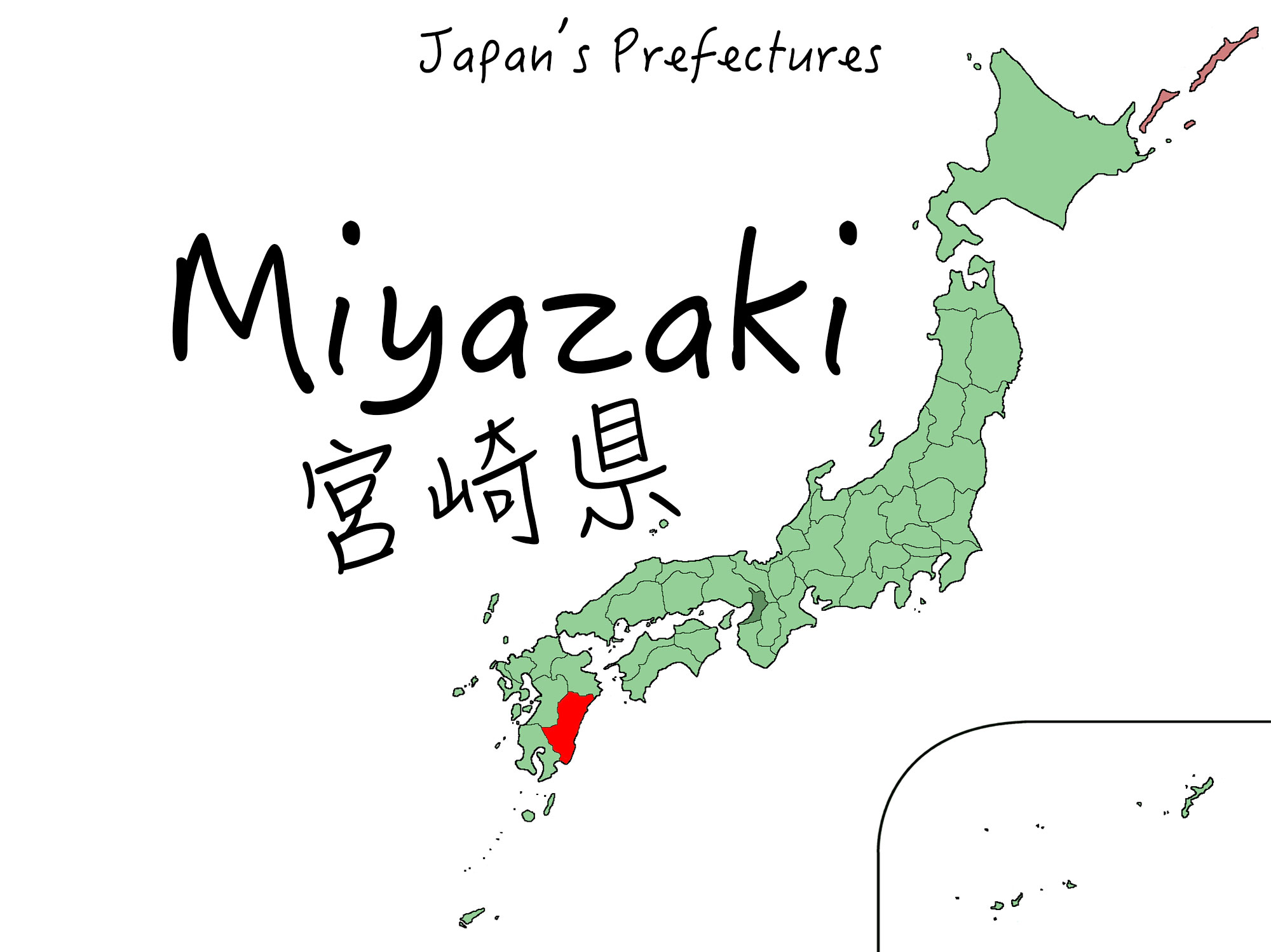 In the south of Japan, Miyazaki Prefecture sits on the eastern coast of Kyushu Island. It's a scenic region that was once the top honeymoon destination for Japanese newlyweds in the 70s, and Miyazaki Shrine is where the mysterious first emperor of Japan, Emperor Jimmu, is enshrined. There's not a lot of tourism in Miyazaki Prefecture, though it's a great place to just laze around the beach and relax!
You can fly to the local Miyazaki Airport, or travel 8.5 hours from Tokyo, first by shinkansen to Kagoshima station (with a changeover at Osaka or Hakata) then a limited express to Miyazaki Prefecture, which takes about 10.5 hours if you're using the JR pass. To shave two hours off the trip, travel from Tokyo to Shin-Yatsushiro Station then take a relay bus to Miyazaki Prefecture.
Hyuganatsu
Japan has some pretty interesting native citrus fruits, and hyuganatus comes from Miyazaki Prefecture – it's named after the old name for Miyazaki, which was Hyuga. The exact origin is a little unknown, it's thought to maybe be a mutated yuzu plant or a hybrid between yuzu and pomelo, but either way people started cultivating it and now it's a regular fruit.
It's eaten plain and cut up, or sprinkled lightly with sugar, and has a slightly sour but still sweet taste (so kind of like yuzu!) Many candies and drinks are hyuganatsu flavour, and Haagen Das even has a hyuganatsu flavoured ice cream in Japan.
Miyazaki Prefecture also grows mangos, and they're referred to as "eggs of the sun". The sunshine in Southern Japan is said to be especially good, so the mangos grow quite big.
Chicken Namban
This one you might have eaten without realising it comes from Miyazaki Prefecture! It's chicken which is briefly marinated in namban sauce (a vinegar based sauce) before being crumbed and deep fried like regular fried chicken, and topped with a Japanese style tartare sauce.
It someone tells you "it's just karaage with tartare sauce", they're totally wrong! The vingar marinade gives the chicken a slightly sour juicyness and it has a lighter, crunchier batter.
Hiyajiru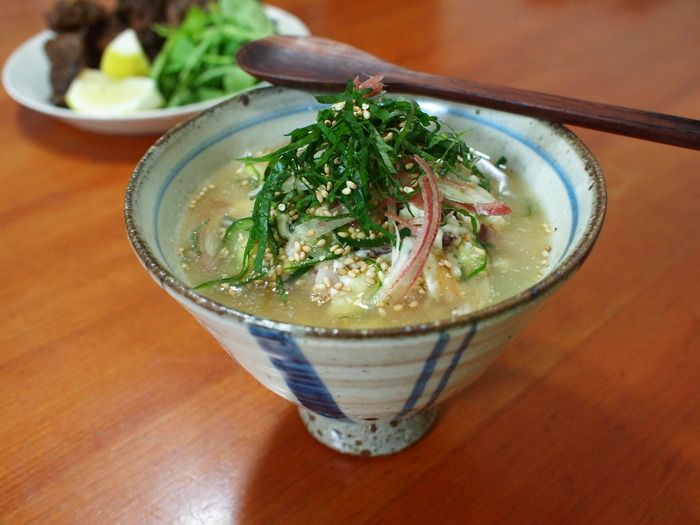 Hiyajiru translates to "cold soup", but there is a hot component to it. Chilled miso soup is poured over hot rice with cucumbers and oftentimes small fish. It's considered to be quite nourishing and is a typical meal for most fishermen in the area. It's a popular and quick dish to have in Summer, so if you're visiting and it's hot, try this out!
Everyone who makes this puts their own personal touch on it, so you might be served a bowl with sesame, seaweed like in the above photo, or any number of other side ingredients that make each bowl distinct.
Charcoal chicken
Locally produced chicken is cooked over charcoal until it's a little blackened, and full of flavour. The chickens are fed a controlled diet which gives them better flavour, and the fatty thigh meat mixed with the charcoal flavour and seasoned with just a little bit of salt makes Miyazaki Prefecture style yakitori extremely popular.
Miyazaki Prefectures exports around 100 million chickens per year, and the chickens from here are known for being bred on large, spacious farms.
Japanese style cakes
There are two specialty traditional cakes in Miyazaki Prefecture. The first is cheese manjuu, a small filled cake. In this case it's filled with sweet cream cheese, and the outside is made of either a cookie-like dough or pie crust style pastry.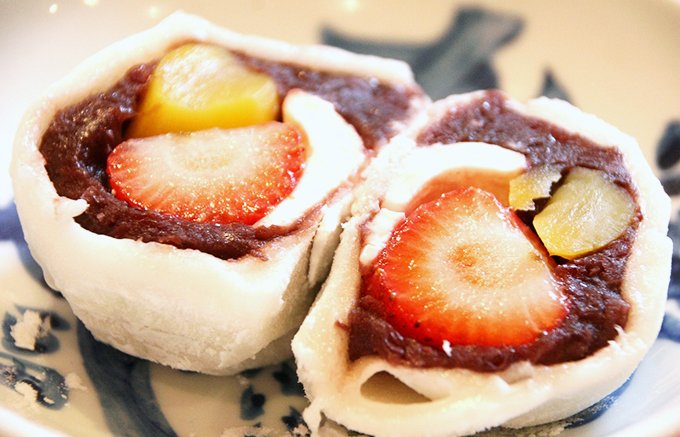 The second cake, nanjakora daifuku, consists of a strawberry, a walnut, and cream cheese first all wrapped together in red bean paste, and then wrapped with a soft, chewy mochi layer. Because there are so many things inside, it's larger than a regular daifuku – amazing!
Imojochu
Shochu is Japan's equivalent of vodka. Imojochu is a sweet potato variety of shochu. It is brewed in southern Miyazaki Prefecture and is described as being a sweet, mellow, yet rich drink.
Lots of people are saying shochu is going to be the next alcoholic export crazy out of Japan, so we recommend trying it before it becomes crazy expensive and highly sought after. The early bird gets the worm afterall.