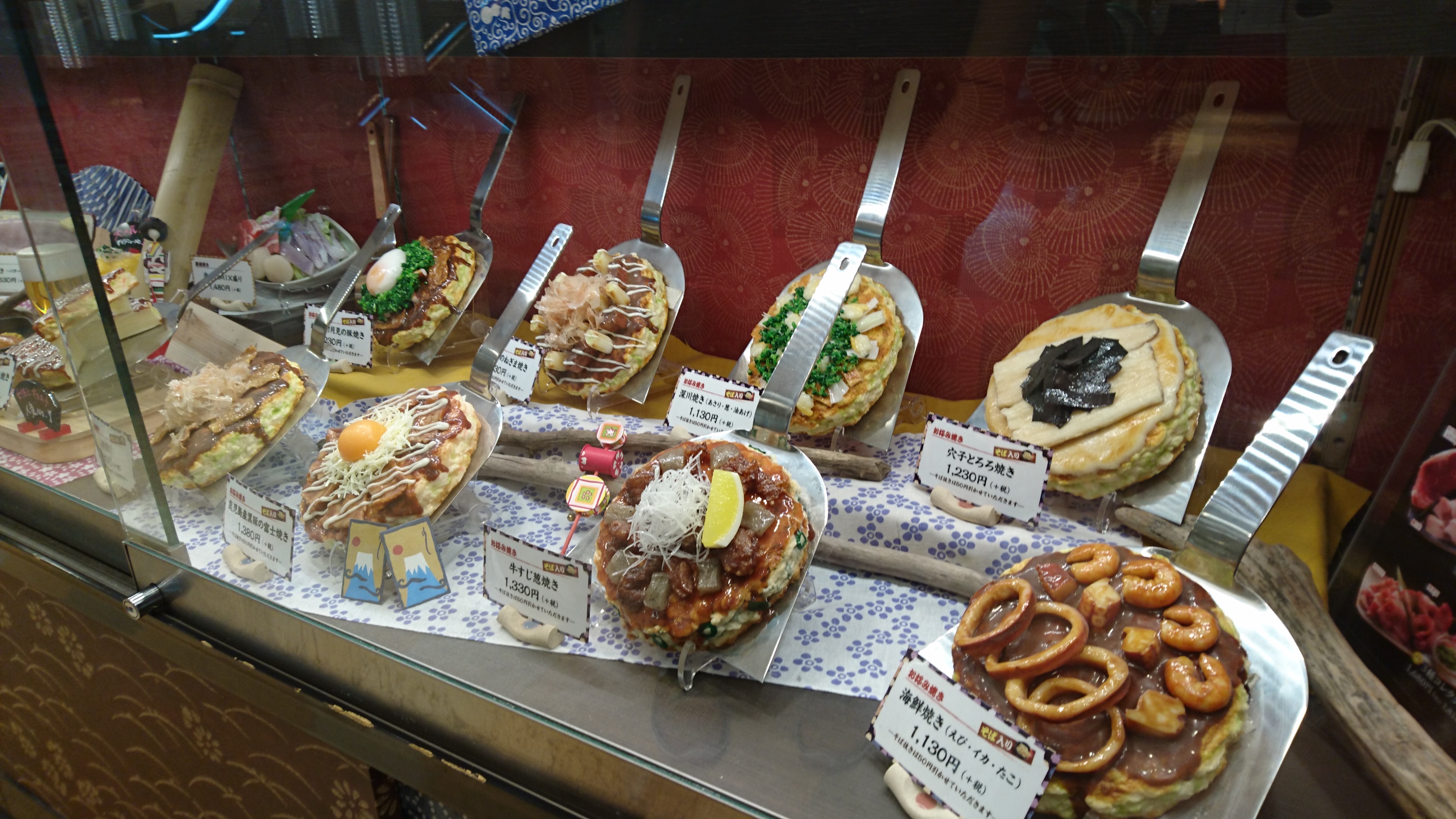 If you follow our Instagram, you'll know that Washoku Lovers was recently travelling in Japan! We did some hard work in eating as much as we could to bring a few explanations of food, and of course recommendations! Keep reading for 4 Okonomiyaki restaurants, each in a different place that you should check out if you're nearby!
Okonomiyaki and Monjayaki, Shinjuku Station JR South Exit
Shinjuku Giraffe Building 2nd Floor, 3-36-2, Shinjuku
At the South Exit of Shinjuku Station JR, there's a well known building called Green Peas Pachinko. You literally cannot miss it because it's a giant, bright green building with giant green peas decorating it. On the same building, you'll find bright yellow signs that read お好み焼き and もんじゃ焼き. From the outside, there's a staircase to the left of where the green paint ends, and from there you can climb up to this small Okonomiyaki restaurant.
Here, you can cook your own savoury pancaked with a variety of flavours and meal sets available, plus they serve alcohol! Menus are available in English, and if you need some help they'll come and cook it for you. My favourite kind of Okonomiyaki is seafood, so we started with that.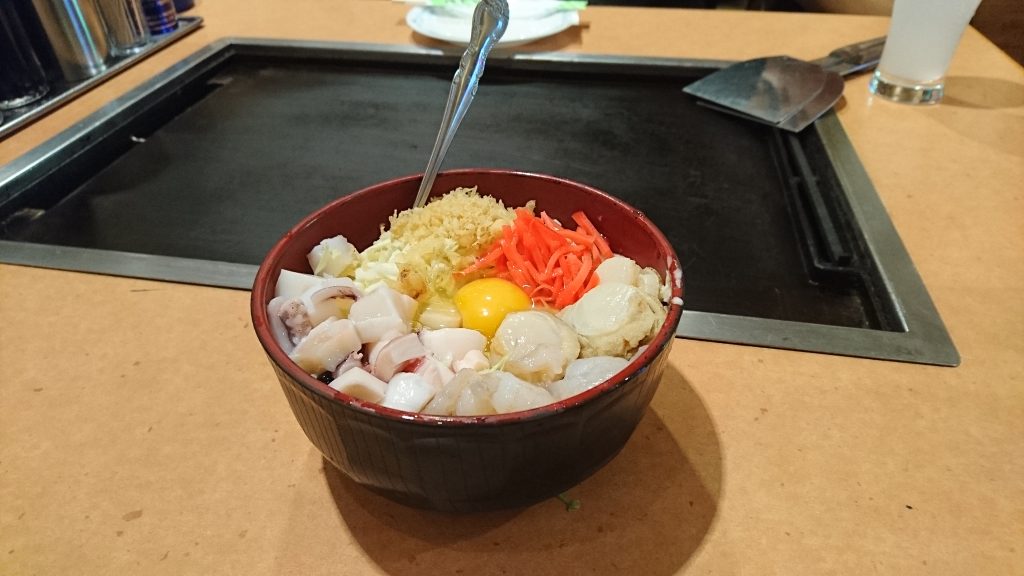 Each table is perfectly sized for two, and the hot plate will fit one Okonomiyaki at a time, but this is actually great because it means you can stay (and drink) for longer! Tokyo style Okonomiyaki has more of a batter to it than other regions, and it's also my favourite. Shredded cabbage, egg, and mixed seafood make up the bulk of the pancake, and then it's flavoured with pickled ginger and tempura flakes.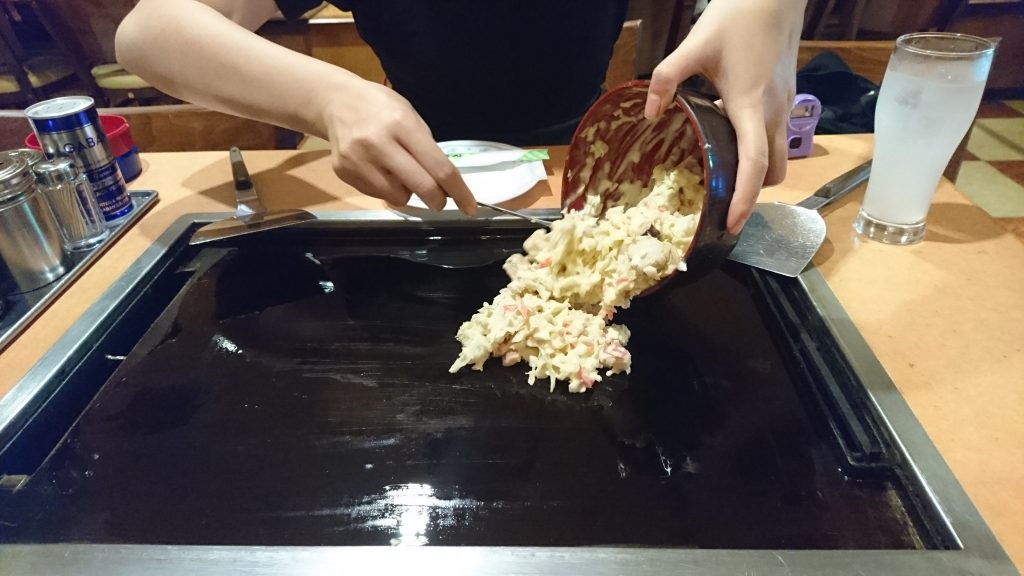 You mix everything in the bowl together, lightly oil the hot plate, and then start cooking! Mould the batter mix into a 16 cm circle on the hot plate and flatten it a bit so it's even height all the way through. After 8 minutes, you can flip it, and start garnishing the top immediately.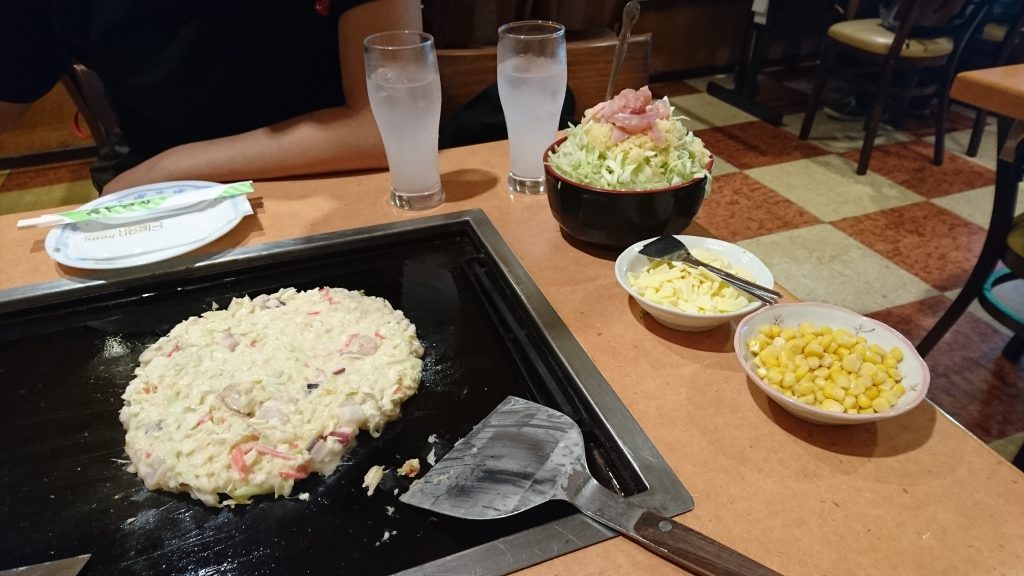 Just before our first flip, the ingredients for Monjayaki were brought out. It's similar but also very different to Okonomiyaki! I'll get to that though.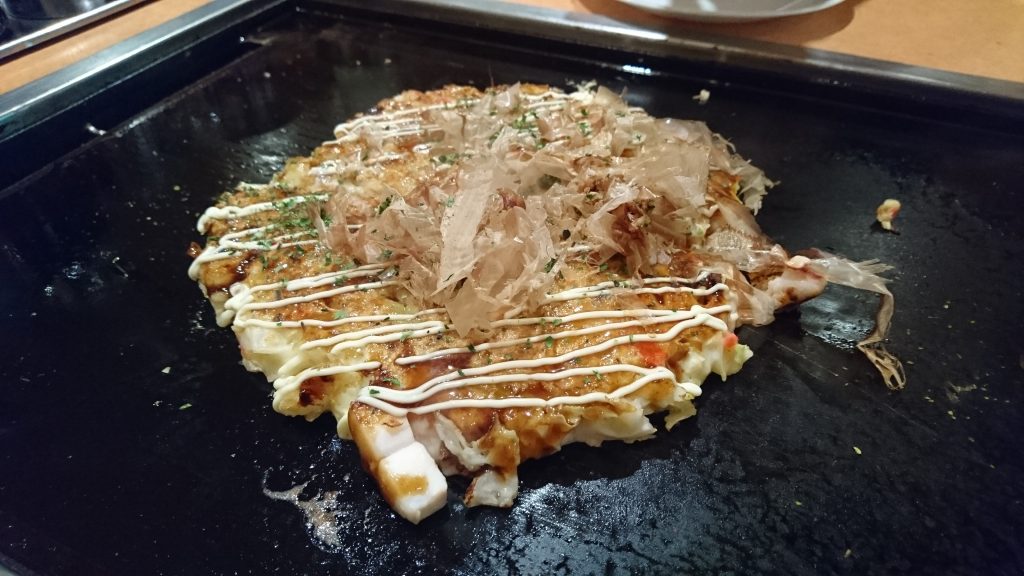 We were quite proud of how good our Okonomiyaki looked when it was finished!
But now, on to the Monja! Monjayaki has a much higher liquid content than Okonomiyaki, though it is still cabbage based. As you can see from above, the ingredients pile high compared to the bowl. This is because you scrape the top bit off (the cabbage and pork in this case) and add your extra ingredients (we picked cheese and corn) and then smash that up with the spatulas they provide. There's a technique for cutting and mixing the dry ingredient, watch your neighbours do it or ask a waitress for help. Then you make a circle in the middle of your cabbage mix. Take the bowl again, which will have a liquid at the bottom. Give it a stir and then pour it into the circle you just made. Slowly push the cabbage into the liquid and you'll end up with a sticky, gooey, sloppy mess like this: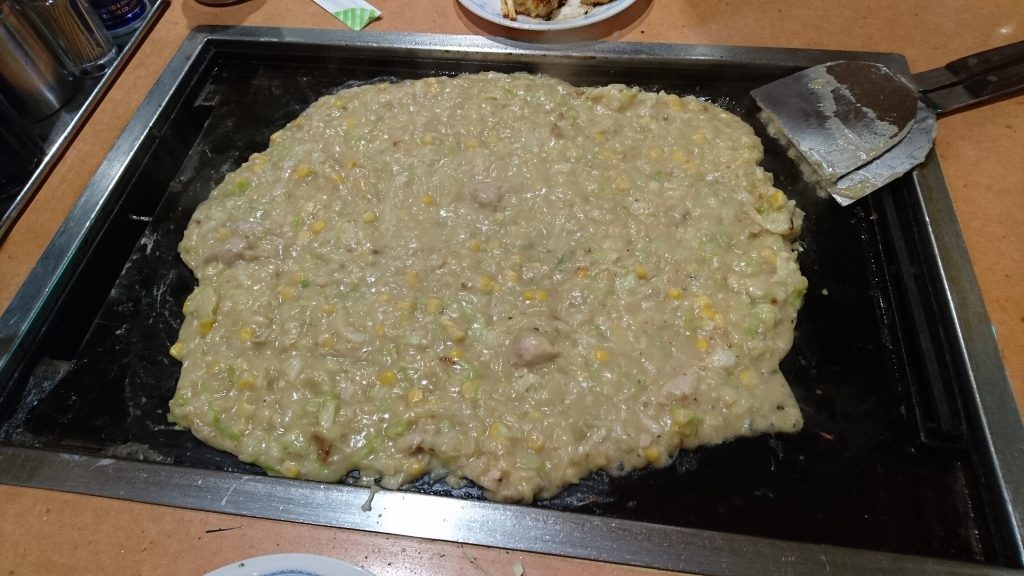 It's also eaten with little mini spatulas! There's a special technique to use them as well, but it's quite hard even Japanese people struggle to eat. It's fun, and different, so give it a try if you ever see it on a menu!
2. Koumitei Okonomiyaki, Miyajima
1162-1 Miyajimacho, Hatsukaichi, Hiroshima Prefecture 739-0588
When we had a one night stay at Kikunoya Ryokan on the island of Miyajima, the first thing we did was drop our bags off and ask the concierge, "where's the best Okonomiyaki in Miyajima?". He drew us a map to Koumitei, which we had actually looked at on our way to the hotel.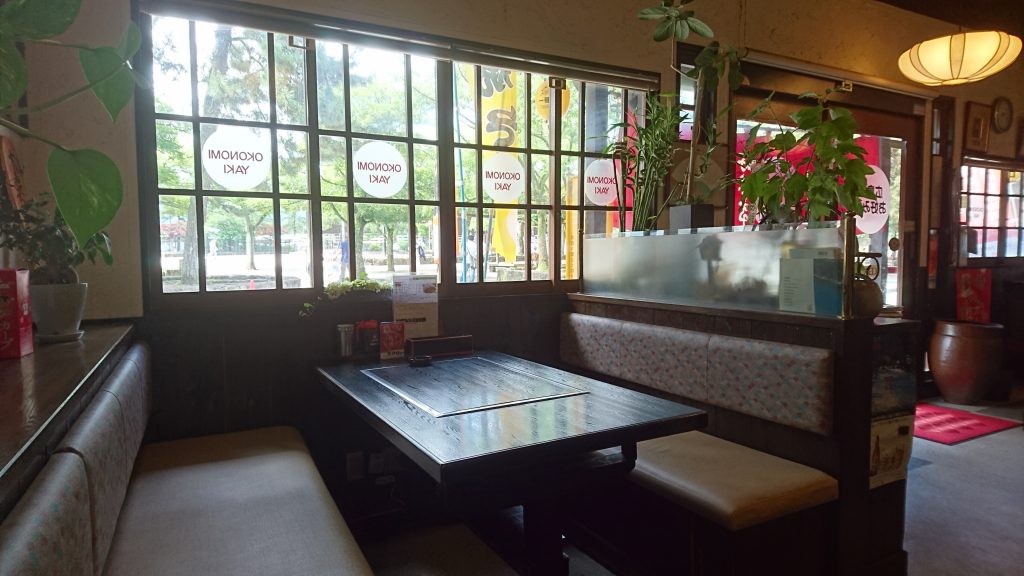 We managed to get there just before they closed, so it meant the individual tables had already been cleaned and we couldn't cook it ourselves, but we still got to eat, and that's the important thing! Miyajima is in Hiroshima Prefecture, so we got the Hiroshima style Okonomiyaki, which is flipped multiple times instead of just once, and has way more layers to it instead of just mixing everything together. It also has noodles in it! At first the Okonomiyaki is piled high, and with every flip it gets squashed into the pancake shape.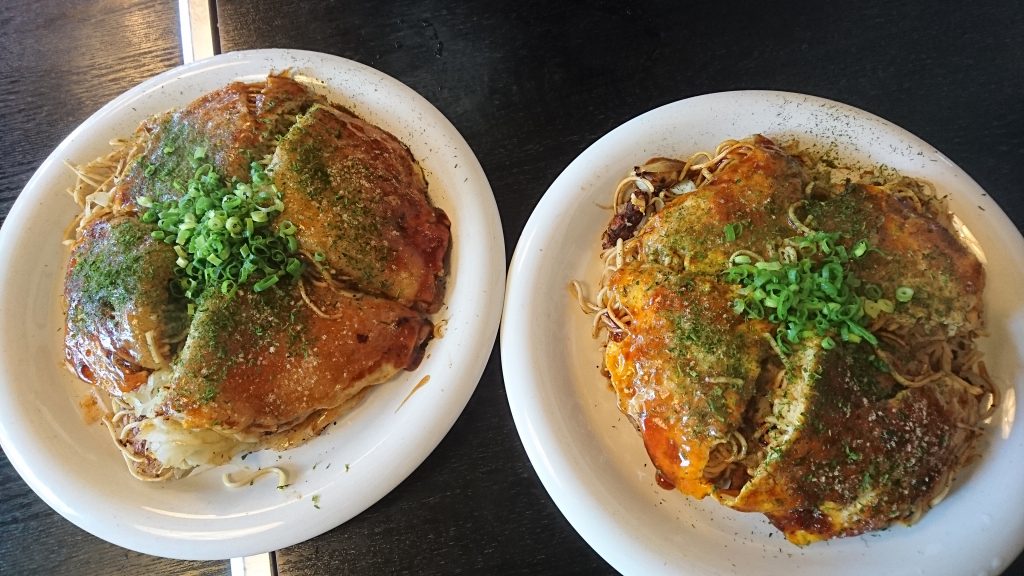 We got our favourite flavours again, seafood and pork. An English menu was available.
3. Rei-chan, Hiroshima Station JR 
2-37 Matsubaracho, Minami Ward, Hiroshima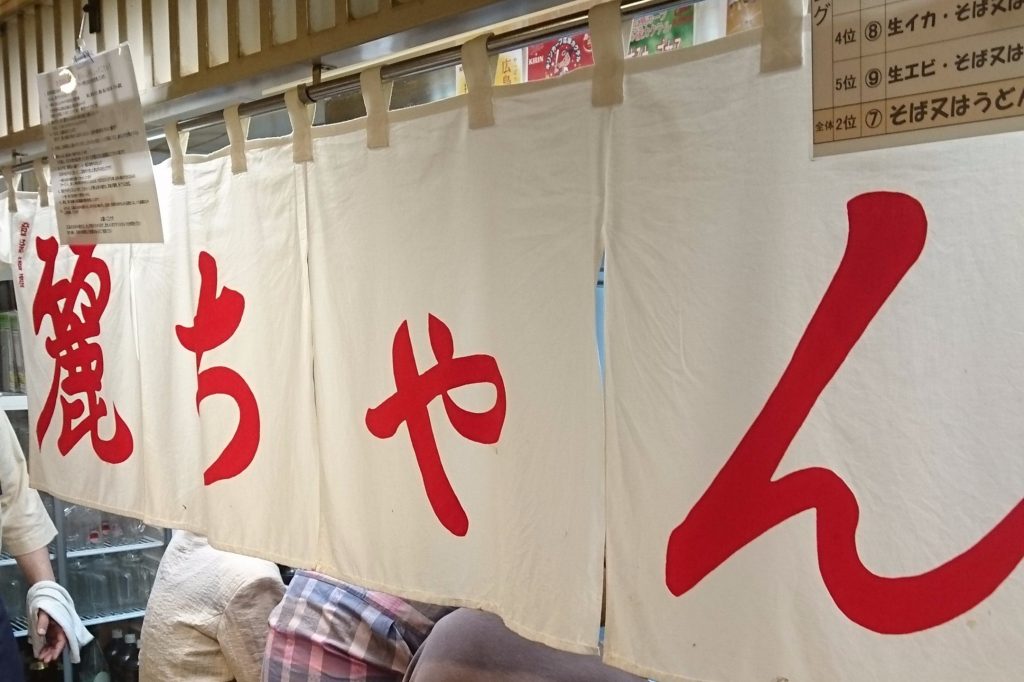 This was the highest rated Okonomiyaki place in Hiroshima, and it's actually inside the Hiroshima Station JR building, where the shopping and restaurant section is. We were excited to finally sit at the big teppan table, but it did mean we had to wait about an hour to be seated there. We got to watch the chefs do their thing in mass quantities, which was pretty exciting though!
In this video you can see what the Okonomiyaki looks like when they just start cooking (the big mounds at the back) and also what it looks like when it's done at the front! The chef at the front folded them in half as well mostly so they were easier to eat. If you ate off the hot plate like us, then you were served an unfolded Okonomiyaki.
This time I got a cheese okonomiyaki with no noodles, even though that's the Hiroshima style. Also at Rei-chan, you can buy cute little souvenir spatulas at the registers! They have an English menu available and you can pay by card.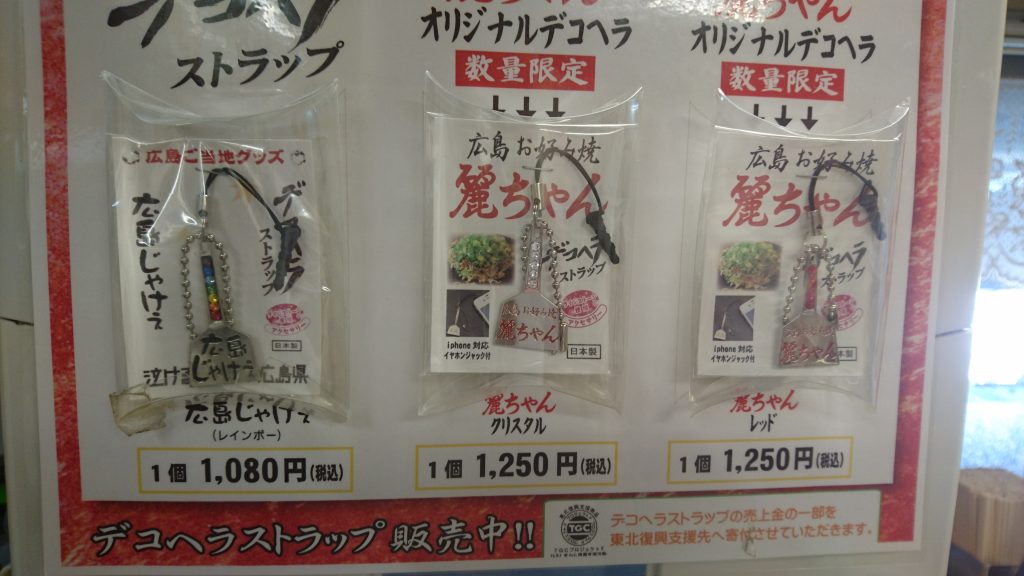 4. Pasutakan, Mylord Shinjuku
Level 8, Mylord shopping centre, outside Shinjuku Station (西新宿1丁目1-3)
This was probably the nicest of all the restaurants we went to, and I would recommend it the most! Not only is the interior much more comfortable, it also has a huge menu with about 30 different types of Okonomiyaki, and the individual tables are a bit more fancy than the others we ate at.
We ordered the negi Okonomiyaki and the lunchtime special mix Okonomiyaki. One came with noodles and the other was without. The Okonomiyaki sauce was the best we'd had so far! They also have really easy to follow instruction and a timer if you've never made it yourself before. Simply place the lid over the pancaked, flip the timer twice, then take the lid off, flip your pancake and start dressing it up!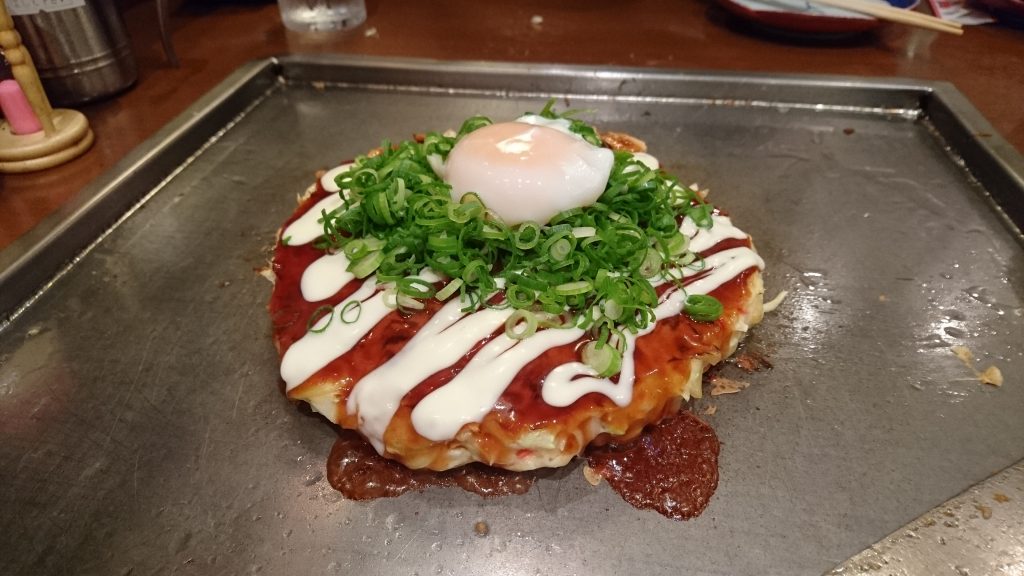 So that's a wrap up of all the Okonomiyaki restaurants we went to! If you go to Japan check out one of these places, or leave a comment and tell us where we should have gone!