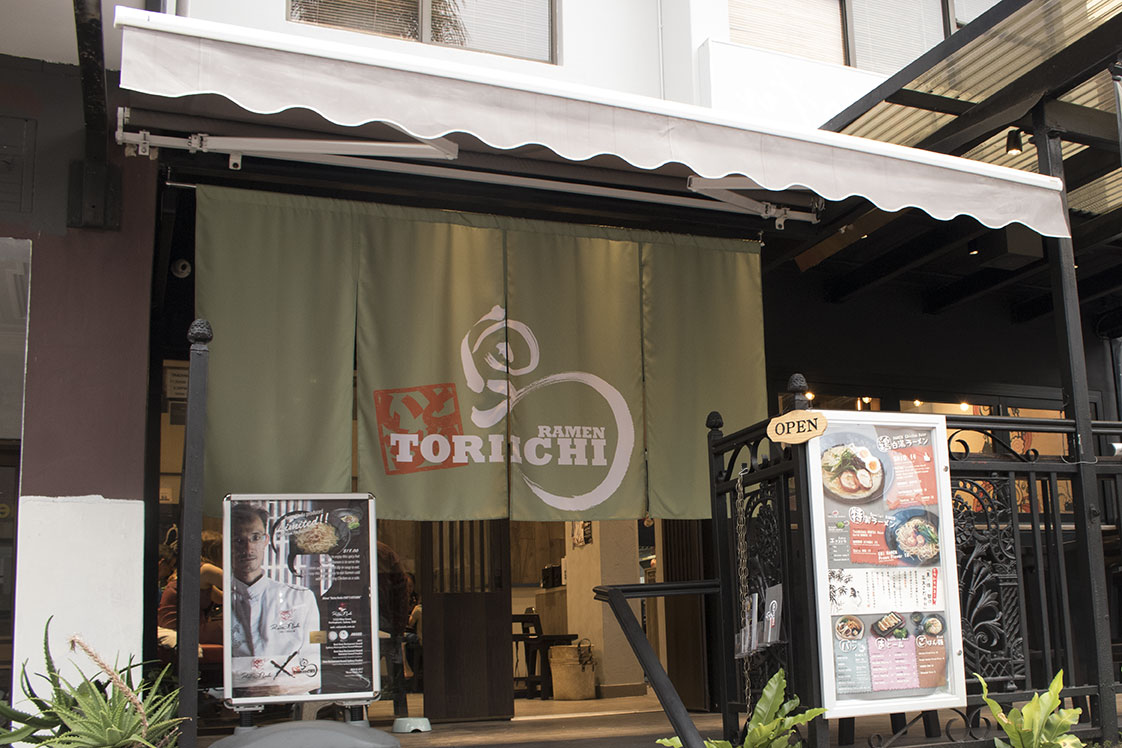 Ramen Toriichi is about to become your new favourite ramen shop. While Sydney has been going crazy for tonkotsu pork broth ramen, Toriichi has been developing the recipe for their rich chicken broth. While chicken broth isn't anything new, here in Sydney we're most accustomed to clear chicken broths. Toriichi is a chicken paitan specialist – thick, milky broth, not clear.
As soon as you walk in you can see that Toriichi takes ramen seriously, and they're intent on making the experience as enjoyable as possible. It's a charming space with the menu in Japanese on one wall, and a poppy and colourful mural on another. You can sit at the bar and eat alone, just like you would in Japan, or sit at the tables with a group of friends. They even have outdoor seating.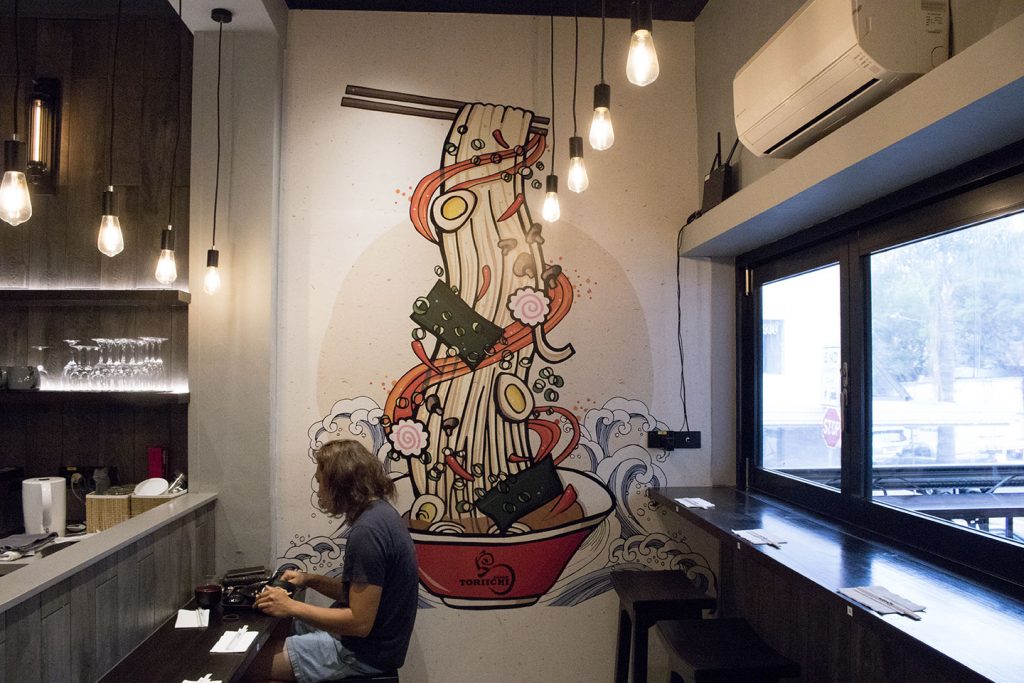 Washoku Lovers popped by for a visit, and luckily for us (and you) they do half size ramens so you can try more flavours and share with friends. The menu is incredibly tempting, each dish is very individual and very appealing. It's hard to choose just one, so we definitely recommend getting as many variations as you can eat.
Before ramen though, make sure you try some of the hand made gyoza, they're incredible! Made in store, the love and care comes out in the flavour. They really pack a punch and come in a variety of flavours. We picked leek gyoza which were absolutely delicious and crisp.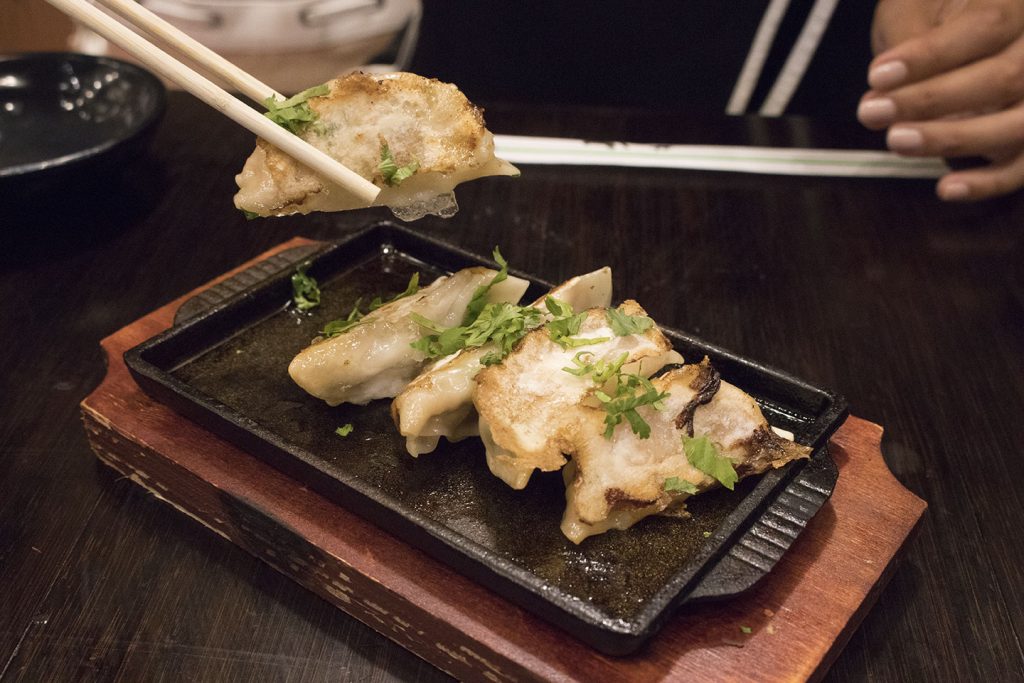 We picked four – the signature shio with truffle oil, the shikouji sasami, ebi prawn ramen, and namban hiyashi.
The shiokouji sasami came out first. We also modified this bowl to try out the optional spinach konjac noodles. Vibrantly green they have almost no calories so even dieters can still enjoy a typically calorie rich dish. The konjac noodles are surprisingly similar to regular noodles in texture and are good for slurping.
shikouji is a Japanese seasoning with salt as a base ingredient, but what's really interesting is the sasami part of this bowl. Sasami specifically refers to high quality chicken breast, and this sasami is tender and juicy. The majority of ramen comes with pork chashu as a standard topping. Chicken chashu isn't unheard of, but there's generally no one typical style of chicken chashu. Sometimes it comes as a meatball or as reconstructed chicken, sometimes it's grilled, sometimes it's sous vide. Toriichi's sasami sets a new standard for how chicken chashu should be served.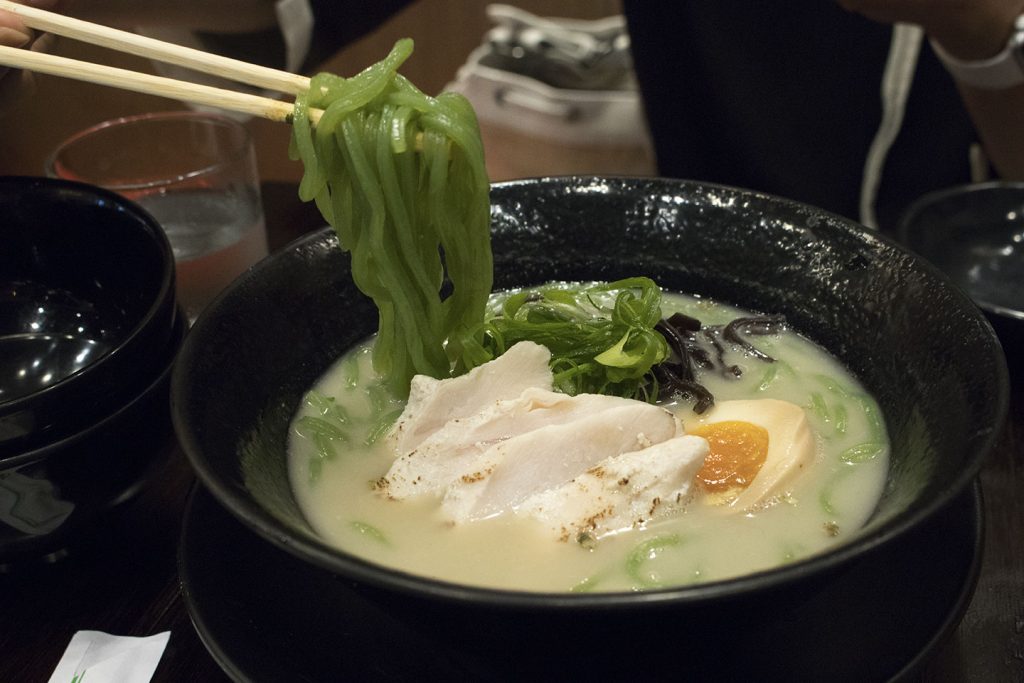 Next up was the ebi prawn! This one really knocked our socks off, the flavour hits you front and centre on the first sip. It also comes with a sauce and coriander on the side. It's recommended that you drink the soup first, then drink the soup with a little bit of sauce (mixed in your spoon) then a third spoonful with coriander to see what you like most. Honestly, they're all good so we say go all in.
Again, the chashu is not what you expect. The ramen comes with ebi balls, soft, succulent, and melt in your mouth pieces of fresh prawn held together by a light and crispy batter. The whole dish just scream PRAWN in every mouthful and it's just delightful.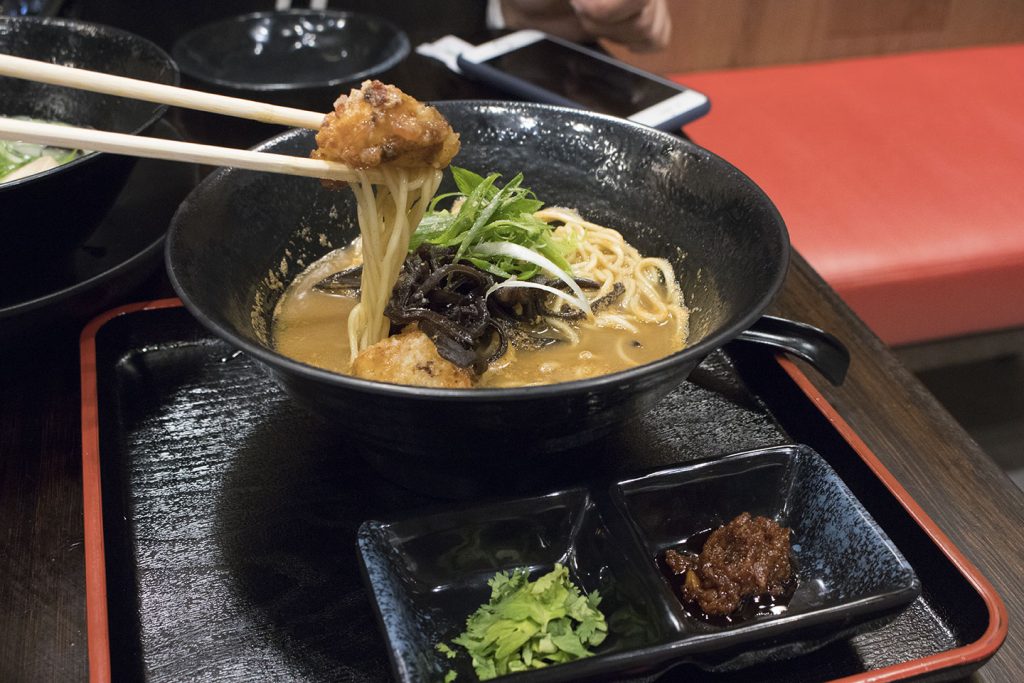 Then came our namban hiyashi. Hiyashi is cold noodles without soup and they are just divine on a hot day served with crunchy and chilled cucumbers. Namban is fried chicken topped with a sauce similar to tartare which we'd normally have with fish and chips. The Australian association of that style of sauce with summer and the beach probably helps make this dish even more refreshing on a hot day.
Just like the prawn balls, the chicken is fried perfectly. A mouthful of noodles, chicken, sauce, and a slice of cucumber is a satisfaction that can't be beat. Underneath all the noodles is a small amount of vinegar based sauce to help keep the noodles wet and loose so they don't dry out and stick together.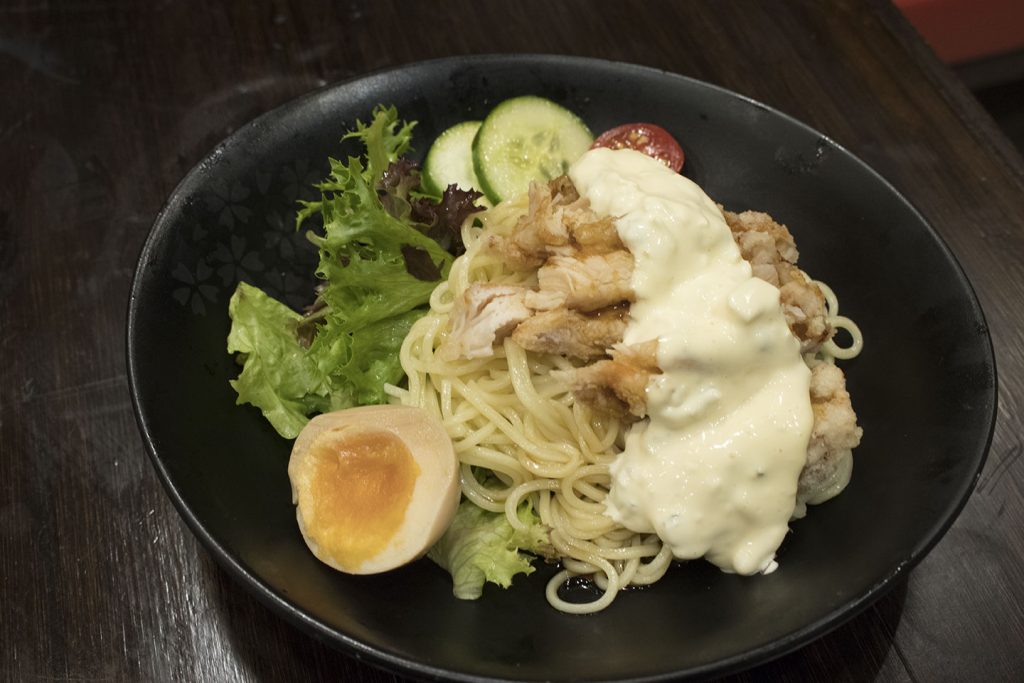 And finally, the signature dish! The shio toripaitan with a dash of truffle oil has a subtle flavour that grows with each mouthful, building up but never becoming too strong.  It has a rich chicken flavour and a different type of chicken chashu. This style resembles the pork style as it's rolled up and blow torched before serving, giving it a wonderful smokiness. But if you look closely, you can see that right in the middle it's stuffed with fresh spring onions that give a freshness to the chicken.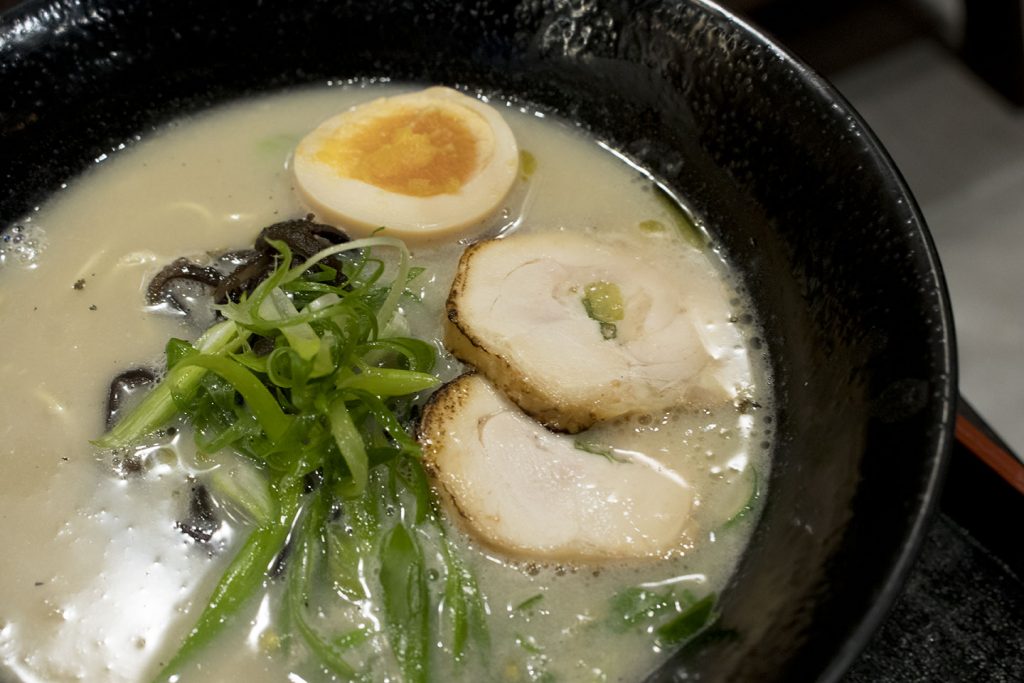 At the end of our meal, we couldn't agree on a favourite. The ramens are all very different from each other and have their own personality, but they're also similar in the sense that they are extremely refined recipes that pay attention to every little detail of the dish.
Next time you're on the hunt for ramen, we suggest Ramen Toriichi!  And don't forget the hand made gyoza.
5&6/2A Waters Road
Neutral Bay NSW 2089