Sunday night in the rainy weather, I didn't expect so many people to be dining out. Of course it's not the for all restaurants for sure, especially located in the city. But I found a very popular Japanese restaurant in the Rocks, Shiki Japanese Restaurant.
At 6pm on November 5th, there were more than just a couple of people waiting outside the restaurant to open for the dinner service. Shiki Japanese restaurant was established in 1984. ' This is the oldest Japanese restaurant in Sydney' Mr Isao, the owner of the Shiki Japanese restaurant says. Located at the centre of the Rocks, corner of Argyle Street and Harrington Street, it looks like a hidden gem with the entrance on the 2nd floor. As soon as you enter the restaurant, you feel authentic vibes immediately. This is surely part of the reason why this restaurant is so popular. There are 10 seats at the sushi counter, tables with a view of the rocks and private rooms at the end.
We were invited to Chef Takumi's omakase sushi degustation as a limited event. Four of us sat at the sushi counter in front of the seafood case. This is my absolute favourite spot for sushi dinners. Even with 4 people sitting together in a line, try to book the best spot to enjoy the chef's show in front of you.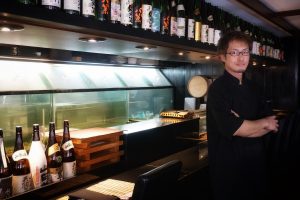 Today's special is Chef Takumi's omakase sushi. Let me introduce Chef Takumi to Washoku Lovers. He graduated Tsuji culinary school in Osaka, and joined one of the most traditional Japanese restaurants, called Kiccho, in Osaka to learn authentic washoku cooking. He worked more than 15 hours a day on average, and sometimes 20 hours in the busy times like New Years for 5 years. Since he moved to Australia, he has been working at Shiki Japanese restaurant and now is in charge as the head chef. Check his interview from here.
Starting with the dish which was beautifully presented in a little bowl. Because I am from Osaka and Kiccho is one of the best Japanese restaurants in Osaka, I have eaten there for special occasions, so I can see the details of his work and the skill he learned from Kiccho. The homemade sesame sauce is very smooth and well balanced with the amount of spinach, which beautifully lines the plate, and himeji mushrooms. I love the mixed texture coming from the different ingredients and it makes the balance in the small dish just perfect. Loved this first dish!
After assorted appetisers, Chef Takumi's sushi starts.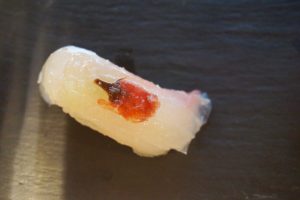 This is very beautiful to put the cherry blossom on the top. Let me show you the angle from the top:)
Chef Takumi's sushi is presented in the Edomae style as there are already seasoned. He uses Australian ingredients, including some fish and mixes in amazing fusion with Japanese influences like the marinated cherry blossom petal.
He shows us the preparation is the most important part of cooking. All sushi was carefully prepared. I was amazed to see how detailed his work was.
As a kingfish lover, I always look forward to this sushi is being served! Yuzu citrus pepper adds more freshness. If you think kingfish has too much fat, you will love this combination.
This was a big hit for me. The cuttlefish had perfect texture. Chef Takumi shows me the fresh yuzu fruit and squeezes it on top. The flavour of yuzu with charcoal salt was perfection. I was in love with this piece.
Another perfect piece, fatty Hokkaido scallop melted in my mouth. Sea urchin and ponzu added so much flavour to it.
Zuke style, marinated with truffle soy was great match with yellow fin tuna.
These dishes, eel egg omelet and saikyo style grilled black cod, showed how much experience Chef Takumi has in the washoku industry. Perfectly cooked.
This is only my personal opinion, but it was a bit over seasoned. As a scampi lover, I wanted to have this seared scampi without miso sauce on top. If the scampi is fresh enough, which I could tell it was very fresh, just a squeeze of sudachi (Japanese citrus) juice is enough.
I have never had smoked salmon roe before! This salmon roe completely amazed me. So much hard work!
Yes, please! This was a very sexy sushi. Blue fin tuna belly was perfectly seared. It was melted in my mouth and it is the definition of food porn. Shallot salt sauce  balanced the fatty part of the tuna. But again, it was so sexy!
If you love eel, you have to try this one. He knows how to cook eel very well, the texture of the meat was soft.
I asked the chef what is that on the top? This is steamed snow crab from Shiki Japanese Restaurant itself. He pointed out the fish tank behind him! That was a surprise.
Chef Takumi cooked deep fried tofu at the restaurant, freshly made inari sushi is loved by kids.
I am always looking forward to try Tsume, a special sweet sauce for conger eel, at each restaurant whenever I have sushi in Australia, Singapore or Japan. Because each sushi restaurant has a different taste in their Tsume sauce. So I was very surprised to see that Chef Takumi didn't use Tsume sauce at all. But It was quite good. I can concentrate more on the soft texture of the conger eel in my mouth. I prefer eel served with Tsume sauce but it's great to try different things!
We had Otokoyama sake to match the course from beginning to end. And this rich miso soup finished up the course perfectly. I didn't try the assorted Japanese desserts but other my friends loved it.
As a sushi lover, I was very satisfied with all of his sushi. Chef Takumi is very experienced and always super motivated to improve himself, learning something new and different all the time. I can see how hard he worked to serve this omakase sushi course. His preparation makes his sushi very unique for sure.
Chef Takumi-san, Mr Isao-san, and team of Shiki Japanese restaurant, thank you all very much for the wonderful hospitality!
Address:
35-75 Harrington St, Sydney NSW 2000