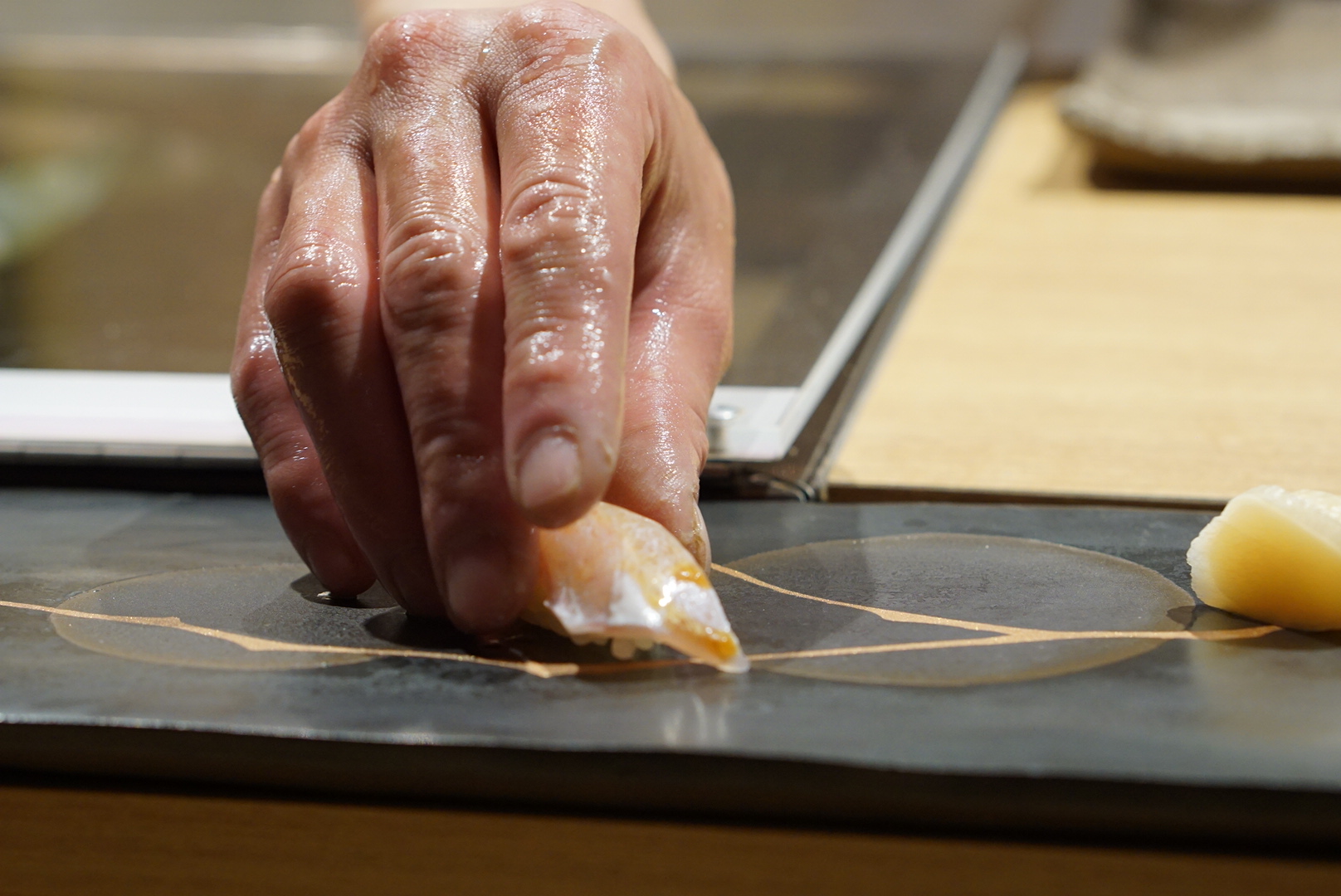 OMAKASE is a place where you can meet the season through your tasting experience. Customers are sitting in front of a chef with complete trust to now enjoy the Spring season through the chefs' special creations. OMAKASE chefs have extraordinary cooking skills and are in selecting essential seasonal ingredients many of which are delivered to them every day. OMAKASE shouldn't have a fixed menu like every season, every month or every week. There are always different seasonal fish and sometimes the dishes and selection changes on a daily basis. That's why OMAKASE is so interesting. But we can't  miss out on learning where the unique eating experience which is OMAKASE truly starts.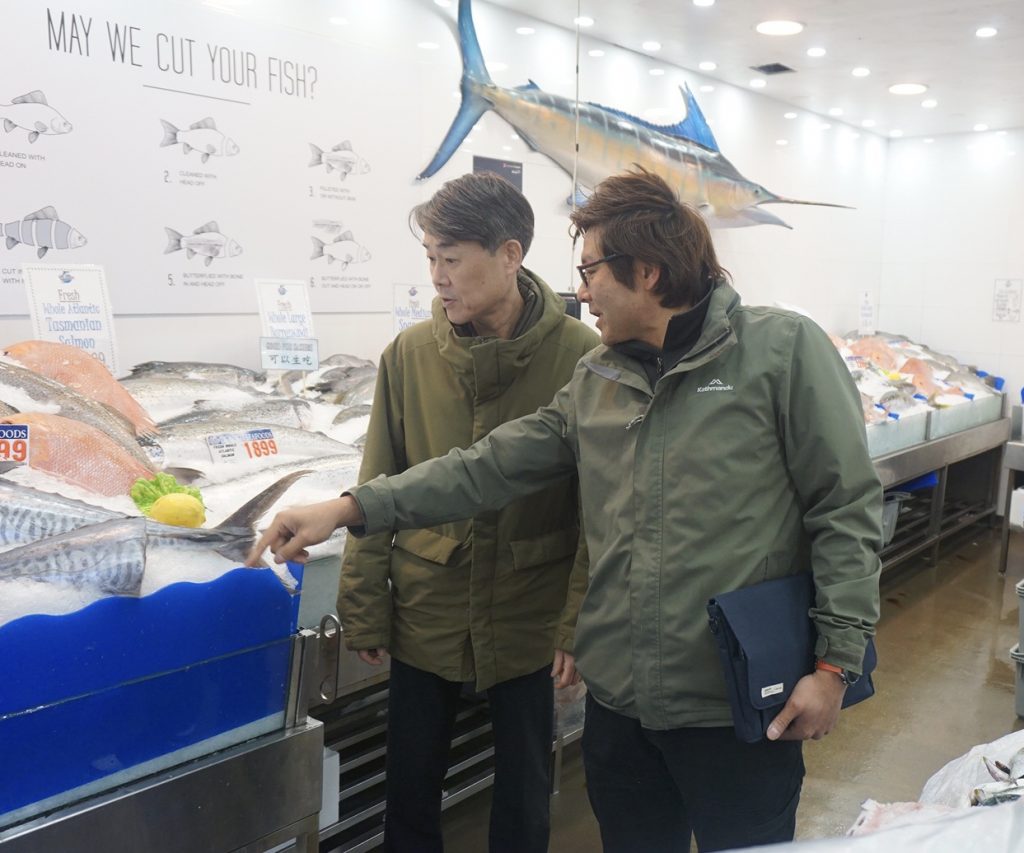 Essential (almost magical) relationship between chefs and a fishmonger
Let me introduce you to Mr Narito Ishii.  There is no one who could compare to him in terms of passion about what he's doing to use his knowledge of fish and Japanese cuisine as well as chefs, working as a fishmonger for more than 18 years in Sydney Fish Market, the biggest fish market in the Southern Hemisphere. He selects the absolute best seasonal fish tailored for each restaurant. OMAKASE chefs totally trust him, so they never asked which fish and what part of the fish should be delivered. Their order is to leave it to a fishmonger, this is the beginning of OMAKASE where the real OMAKASE starts. Mr Narito knows what part of the fish each chef likes and is suitable for their OMAKASE style. In addition each chef is thrilled to see what part of fish will be delivered and how to cook for each dish with their super talented cooking technique for their customers. The process is built on trust and is full of excitement and anticipation.
Chef Oe goes to the fish market every morning to look at what is available and he talks to Mr Narito Ishii to give him feedback on how his customers enjoyed his sushi, Mr Narito says it's A real pleasure to hear feedback from chefs as he doesn't have much chance to get the feedback directly himself. Chef Oe greets Mr Narito's staff while they're clearning his fish. Chef Oe knows who prepares his fish after Mr Narito selects what he is supplying to him and looking after his fish. He lets his staff taste some rare fish when it is delivered so it is educational for them and they will further appreciate working In cleaning and preparing his specially selected fish.
Why Is the taste of Sydney rock oysters at Sushi Oe different to others?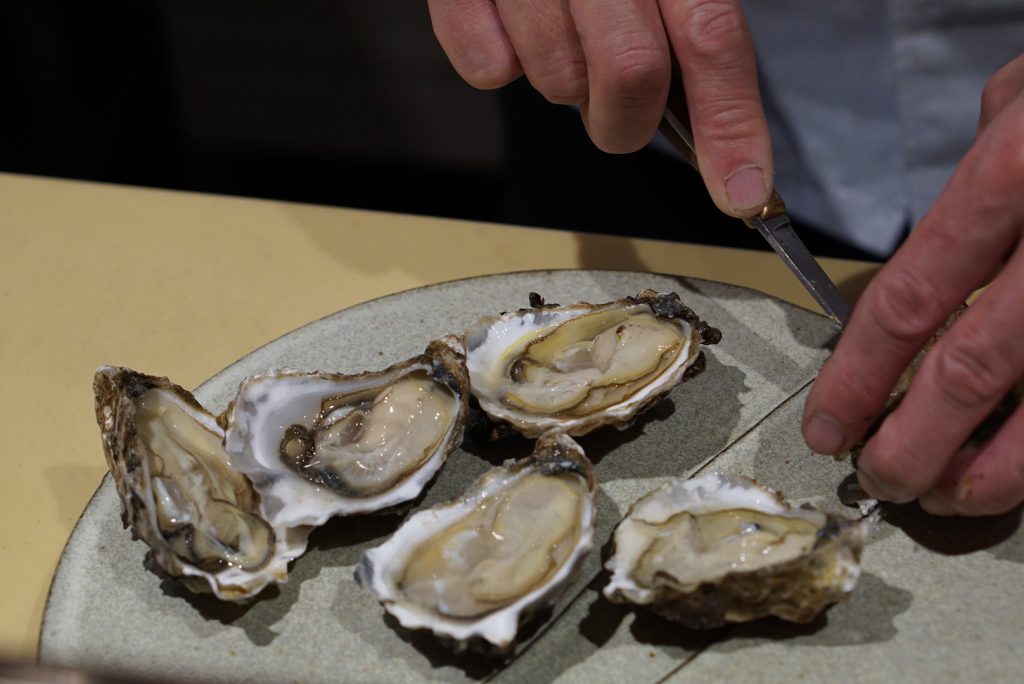 I was very much enjoying the flavour of the ocean as well as the rich and creamy taste of Sydney Rock Oysters at Sushi Oe. Chef Oe told me the secret of it. This is a typical example of the relationship with fishmonger and his team. Chef Oe opens the oyster shell in front of customers without washing it, and serves the one with juice inside thanks to popped oysters! His staff carefully prepared the oysters for Chef Oe to open easily and didn't need to wash the shell with water. That's why I enjoyed it as one of my best osyters in my life. This is a typical example of how essential this relationship is for OMAKASE restaurants – one built on absolute trust and teamwork.
Mr Narito, as a fishmonger, suggested Chef Oe to start OMAKASE at Masuya 8 years ago, as he had been eating OMAKASE in both Japan and Australia by himself and developed relationships with customers who we're OMAKASE foodies. He thought it was important to know about market and trends as well as fish. His passion was to introduce real OMAKASE based on seasons using fresh fish from Australia and New Zealand where some only exist here in Australia or very rare to find in Japan. If you have similar quality of fish in Ginza, Tokyo, It would cost a fortune but some fish are not even available in Japan. This is why some of the best OMAKASE restaurants are right here in Sydney, Australia!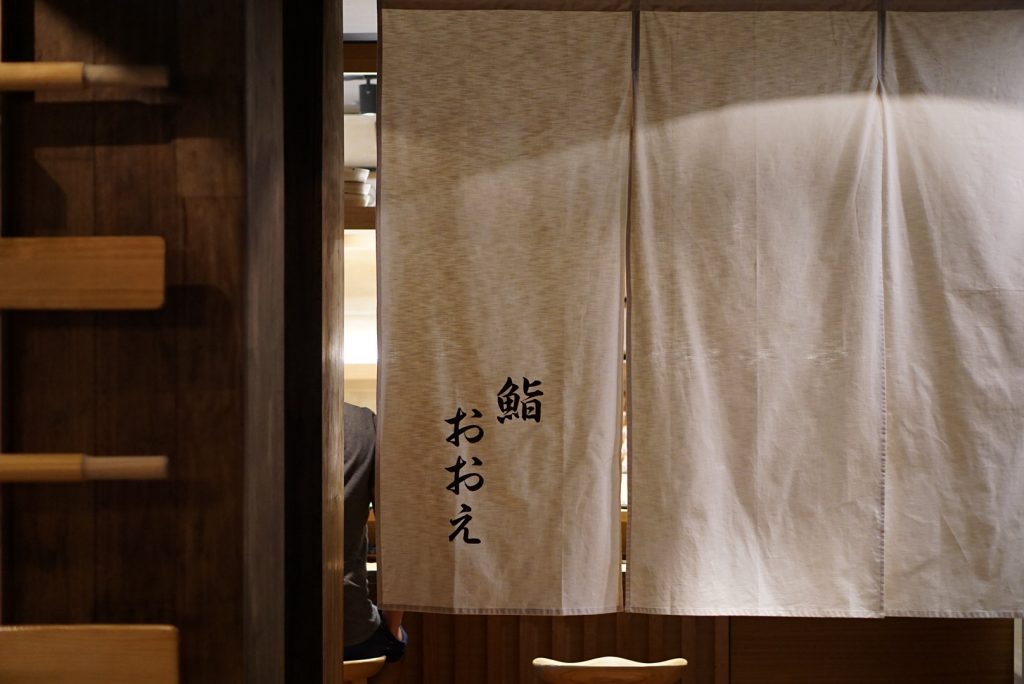 Sushi Oe's OMAKASE – 30 varieties of seafood
I dined there as Chef Oe's guest on 22 August. Sushi Oe is in the restaurant, at Jizakana in Cammeray. The entrance curtain called Noren in Japanese reminds me of a typical Japanese sushi restaurant where OMAKASE is available. I was welcomed by Chef Oe who prepared all the dishes by himself to be ready to start his show for his six customers (limited six seater). I love having sake with sushi, as my preference, I selected Taiheizan Junmai Daiginjo "TENKO" to start with.
Sydney rock oyster, one of my best oysters, rich flavour and taste without washing
Octopus from Western Australia, Chef Oe says this octopus is not going to be hard even simmered. Perfect balance umami and soft texture.

Swordfish belly on the best season, sashimi, yu-an style. Chef Oe sliced it as sashimi and sealed it with a special charcoal grill burner and simmered for two days.  

Baby scallops from Aomori prefecture, Mr Narito visited the factory and tasted it when he decided to import it into Australia. These scallops don't lose soft texture even after cooking with heat. 
Albacore tuna belly, toro. Mr Narito says that not many Australian restaurants want this part of fish, even though this is an incredibly tasty part, he brings this to OMAKASE restaurants when it's in season. Chef Oe sprinkled salt in front of us, then sealed it with a charcoal burner. A tiny bit of yuzu kosho, Japanese citrus pepper on top, takes this fat and umami onto another level.
Snow crab MISO from Shimane prefecture. This one mouth full made me hungry for more. A small cut of shiso leaf makes it fresher and easy to eat.

John dory liver, simmer, Mr Narito gets liver parts from suppliers to deliver to OMAKASE. This reminds me of goosefish liver which is my favourite bite with sake.  

Bonito tataki with grated garlic. This bonito called Hagatsuo in Japanese name, is not very popular in Japan. Full of flavour with fat, one of the most tasty Australian fish, Mr Narito says.  

Latchet from Bermagui, south part of NSW. A famous port for catching well balanced fish because of the cold water.  My favourite kobujime, marinated with kombu seaweed, hits me. Enjoyed thinly sliced fish with texture. 

Sushi starts ..

Bass grouper from New Zealand, this fish is only available in Australia, we can't eat this sushi in Ginza,Tokyo or anywhere else in the world. It's not much flavour but there is definitely umami in the texture. Perfect start.

Armourhead, very rare to find in Japan, as a white fish lover, perfect lightness and taste.

Trevally from New Zealand, Japan usually uses farmed trevally as it's very rare to find a natural one. Chef Oe is proud of using wild fish only thanks to Mr Narito.  

John dory, this fish is eaten as grilled in Japan as popular in France as Saint Pierre. Chef Oe seasons this sushi with ponzu, soy flavour of white radish and spring onion on top.  

Imperadore from New Zealand, a king of white fish for me, has more fat and tastier than Alfonsino which is well known in Japan. Couldn't be happier to have both back side and belly side. Back side, sealed only skin and put soy sauce on top, perfect balance of everything. 

Imperadore, belly side, I wonder how chef Oe makes this sushi as my favourite, he put salt and sealed it with charcoal burner, again and again. Finish up with the last salt sprinkle and tiny bit of lemon juice. It was heavenly.

Southern bluefin tuna, from Ulladulla which is a mecca for bluefin tuna just four hours from Sydney. The Bluefin tuna we eat in Australia is the freshest in the world. There's pricy bluefin tuna in other places including Japan, and is not as fresh as in Australia. That's why bluefin tuna in Australia is amazing. 

Southern bluefin tuna, chu-toro, 

Chef Oe starts to age bluefin tuna from Tuesday. So weekends could be more aged than week days. This is a tip you should know for your next visit.
Southern bluefin tuna, O-toro, just like premium wagyu. As you can see, it melted heavenly on my tongue.

Negitoro with nori seaweed from Kumamoto prefecture. Mr Narito finally found the best nori seaweed to use for OMAKASE. He visited the producer in Kumamoto prefecture and also the maker of this nori seaweed came to Australia to visit Chef Oe's sushi. Mr Narito thinks about giving feedback to a producer how we enjoy their nori seaweed in Australia. We are very grateful to have such quality ingredients from Japan to introduce Washoku to Australia. 

Cuttlefish, this is a good timing to clean palate after beautiful rich fat fish. As Edomae sushi style, cuttlefish is necessary at this point in time.

Black tiger prawn from QLD, very beautiful colour. Next to cuttlefish, well balanced flavour.
Torigai from Aichi prefecture, necessary to have shellfish in OMAKASE, there's not many shellfish available in Australia. Mr Narito visited Japan to find this in Aichi prefecture

Geoduck from Aichi prefecture, loved texture as well as flavour which was sealed with charcoal burner.

Black abalone from VIC, simmered it with sake and kombu seaweed for six hours, making this as soft as possible and open the taste and condensed umami.

Eel from Kagoshima prefecture where the number one production, Mr Narito found the best eel to import from Japan. Chef Oe simmered it lightly making it soft, and sealed it with a charcoal burner. This taste is exactly as it is in Japan, with a beautiful nori seaweed in Kumamoto prefecture.

Salmon caviar, gorgeous orange jades, a perfect balance of all as gunkan style. 

Sea urchin from Tasmania. This was not purple sea urchin yet, but purple sea urchin starts in season now. That is a reason why we have to come back to OMAKASE in different seasons. Perfect balance of crispy nori seaweed and sweet sea urchin with full of flavour. 

Sea eel from Hiroshima prefecture, this is my favourite taste from savoury fragrant from charcoal burner and melty texture. Oh wow, this is so good!  

Kanpyo, dried shavings of calabash gourd, Chef Oe cooked it with his original sauce, this was not too sweet but natural sweetness from kanpyo, to make my stomach calm down to lead this gorgeous OMAKASE finish up. 

Egg omelette with grated prawn, just like soft cheesecake, I enjoyed it as dessert.
Miso soup with selected red miso. Finish up with a dashi flavour.
Seasonal fruits, Chef Oe impressed me with how good his knife skills are to cut fresh bamboo to make the beautiful decoration. Customers can enjoy chefs' techniques and it is a real pleasure.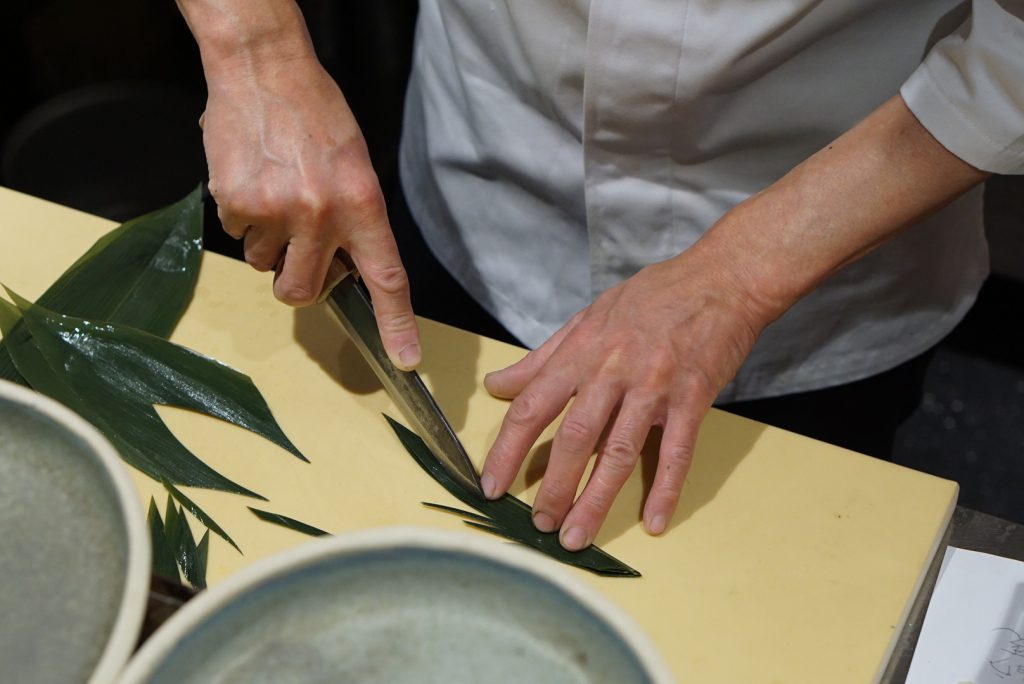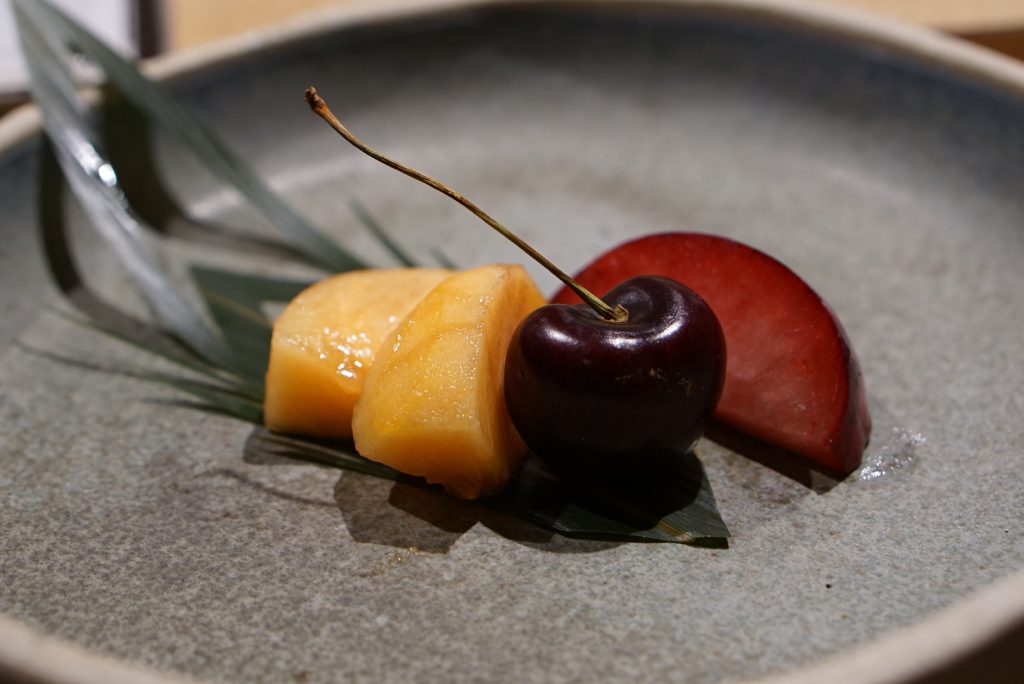 OMAKASE at Sushi Oe, based on the special relationship with Mr Narito, a fishmonger, has 30 different styles of seafood. Chef Oe tries not to use common fish such as (delicious Australian sustainable) salmon which customers can enjoy and eat  elsewhere. Mr Narito, as a beginning part of OMAKASE, selects the best seasonal fish every day for Sushi Oe as well as other OMAKASE restaurants, and his staff look after their fish very carefully. Chef Oe, as the main part of OMAKASE, sees fish and thinks carefully how to prepare them as the best for customers without any instructions and menu – only with his cooking technique. This is the essence of OMAKASE.
OMAKASE is where you can enjoy the season, it does not happen without this relationship, and it represents amazing value in Australia in terms of seasonal fish which you can't find this quality anywhere else in the world. There's a different part of fish available in each OMAKASE restaurant. (See others) Each chef has their own style and preferences. Mr Narito knows all about his customers. Try different OMAKASE and find out your own favourite OMAKASE. And don't forget to return there every season, you can finally enjoy the real pleasure of OMAKASE.
Sushi Oe's booking for November opens at 9am, Saturday, on 5th September. Book from here.