Photo: Tsukemen from O-san Ramen, taken from O-san Ramen Facebook
We all know what ramen is, but have you heard of tsukemen? Tsukemen is ramen noodles served separately from the broth and toppings. The noodles are served cold, so this is the perfect way to enjoy noodles in the warmer months. The broth, meanwhile, is served undiluted and hot.
The way to eat tsukemen is to take just a few noodles (it's recommended to only take 2~3 noodles at a time), dip them in the broth and then eat! Because of the strength of the flavour of the broth, its thickness, and also the hot temperature, only taking a few noodles at a time will guarantee that you get the best eating experience. When you take too many noodles at once, they absorb too much broth and as a result the flavour may be too intense (for example, too salty) to be enjoyable.
Tsukemen has been lapping up increased levels of popularity in Japan for the past few years, but the ramen boom has only hit Sydney in the past year or two. With an increase in ramen shops comes an increase in tsukemen, especially now that they're well established and the weather is heating up.
In Japan, pretty much every ramen shop will have tsukemen on their menu, but this isn't so in Australia. However, most ramen places are starting to incorporate it into their menus! Manpuku Ramen just recently announced the addition of tsukemen to their menu while Mappen Noodle Bar has always had a low key variation on offer. Ramen O-san have also been experimenting with tsukemen.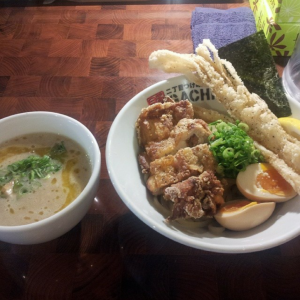 Photo: my first ever tsukemen from Gachi, Shinjuku
Personally, my first tsukemen experience was one I'll never forget. After visiting Shinjuku Gyoen, I found a whole street of ramen shops. After picking a restaurant, I ordered using a machine and didn't know what any of the menu items were, but opted for the one called "deluxe XL" because that's really the best way to go in these sorts of situations. What I got (above) was a rich chicken broth, to my surprise it had a large piece of slow cooked pork belly in it, with a side of noodles topped with karaage fried chicken, tempura prawn, egg, spring onions, and nori.
I was the first customer of the day, the chef was surprised I could speak Japanese, and even more shocked when I ate the whole meal and stayed for a chat. Once you've finished the noodles, you can ask for the broth to be watered down into a soup so you can polish it off, if you're not already over full!
Enjoy your tsukemen even more by receiving membership benefits when you have a Washoku Lovers Membership Card, sign up now!