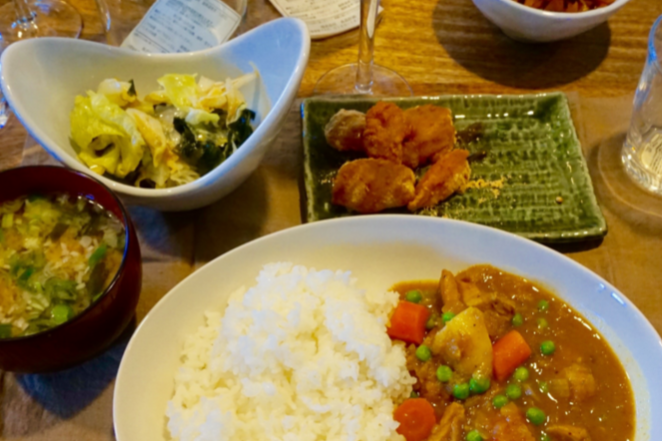 After our previous cooking event was a massive success thanks to all our supporters,  finally we were ready to have our second cooking event -Washoku Lovers Kitchen- which was a cosy and intimate hands-on cooking class for only 10 people. This cooking event was the last part of Curry Rice promotion which started from 1st October to collaborate with the Japanese Film Festival. We ran a Japanese Curry Rice promotion so you all could try Japanese Curry at our partnered restaurants. We hoped you felt like cooking Japanese Curry at home after eating it! Thankfully, the tickets were sold out very quickly and there were some people in the waiting list. I was so happy to see that 4 people out of 10 were coming to Washoku Lovers Kitchen for the second time! Thank you for being big supporters of Washoku Lovers 🙂
The cooking studio is located in Chatswood, it takes about 10 min to walk from the station, it has a little Japanese garden and is such a comfortable space to learn hands on cooking. I was very very happy to have lovely Washoku Lovers Members!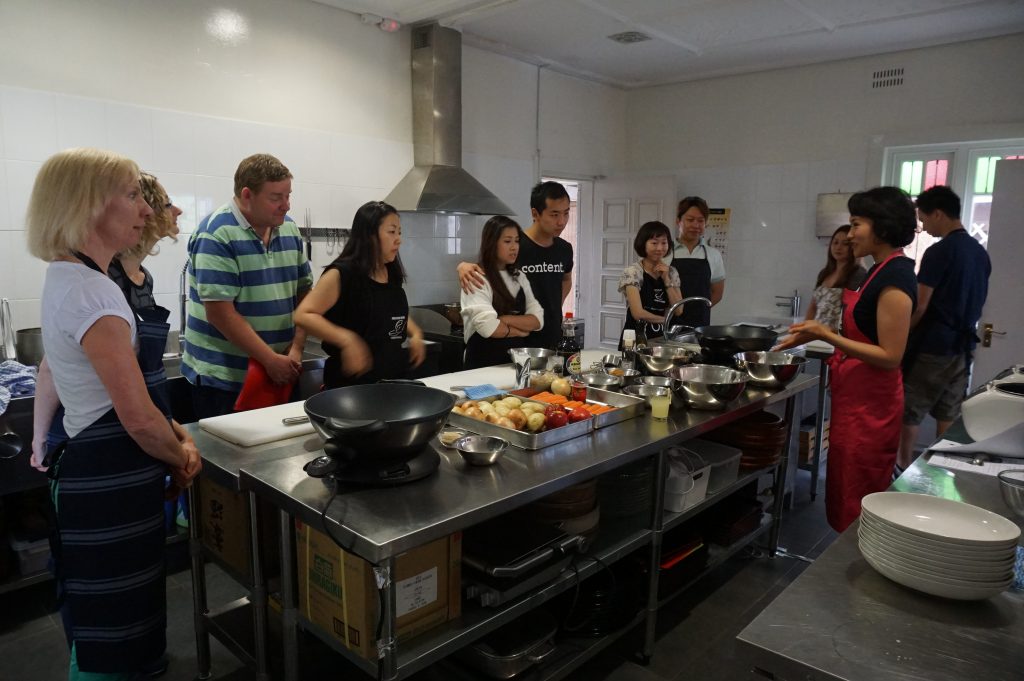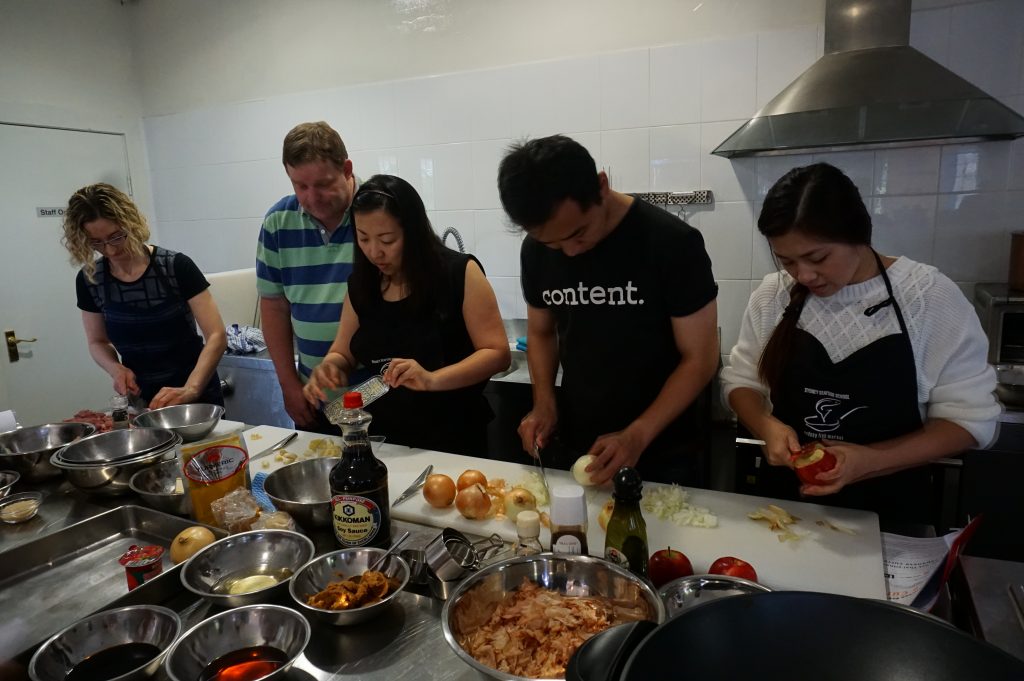 Menu
Japanese Curry Rice from scratch
Miso soup with tofu and wakame seaweed / How to make dashi from scratch
Rice / How to wash rice correctly
Japanese salad dressing / How to use dried seaweed -wakame-
Warabimochi for dessert
Whenever I make menu plans, I always care about 'Ichiju-sansai' which is a typical WASHOKU style.
What is WASHOKU style Ichiju-sansai?
Washoku is a multi-dish meal and usually organised around a bowl of steamed rice with miso soup and other dishes called 'okazu'. Okazu has two aspects:
The main dish is called 'Shusai' and side dishes are called 'fukusai'.
The main dish is a kind of featured dish, for this class it was Japanese Curry.
Side dishes are smaller dishes usually using vegetables and seaweeds as the ingredients, this time it was Japanese wakame salad.
I was very happy to show how to make dashi from scratch to everyone. Dashi is one of the fundamental elements to washoku cooking and is used from soups, to stews and everything else. We made rice balls using the leftover bonito flakes which everyone loved 🙂
We said ' itadakimasu' together before eating to show appreciation for the cooks and food.  It is a custom and one of the basic Japanese table manners. An equivalent English phrase would be, "thanks for the food".
Oh, I totally forgot to tell them "Gochisosama deshita" at the end! Oh well, next time, I have to remember!
The pure taste of Kirin beer, Megumi, is perfect with Japanese curry, as you can see from their smiles 🙂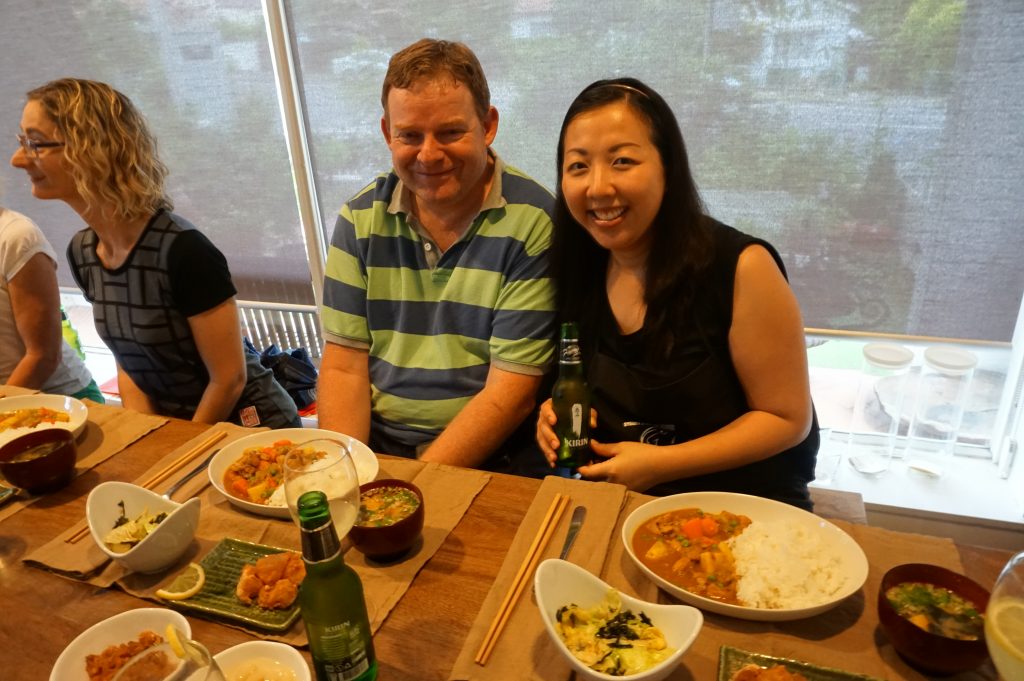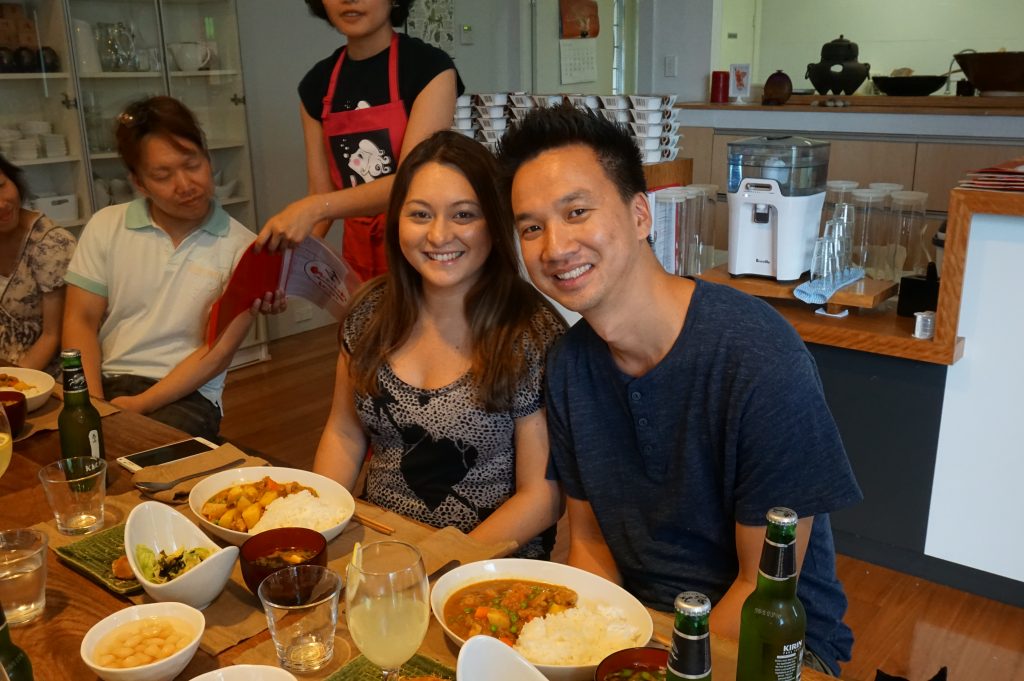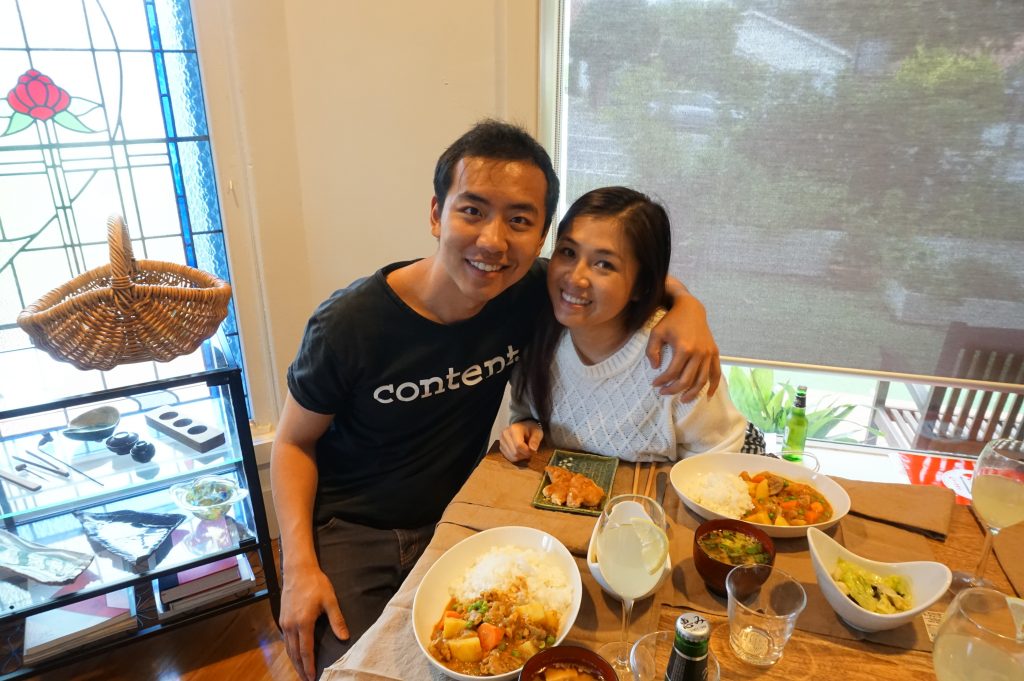 Our dining table was full of great MUJI products. I love the concept of
Mujirushi Ryohin, MUJI in Japanese, translates as "no-brand quality goods." They are great to have in the kitchen.
Have you been to the MUJI shop in Sydney (Level 1, 500 George Street, Sydney)? I always lose track of time there, as they have a great variety of kitchen goods in the store…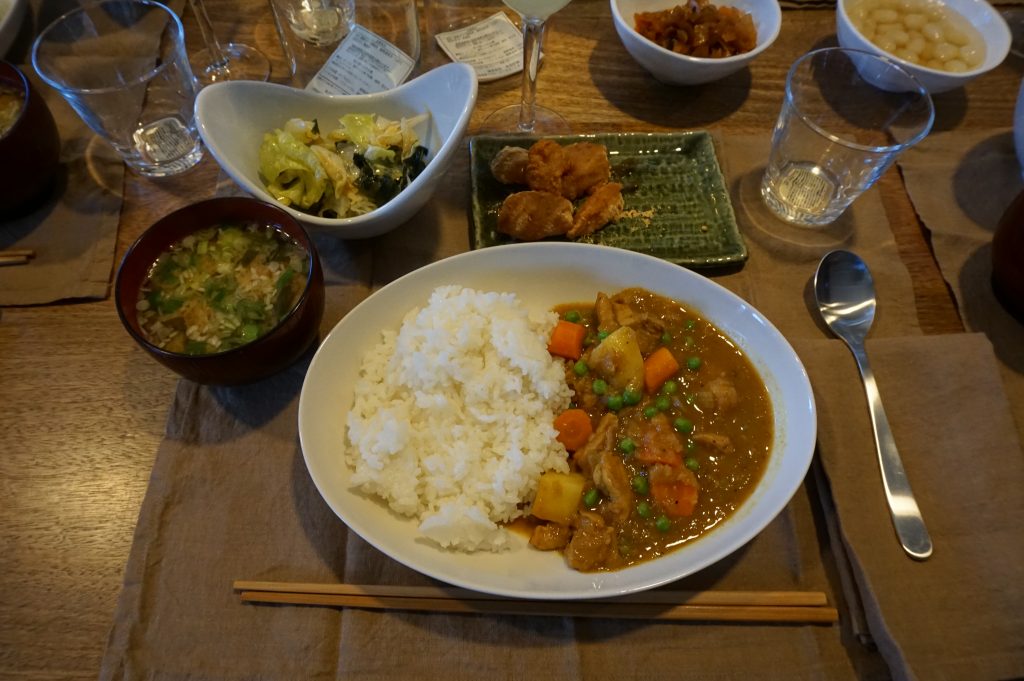 I bet I made you hungry? 🙂 Here is the recipe :
How to cook Japanese Curry from scratch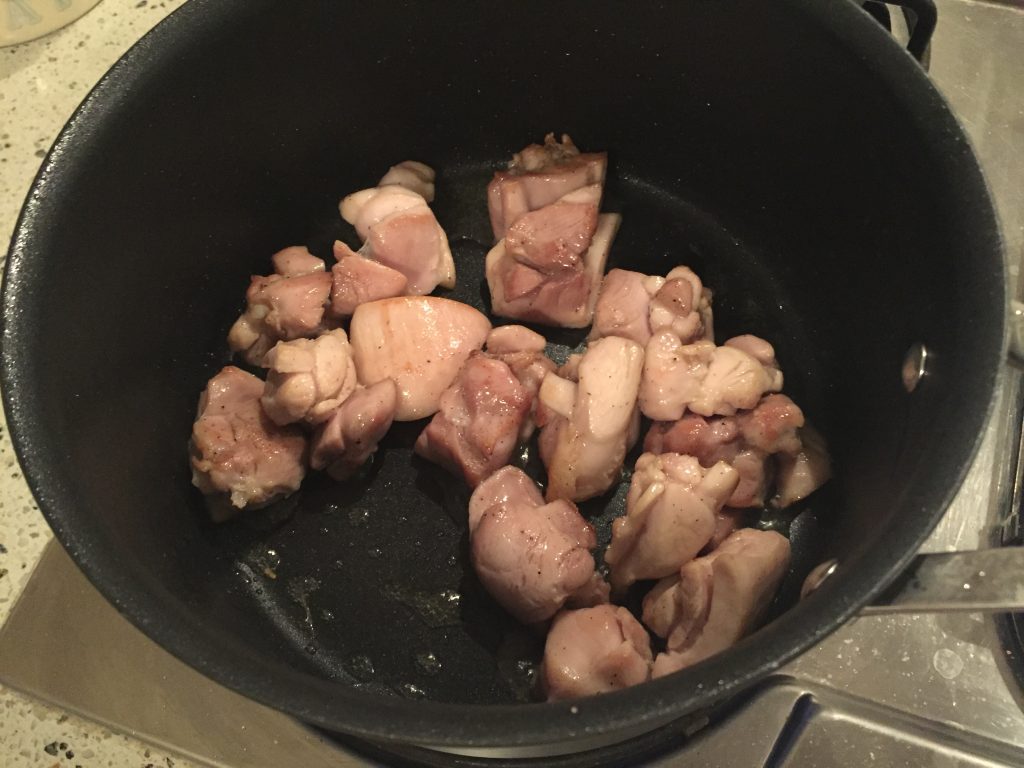 Trim any fat or skin from the chicken and cut into large chunks. Sprinkle with 1 teaspoon of salt and 1/4 teaspoon of pepper and mix to distribute evenly.
Heat the vegetable oil in a heavy bottomed pot over medium-high heat until hot and then place the chicken in the pan in a single layer. Let the chicken brown undisturbed (about 5 minutes). Flip the chicken and let it brown on the other side.
Turn down the heat to medium-low and transfer the chicken to a bowl using tongs, making sure to leave as much oil in the pan as possible.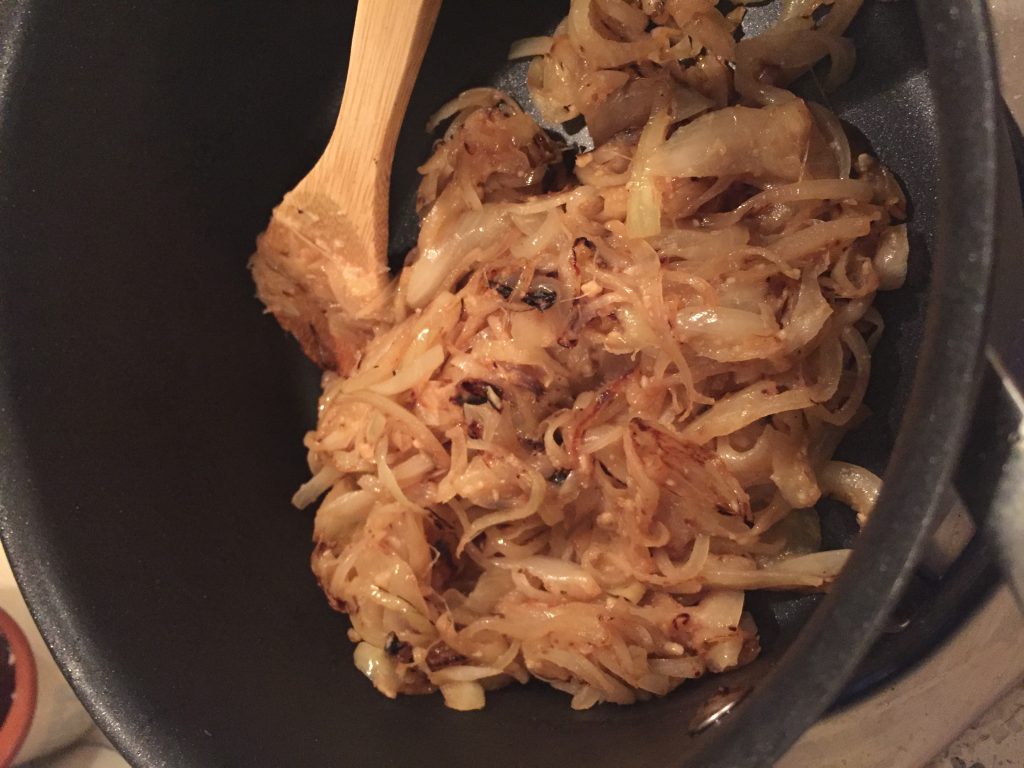 Add the grated garlic and ginger and fry in the oil until it's not sizzling as much and it reaches a rich caramel brown colour.
Add the onions, and stir to coat with oil. Cover with a lid and let the onions steam until translucent and soft (about 10-15 minutes).
Remove the lid, turn the heat up to medium and continue frying the onions, stirring constantly until it's reduced to about 1/8 of its original volume and it forms a shiny caramel brown paste (about 20-30 minutes). If the onion starts to stick to the pan before it's fully caramelized, try scrubbing off the stuck bits with a spatula. If that doesn't work you can add just a bit of water to the areas where things are sticking and then use the spatula to scrape. When the onions are fully caramelized, add the S&B curry powder and saute briefly until very fragrant.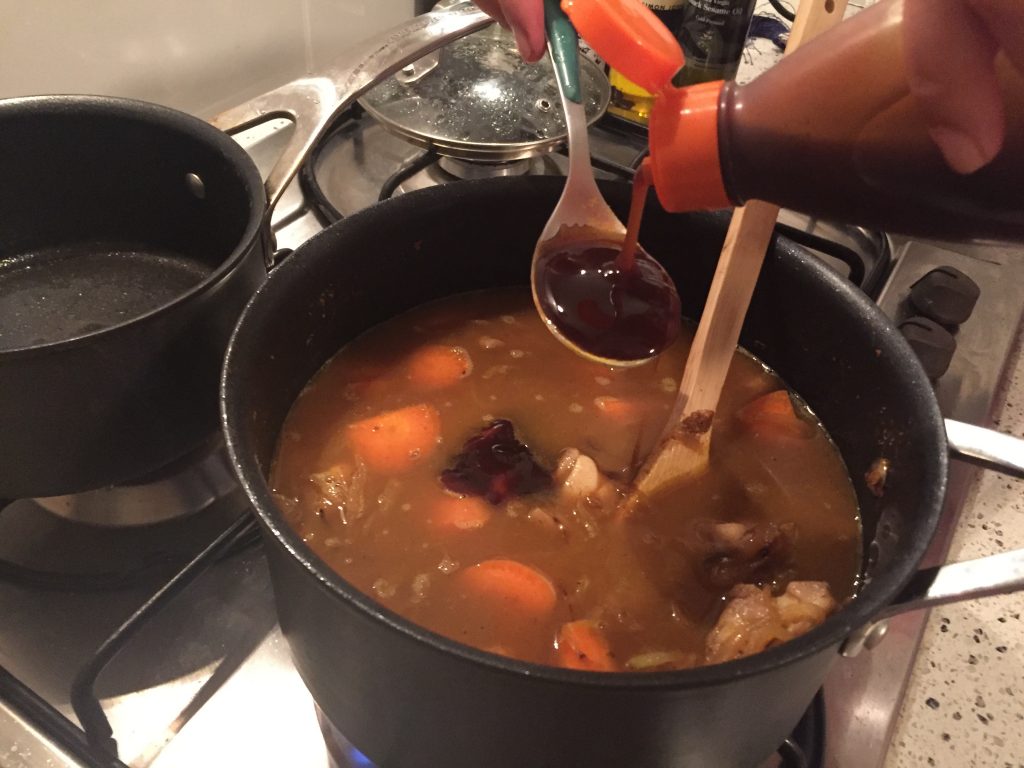 Return the chicken to the pot and then add the stock, carrots, grated apple, chunou sauce, tomato paste, cocoa powder, salt and the bay leaf. Bring to a boil over high heat and then reduce the heat. Cover and simmer for 15 minutes.
Add the potatoes, cover and simmer until the carrots and potatoes are very tender (another 15- 20 minutes).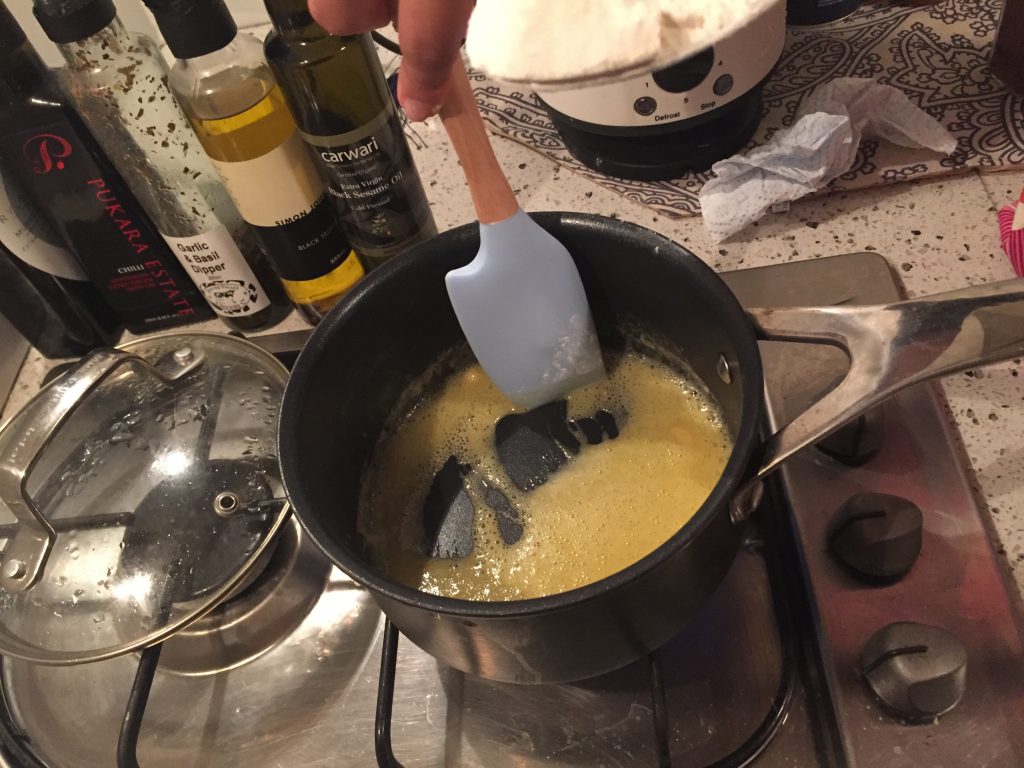 In the meantime, make the roux by adding the butter and flour to a small saucepan over medium heat. Use a spatula to stir constantly until the bubbling subsides and the roux is a light brown colour.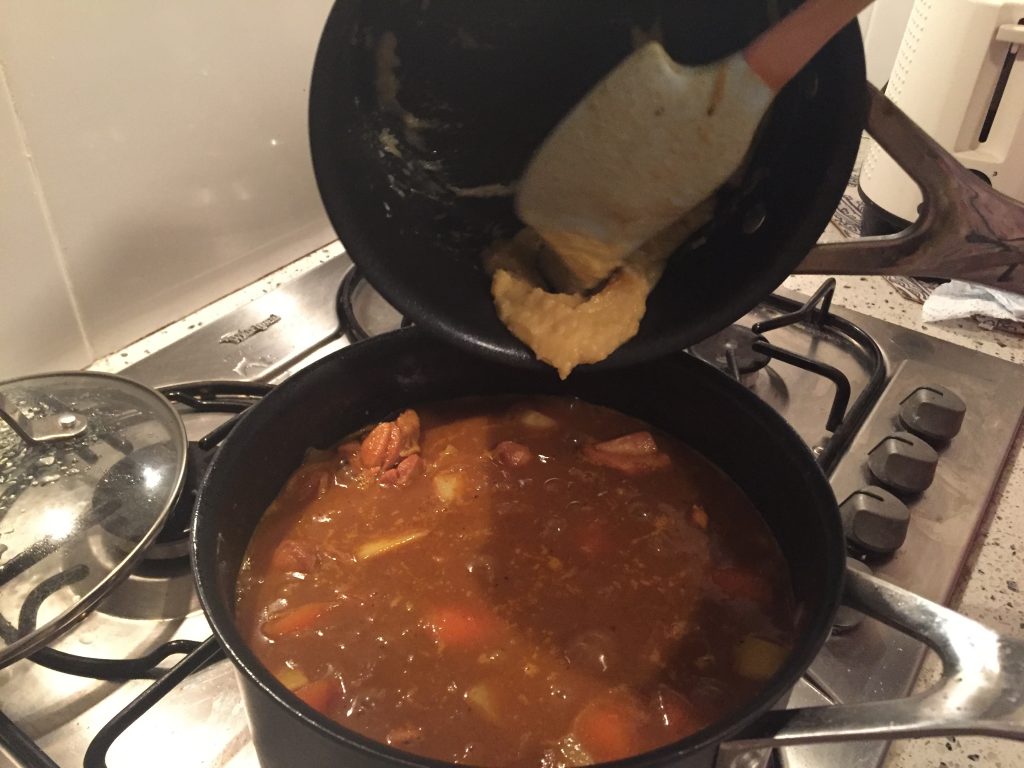 When the potatoes are tender, taste and adjust salt to taste. If you like your curry sweeter, you can add some honey.
Make the roux by melting the butter and stirring in the flour. Finish the curry by adding the roux and green peas and bringing to a boil to thicken the sauce.
Serve with hot rice.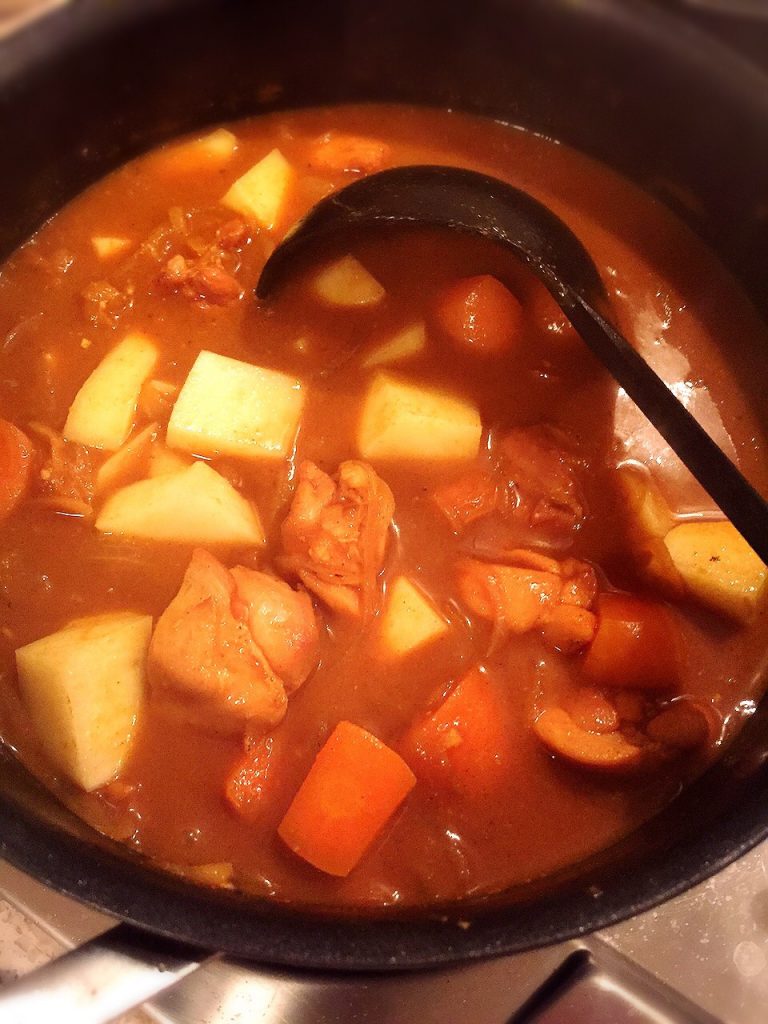 Japanese ingredients:
We recommend S&B curry powder to make Japanese curry. Also some ingredients such as chuno sauce is good to have in your kitchen. You can use them for many Japanese dishes.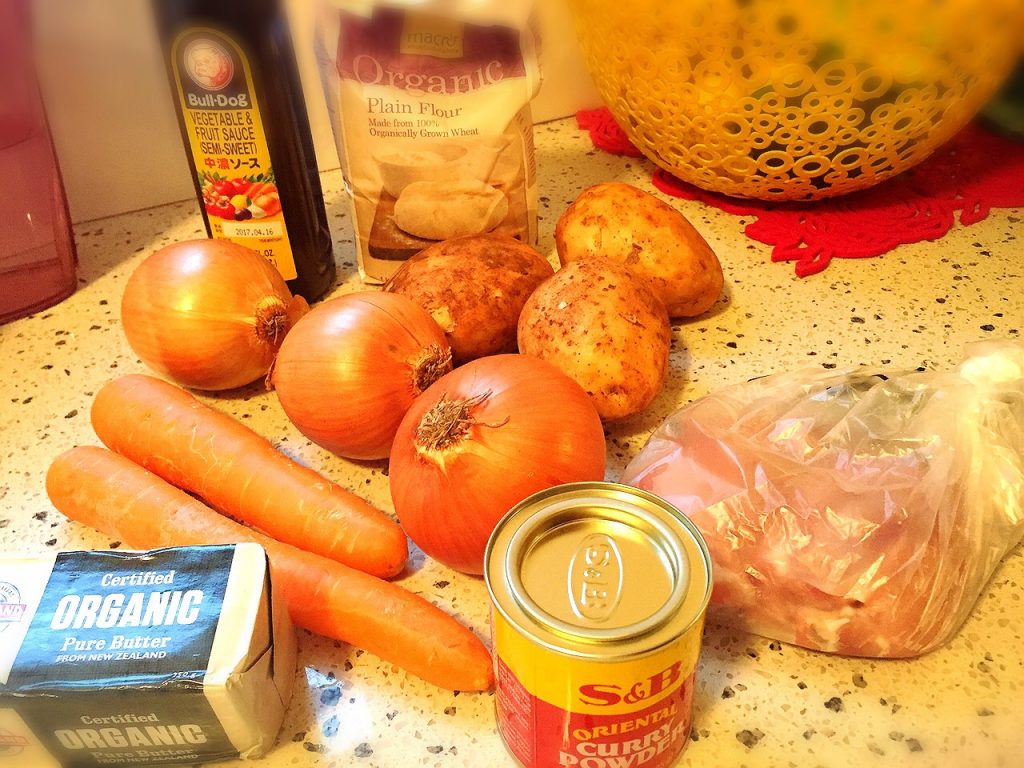 Where can you buy Japanese ingredients? If you are living on the North side of Sydney, there are a couple of places to get them. As Washoku Lovers Kitchen, we recommend Tokyo Mart which is a leading retailer of Japanese groceries and is famous for its variety of products very similar to supermarkets in Japan. For all those authentic and hard to find Japanese groceries, Tokyo Mart is the place to go! All the ingredients for Japanese curry can be found here, with plenty of other ingredients and products to inspire, or distract you, to make many other Japanese dishes.
Chuno sauce is very convenient to have. This sauce can be a secret ingredients for stews, and necessary for okonomiyaki and takoyaki:)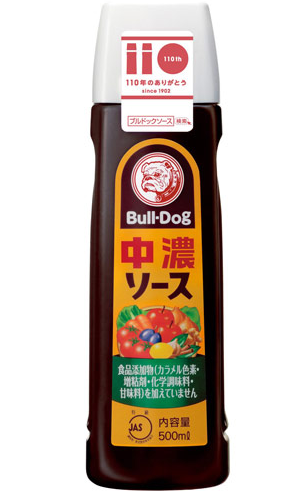 Fukujinzuke is a type of Japanese pickle that is often used as a topping for Japanese curry.
The introduction of fukujinzuke may have been in response to the use of chutneys as an accompaniment to Indian curries. It is said to have first been used on Japanese curry served on board luxury ships in the Showa Period. The ingredients for fukujinzuke correspond to the seven deities of good luck – found in daikon (radish), turnips, eggplant, lotus root, beans, uri, and perilla.
There is still one more topping, called rakyo. The allyl sulfide found in rakyo is said to prevent the feeling of a bloated stomach when you eat too much curry rice. The benefits of rakyo aren't limited to just that, though. It also helps recovery from fatigue, and is good for increasing stamina. When eaten with brown rice, you can expect to absorb more of the nutrients as allyl sulfide will increase your body's ability to absorb vitamin B1.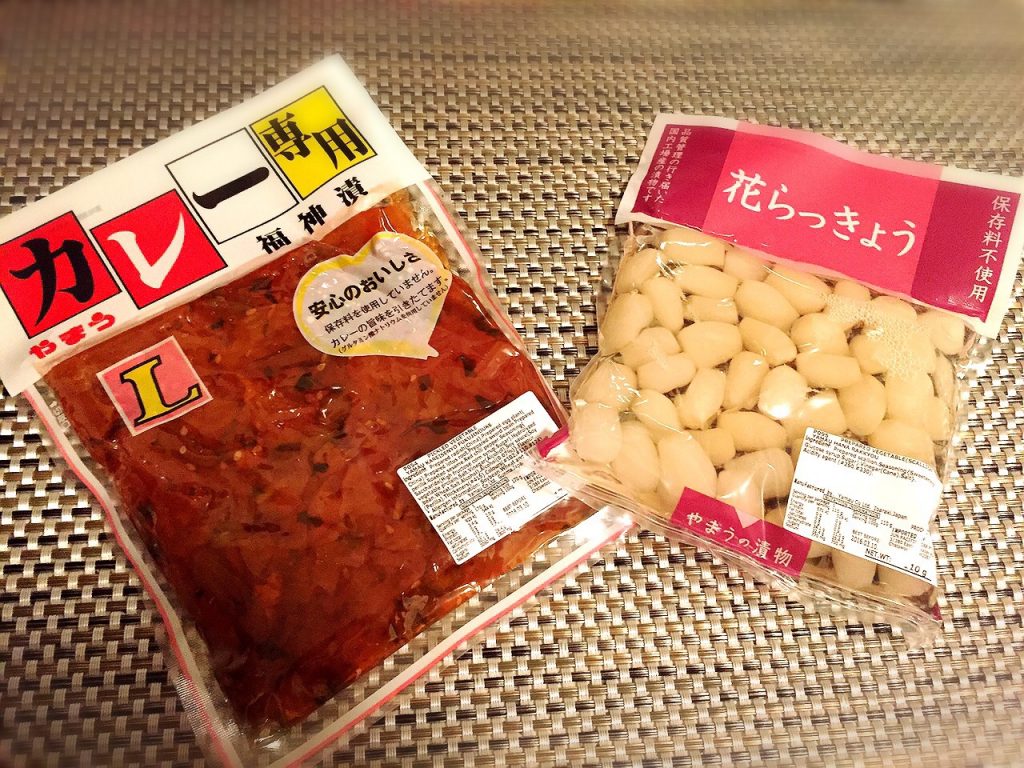 If you are desperate to eat Japanese curry,
Here are the restaurants where you can order delicious Japanese curry!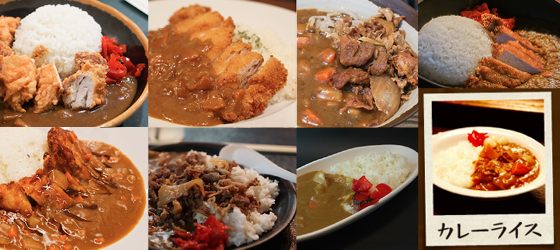 Opens every day: 11:30 am – 22:00 pm
Address: 6/551 George Street, Sydney NSW 2000
– Curry & Ontama (R)$5.90 (L)$7.90
– Curry & Fish Katsu (R)$7.50 (L)$9.50
– Curry & Wagyu Beef (R)$7.50 (L)$9.50
– Curry & Chicken Katsu (R)$7.90 (L)$9.90
– Curry & Pork Katsu (R)$8.90 (L)$10.90
– Curry & Chicken Kara-Age (R)$9.50 (L)$11.50
– Curry & Beef Humburger Steak (R)$8.90 (L)$10.90
Opens every day: 11:30 am – 10 pm
Address: Shop 1, 426 Cleveland St, Surry Hills
– Chicken Katsu Curry Rice $22
Opens every day: 11:30 am – 22:00 pm
Address: Shop 11, 537-551 George St, Sydney NSW 2000
– Curry & Beef (R)$7.90 (L)$ 9.40
– Mini Curry Bowl $2.90
Opens every day: 11:30 am – 22:00 pm
Address: 541/537-551 George Street, Sydney NSW 2000
– Plain Curry (S)$3.90 (R)$4.90 (L)$6.90
– Beef Curry (R)$6.90 (L)$8.90
– Ontama Curry (R)$5.90 (L)$7.90
– Cheese Curry (R)$5.90 (L)$7.90
– Teriyaki Chicken Curry (R)$6.90 (L)$8.90
Monday – Sunday: 11:30am -21:30pm
Address: Shop3, 197 Military Rd, Neutral Bay, NSW 2089
– Chicken Breast Cutlet Curry & Rice $18
– Curry & Rice $14
– Calamari Curry & Rice $13
– Karaage & Cheese Curry & Rice $18
– Takoyaki Prawn Curry & Rice $13
* All including Miso soup and mini salad
Opens every day: 11:30 am – 22:00 pm
Address: 16/501 George Street, Sydney NSW 2000
– Curry Bowl (S)$3.90 (R)$4.90 (L)$5.90
Sunday – Wednesday: 12 pm – 23 pm (22 pm Last order)
Thursday – Saturday: 12 pm – 24:00 am (23 pm Last order)
Address: 10/501 George Street, Sydney NSW 2000
– Beef Curry & Rice $10.80
– Pork Cutlet Curry & Rice $12.80
Enjoy your Japanese curry journey:)