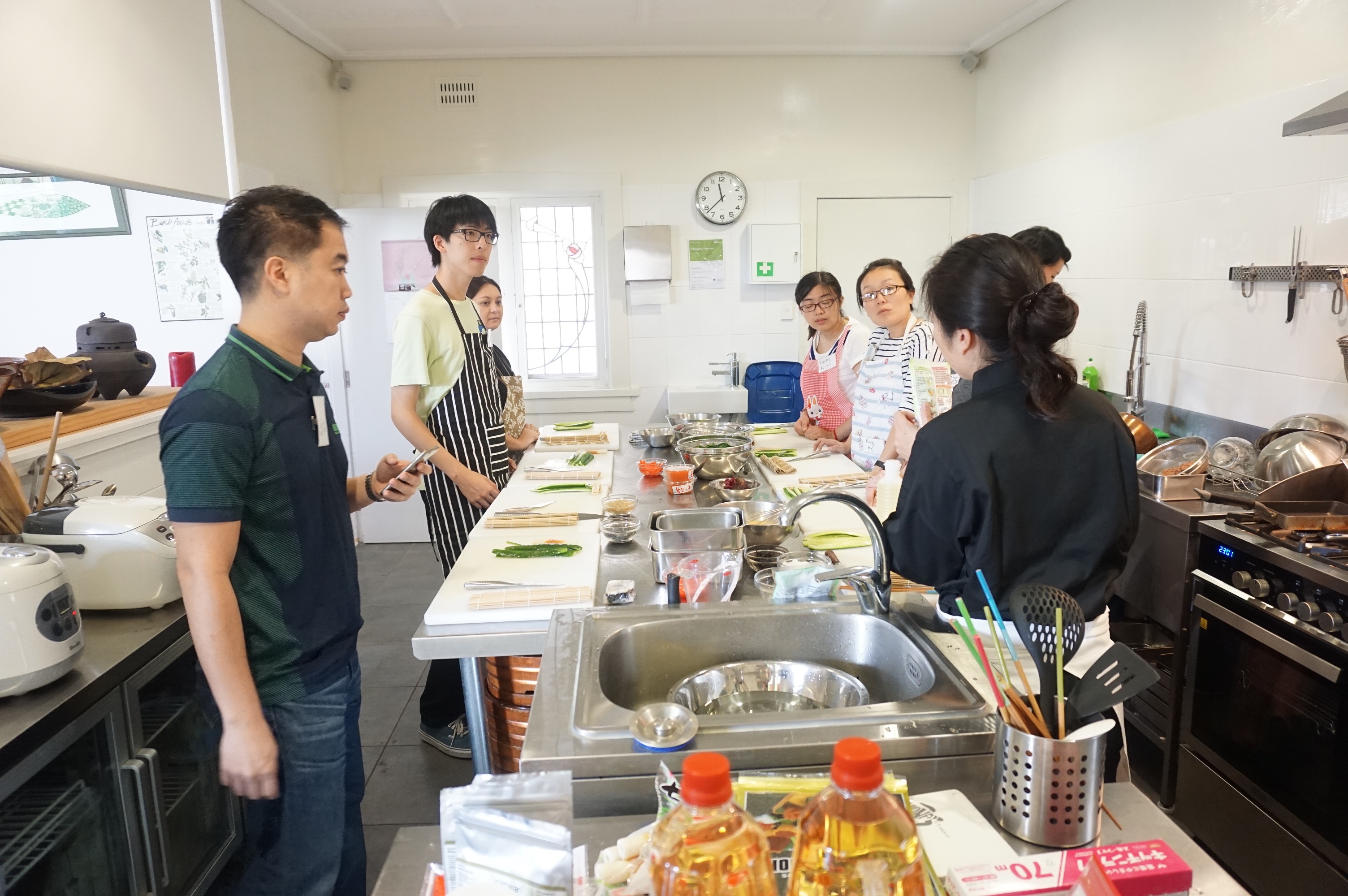 On April 30, Washoku Lovers Kitchen welcomed our new permanent chef, Kanako Wada!  She specialises in decorative sushi, and is a whisky enthusiast. Her knowledge in the kitchen shows through her fluid teaching and movement around the Washoku Lovers Kitchen.
With no signs of nervousness at all, Chef Kanako sat everyone down at the dining table and explained the menu. There was two types of decorative sushi (rose rolls and koala rolls), baby rolls, and miso soup, as well as an accompanying cocktail provided by Choya Australia.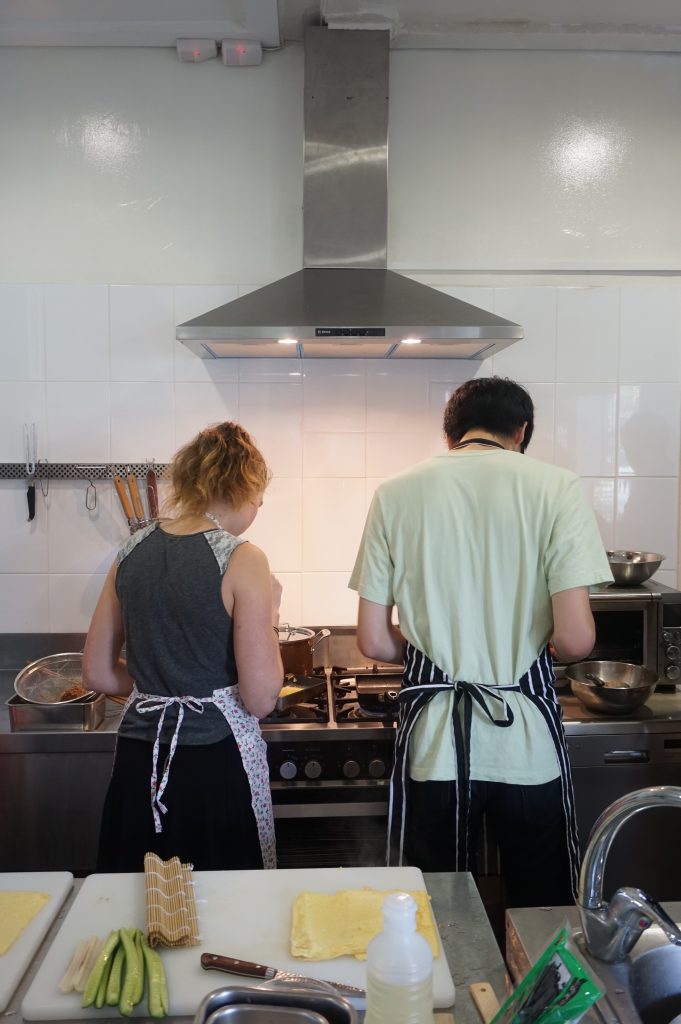 After initial introductions, everyone moved into the kitchen to start preparing the fillings of the sushi rolls.
Part of the colour of the rose roll comes from usuyaki tamago, thin sheets of fried egg.  Everyone got to practice frying two sheets (or more if they were like me and couldn't keep the sheet from breaking). In Japan it's quite common to use chopsticks to flip eggs, but not so much here in Australia.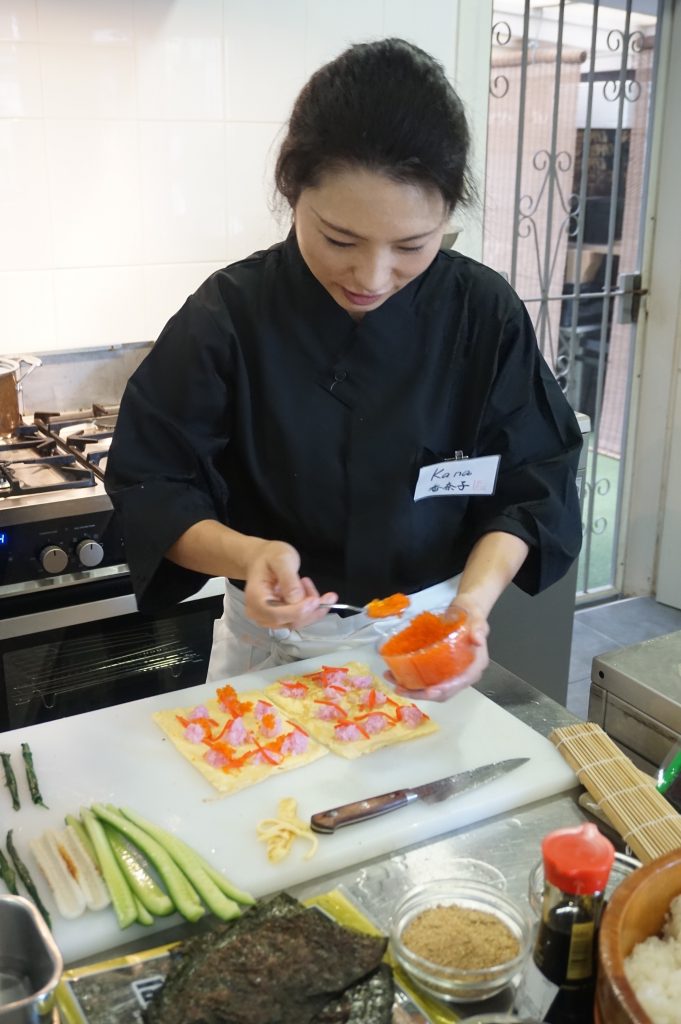 Other colours in the rose roll came from rice that was dyed pink using beetroot juice, red pickled ginger, and orange roe. Chef Kanako suggests using any ingredients you like with red/orange colouring. The rose pattern is made by rolling up one egg sheet, stacking it on top of the other, and then rolling again.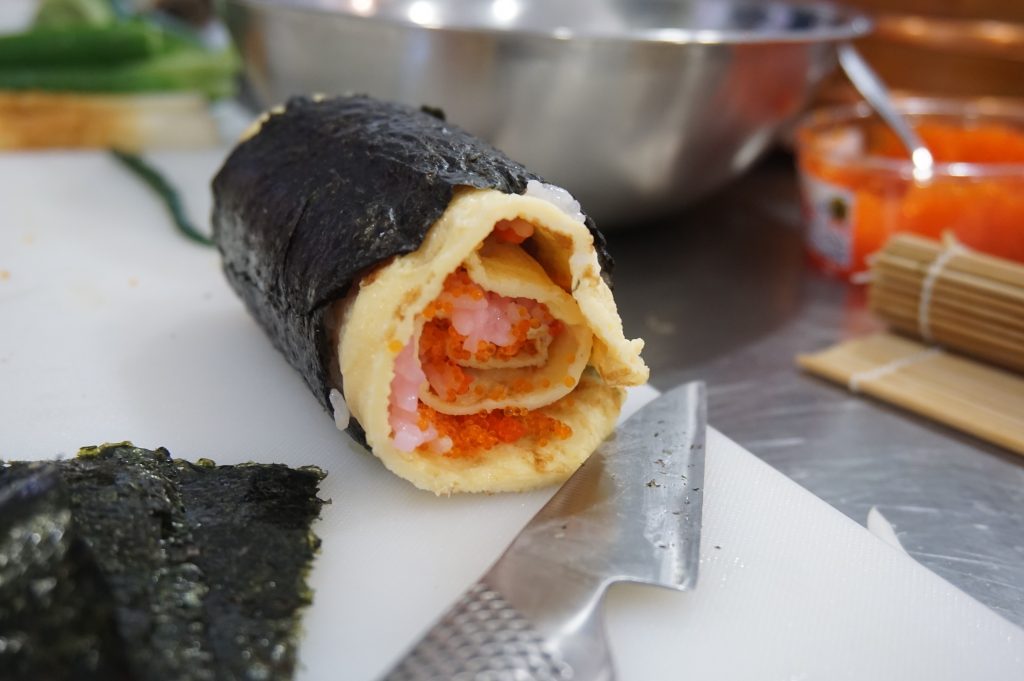 Before being sliced, it looks like this. The egg sheets are the same recipe as Japanese omelettes, but without rolling them, so if you're a fan of Japanese Omelettes then you'll absolutely love this sushi roll. The flavour was definitely my favourite of the day, especially with the pickled ginger which I'll happily eat by the mouthful!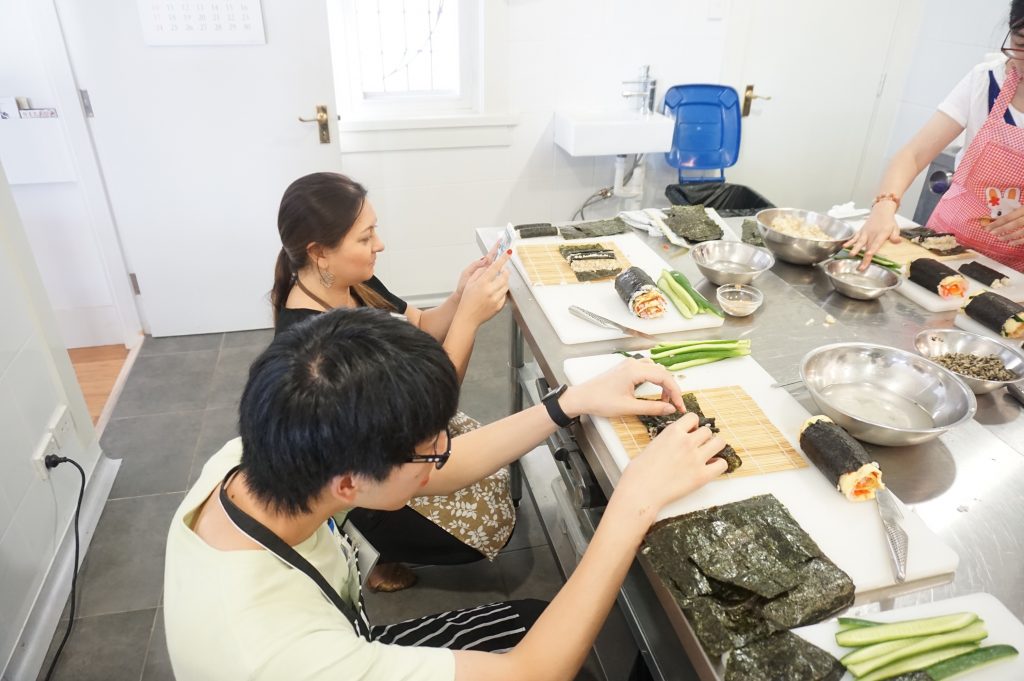 Next up we started assembling the koala rolls. Apart from some seafood sticks used in the ears, and spinach for the eyes, all the different parts of the koala was actually made using rice with mix ins to change the colour. For example, the black rice was made with black sesame seeds and soy sauce while the brown rice had bonito flakes from the miso soup cut into the rice.
While on the topic of miso soup, Chef Kanako's recipe includes sliced onion, simmered over a low heat for about an hour while we made the kazarizushi. This gave the miso soup an extra sweetness while still having a strong miso flavour.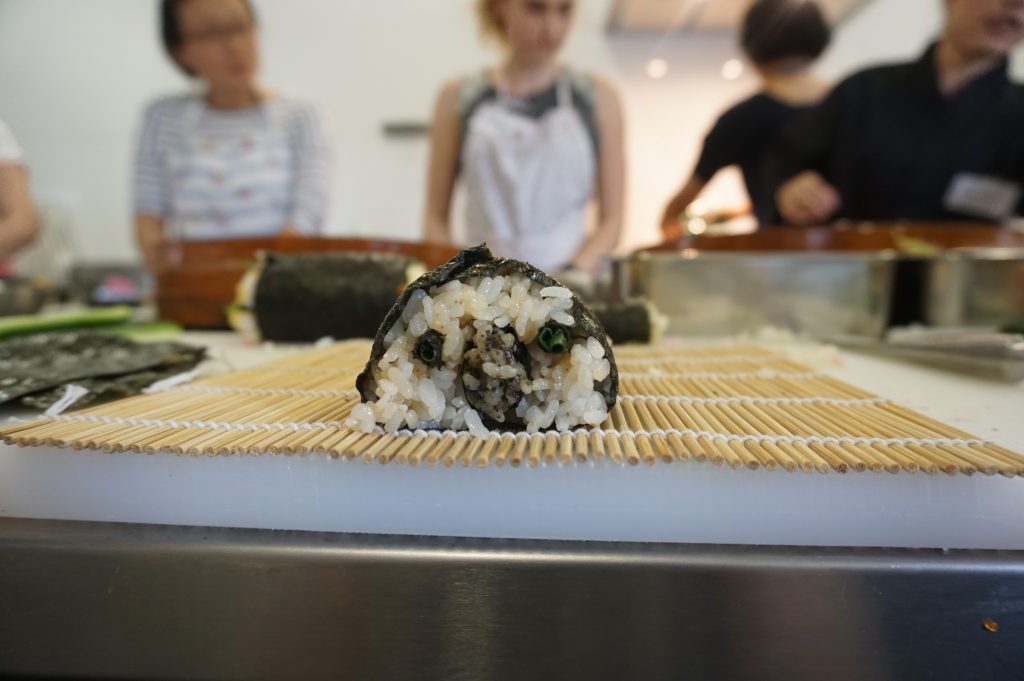 While assembling the koala, it's important to get eye to eye to check they eyes are actually in the right place!
It was a little strange seeing it all come together, and even at the end thinking "this isn't going to turn out right", but once you slice it, the inside looks much neater and more koala like than what you can see from the edge!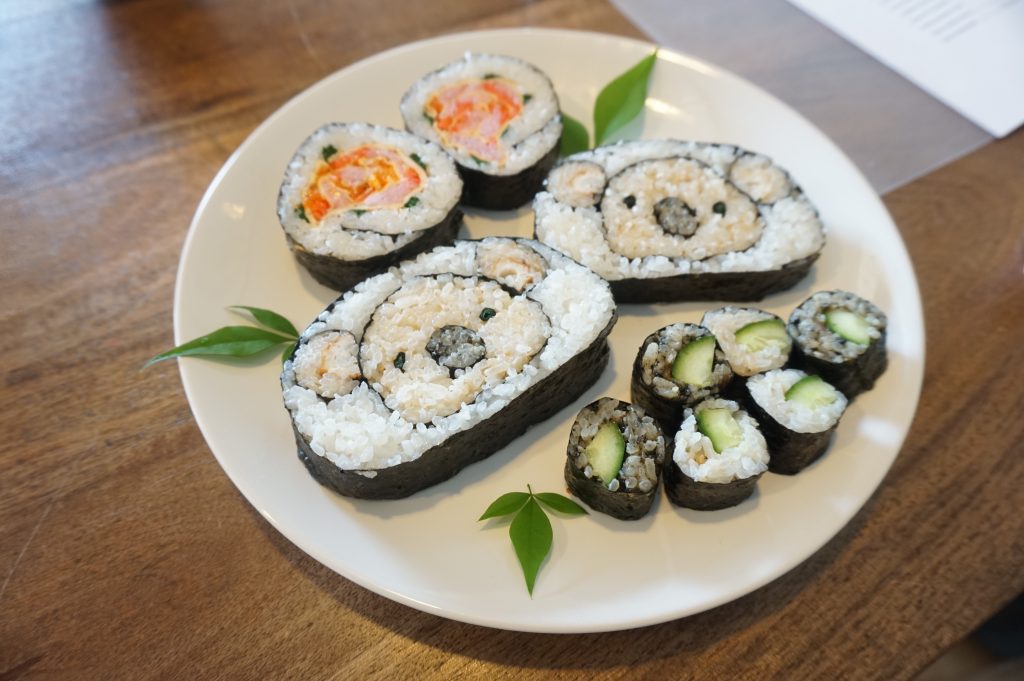 One Washoku Lovers member had the honour of being crowned the best koala maker, with this adorable little guys! You can also see the beautiful roses above, and baby rolls below the koalas. The koalas are quite a handful, many people needing two hands to pick it up and eat it! It was also a very filling meal, what with all the rice – but this is a saving grace as kazarizushi is meant to be eaten by large groups say at a picnic or catered event like a birthday party.
Next time you're having friends round, why not make some kazarizushi as a fun, cheap, and cute lunch!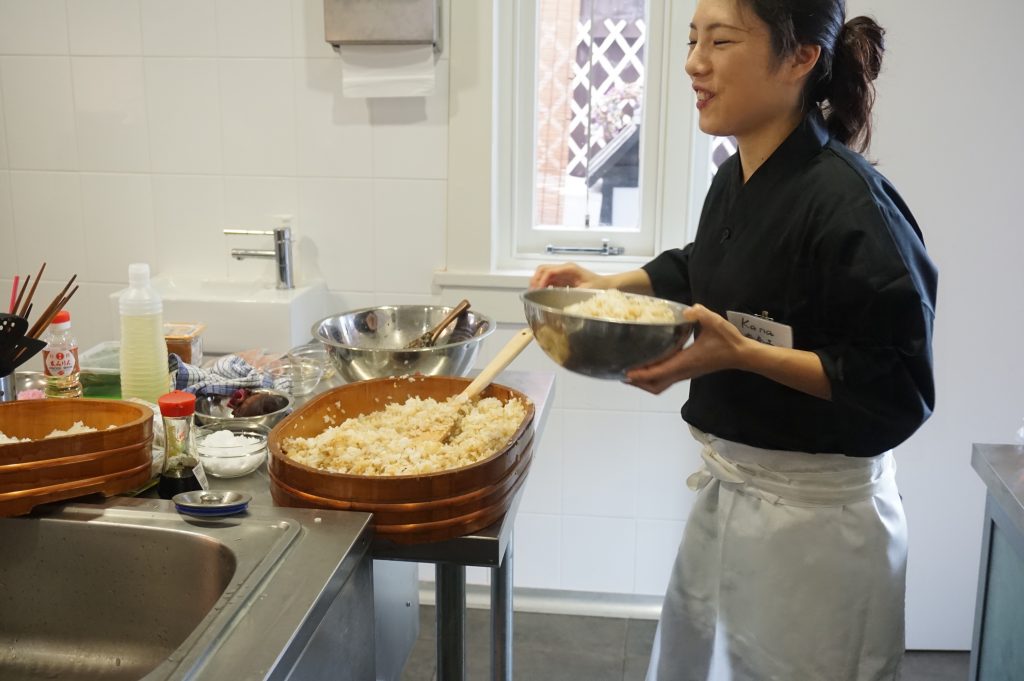 If you missed out on meeting the lovely Chef Kanako, she will be teaching all of our future Washoku Lovers Kitchens events! Our next one will be in June, keep an eye out on our social media and newsletters so you don't miss out on tickets. It's going to be an exciting class, we'll be teaching you how to make bento boxes!
All ingredients for this class can be bought at Tokyo Mart.