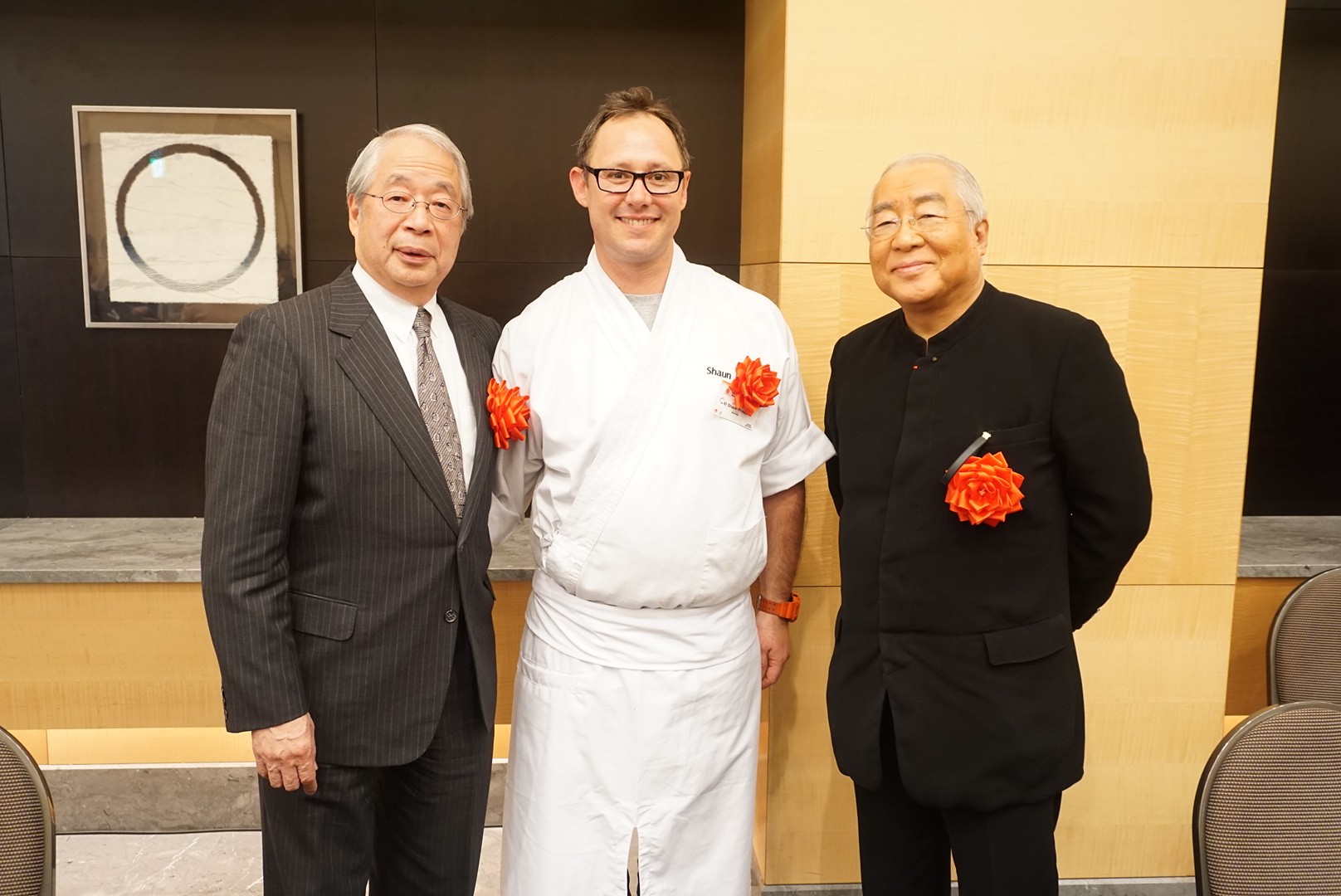 Continuing on from where we left off (See part 1) the venue was changed from Hattori Nutrition College to the Cerulian Tower Hotel in Shibuya for the award ceremony of Washoku World Challenge 2016.
MC Ayuchi started the ceremony with formal greetings. 2016 was the fourth year of the competition, and it attracted more entries than ever before with 205 recipes submitted from 105 chefs who represented 26 countries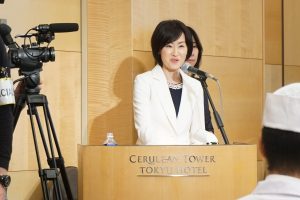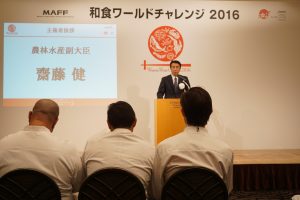 Ken Saito from the Japanese Ministry of Agriculture, Forestry and Fisheries also gave an opening speech, thanking the 10 finalists in their efforts to spread washoku to their home countries. This was followed by a greeting from Kikkoman's chairman, Mr Mogi. He commended the finalists on their approach to the challenge which was to cook rice, fish ball soup and an individual main dish in 2 hours.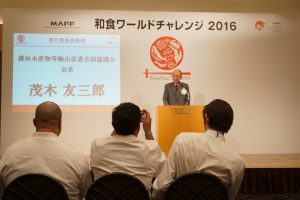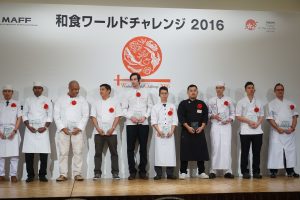 Finally it came to announcing the winners and presenting them with their bronze, silver, and gold medals.
Akiyama Yoshihisa from Mutsukari announced third place which was presented to….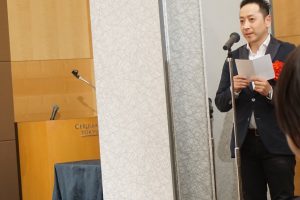 Thailand ??
Mr Songkran Comnew (35 years old)
Lotus root chrysanthemum flower bun in thick seaweed sauce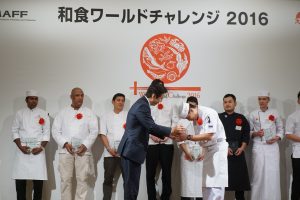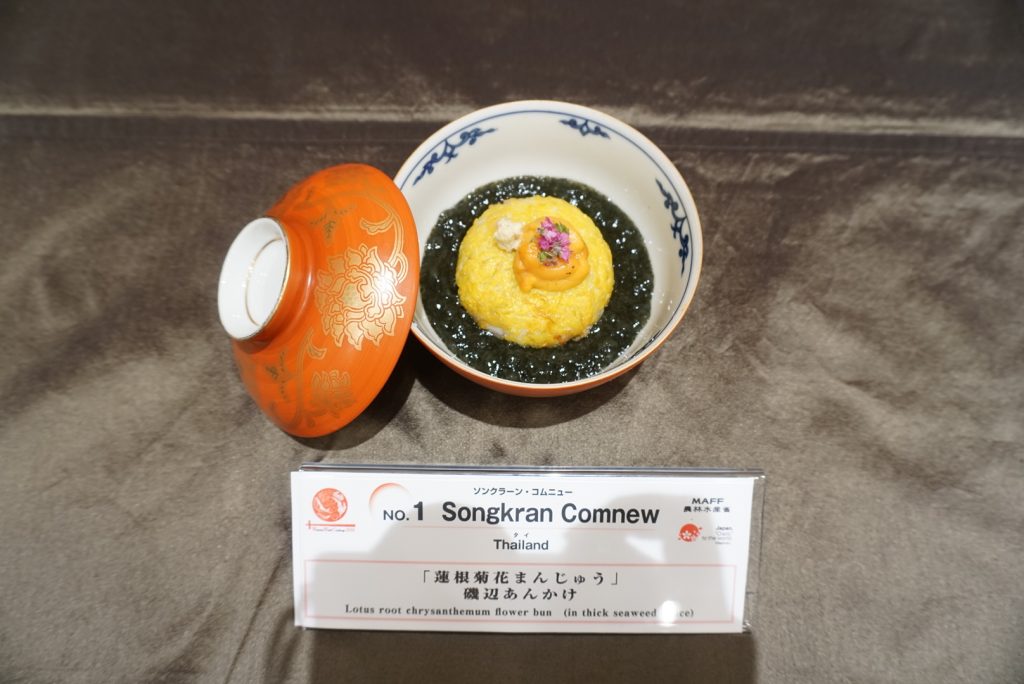 Second place was announced by Dominique from Maison de Minami.
This was presented to…!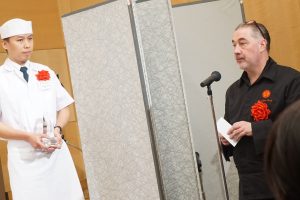 Australia ??
Mr Shaun Presland (45)
Kinpira chicken with balsamic teriyaki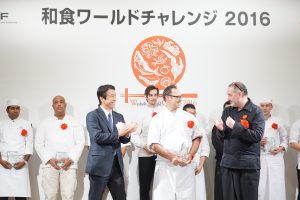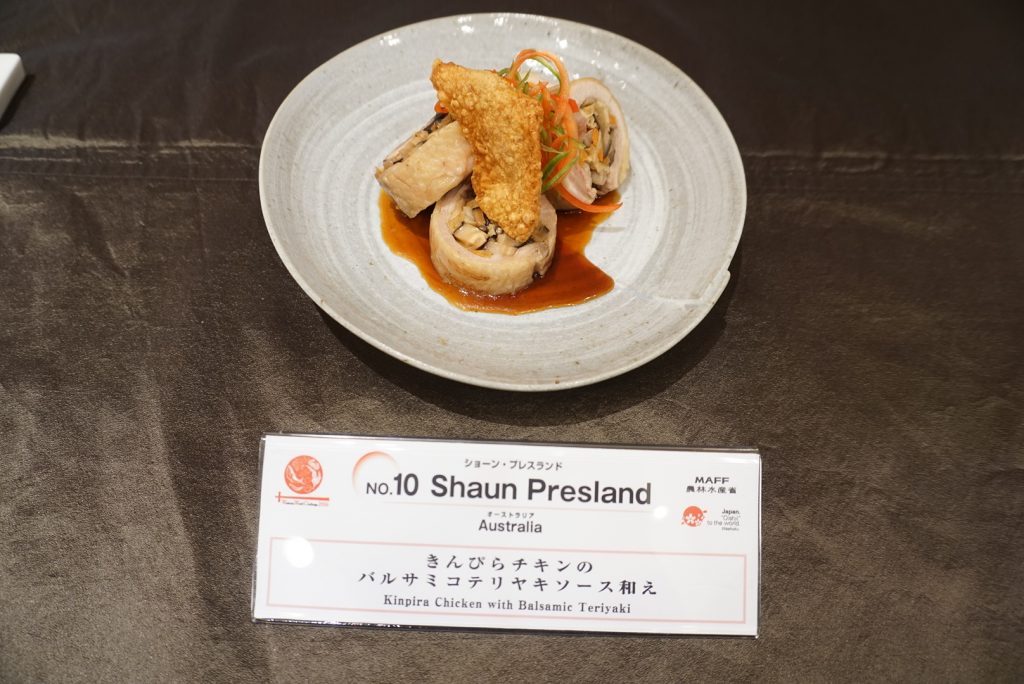 Finally, first place was announced by Kazato Masayoshi from Sushi Sakae, and during this the tension of the whole room was palpable!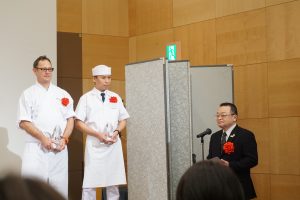 Malaysia ??
Mr Cheong Cherng Long (31)
Akamutsu no kenchin yaki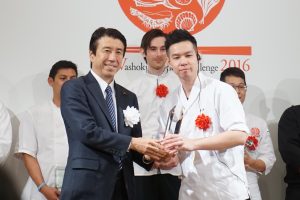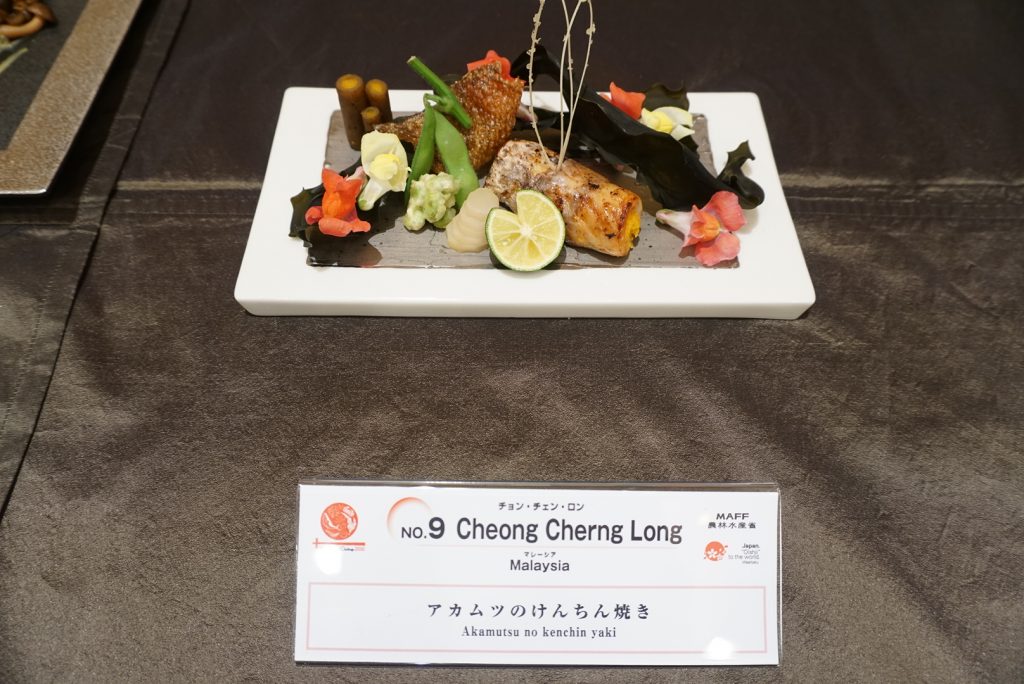 After the awards, one of the judges, Kihachi Kumagai, went through the criteria used to grade all the dishes.
In Japanese cuisine, celebrating the beauty of the four seasons is one of the most important factors. With this in mind, it was a condition that the dishes served by finalists included winter vegetables (the competition takes place in winter). Japanese people love eating things that make them feel warm during the cold winter.
Returning to that concept found in Japanese cuisine, finalist were asked to use winter ingredients.
The importance of the season is also connected to fish. Compared to Australia where the same fish are caught year round, (check out our Seafood Guide for more info!) different fish are available in different seasons in Japan. Depending on which fish is served to you in Japan, you will be able to understand what season you're in.
Back to the challenge, finalists had to cook rice, fish balls in miso soup, and their own dish. The dish of their choice had to match the rice and fish balls, and incorporate the idea of ichiju sansai which is the traditional structure of a meal.
After two hours, finalists had to stop cooking but still had to consider the temperature of their dish when it was served to judges. After all it's important to eat hot dishes when they're hot.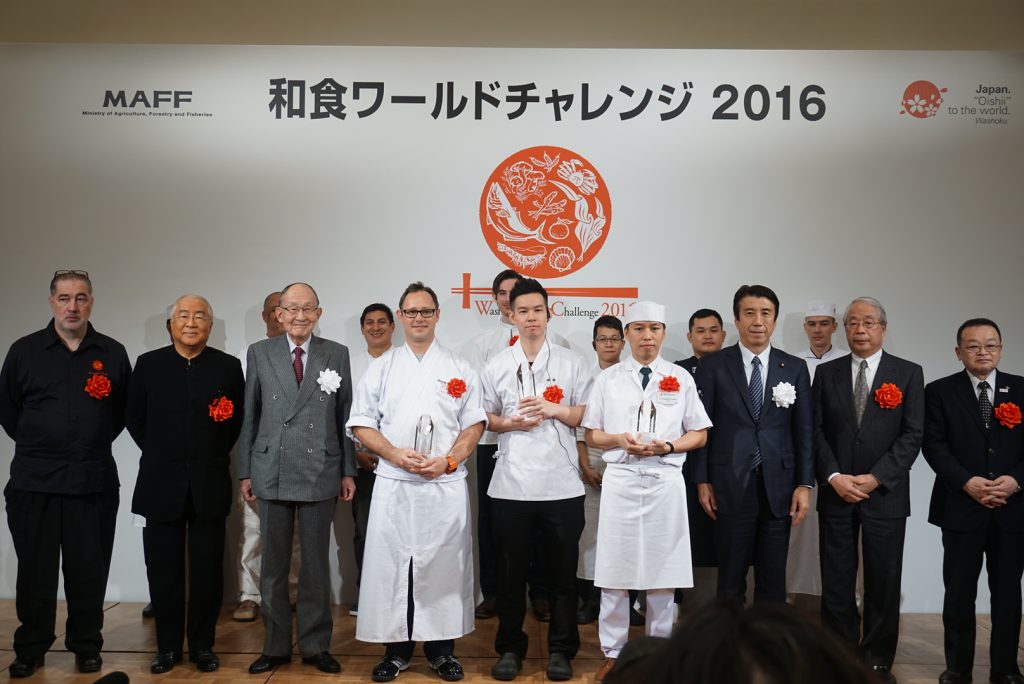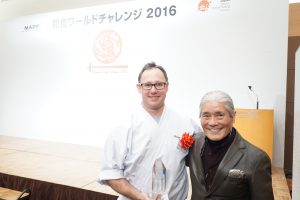 While utilising lots of winter ingredients, finalists needed to put their own individual expression into the dish.
All of them look amazing and perfect colour balanced! Washoku means Japanese food culture, as you probably know, colourful balance shows to be well balanced dish.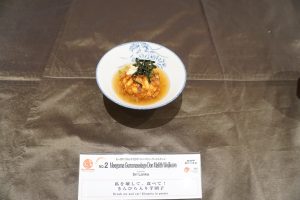 Sri Lanka ??
Mr Meegama Gurunnaselage Don Malith Wejikoon (31)
Break me and eat! Kimpira in potato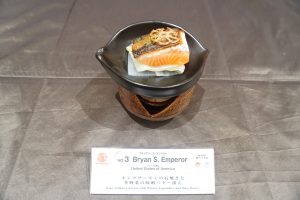 United States of America ??
Mr Bryan S. Emperor (48)
King Salmon Ishiyaki with winter vegetables and miso butter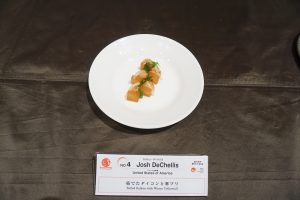 United States of America ??
Mr Josh DeChellis (43)
Boiled daikon with winter yellowtail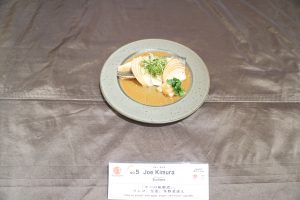 Scotland
Mr Joe Kimura (30)
Saba no misoni with Apple, ginger and winter vegetables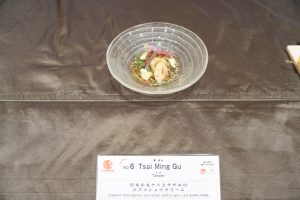 Taiwan (China) ??
Mr Tsai Ming Gu (36)
Japanese mini-eggplant and turban shell in spicy yuzu kosho cream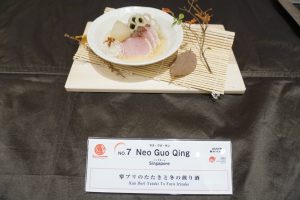 Singapore  ??
Mr Neo Guo Qing (34)
Kan buri tataki and winter irisake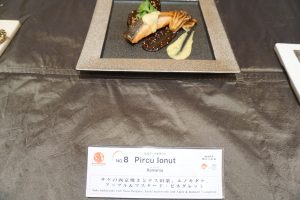 Romania ??
Mr Pircu Ionut (26)
Sake saikyoyaki with nasu dangaku, enoki mushrooms and apple & mustard vinaigrette
After the ceremony, Fukubu Sensei gave a class. I had great fortune to be able to watch the class from one of the best representatives of Japanese cuisine.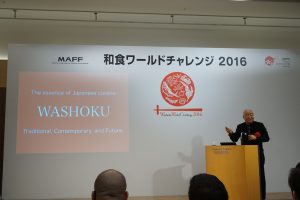 What exactly is washoku?
It was listed as an intangible cultural heritage, listed by UNESCO. Within washoku is the celebration of the four seasons in a year and annual festivals and events. Spring is celebrated with meals being thematically coloured. Summer brings with it a focus on cold ingredients. Autumn focuses on the abundance of food and dishes are thoroughly decorated. Finally winter is full of warmth for both the body and the mind. These are all obvious to Japanese people, and is recognised as an intangible cultural asset overseas. This is something that the Japanese are very proud of!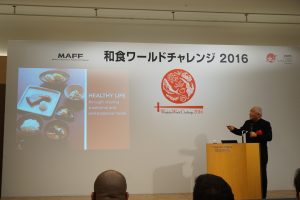 Fukubu sensei's class focused on cooking with fish. For the finalists who used fish, and particularly blue fish, the class was easy to follow and explained how to treat the fish and get rid of any fishy smell. Fukubu sensei said not to be afraid of using salt.
After any bad smell is taken care of, the salt can be washed away and the umami flavouring remains. It was obvious that all of the finalists were taking note of everything and trying their best to remember it.
You can see fish prep demonstrations all over the world, but Fukubu sensei's presentation was absolutely amazing! He was able to stand in front of many people and hold a conversation with them, completely engrossing his entire audience.
Finally, he spoke about the 4 necessary components of washoku
Seasoning

Soup

Heat source

Knife skills
Seasoning is all in the quality of salt. Knowing the different salts and ways of using them is invaluable for washoku workers. This includes using salt and washing it off.
Good quality water is a must for any soup. Water can be split into "hard" and "soft" and knowing which kind of water you have is important to know. Fukubu sensei spent over a year researching the different levels of hardness in Japanese water sources, which are on a scale of up to 100. Different hardnesses will produce different soups.
For example, in the middle of Tokyo in the Kanto region, the hardness of the water is measured at around 80. Compare this to Kyoto, where the hardness is around 25. This has a huge impact on food products.
For example, in Kansai there is a strong culture around kombu and dashi, as kombu has a nice flavour with water that is not very hard. From this lesson you can understand why making dashi in foreign countries can be very difficult. Fukubu sensei says water is one of the most important things that will help washoku spread all over the world.
Next, heat source.
When making dashi, the heat source is critical. Depending on the temperature of the water, you could get a different soup. Awareness of this is really important when you try to make it yourself.
Finally, knife skills and cutting techniques.
Vegetables are used extensively in Japanese cuisine. Depending on how they are cut, they could suit or not suit the dish. Take for example, when onions are cut vertically, they're tangy and zesty, so depending on their function (flavour or decoration?) they will be cut differently.
If you practise these 4 points you'll definitely make delicious Japanese food. After the amazing class, there was another presentation by some Japanese farm representatives.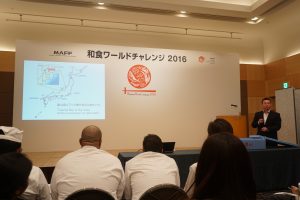 Cold current fish and warm current fish are both caught in Toyama, earning Toyama Bay the nickname "nature's fish tank". This was elaborated on during the talk.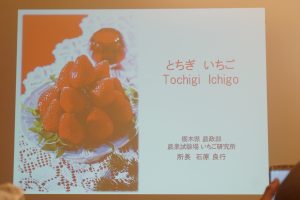 A new species called sky berry was found in Tochigi prefecture, and this was spoken about by brands such as Tochiotome.
The first time I ate a strawberry in Australia, I was totally shocked that it wasn't sweet. It was bigger and riper looking that strawberries in Japan, but I prefered Japanese strawberries. I hope that that Japanese strawberry can be bought in the world market, alongside Japanese foods, alcohols, sweets, and more.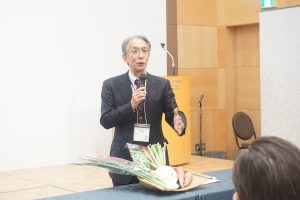 There are also Kyoto vegetables. If I hear "Kyoto vegetable" I think of vegetables grown near my home town and think of it fondly. Compared to other vegetables, the flavour is richer, and even the shape is different. In Japan, there are specialty products from each and every region.
Thanks to chefs who are cooking Japanese cuisine all over the world, these specialties are becoming more well know. Japan is so proud to boast about and promote washoku. Thank you to the people who are interested in travelling to Japan and eating Japanese foods. Thank you to the finalists who are spreading Japanese cuisine to their own countries.
This was the fourth year of the competition, but there are many people to thank for organising, taking part, and supporting the challenge. Especially thank you to the Australian chef for trying your best!
To everyone, please thinking about enting WWC2017!