1. Sear the bonito; Once the skin's colour changes, put it into ice water to cool it down. Then drain the water with a cloth.
2. Mix all ingredients for the miso sesame sauce
3. Cut the bonito into bite sized pieces, then marinate in the sauce
4. Serve with thinly sliced onion, chopped green onion and thinly sliced roasted garlic as garnish.
Enjoy ☺
Australian bonito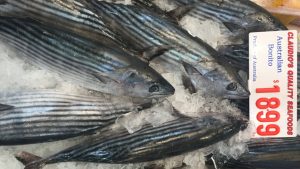 Bonito is in the mackerel family of fish. Australian bonito is popular for eating and is distributed from the waters of South Australia to Tasmania and Norfolk island. Leaping bonito, which has yellow on the second dorsal and anal fins, and dark spots rather than lines on the dorsal surface. It is caught in small numbers off the coast of NSW. Oriental bonito is commonly caught off Western Australia.