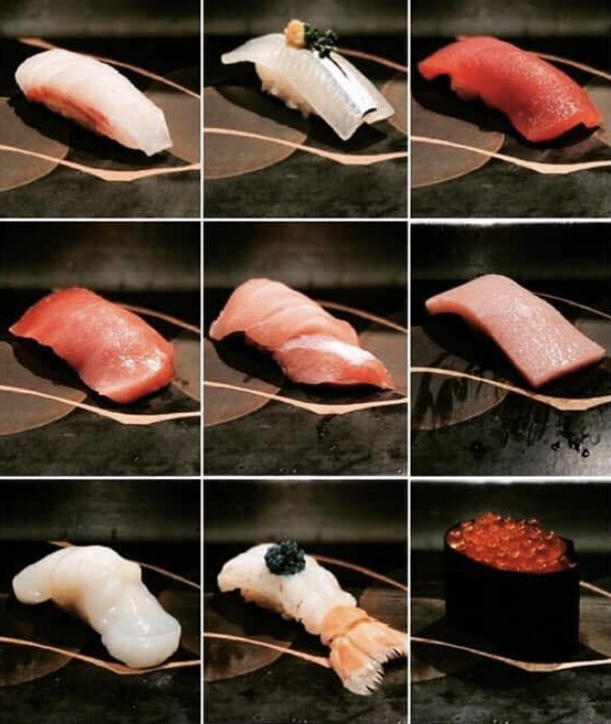 Omakase restaurants open one after another. Specialty omakase restaurants with limited counter seats are a red hot trend here in Sydney. Omakase is a unique word in which we recognize the word as it is, such as sushi, we don't say thinly sliced raw fish on top of a small piece of cooked rice.
What is Omakase in Australia
Omakase is a word to describe Japanese cuisine where customers will leave it to the chef. For Omakase in Australia, the degustation course + Japanese Sushi omakase = OMAKASE.
The degustation origin from French cuisine and consists of eight to twenty courses to try all of the chef's recommendations with small portions.
There are two types of Omakase restaurants in Australia. One is Omakase by sushi restaurant and the other one is Omakase by restaurant gastronomies. All omakases are a fixed fee as a degustation course, however, the style of food can be very different. Sushi restaurants follow more Japanese kaiseki ways to serve each dish and main is, of course, sushi at the end. Gastronomies restaurants show creativity and innovations on each dish and it might /not be sushi at the end.
Omakase with a fixed fee is very kind to customers
This new omakase rule comes from western culture thanks to the degustation course. Japanese sushi omakase at traditional Japanese sushi restaurants in Japan can be very different in terms of pricing. We all don't know how much it would cost until we ask for the bills at the end. It's scary, yes, but it also makes sushi restaurants in Japan so special.
At sushi restaurants in Japan, communication with sushi chefs is everything. We don't have a menu to look at, we don't know each price and we have no idea what seafoods they have as today's best. It's all in the chef's hand.
Communication starts from when we book the restaurant. The chef will prepare the fish for each customer with their customer knowledge. Everyone must have a different style. But generally speaking, sushi restaurants are a place to enjoy the harmony of seasons.
Start with a wet towel called Oshibori which is normally warm and relaxed for customers to sit at a counter, and order a first drink which is served with an appetiser, a kind of little dish, to start. This is the time to start to communicate with sushi chefs. Sushi chefs might ask you "Would you like me to make sushi from the beginning?" if you're not drinking alcohol as your first drink. Chef knows what customers want if they don't drink alcohol. Answer is normally just sushi.
But if a customer like me starts from sake from the beginning, the chef know what customers like to eat. My favourite way to enjoy sushi restaurants is starts from some different types of sake with different sashimi. Then some little dishes depend on fish and sake. Finish with three to eight pieces of sushi depending on how many dishes I already had and of course depends on seasonal fish which I don't want to miss out on as sushi. I love to finish up with rich flavoured, fish stock red miso soup. For me, sushi restaurants meet the season of seafood and sake and all information comes from sushi chefs. It doesn't happen without communication and it is the fundamental culture in Japanese sushi omakase.
For example, a sushi chef would tell me " I have a really good toro today" but the sushi chef never mentioned how much it would cost and how many pieces would be served. And we don't have much knowledge of toro so instead the sushi chef said "it's good toro" . There must be trust. And normally customers wouldn't ask the price.
If I think toro is not my mood today, I would say "Do you have any good white fish today?" And a sushi chef would say " Yes, I have a good flounder today, Would you like to eat simple thinly sliced sashimi and nigiri sushi with an edge part? " I smile and say "Sounds very good" Sushi chef is now understanding what I like and style. Sushi chef is also looking at me over the counter how I eat and what kind of sake I drink to find out my style as his customer. If I keep going his restaurant back again and again as a loyal customer, he remembers what I like, so his work may start when I book the restaurant to prepare fish for me.
This is a very unique and typical Japanese way to communicate between sushi chefs and customers to read their mind. Of course it would be hard for non-Japanese people to understand this culture with both language and culture barriers. So, I think the fixed fee of Omakase in Australia really makes sense and it works really well.
Must try these 5 Omakase restaurants in Sydney
Sushi restaurant OMAKASE
Sushi Oe
Former sushi chef from Masuya, Chef Oe, finally opens his own Omakase sushi restaurant "Sushi Oe" in Cammeray next month. Mr Oe established sushi culture in Australia, no doubt for such a skilled sushi chef to showing his sushi skills at his own restaurant. His sushi omakase is designed with 30 pieces sushi and costs $180 pp. (Booking is available now here )
Dinner: Tuesday – Saturday / omakase starts at 18:30
Address : shop 16/450 Miller St, Cammeray
Owner chef Kazu and his wife Mari are the characters, it's very warm and cosy. Owner chef Kazu is skilled and experienced but not only that, he has a passion to find the very best ingredients for customers. His sushi omakase is from $85. (Booking from here)
Dinner: Monday – Saturday / omakase starts 18:00 and 20:00
Address : 50 Llankelly Place Potts Point 2011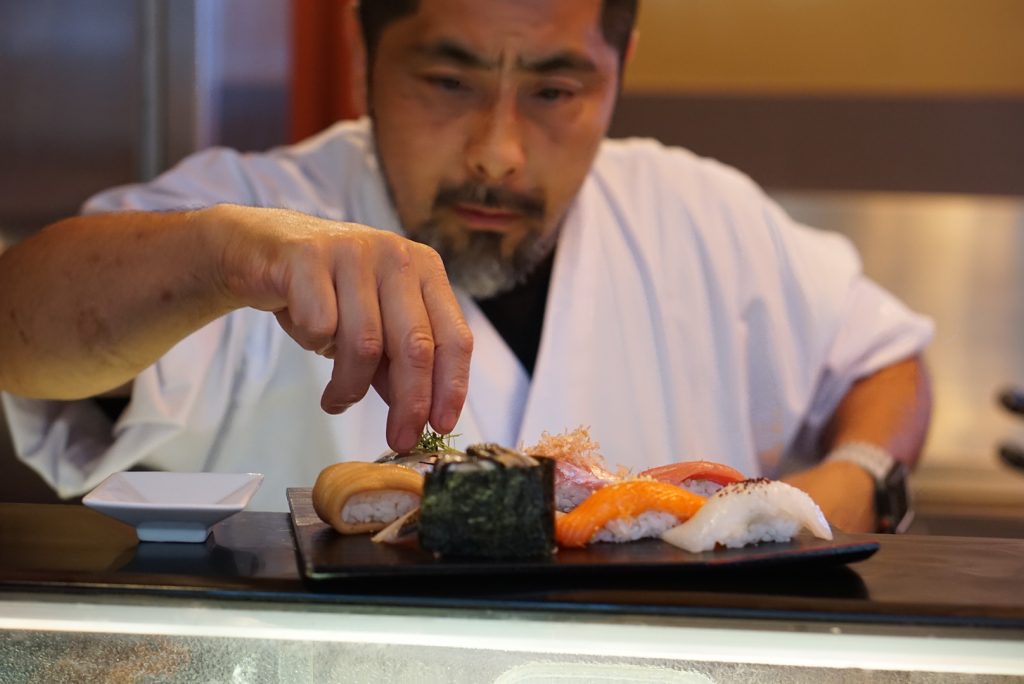 Owner chef Fukada just opened his omakase restaurant in Darling Square, Sydney. You can feel like Ginza, Tokyo through the atmosphere of an authentic sushi counter.
Chef selects the most exclusive and prestigious ingredients to use for his omakase $180.  (Booking from here)
Lunch: Friday – Sunday / omakase starts at 12:15 ~
Dinner: Tuesday – Sunday / omakase starts at 17:30 and 20:00
Address: shop NE 20 Little Hay St Darling North, Sydney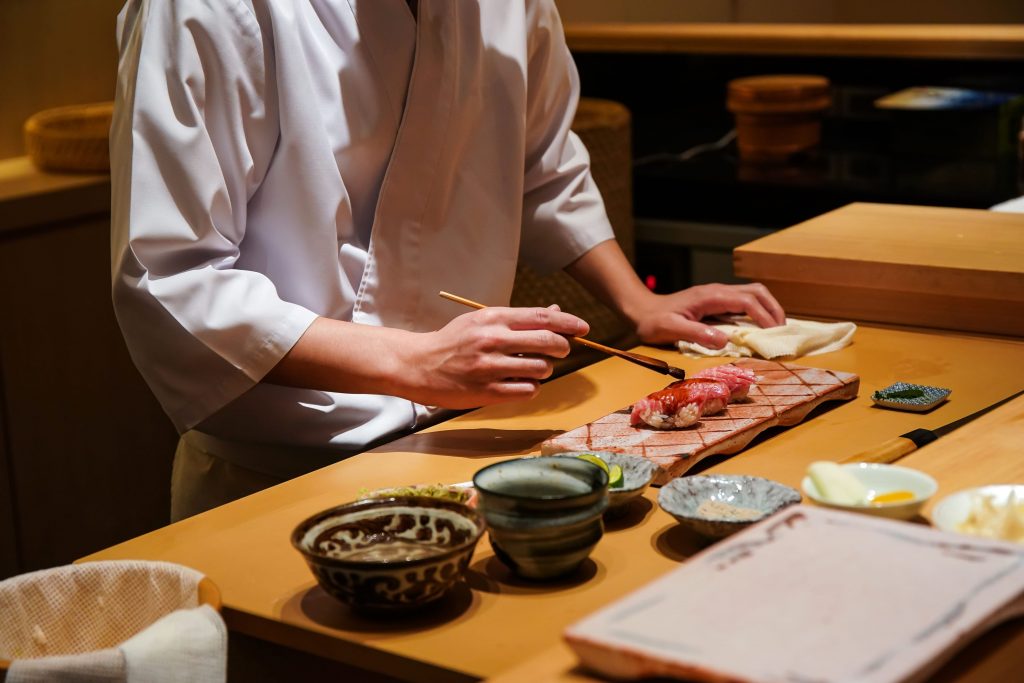 Restaurant gastronomies Omakase
Owner chef Raita and his son Momo are your chefs, entertainers and the best hosts on night. They create innovative and artistic dishes you can see over the counter. Their knowledge of beverage is also amazing to offer omakase beverage $110 pp as on top of their omakase $170 pp.
Chef Raita is one of the most creative and innovative Japanese chefs in Australia, his work is just breathtaking. (Booking from here)
Dinner : Tuesday – Sunday / omakase starts around 19:00~19:30 
Address: 222 Riley street, Surry Hills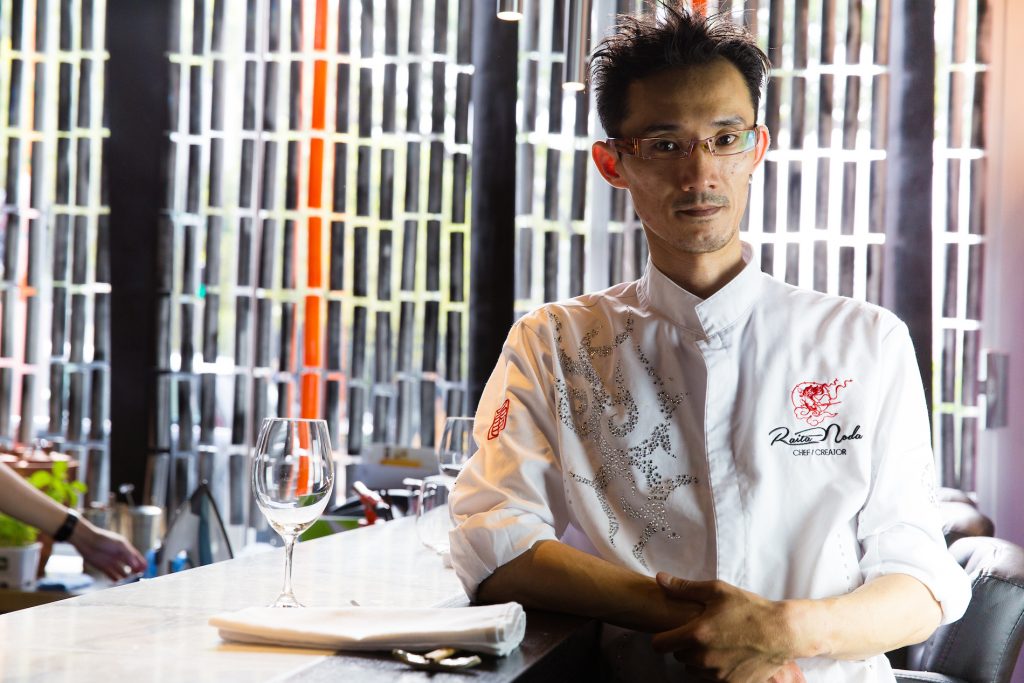 Owner chef Yoshinobu Harada, his passion to create something new is never ending. He discovered his own style of Omakase with his versatile possibilities. His omakase changes daily, and you will not be bored when you return. Since opening last November, customers are coming back again and again. His omakase is $120 and BYO only. (Booking from here)
Lunch: Monday – Saturday * omakase is not available for lunch time / 11am-02:30pm
Dinner: Monday – Saturday / omakase starts at 6:30 pm
Address: 18A Wentworth Street, Glebe