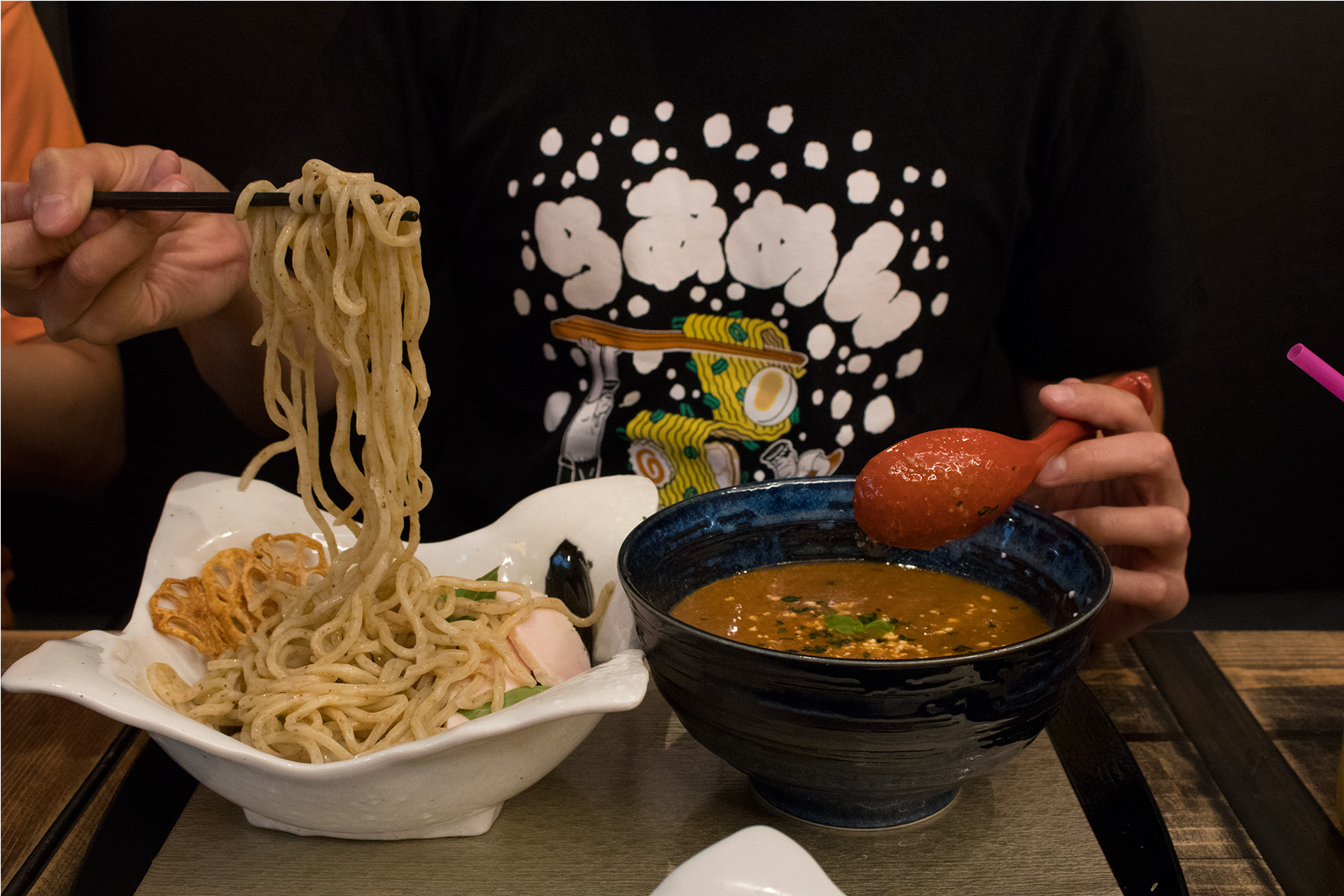 When you hear that Yasaka Ramen have a brand new ramen available, you have to wear a ramen shirt to make sure everyone knows what you're there for. Head chef Takeshi Sekigawa has unveiled a ramen he's been working on since his last special, the Jack-O-Ramen from Halloween.
This time around, it's tomato themed and available at the Neutral Bay store until the end of March – unless it proves to be immensely popular, when he might consider extending it an extra month or even bringing it to the city store. There are 5 items on the Tomatina menu; ramen, tsukemen, mazemen (mixed dry noodles), a rice dish, and bao (the last three are vegetarian as well!).
We, of course, ate all of them.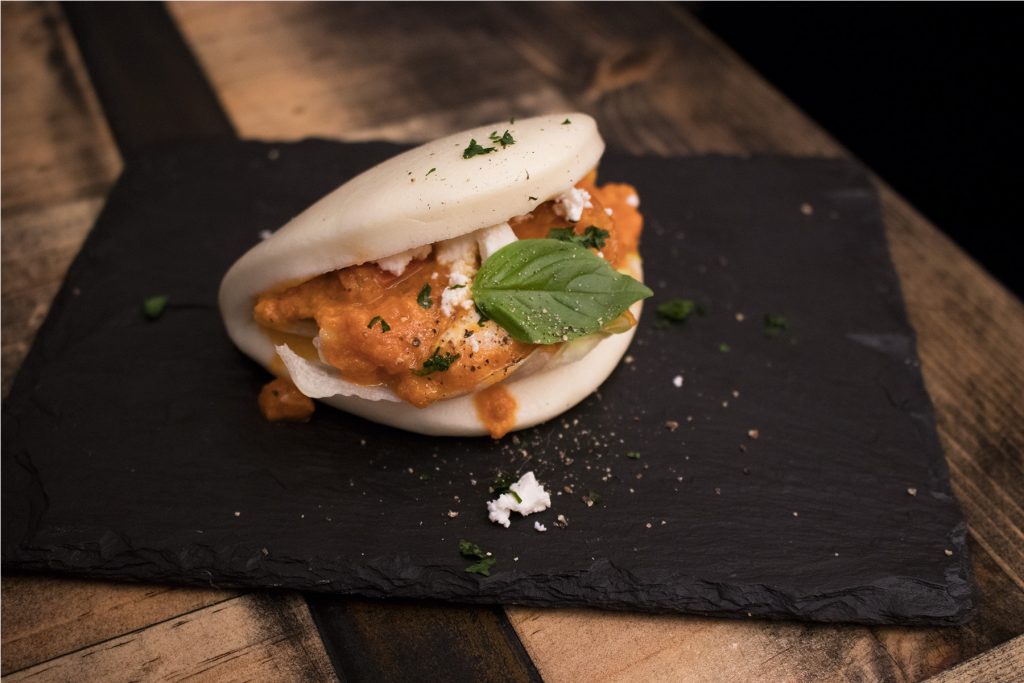 The bao are the fluffy ones we're all familiar with, filled with lettuce, the tomato sauce (made from a mix of different tomatoes), feta cheese and fresh basil. The tomato sauce is constant throughout all of the dishes, as is the feta and basil. The feta is a really good choice and differs from the regular choice of mozzarella. It offers a contrasting texture and saltiness. It's a good starter, vegetarian, and a reasonable serving of vegetables for your daily intake! Takeshi says he decided to make this as it reminds him of pork buns but with a pizza flavoured filling.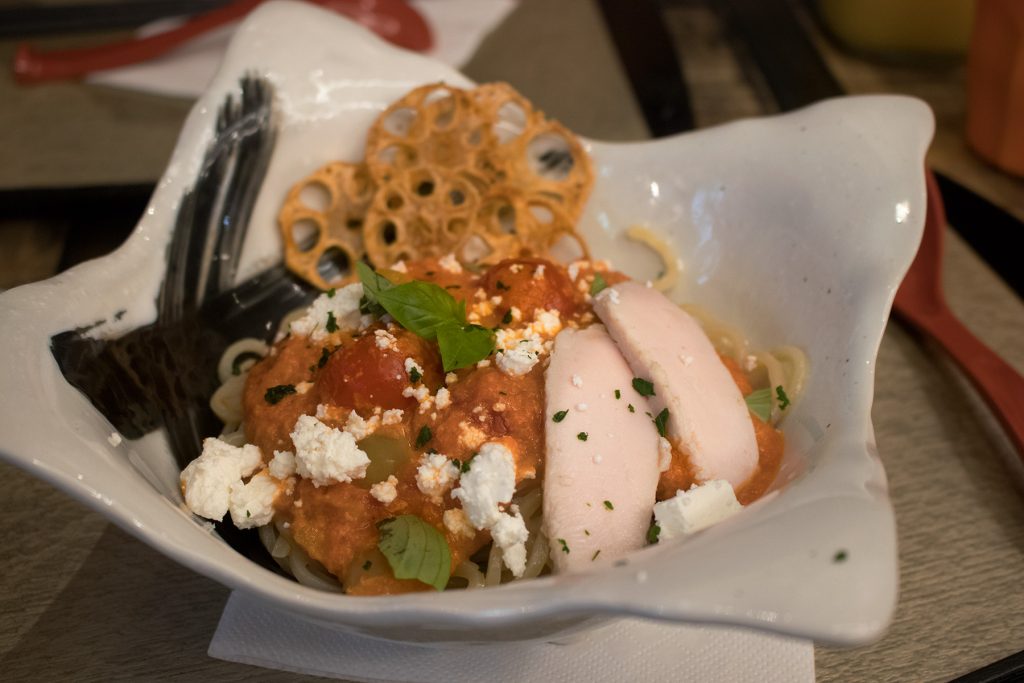 Mazemen is thick noodles with usually a sauce or oil and toppings which you mix together and the Tomatina variety tastes a lot like regular spaghetti pasta. It's actually really good with the slices of slow cooked chicken, which Takeshi has cooked perfectly and given a fairly generous serving of. There's a side of radish chips, we suggest you eat these first rather than mixing them in because they will get soggy and are best enjoyed while they're still crunchy. Ask for them to leave the chicken slices off if you'd like a vegetarian version.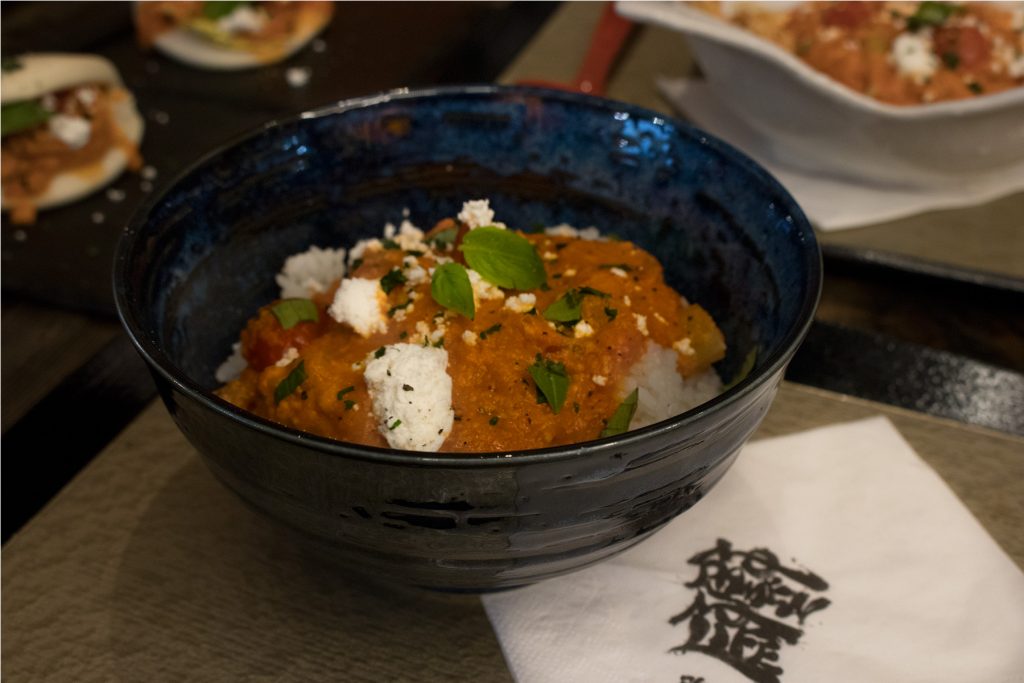 The last of the vegetarian dishes is the Tomatina Rice. Freshly cooked rice topped with the same Tomatina sauce from both the bao and the mazemen. Takeshi said he made this for people who didn't feel like noodles, so it's nice to have options. It's filling as all rice bowls are, and quite light in comparison to the heavy noodles. We actually ended up eating this with some of the tsukemen broth mixed in. Side note, Takeshi says this is actually his favourite of the 5! We can see why as it's quick, filling, and satisfying as a meal.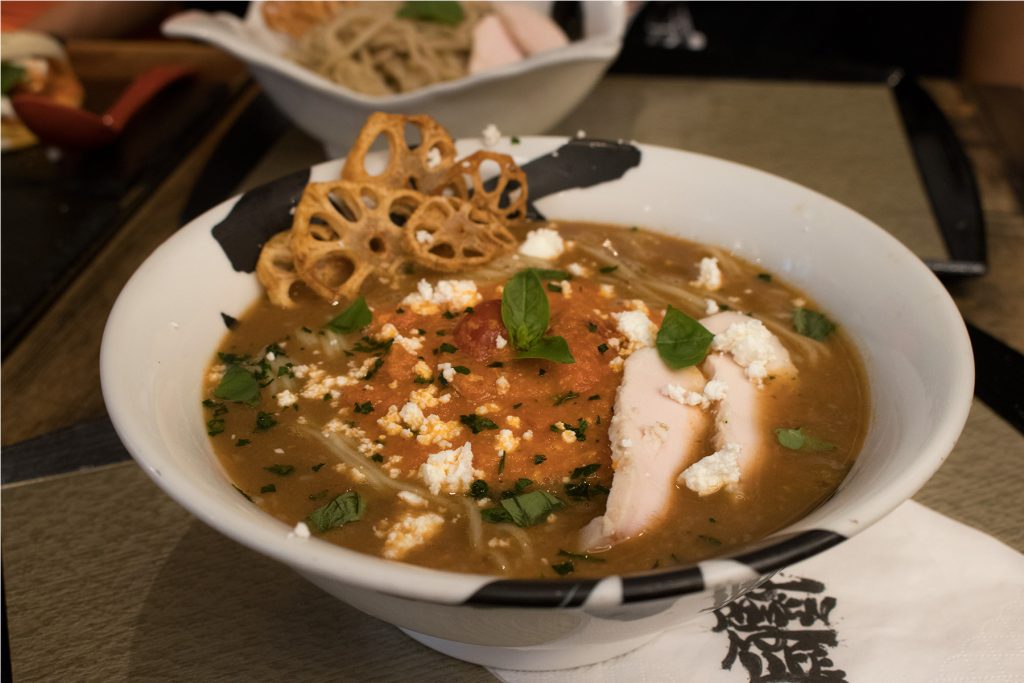 The ramen, probably what most people will be ordering, is Yasaka's signature tonkotsu mixed with the Tomatina sauce. You can choose from shoyu (soy), shio (salt), or miso just like with the regular ramen. The taste is pretty similar to the mazemen, reminding us of spaghetti, but with an added richness and meatiness from the tonkotsu. It's really satisfying as a flavour combination, and the thin straight noodles are hand made in the city store. The flavour combination as well as the blurred lines between spaghetti and ramen is both something to puzzle over as you eat and also something to enjoy as you realise "it just works".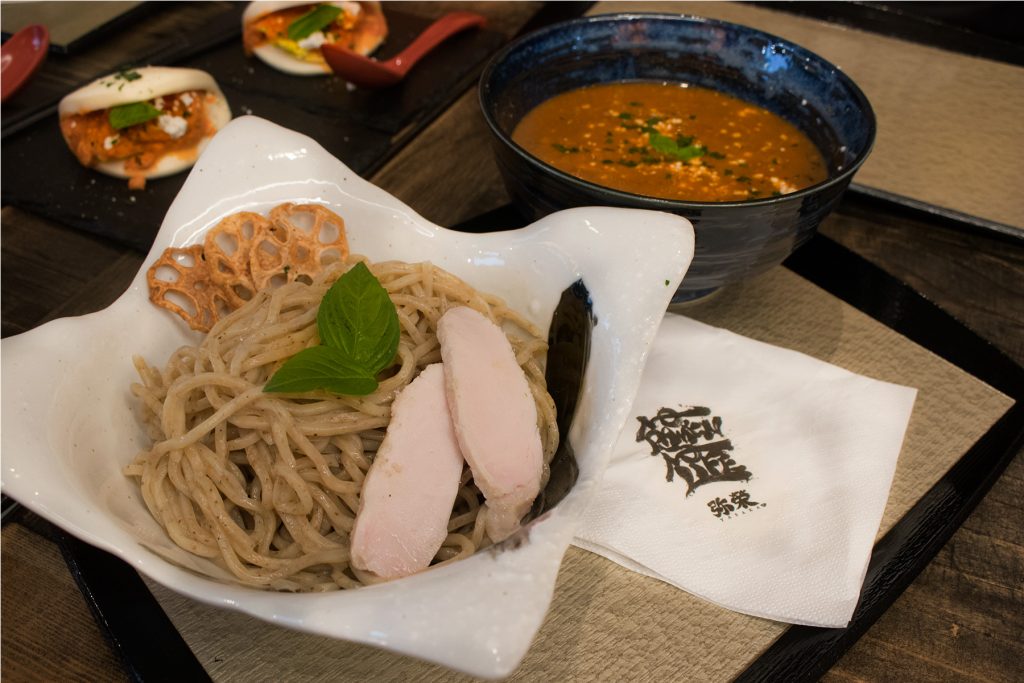 Ok, so while we were eating, we actually couldn't really agree on which one was the best. BUT! The more you eat the tsukemen, the more you like it. It's good from the start, and it's amazing at the end. The tsukemen broth is different from the ramen broth as it has added seafood soup. You end up eating really distinct layers of flavours – fresh tomato, meaty tonkotsu, umami seafood. The noodles are thicker than the ramen but thinner than the mazemen, and are made of whole wheat for a bit of added health benefits. Again, it's served with chicken chashu and feta with basil, and just like the ramen you can choose from shoyu, shio, and miso. For the record, we chose shoyu for both the ramen and tsukemen.
Now, even though we had just eaten 5 varieties of Tomatina, there was serious consideration about whether or not we should order extra noodles for the tsukemen because there was still broth left over. That's when we tipped it into the rice and went to town on it.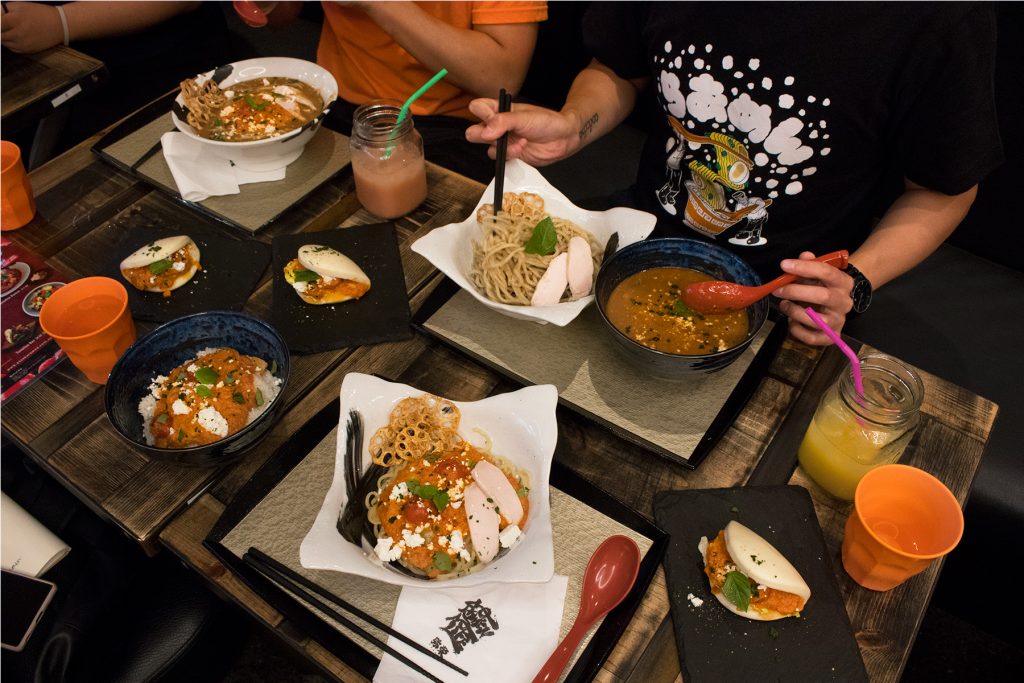 We really, really, really, really recommend taking the trip over the bridge to eat this if you're a ramen fan. Once you eat it you'll be glad you didn't miss it. If we're lucky it'll be at the city store and then we can enjoy it a little closer to home!
Also, if you've got a friend who just doesn't get ramen, and particularly tonkotsu, this is a good ramen to get them to try. Takeshi says it's a good introductory ramen as it's familiar flavours and ingredients and not too in-your-face.
You can look forward to reading Ramen With Friends' (Sydney's resident ramen experts) opinions on the Tomatina range over on their Instagram!