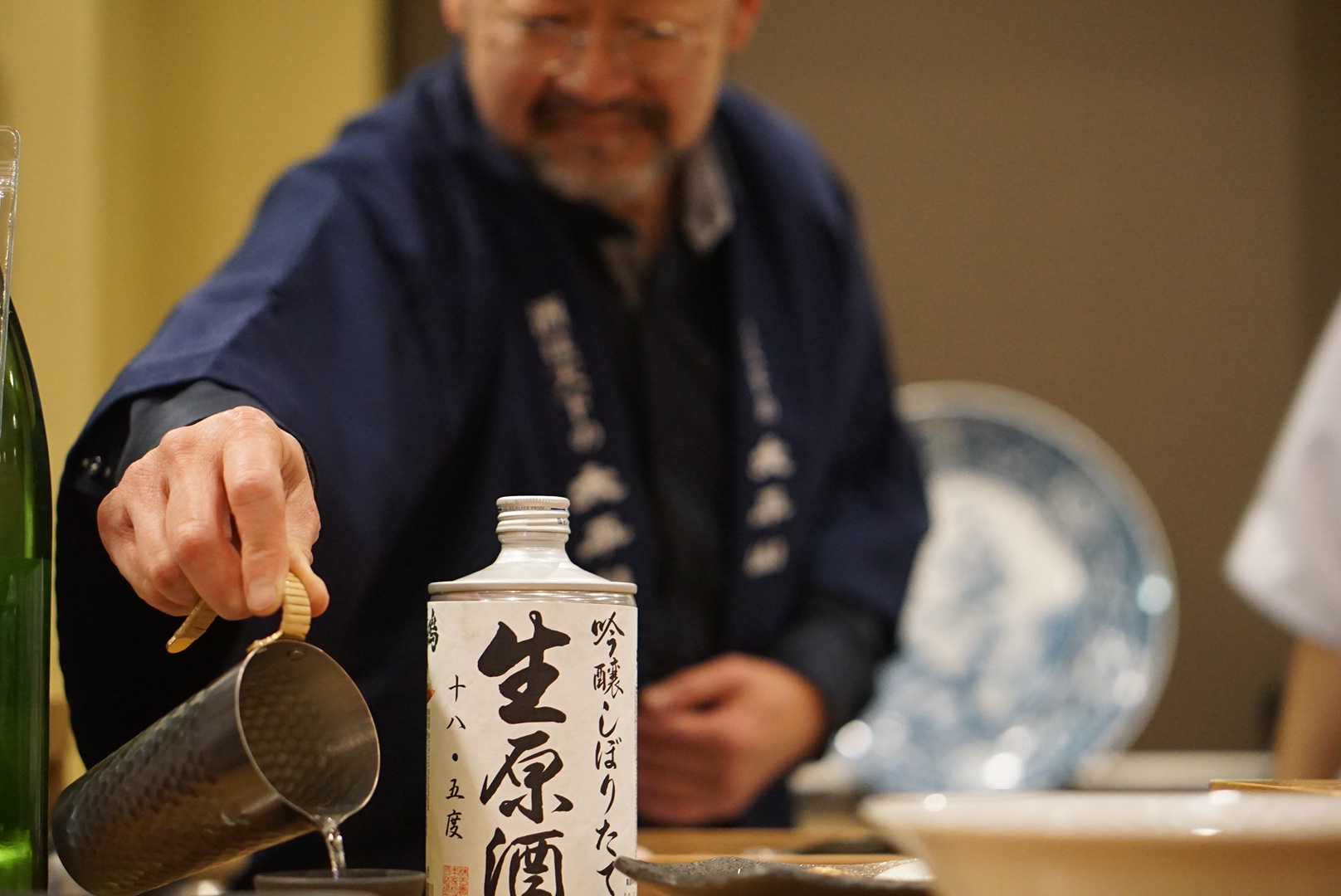 "Omakase" is a super hot word among Japanese cuisine nowadays. We are all enjoying the concept of OMAKASE where customers trust what the chef serves up for you, so why not expand it into SAKE and have SAKE OMAKASE!
Thrilling to hear from Mr Kanamaru who has been working at Masuya Japanese Restaurant for a decade as a wine and sake sommelier and now as a sake ambassador, he's decided to expand his skill to start SAKE OMAKASE at the one and only Gold Class Daruma. Why not at Masuya? Another wonderful Japanese restaurant.  A good question! I was wondering too! Gold Class Daruma has a glorious long counter bar table made from 500 year old Japanese cedar wood and he will serve his sake like a sushi chef at the counter. From a customer perspective, it will remind you of the concept of omakase where you are always personally looked after by a chef. Similarly, to talk to a genuine sake ambassador over a counter and try different types of sake sounds ideal.
Who is Mr Kanamaru?
His passion is to introduce Australians to understand and enjoy sake. His experience at Masuya for ten years gave him enough knowledge to understand what are Australian's preference in terms of wine and sake taste, in conjunction with Japanese food. He visited a lot of sake brewers when he returned to Japan every year. Mr Kanamaru says if you love wine, you have high chance to absolutely love sake. Sake has unlimited varieties to enjoy its aroma based on ten different temperatures. He will be showing you how to enjoy his specially selected sake.
Why SAKE OMAKASE is so special?
First of all, this sake omakase is available where Mr Kanamaru is, he will be your host to serve the best sake in the best season and the perfect temperature. He will explain to you everything you need to know. Secondly, the value is amazing. You will enjoy nine different types of sake as well as Japanese snack food such as entrées, sashimi, tempura, grilled fish, and sushi. It's enough food to enjoy each sake. Of course you can always order extra food, the sushi chef is just in front of you.
Mr Kanamaru is a charming host and you will be amazed at hospitality, professionalism and most importantly, his unique knowledge of sake (and wine). This sake omakase is available on Tuesday, Wednesday and Thursday only for six people as maximum guest numbers. So it is very special. Booking Is essential from here: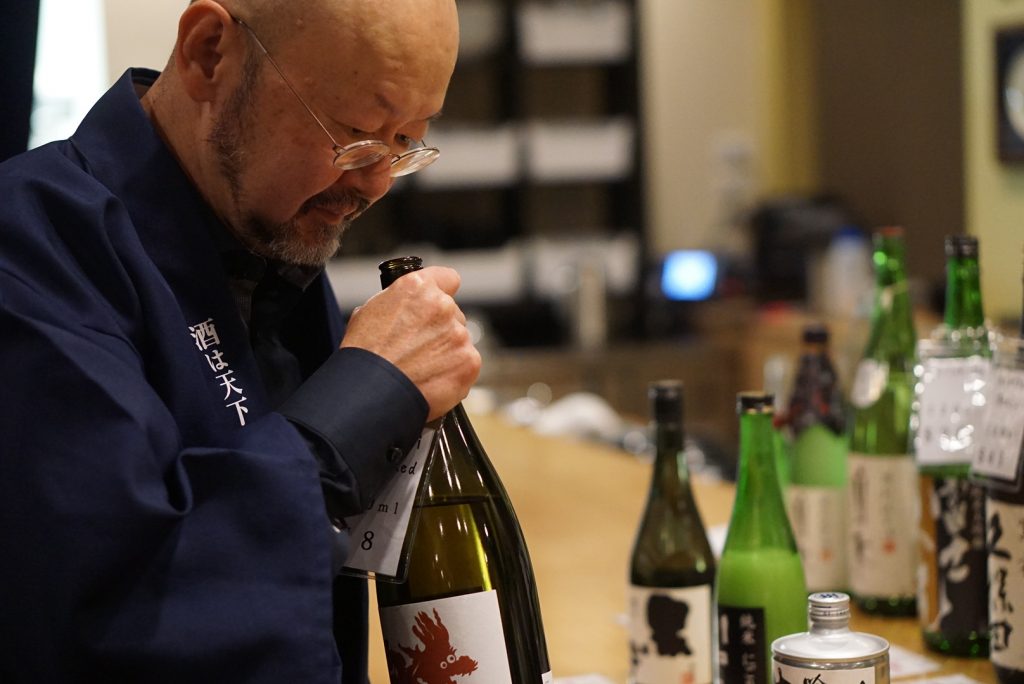 Highlights of SAKE OMAKASE by Mr Kanamaru
He will show you how interesting sake is with a variety of aroma based on ten different temperatures. It is useful for you know a little before you go.
Serving sake in 10 temperatures
Chilled sake (REIshu)
1.     Yuki-bie: around 5 ℃, yuki means snow, and it is chilled like snow. Recommend it chilled to reduce the fruity aroma to make it a sharp dry taste.
2.     Hana-bie: around 10℃, hana means flower, is chilled even if flowers in it. This weakens the aroma and makes the taste mellow.
3.     Suzu-bie: around 15℃, suzu means cool, it just gets taken out of a fridge ten minutes before consumption. It's not room temperature yet but aroma starts to open.
4.     Room temperature: a comfortable ambient temperature, generally taken as about 20 ℃.
Warm sake (KANshu)
5.     Hinata-kan: around 30℃, hinata means in the sun, it is warm like a sunny place. It starts showing the outline of sour and umami.
6.     Hitohada-kan: around 35℃, hitohada means body temperature, feels warm and starting to smell aroma of rice and koji which are ingredients of sake.
7.     Nuru-kan: around 40℃, nuru means slightly warm, best temperature for Junmai type and enjoy the taste with opening umami.
8.     Jo-kan: around 45℃, enjoy balance of different taste.
9.     Atu-kan: around 50 ℃, atu means hot, it's good temperature to warm your body on a cold day.
10.   Tobikiri-kan: around 55 ℃, tobikiri is extreme, it might be hard to taste aroma and umami in this temperature.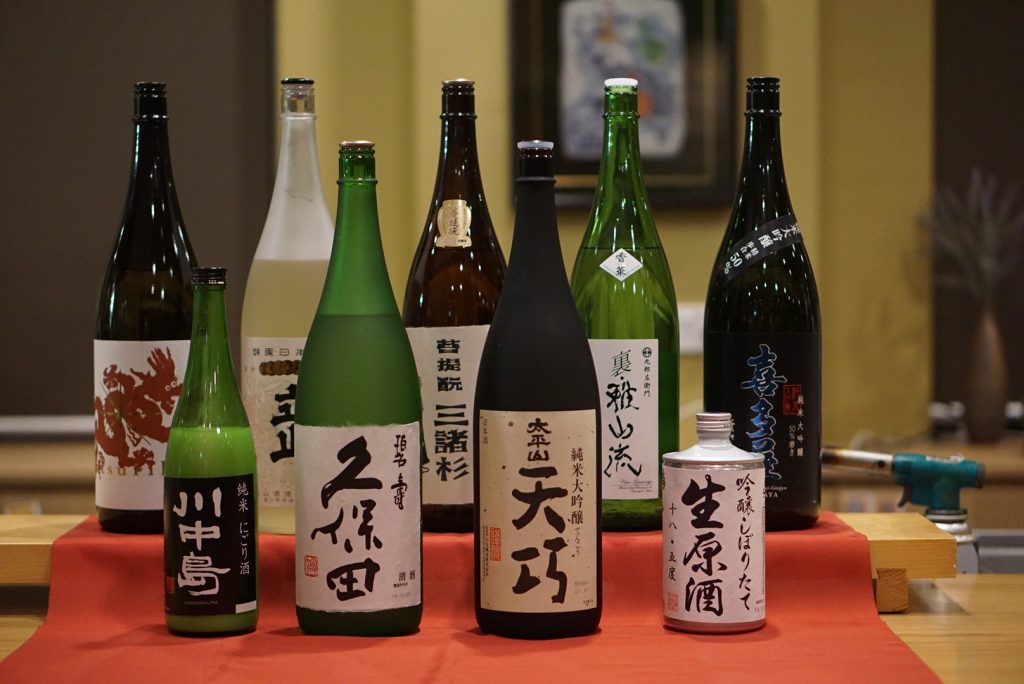 Let me share with you my SAKE OMAKASE experience which was one of pure joy! Mr Kanamaru welcomed me and said he would be my host for the night.
Sake Omakase 9 is 9 different types of sake which comes with entrée, sashimi, tempura, grilled fish and 2 pieces of sushi for just $99.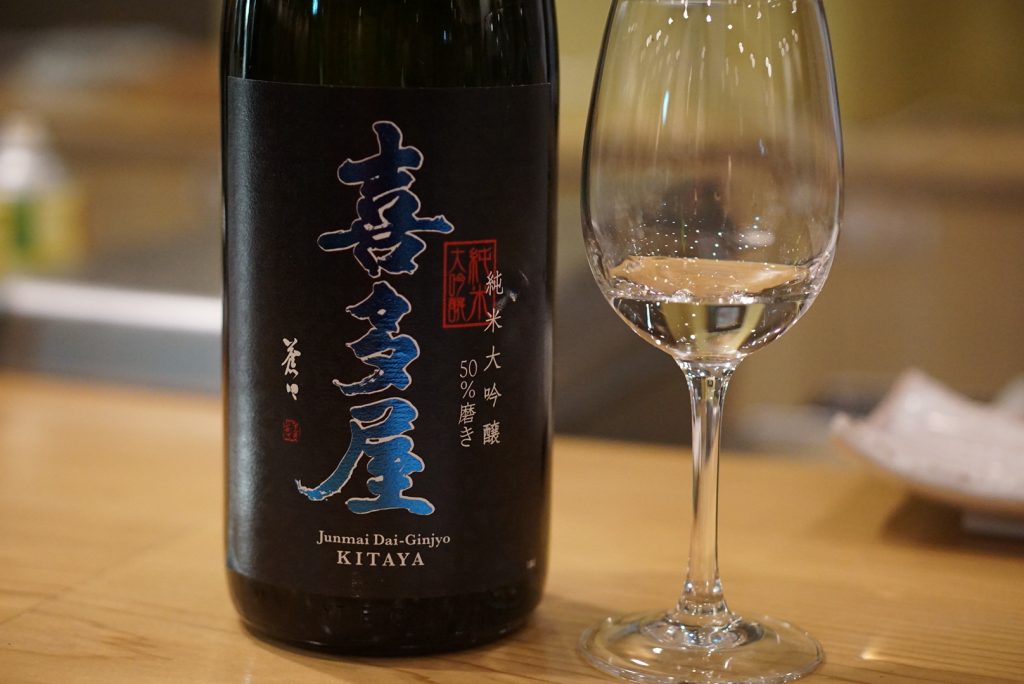 First sake : Kitaya Junmai Daiginjo 50% Polish
Made from blend shuzo-koteki-rice which is designed for sake brewing, Yamada-Nishiki, and Omachi.
Fruity Pinot Gris like, delicate and vibrant refreshing sake.
Serving temperature: Suzu-bie: around 15℃
Good with umami entrée such as egg omelette and simmered eggplant.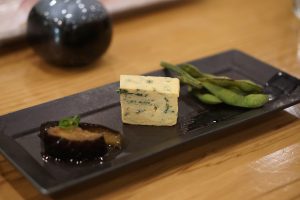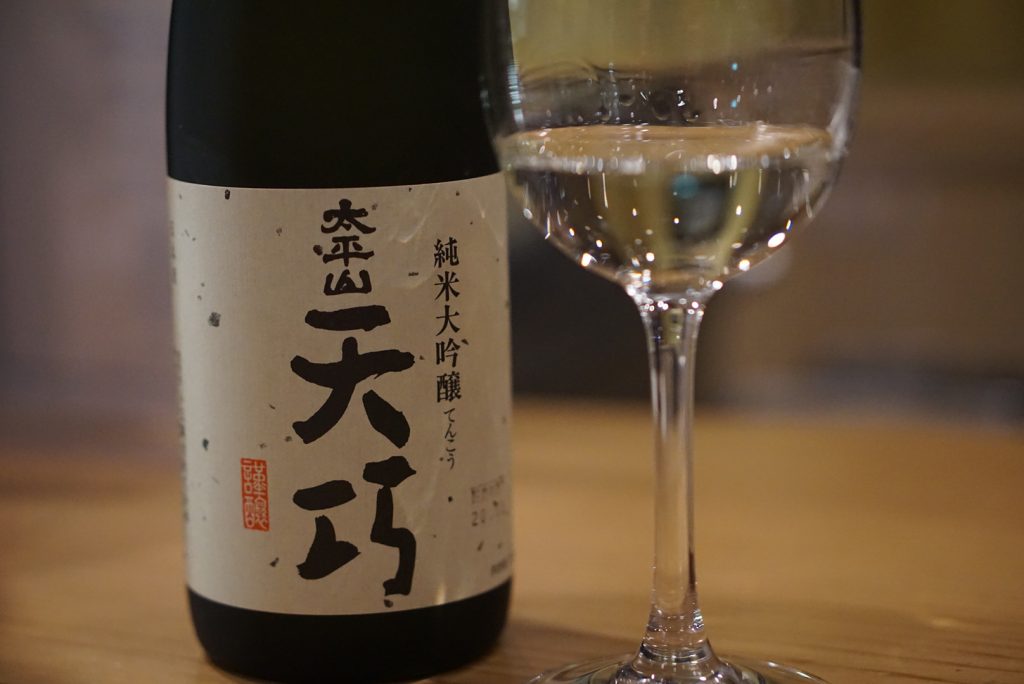 Second sake : Taiheizan  Junmai Daiginjo "Tenkou"
Made from world heritage river water, Shirokamsanchi, and the most pupular shuzo-koteki-rice, Yamada-Nishiki which has solid core to be polished 40% without breaking itself.
Semillon Sauvignon Blanc with little touch of Chardonnay  from Piero, Margaret River like, gorgeous, mellow flavour.
Serving temperature: Suzu-bie: around 15℃
This brings out the delicate flavours of sashimi, especially white fish.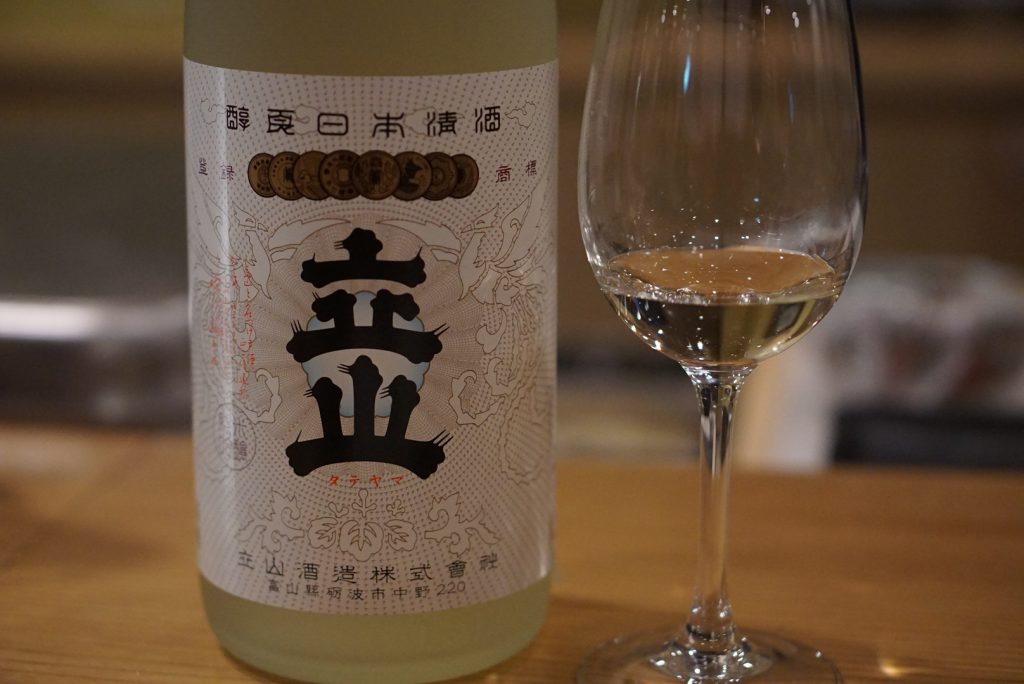 Third sake: Tachiyama "Ginrei" Junmai Ginjo
Made from snow water to have refreshed rich flavour
You would like this sake if you like Semillon from Hunter valley. It has an elegant light flavour.
Serving temperature: room temperature
Good with sashimi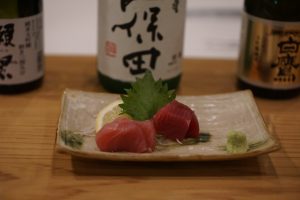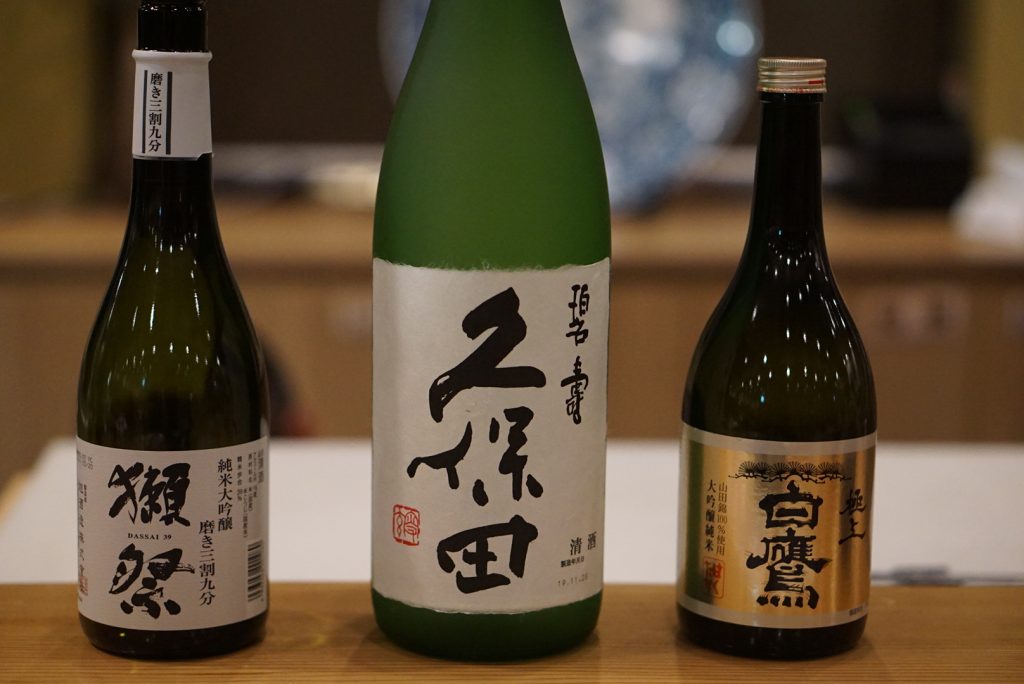 Forth sake was I could choose from three different choices 
1-    Dassai Sai Junmai Daiginjo 39% Polish
Well known brand with smooth taste
If you like Sauvignon Blanc, you would love this sake
2-    Kubota Hekiju Yamahai Junmai Daiginjo
This is also well known Kubota brand Yamahai style with invigorating taste
If you like aged Sauvignon Blanc, you would go for this one.
3-    Gokuzyo Hakutaka Junmai Daiginjo
Full body and rich flavour – I chose this one
It reminds me of a dry Riesling
I enjoyed this sake matched with the crunch of tempura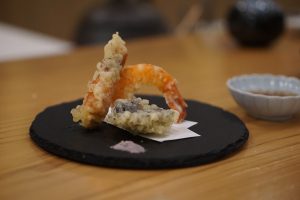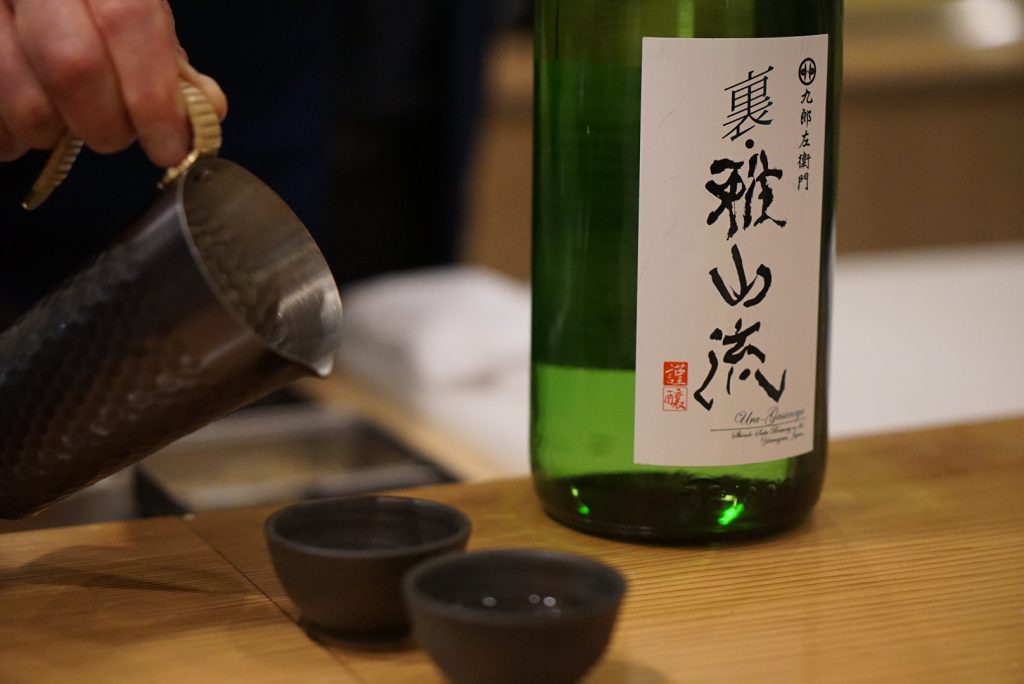 Fifth sake: Uragasanryu "Kouka"  Honjozo
Gorgeous aroma and complex body
If you like oaky flavoured chardonnay, you would like this sake.
Serving temperature: Hitohada-kan, around 35℃, to make the fragrance up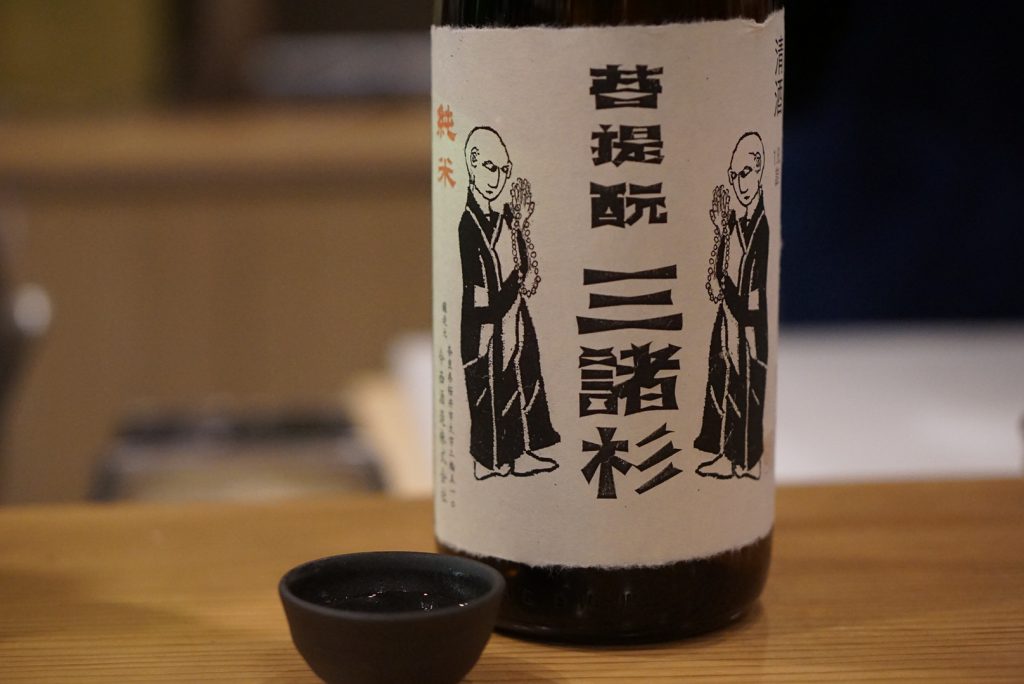 Sixth sake: Mimurosugi Junmai Bodaimoto
This sake is made in the origin of sake region called Miwa.
Natural sweetness is similar to aged Riesling
Serving temperature: Nuru-kan,  around 40℃, to emphasise the sweetness as well as mild taste.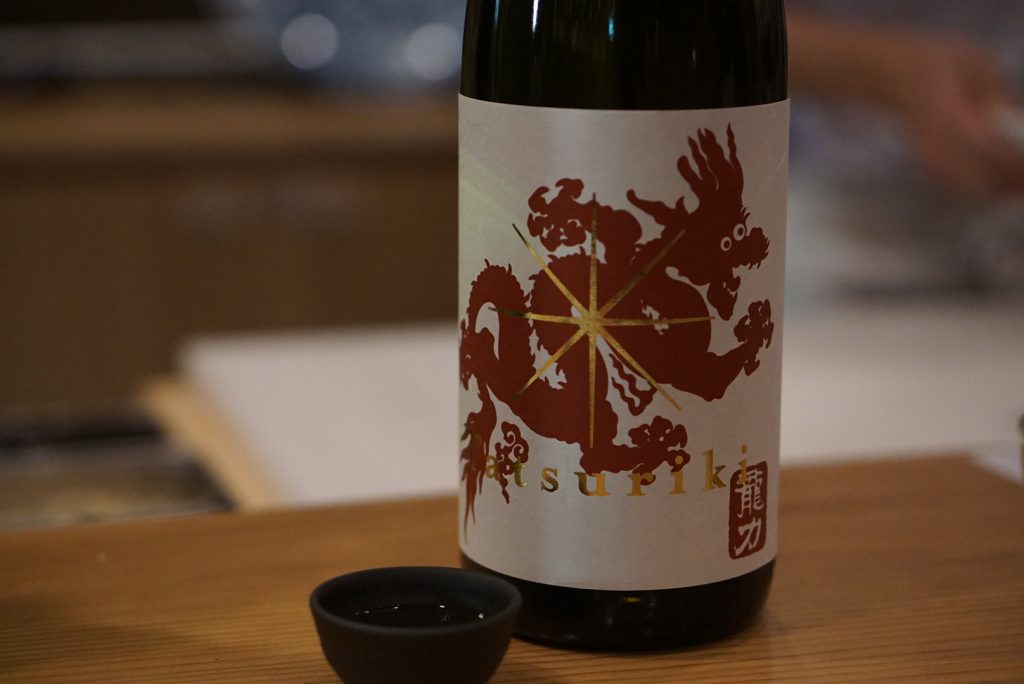 Seventh sake: Tatsuriki Special Junmai Dragon Red
Made from special grade of Yamada-nishiki which is very rare to use for sake, only the local area of this rice, which is Hyogo prefecture.
You can enjoy it if you like aged Semillon
Serving temperature: Nuru-kan, around 40℃, to make the flavour rich
My favourite sake from my local area, enjoyed harmony with grilled fish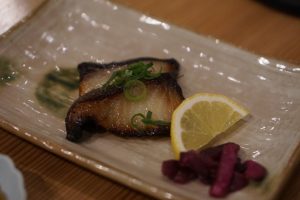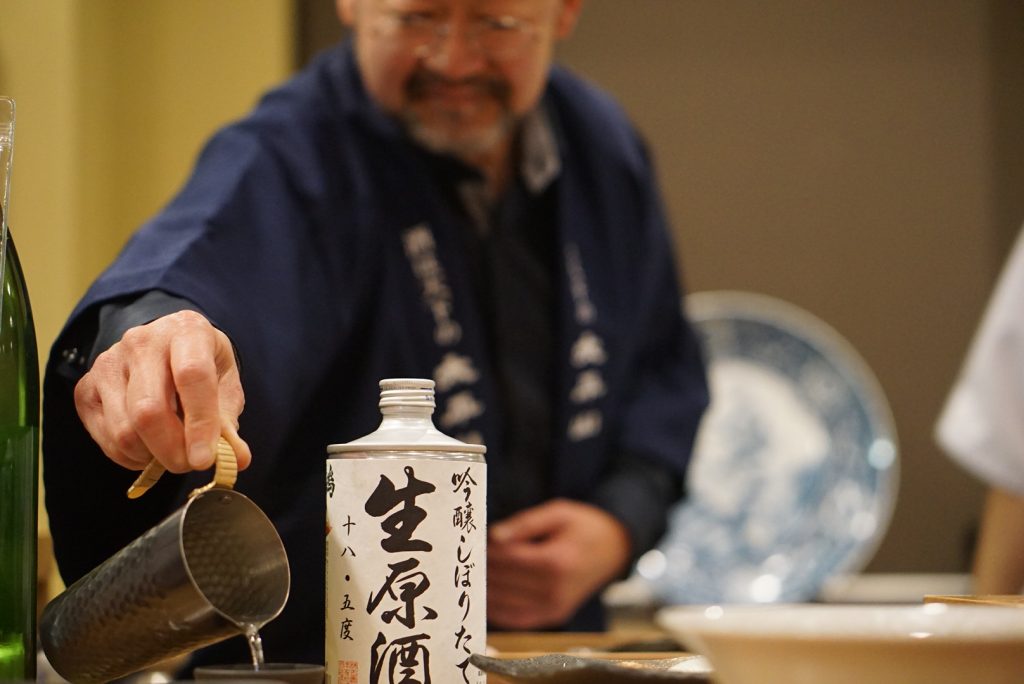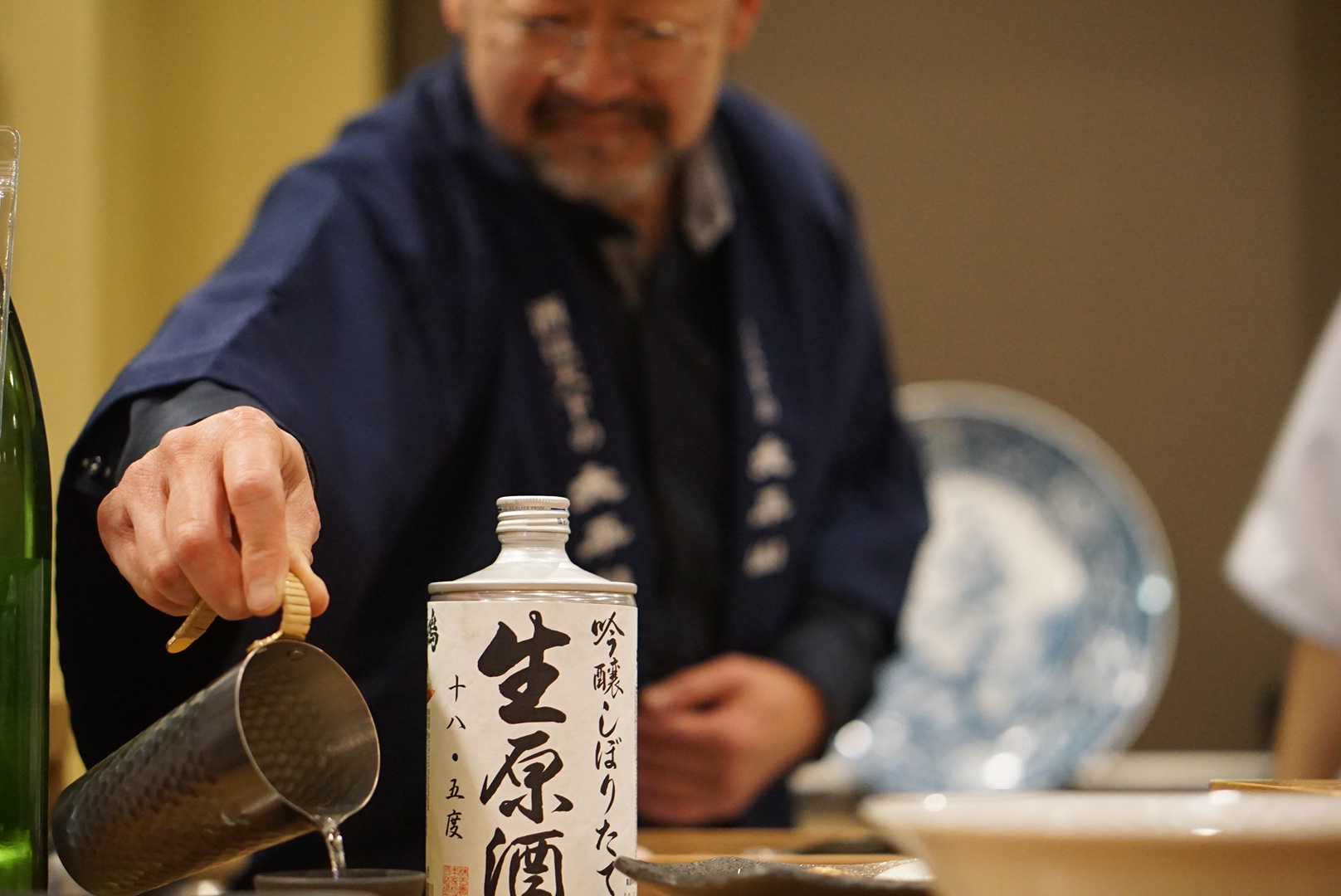 Eighth sake :Narutotai Ginjyo Shiboritate nama-genshu
High in alcohol 18.5%, dry taste
Pinot gris would be similar
Serving temperature: Atsu-kan to taste full body with full flavour
Two pieces of sushi was just enough for me, it was a great match with aburi salmon sushi.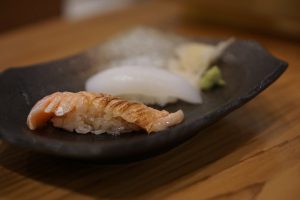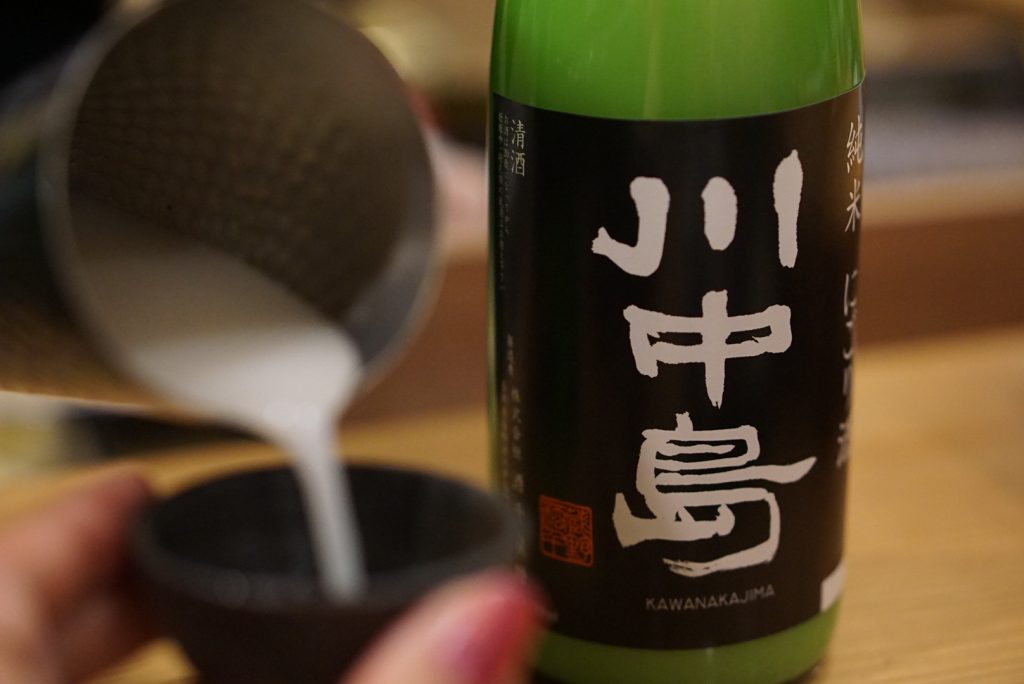 Last sake: Kawanakajima Junmai Cloudy Sake
Silky taste with full of umami
Serving temperature: Atu-kan, around 50 ℃, to balance with sweetness and umami
No need to have snack with, it can be enjoyed by itself as final drink.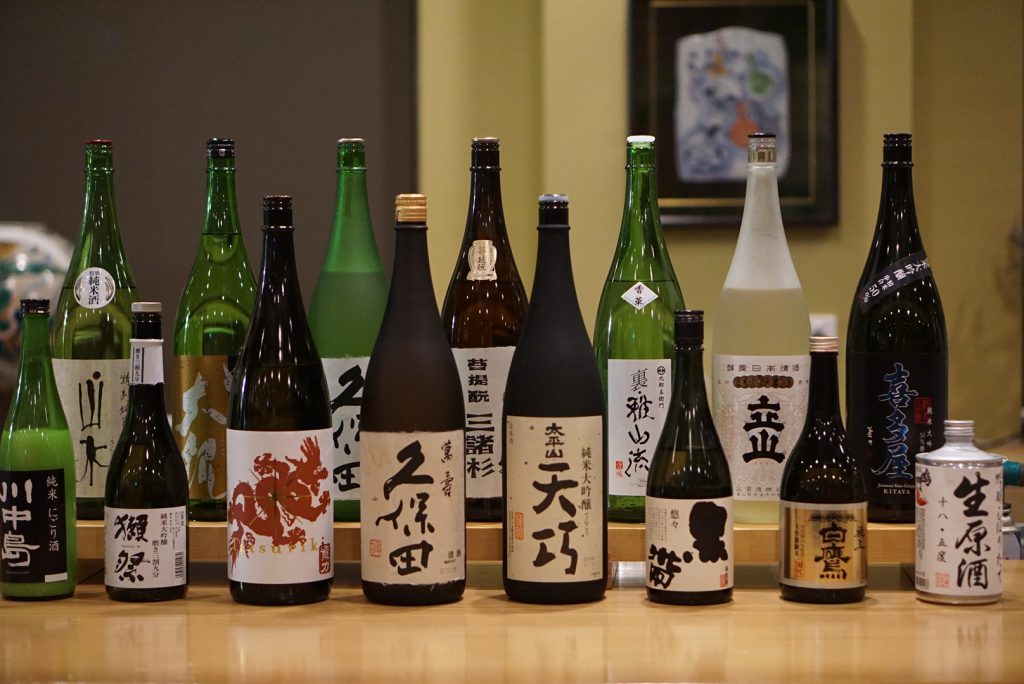 This is just an example of some the sake omakase I enjoyed.
Mr Kanamaru will let you discover a sake journey. He will serve you each sake 30 or 60 ml depends on sake, for example, you can even taste Kubota Manju Junmai Daiginjo which is the most exclusive sake and rare to find in Australia in this sake omakase when it's available. If that is available, the serving amount would be 30ml. but otherwise most likely 60ml to serve for each sake.
The first and only Sake Omakase course by sake ambassador Mr Kanamaru starts from next Tuesday. Six people only for each night, on Tuesday, Wednesday and Thursday. Booking is essential from here:
Sake Omakase 
Tuesday, Wednesday, and Thursday only
Address: The Grace Hotel Level 1, 77 York Street Sydney NSW 2000