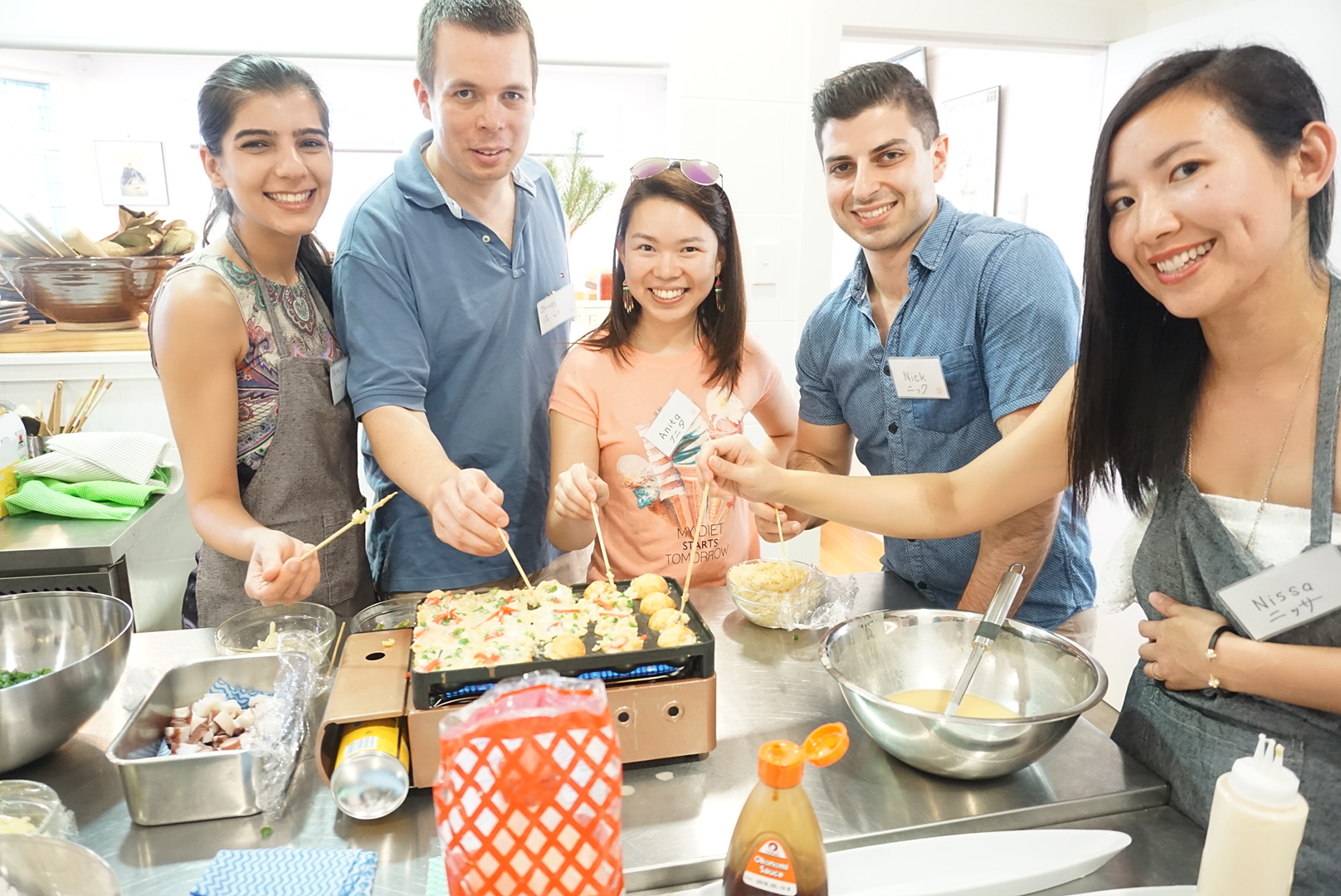 Good mooning Washoku Lovers! Hope you survived last weekend's weather, which recorded 46℃ in Sydney!! Even though it was hot, we still held our Japanese cooking class!
We prepared very cold welcome drinks, CHOYA SODA, for the people who attended our first Okonomiyaki and Takoyaki class! CHOYA has classic plum wine but this CHOYA SODA is a new product, the alcohol content is only 4% and refreshing to drink. You can find them in Dan Murphy's.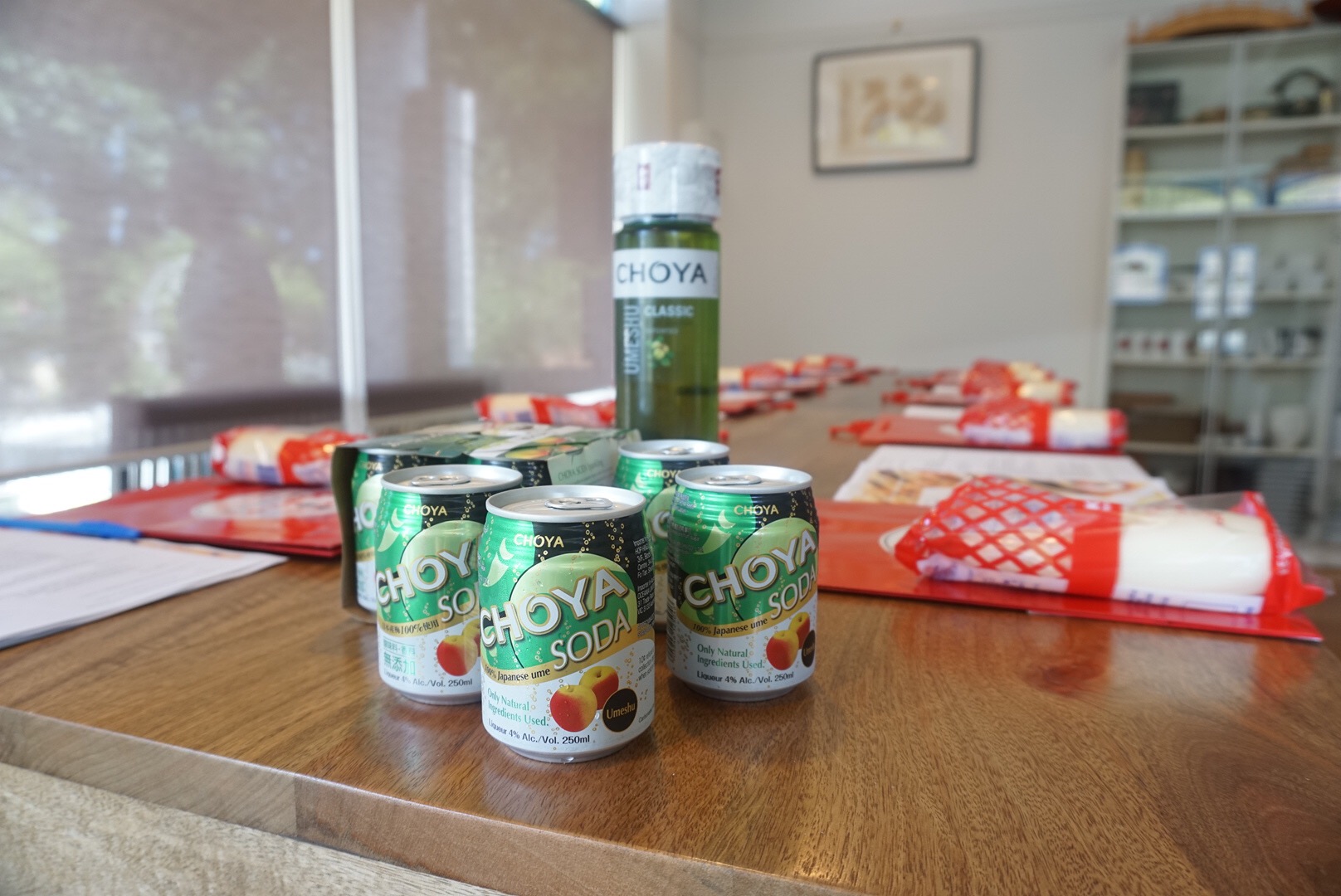 Our newest sponsor, Kewpie Mayonnaise, gave us 300ml package for everyone's gift bag. Do you like mayonnaise? In Japan, we called people who love mayonnaise 'mayo-ra' (short for mayo-lover) because they put mayo on everything they eat. We didn't have mayo-ras in our class but they were happy to take it home 🙂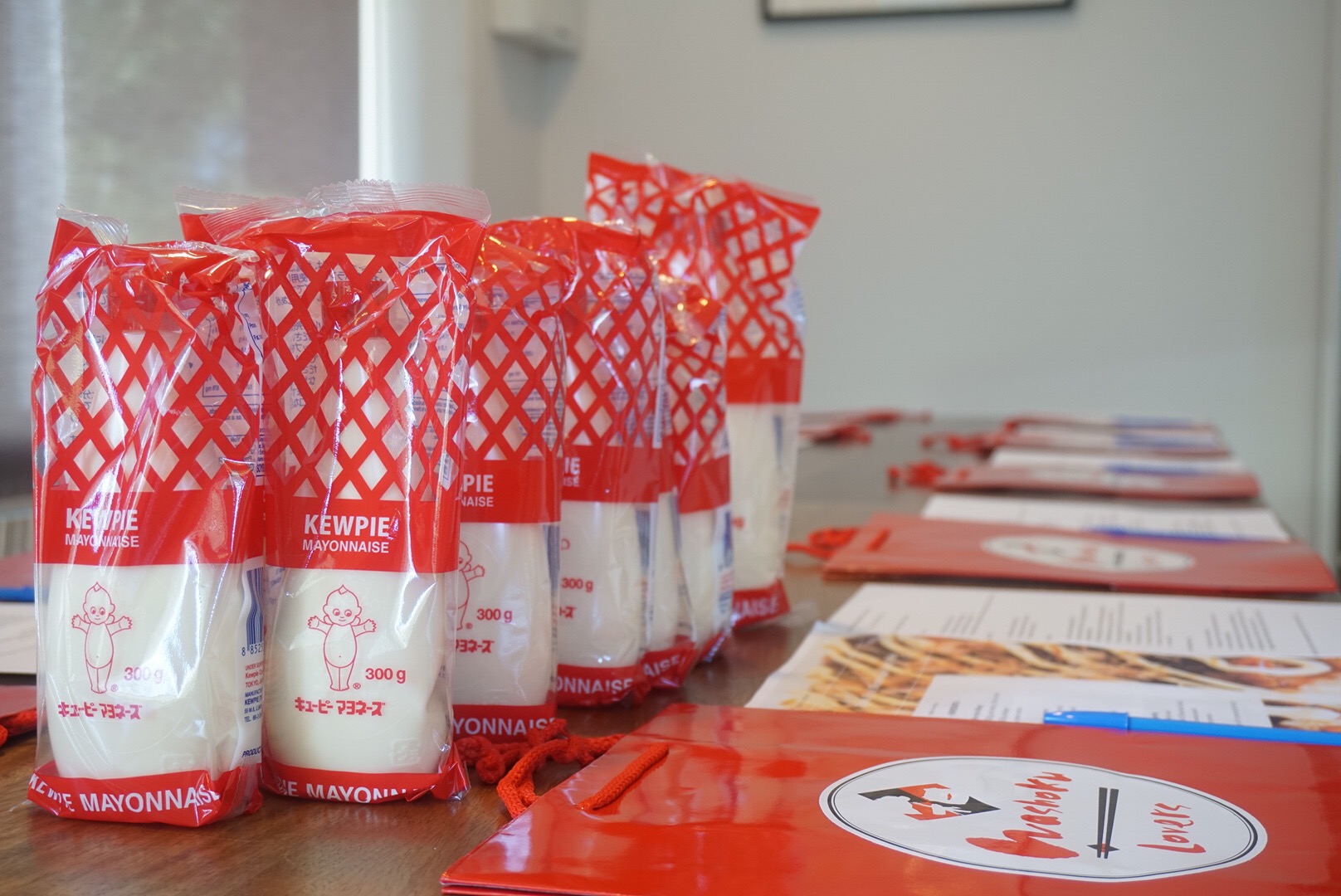 During the introduction, Ayano welcomed everyone and explained what Okonomiyaki and Takoyaki are and introduced chef Kanako to everyone. Most of our Washoku Lovers Kitchen guests have visited Japan, of course they love Japan and Washoku! We were happy to hear that they have had amazing times in Japan.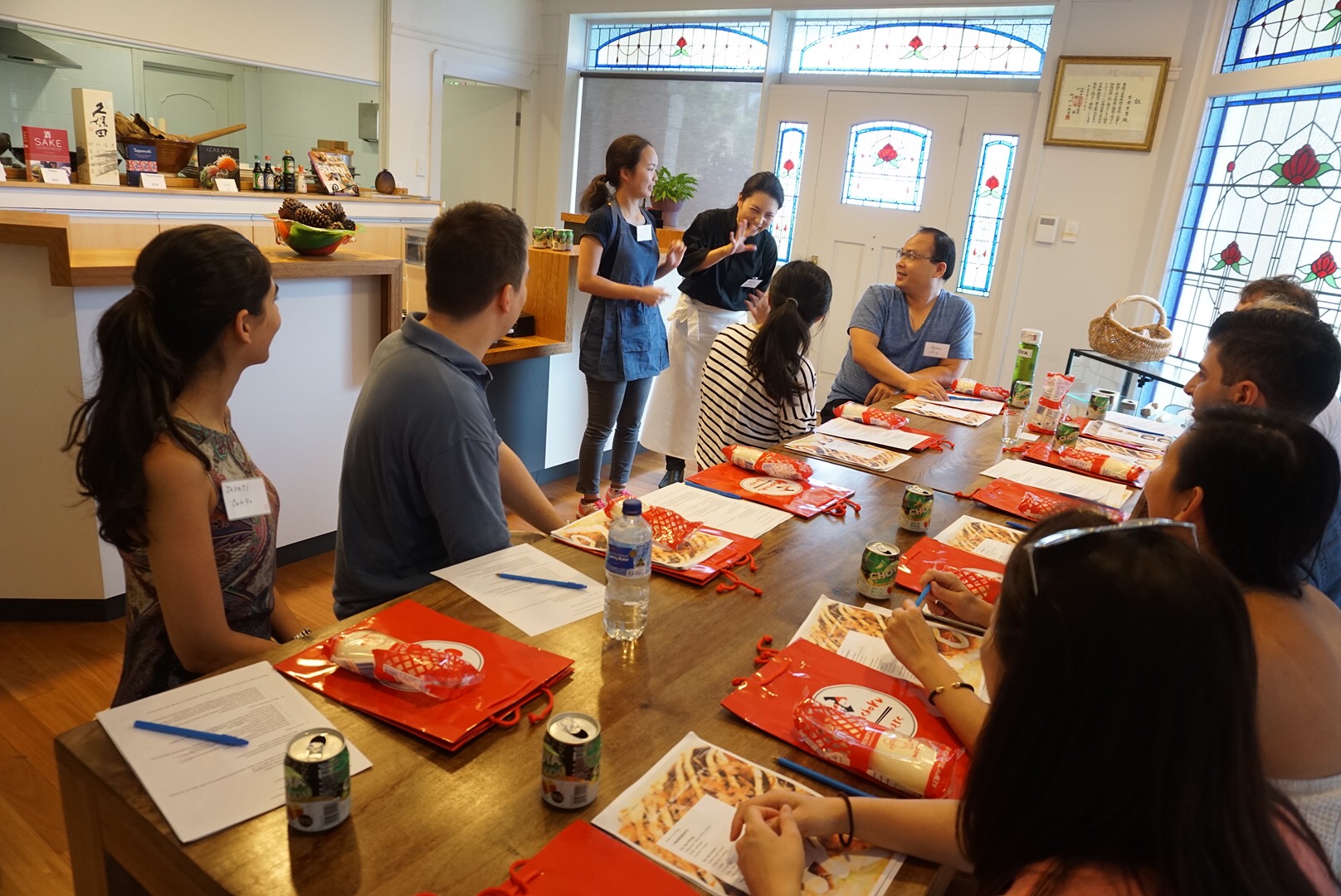 Moving to the kitchen, everyone was very engaged and communicating well to the teacher and each other. Chef Kanako explained how to make Okonomiyaki and Takoyaki.
We always prepare the recipe book for you to bring home with as many photos as possible so you don't need to write memos to remember the class:) This is an important thing that we encourage, you can make all this food at home by yourself, you don't have to always be at a Japanese cooking class just to make Japanese food! Of course we are always happy to hear from people who ask any questions about the cooking.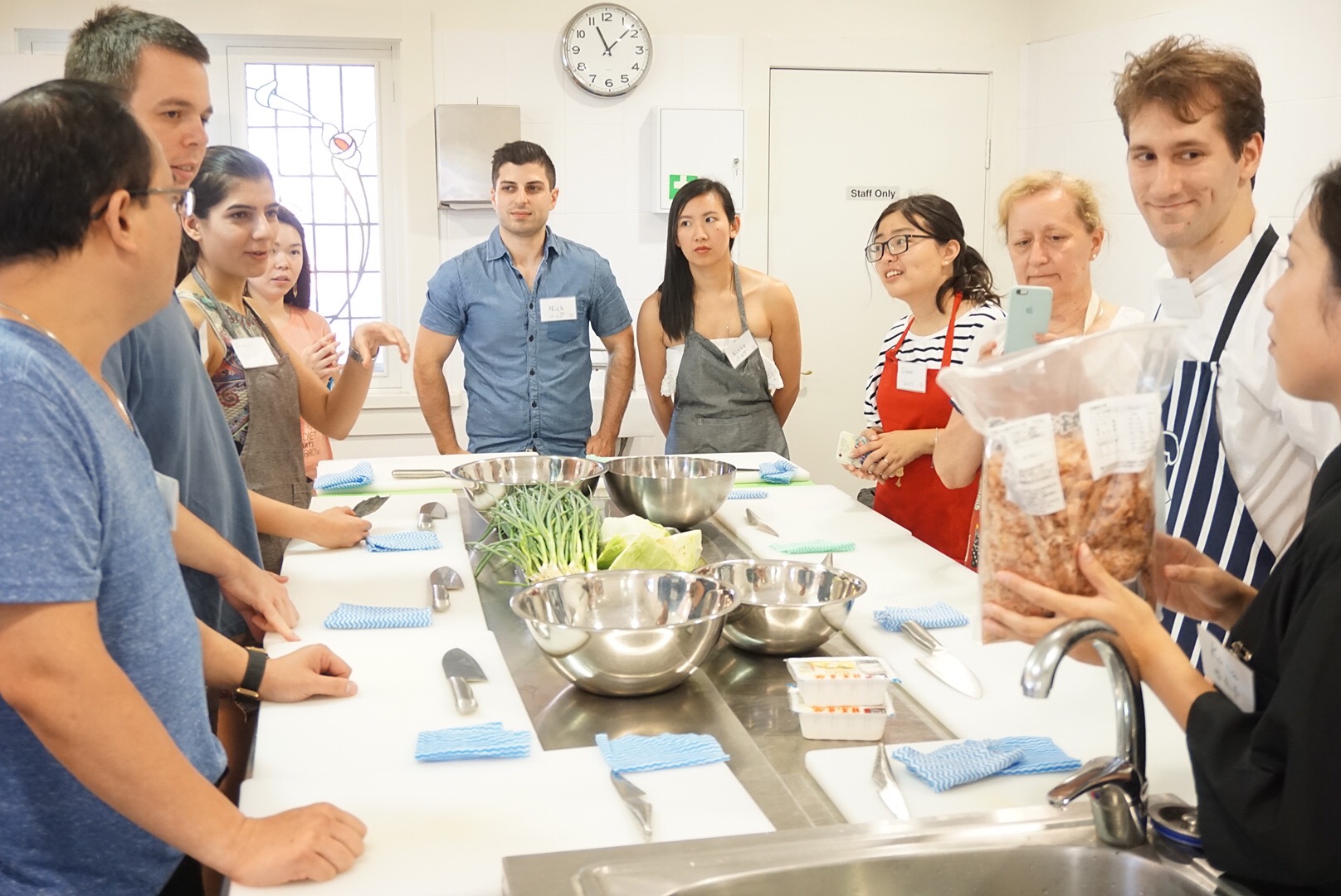 Perhaps you have eaten Takoyaki here in Australia at some Japanese restaurants, however they might be different to the ones we made in the class. Most of Sydney restaurants serve Takoyaki deep fried from frozen packs. That would be the easiest way to serve Takoyaki at restaurants. Of course, we made authentic Takoyaki in the class. Everyone said it's a totally different taste compared to the restaurants. They also remember the ones which they ate in Japan! Since there are not many Japanese cooking classes in Australia, we hope everyone can come and learn a little bit!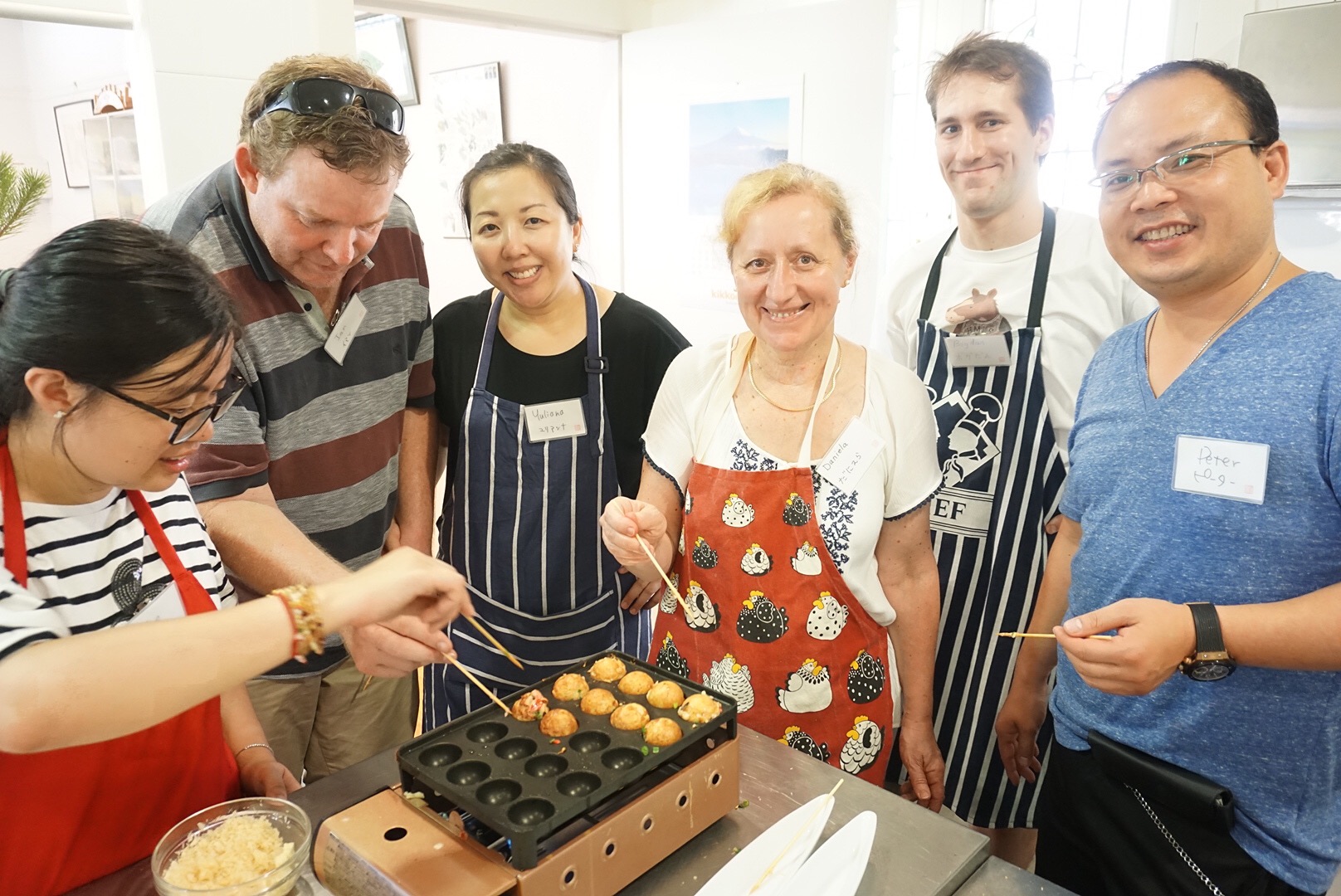 Decorating is also fun. Washoku has so many colours in each dish. For Takoyaki, we have sauce, Kewpie mayonnaise, bonito flakes and seaweed flakes to make it more delicious and tasty:)
We had two groups per class, and each group made 60 Takoyaki balls. After finishing up the decorations, we couldn't wait to try them:) We enjoyed eating and cooking in the kitchen:) Go ahead while its hot and delicious!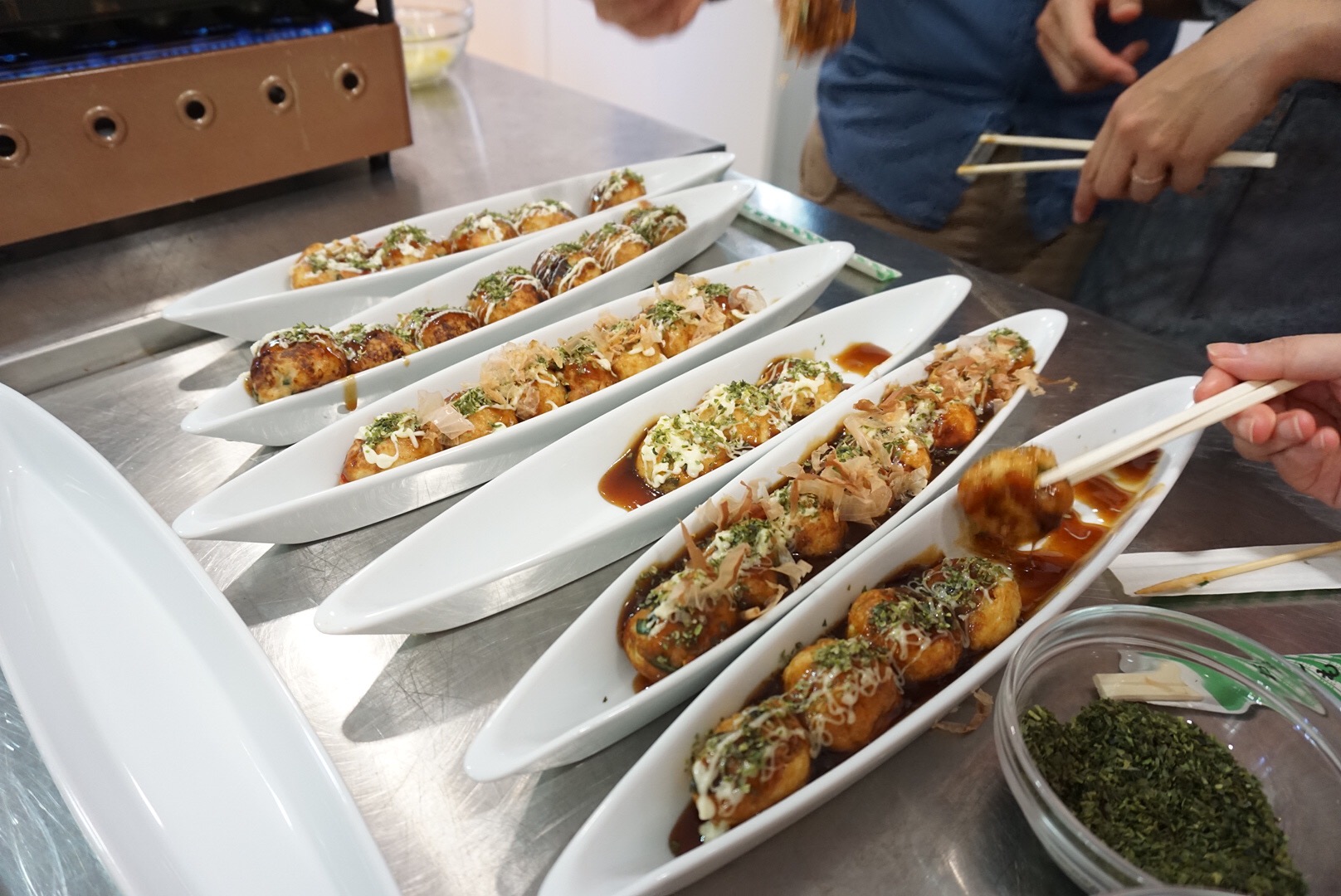 With the class half done, we moved on to Okonomiyaki. I believe that you already know the differences between Osaka style and Hiroshima style. Here is an explanation for you if you are not familiar.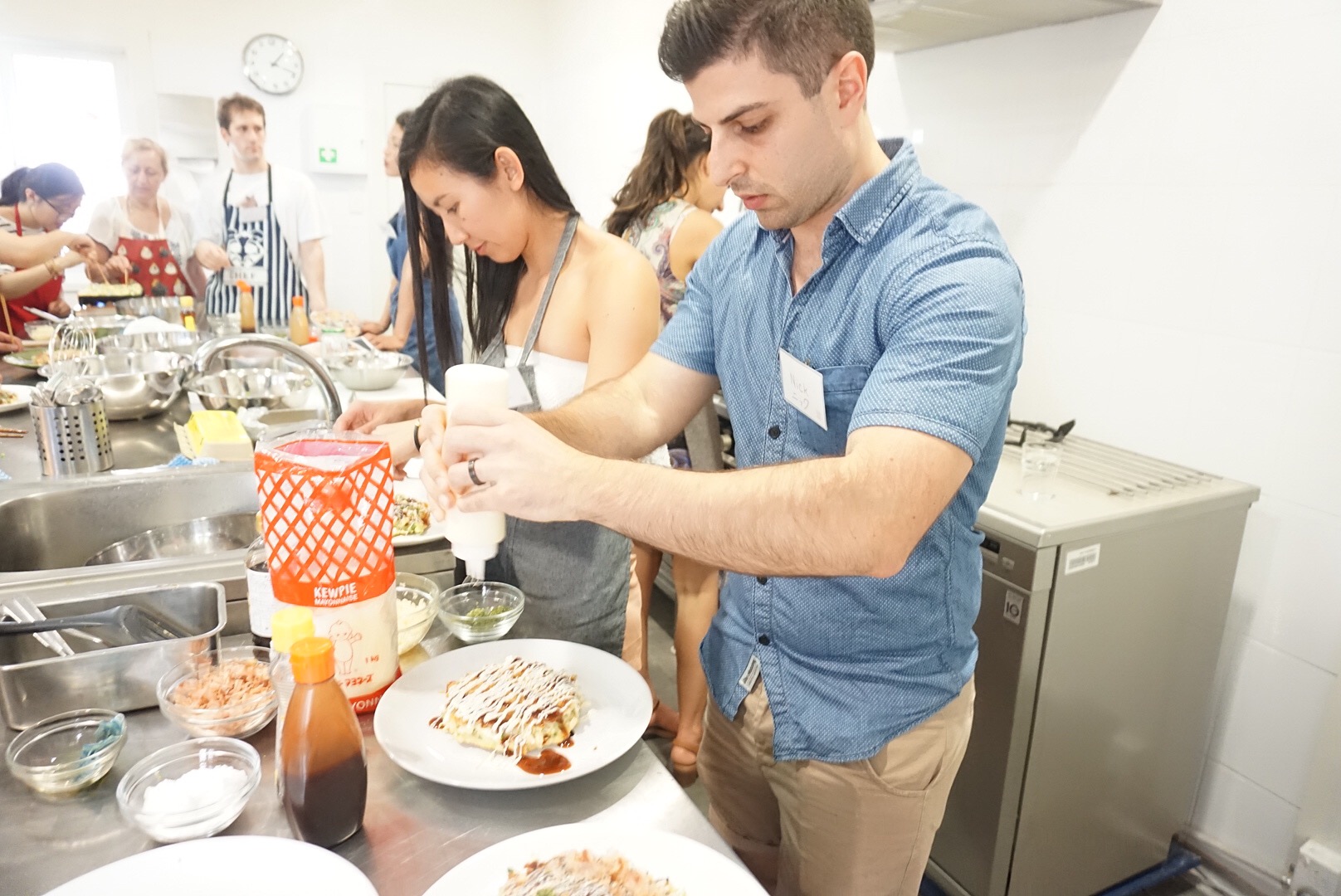 We are not mayo-ras, but we do love kewpie mayonnaise! Always good to have one in the fridge:)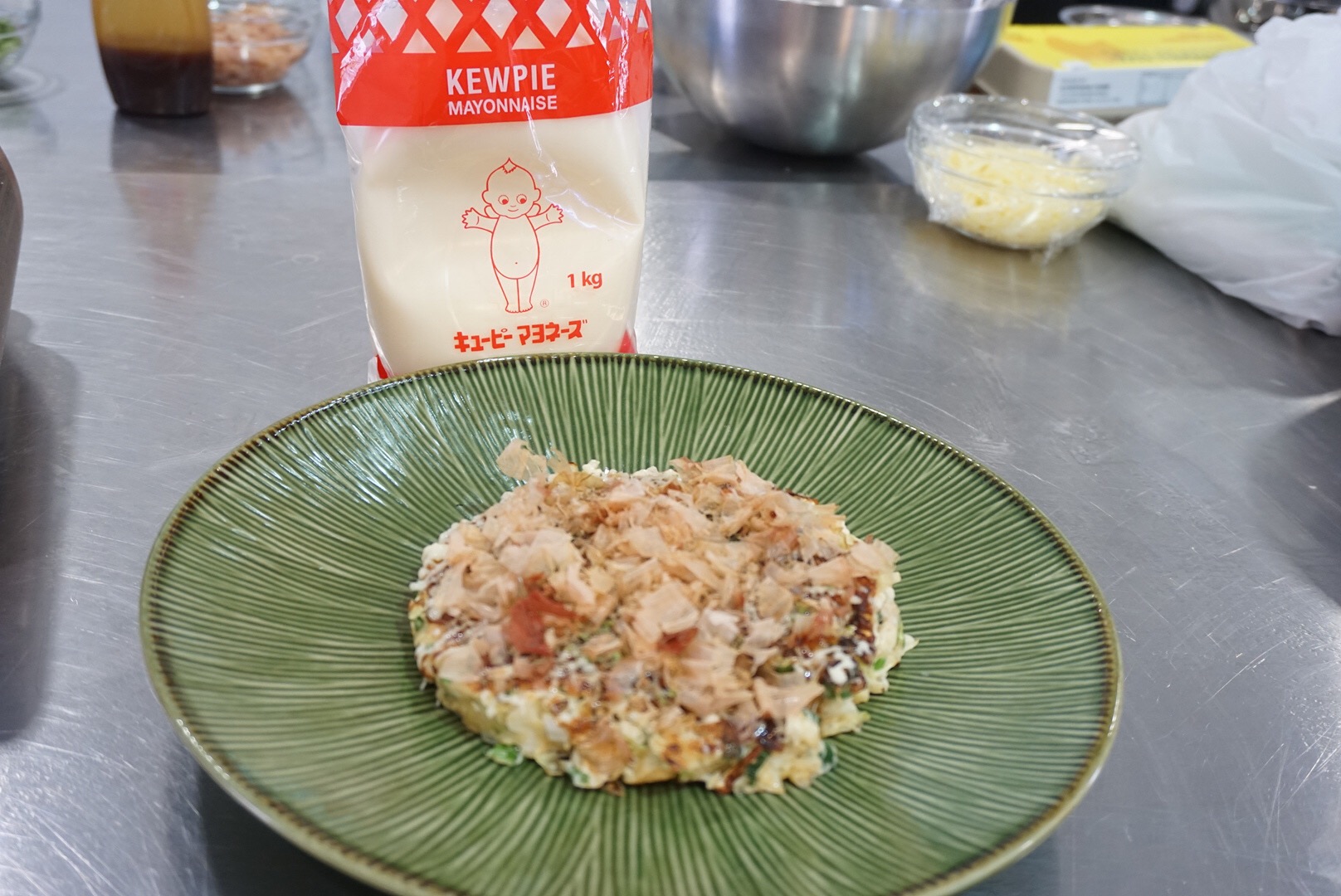 Because we use the cooking studio in Chatswood which is owned by Hideo Dekura, if people want to buy his books, he is always there to sign it to make it special for you:)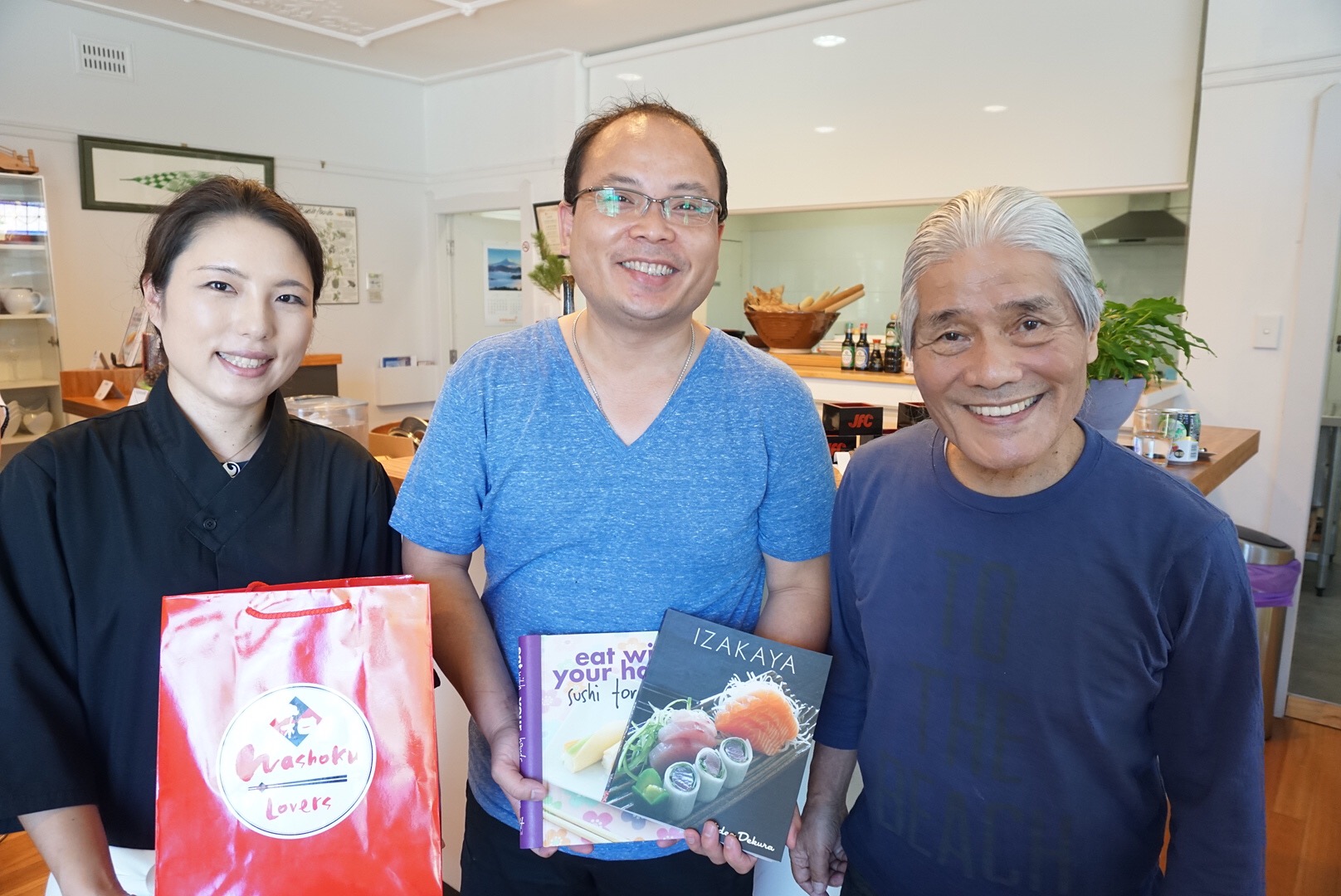 We, Washoku Lovers, are trying to encourage you all to cook washoku at your home! We always ask everyone who attends our class through the surveys what they think about our class and their requests for the future classes. We are trying to improve our classes, better and better each time. Our next cooking class is making Japanese sweets on March 11th and 12th. Yes finally! Japanese sweets, wagashi, is one of the most popular requests from everyone. Hope you all join us and have fun together. Looking forward to seeing you all then:)