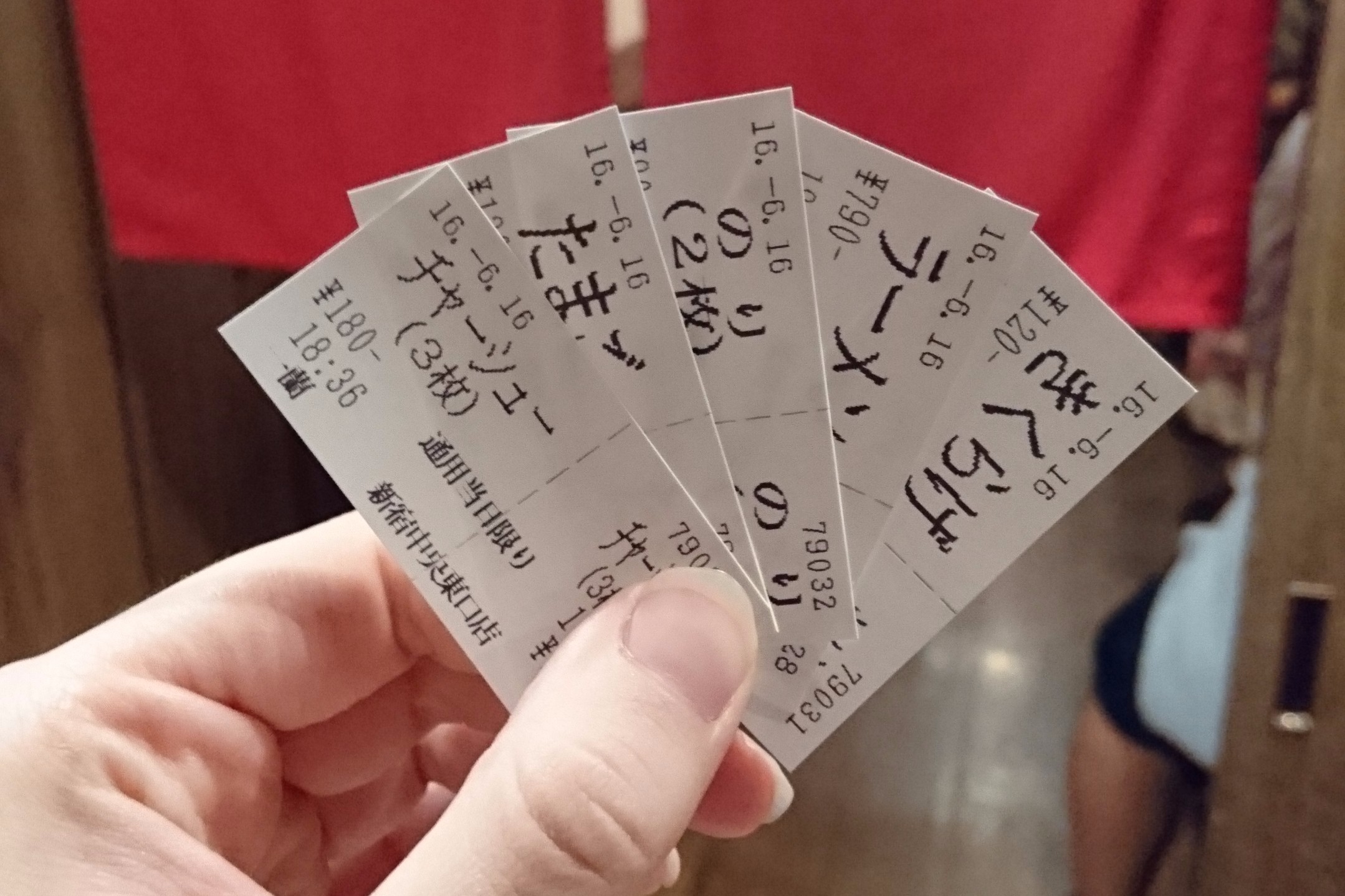 In addition to our okonomiyaki post, we're also going to be featuring a couple of ramen joints! We visited 4 places on our recent trip to Japan, all of which were generally considered to be some of the better ramen places to go to. They weren't just no-name places in alleyways, they were all places that people put on their list of things to do in Tokyo. In saying that, we did stay in Shinjuku, so 3 of the places are walking distance from Shinjuku Station JR!
In the order that we ate, let's get started!

Gachi Tsukemen (二丁目つけめんGACHI 新宿)
Address: 2 Chome−17−10 黒岩 ビル 1F
This is somewhere I found by accident after exploring Shinjuku Gardens on my visit to Japan back in 2014. I was extremely happy that it's still in the exact same spot with the same menu. The shop name says tsukemen, but of course that goes hand in hand with ramen. They specialise in chicken broth, but at a thickness level of a light tonkotsu, and very creamy.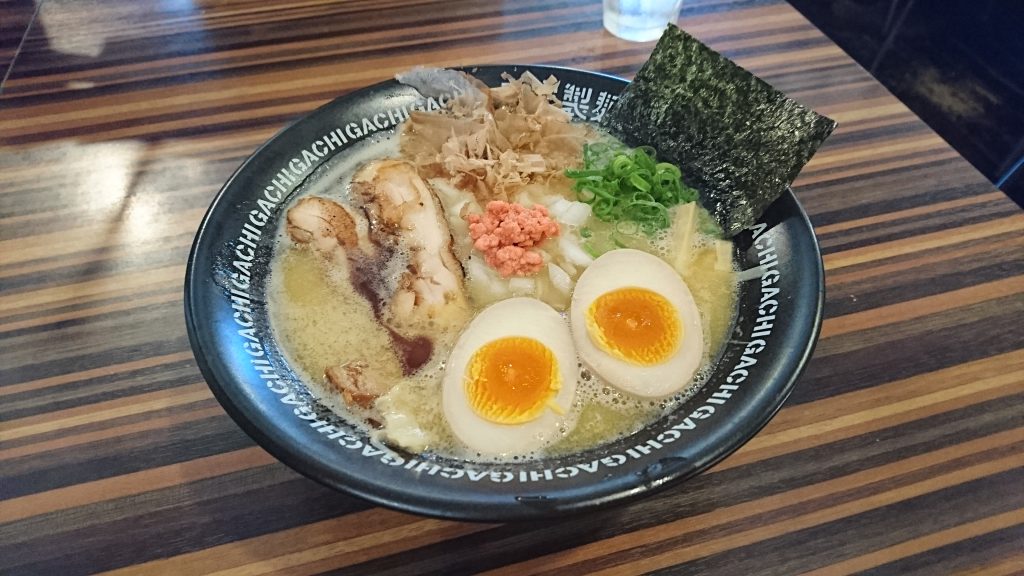 When you go to Gachi, you have to get the deluxe version of whatever flavour you order. It's just how things work. My ramen of choice was Ajitama Ramen, described from the menu machine as ramen with seasoned egg, dried bonito and chicken broth. When it's served to you, you'll realise the menu machine doesn't do it justice. You'll also get thick slices of chashu, actual bonito flakes (which tastes delicious when they soak up the soup!) pork and ginger mince, bamboo shoots, shallots, and nori seaweed. There's also raw chopped onion which I found added a lot of flavour, although having had it at other ramen places I was never really impressed by it until I ate at Gachi.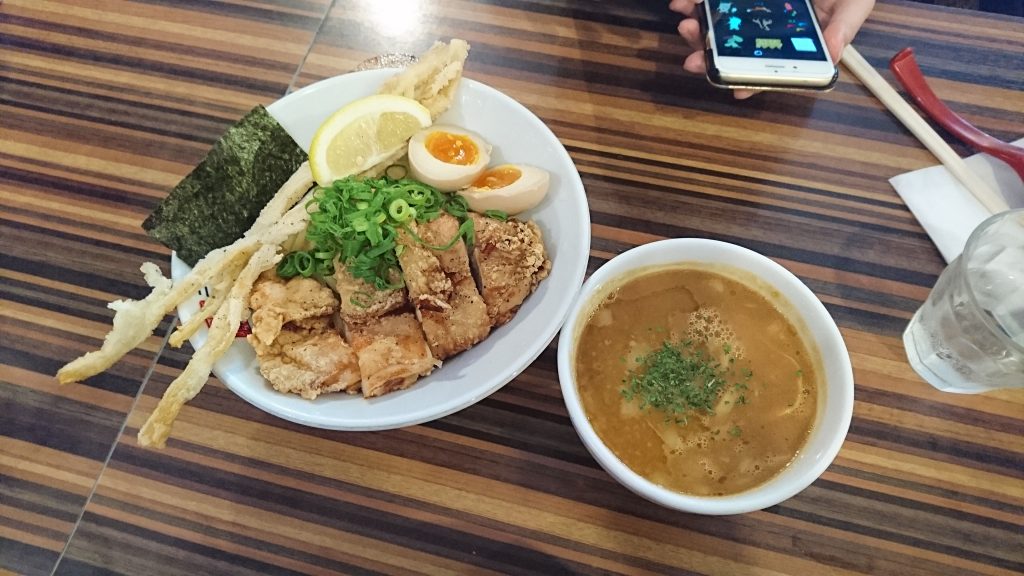 The Deluxe Tsukemen, however, is a gift from the gods. My friend chose teriyaki flavoured broth, and it was thick, heavy with flavour, and above and beyond being described as delicious. I've never had a teriyaki flavour that was that strong, without it being too strong. There's also a surprise piece of kakuni hidden in the broth which is tender and difficult to get out because it falls apart. You'll find thick house made noodles are covered in fried chicken (also probably some of the best karaage I've ever had), shallots, egg, nori seaweed, and the long stick things are a fried, crispy, fishy tasting thing. I don't actually know what it is, but it's perfectly seasoned. You can eat all the toppings on their own as a full meal, but dipping them in the broth will bring you a satisfaction you didn't know you needed.
The tsukemen is available in shio, teriyaki, and spicy flavours. You can also get mixed soba, and alcohol. The inside of the shop is quite cosy, and they play a mix of 90s hip hop and modern music. It's definitely an experience you won't forget!
2. Menya Musashi
Address: 7-2-6 Nishishinjuku | K1 Bldg. 1F, Shinjuku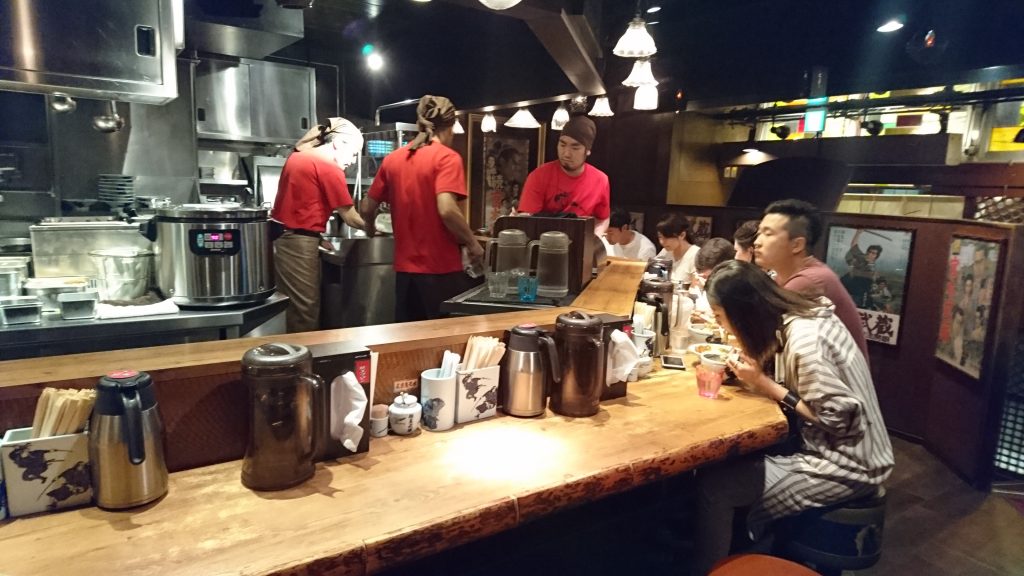 We came here after Googling "best ramen in Shinjuku" and it was a little bit hard to find. Luckily we had Wifi because we had to backtrack after passing it without realising. It was super busy, and there was a line for seating, but thanks to Japanese eating efficiency, people weren't sticking around after eating and it wasn't long before we got seats.
It's a very typical Japanese set up, ordering from a machine, passing your ticket to a waiter and then being given your ramen in return. We got some beers while we waited for our ramen to be made – just making sure we got the full experience, you know?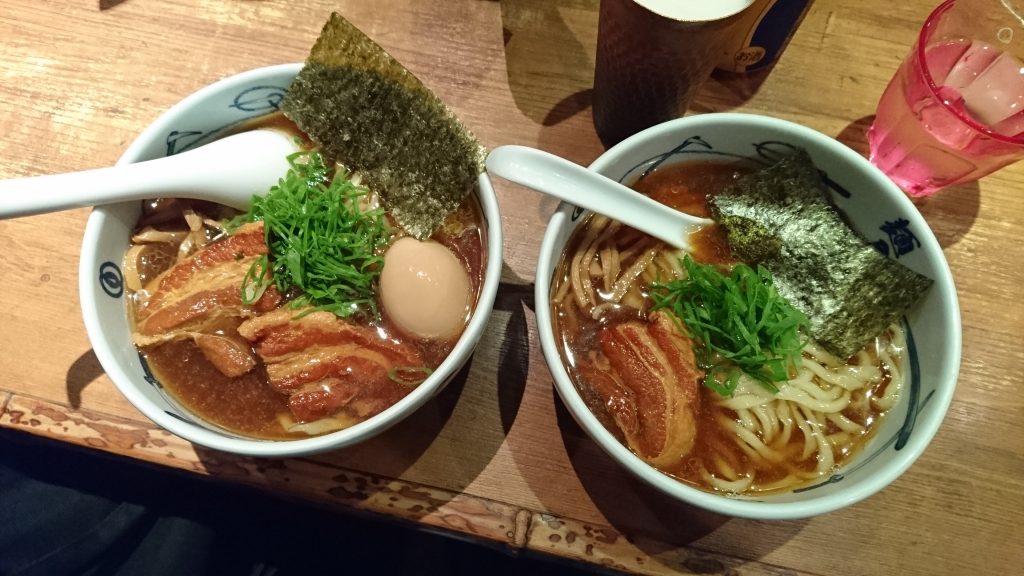 The menu machine wasn't in English, but since all the ramens are the same, you can make your choice based off the price. The higher the price, the more toppings you get. On the right you have the cheapest ramen, coming with a small nori, a really big piece of kakuni, and shallots. The more expensive choice doubles the amount of kakuni and you get an egg. My friend said it was definitely one of the better eggs she's had.
The soup is a light chicken broth, and the noodles are cooked firm. Overall it was quite a flavourful and well balanced broth but I didn't think the heavy and fatty kakuni complimented it too well. Nori suits chicken broths, so I was a little disappointed by how small it was.
3. Ginza Kagari
Address: 4-4-1 Ginza | 1F Ginza A Bldg.
Now, this place has a HUGE reputation. I've even heard from some local Sydney ramen chefs that Kagari ramen is the best ramen they've EVER had. That's a big call. So, I lined up. We'd been warned about the lines, so we went there half an hour before they even opened for the dinner service to line up. There were already about 7 or 8 people in front of us. Who knows how long they were there for.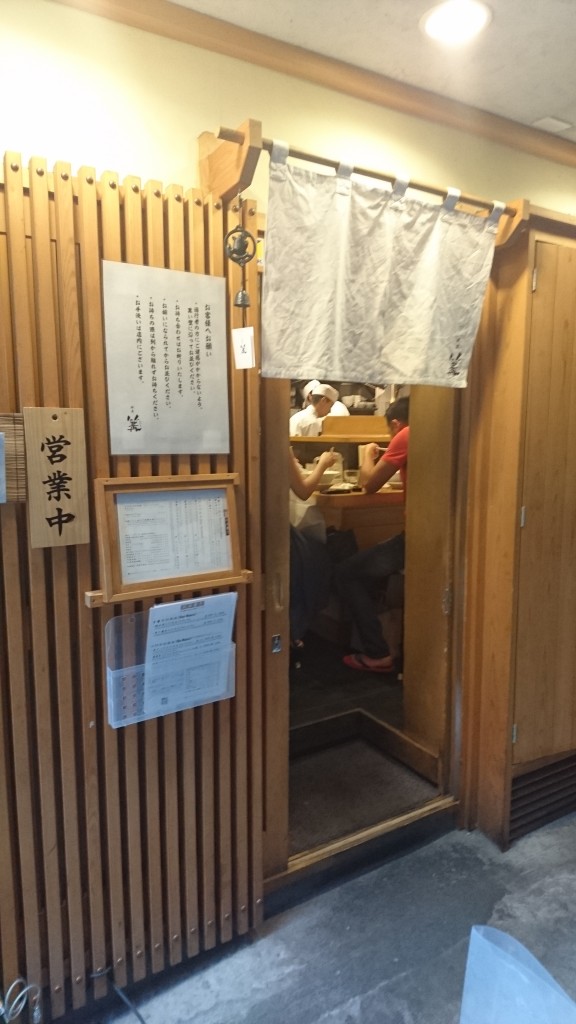 And this is what the line was for! A tiny 8 seat restaurant hiding down an alleyway that actually has a big "Soba" sign as the only landmark which you can see from the street. We waited a little bit longer for the first group of people to go in to eat, and then we were seated.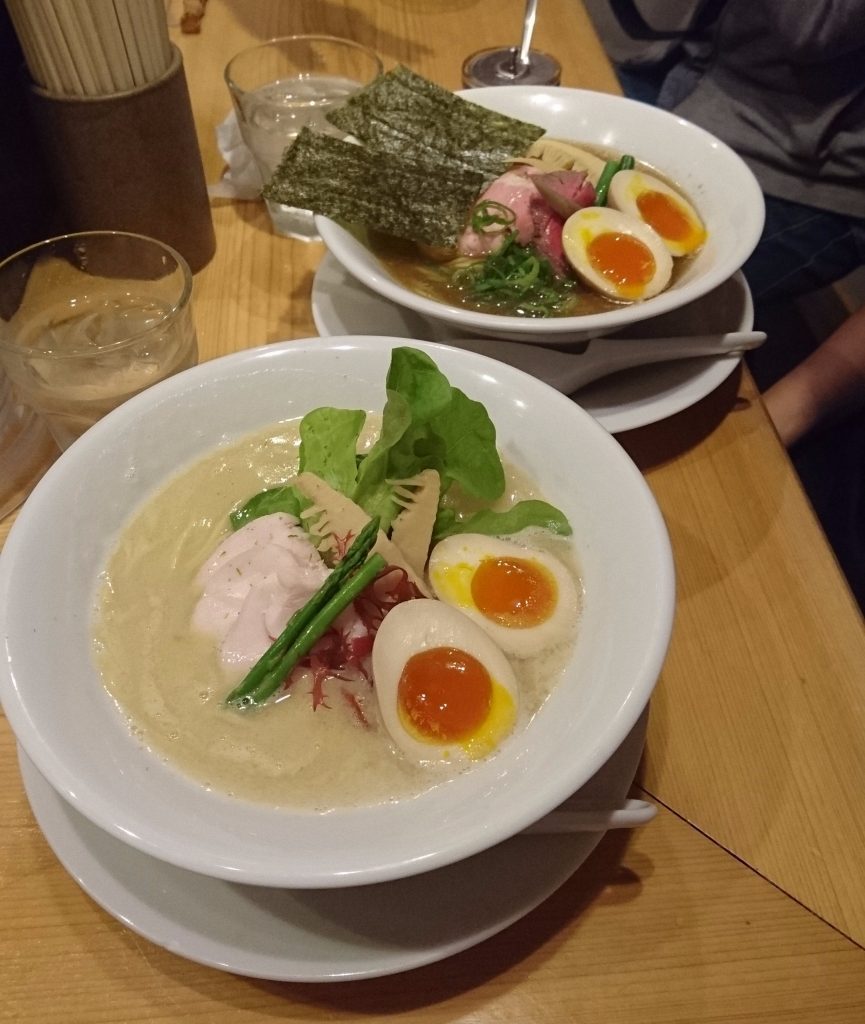 The tori paitan (thick chicken soup) is the dish that everyone goes crazy for, and the niboshi (sardine based soup) in the back is the only other ramen on the menu. You'll find endless reviews of the paitan on the internet, it's almost hard to escape talking about Kagari if you're looking for "top 10" or "best ramen" lists.
The toppings change seasonally, and sometimes even daily, depending on what's available. The egg is an additional option, but I'd recommend getting it no matter what you order! The rest of the toppings… I didn't like so much. There was raw asparagus, cabbage, and lettuce leaves which I felt just watered down the broth and didn't soak it up, so when you ate them they just tasted like bland, raw vegetables. It's also a little deceiving because there was a lot of cabbage propping up all the rest of the toppings. I liked the raw bamboo however, it's also the first time I've eaten it like this. I thought it was a unique topping and also a good alternative to menma bamboo, but unfortunately the piece was too big and I couldn't bite it into a smaller piece and it was awkward to eat. The red seaweed was the only topping that added flavour rather than taking it away, but there wasn't much of it.
The niboshi was steaming hot which was nice, because the paitan was just warm and not hot. I didn't eat much of it, but I did like the broth on its own.
4. Ichiran, Shinjuku branch
Address: 3 Chome-34-11 Shinjuku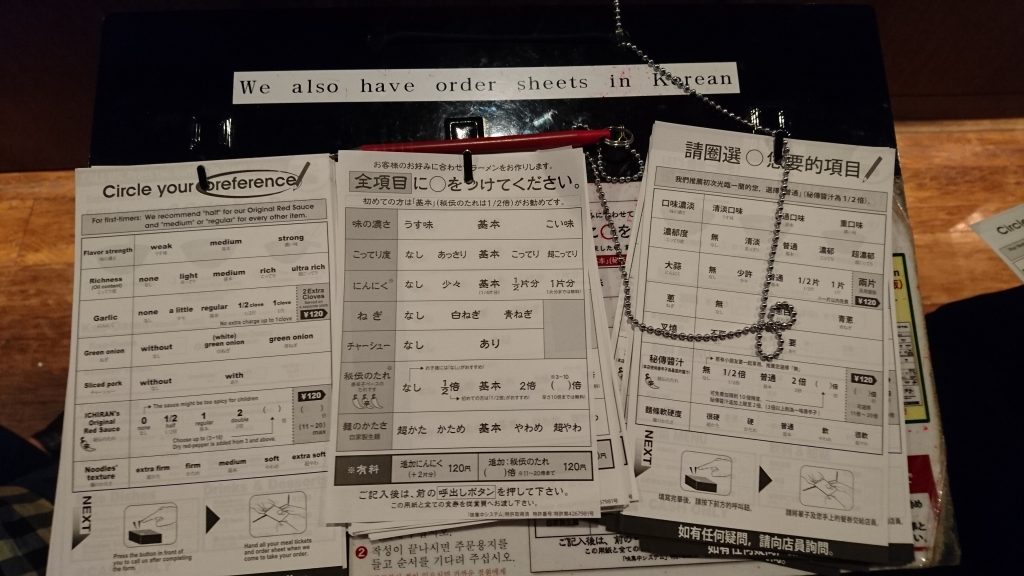 Ichiran is a 24 hour ramen chain specialising in tonkotsu. They had a super long wait to get in when we went (both times, the first time we said no to waiting and ended up going to the above Menya Musashi). You order the ramen and your extra toppings from a machine, and then fill out this order form to specify how you'd like your ramen.
My selections were medium strength flavour, rich, 1 clove of garlic, green onion, with chashu, 1/2 spicy sauce (I regret this though, it wasn't strong at all but I was hesitant to get something too strong and not like it), and firm noodles. Many people do different combination experiments with these options and you should definitely play around with it! For my extras, I bought an egg, ki-kurage black ear fungus, nori seaweed, and chashu. The extras came on a plate and I assembled the ramen myself, including peeling the egg which was disappointingly hard boiled.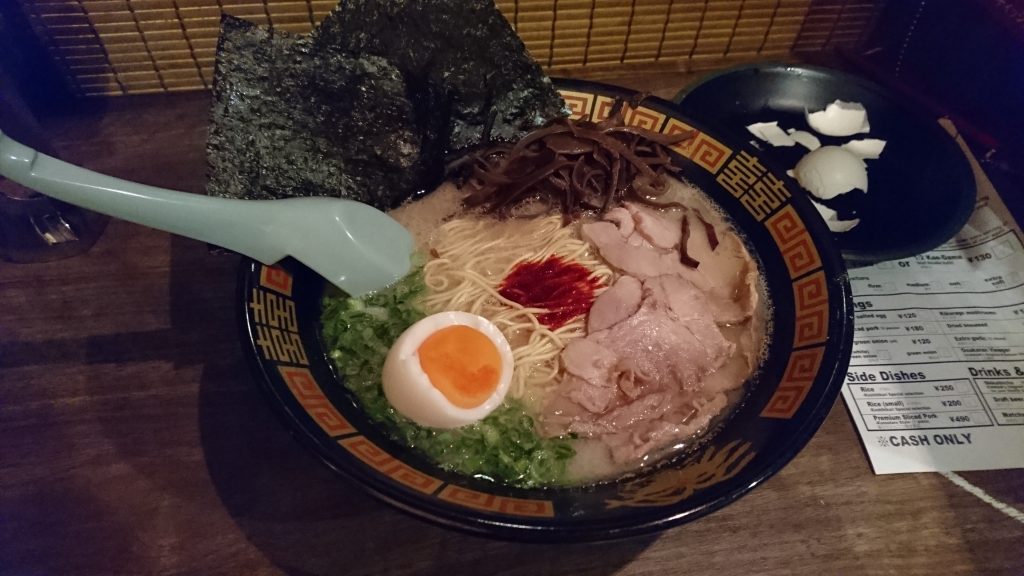 Overall I'd recommend Ichiran if it's 4AM and you desperately need ramen. It's pretty good for a chain, but I wouldn't line up for it again. The noodles were a highlight, but I'd rather explore hidden alleyway ramens!