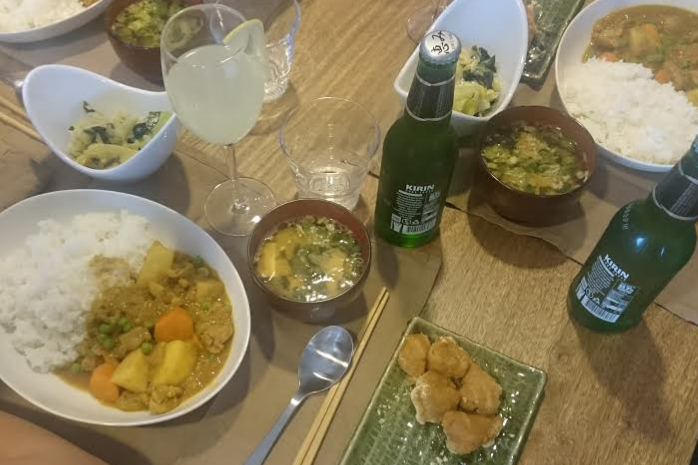 Our last two posts we talked about our Washoku Lovers Kitchen event for Japanese curry rice, and we gave you the curry recipe and instructions for making warabimochi. Did you try making any of them? Let us know if you did by leaving a comment!
This week, we'll tell you how the class went as a whole! It started in the morning at Hideo Dekura's Culinary Studio. It's a beautiful little house converted into a kitchen and dining area with stained glass windows and bright open spaces. Both the front and the back of the house are overflowing with greenery, inviting a serene frame of mind into participants as they prepare to cook.
Inside is a small but fully equipped industry standard kitchen, and when our guests arrived it was already full of fresh ingredients for all the dishes. We first demonstrated how to wash rice before starting to cook the curry rice, so it would have time to simmer away and develop rich flavours. Then a Japanese style salad and dressing was made, as well as miso soup, and we finished by making warabimochi.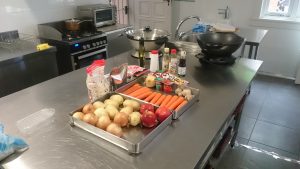 Photo: inside Culinary Studio Dekura
Some surprising facts about Japanese curry are that apple is a necessary ingredient to introduce some sweetness into the palette, and many families in Japan have recipes passed down from previous generations that use ingredients like chocolate, cocoa powder, or instant coffee to add another layer of flavour to the sauce. All of these variations are definitely worth a try!
Not everyone who comes to our classes are chefs, so we make sure to have clear instructions and try to give lots of cooking tips and tricks. Have you ever struggled with cutting up tofu? Wondered why you can't cut it into super square cubes, or why it crumbles when you cook it at home? There's a way to solve that! Hold the whole block of tofu on the palm of your hand, held out flat. With a super sharp knife, cut from the top straight down – you'll be able to wiggle the tofu as needed and the softness of your hand will prevent the tofu from squashing against a hard surface and breaking apart, just be careful with the knife!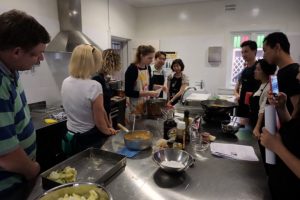 Photo: Demonstrating warabimochi
There was an amazing moment after we'd finished cooking where all of our guests were at the big family table in the dining room and there was suddenly complete silence. That's when you know you've made good food, and you've done a good class.
We made two batches of curry, and although they both had the exact same ingredients in them, one had quite a thick sauce while the other had more liquid at the end of cooking. Personally, I like a curry with lots of liquid, but it just goes to show how much variation there is in the exact same recipe.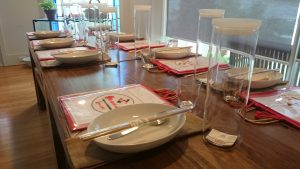 Photo: Our table settings were provided by MUJI
The space in Dekura's Culinary Studio is beautiful, despite being an industrial kitchen it still has areas that retain the original home feeling. If you're keen to see it, check out Dekura Sensei's classes, available year round. There are some ramen noodle classes coming up!
Kirin Beer was also provided, accompanying yuzu juice which, along with all other ingredients used in this class, from Tokyo Mart.
Here at Washoku Lovers we're also excited to hint at the theme for our next Washoku Lovers Kitchen class! It might just be very similar to Dekura Sensei's classes mentioned above… Make sure you sign up to our newsletter and membership card to ensure you receive notice of when our classes are announced – Culinary Studio Dekura can only hold 10 people at a time, so it sells out fast!