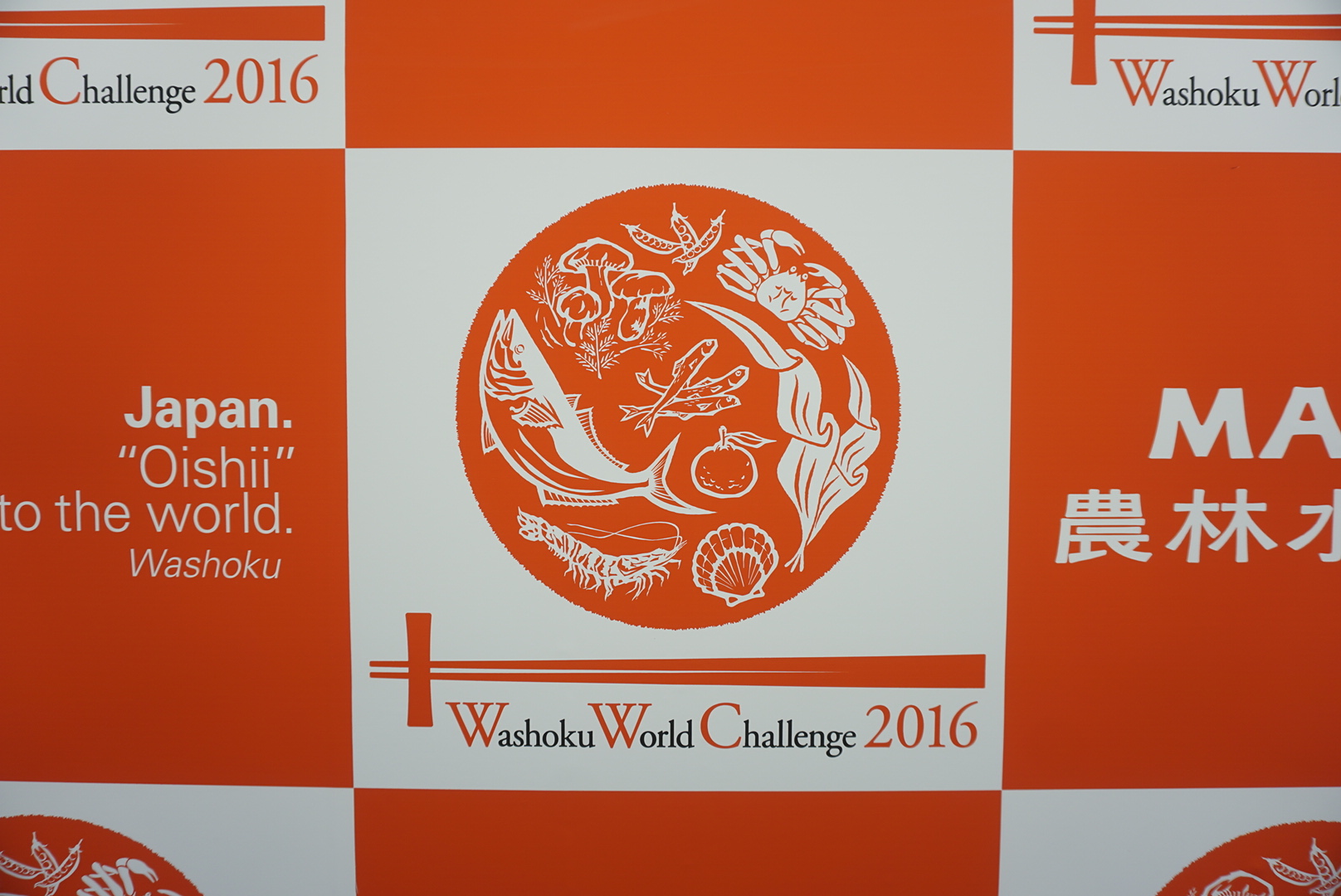 Washoku Lovers was proud to be invited to the Washoku World Challenge 2016, held at Hattori Nutrition College today (December 15). It's our great pleasure to see washoku chefs and we were excited to support the Australian representative washoku chef, Shaun Presland!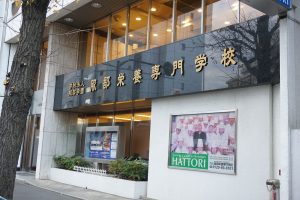 The event location is just a 5 min to walk from Shinjuku station. The president of Hattori Nutrition College, Yukio Hattori, was one of the judges. I was amazed by his presentation to the finalists after the awards ceremony – I'll share my experiences from that in part 2!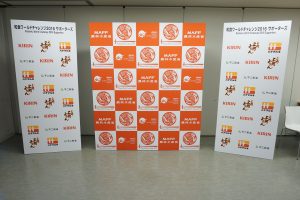 The Washoku World Challenge (WWC) is a contest for Japanese cooking hosted by the Ministry of Agriculture, Forestry and Fisheries of Japan. There are 10 finalist washoku chefs from 9 countries, who are given two hours to make rice, aji no tsumire soup and their main dish!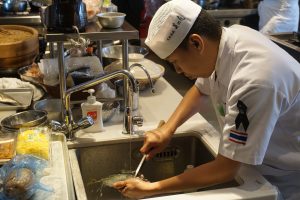 No.1 Thailand ??
Mr Songkran Comnew (35 years old)
Lotus root chrysanthemum flower bun in thick seaweed sauce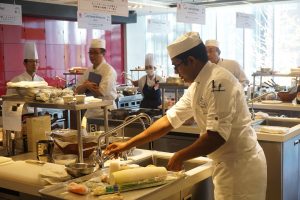 No.2 Sri Lanka ??
Mr Meegama Gurunnaselage Don Malith Wejikoon (31)
Break me and eat! Kimpira in potato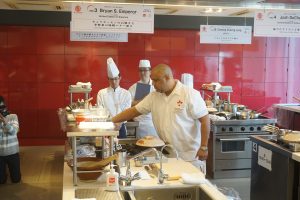 No.3 United States of America ??
Mr Bryan S. Emperor (48)
King Salmon Ishiyaki with winter vegetables and miso butter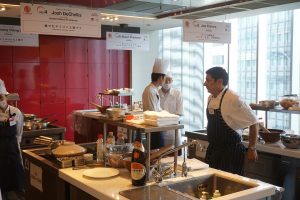 No.4 United States of America ??
Mr Josh DeChellis (43)
Boiled daikon with winter yellowtail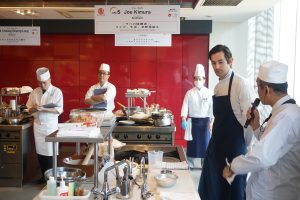 No.5 Scotland
Mr Joe Kimura (30)
Saba no misoni with Apple, ginger and winter vegetables
Finishing 3 dishes in 2 hours is extremely hard, and the pressure in the kitchen was obvious – but I was so impressed by all the incredible cooking.
It's amazing to see someone who looks large have such great finesse in their knife skills and ability to add minute detail to dishes. Measuring even the temperature of hot water and dashi!
Each finalist had 15 minutes to present to the judges.
Judges assessed each dish on a range of criteria. This includes a tasting test, Q & A and discussions.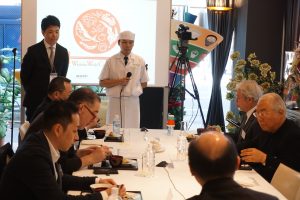 The second group started in the afternoon after first group ended.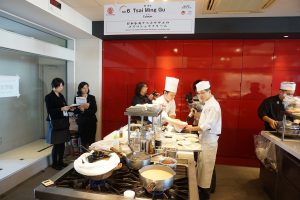 No.6 Taiwan (China) ??
Mr Tsai Ming Gu (36)
Japanese mini-eggplant and turban shell in spicy yuzu kosho cream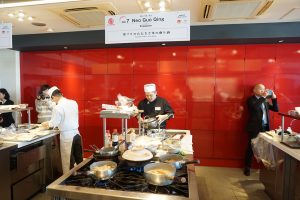 No.7
Singapore  ??
Mr Neo Guo Qing (34)
Kan buri tataki and winter irisake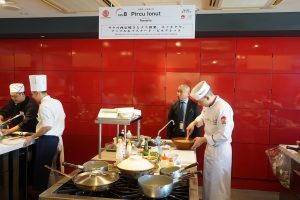 No.8
Romania ??
Mr Pircu Ionut (26)
Sake saikyoyaki with nasu dangaku, enoki mushrooms and apple & mustard vinaigrette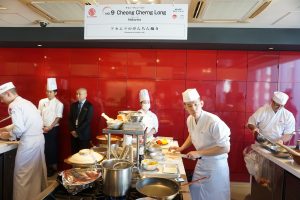 No.9
Malaysia ??
Mr Cheong Cherng Long (31)
Akamutsu no kenchin yaki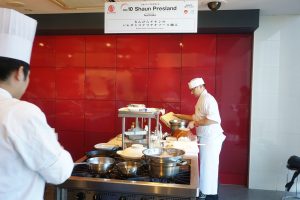 No.10
Australia ??
Mr Shaun Presland (45)
Kinpira chicken with balsamic teriyaki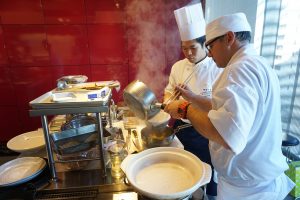 Finally it is Shaun from Australia! Because I know about Shaun, and also because he's representing Australia, I was really cheering for him!
Shaun's washoku cooking was born out of a ryokan located in Ogen, Yamagata prefecture. He started as just a clerk in the family run ryokan, and then worked his way up to being in charge of the cooking. His specialty, kibo burdock, is a much loved dish from Yamagata. After cooking in the ryokan he returned to Australia and was in charge of the Japanese menu at ANA Hotel which has also seen great chefs like Hiroshi Miura from Rosan and Raita Noda from Raita Noda Chef's Kitchen. Then, at Sushi e he worked with Atsushi Saito from @!Restaurant where he cut sushi, and Shaun now works are NOBU BAHAMA. During his entire career he's always remained buddies with his previous co-workers.
He also met Joseph, the owner of Sake Restaurant and the person in charge of opening up Sushi Choot at IVY. Using the concept of the original Sake restaurant, Sake Rocks, Brisbane, Melbourne and Double Bay restaurants were also opened.
Superstar Shaun has come all this way to Hattori Nutrition College as the Australian representative, so Washoku Lovers absolutely had to come and cheer for him!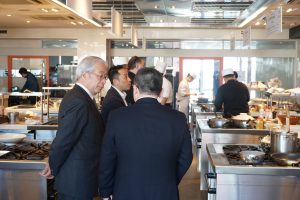 Kihachi Kumagai, the head of the Judging Committee for Washoku World Challenge
He is the chief advisor to SAZABY LEAGUE, Ltd., IVY COMPANY and holds key posts such as CTO for All Japan Chefs Association. Hereceived the Award for Contemporary Master Craftsman by the Ministry of Health.
The judges also watched the finalists' demonstrations.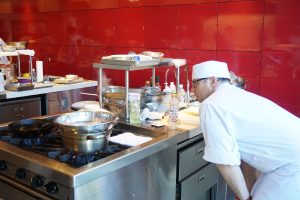 Shaun intensely watched over his rice while it cooked, keeping an eye on the temperature of the water and the heat of the stove. You'll see how his rice turned out in part 2 of this blog series!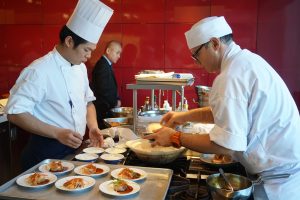 Tension was high after 2 hours of cooking and it was obviously a very hard challenge, but Shaun stayed cool throughout the whole time, calmly plating up his dish.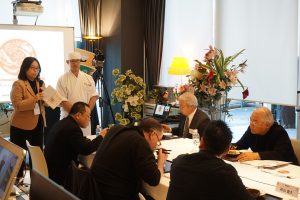 Afterwards there was a presentation to the judges. Shaun was praised by the judges for his well matched dish, kibo burdock and teriyaki chicken. His story of getting started and all of his food has given him a highly regarded reputation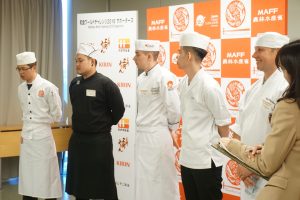 There was a collective sigh of relief from all the participants after the end of the presentation, which was followed by photos and mingling.
Then the announcement of who came 1st, 2nd, and 3rd at WWC!
The awards ceremony was held at the Cerulean Tower Hotel in Shibuya.
Hideo Dekura accompanied Washoku Lovers all the way to Japan for the event!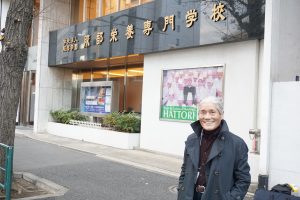 To be continued in Part2★