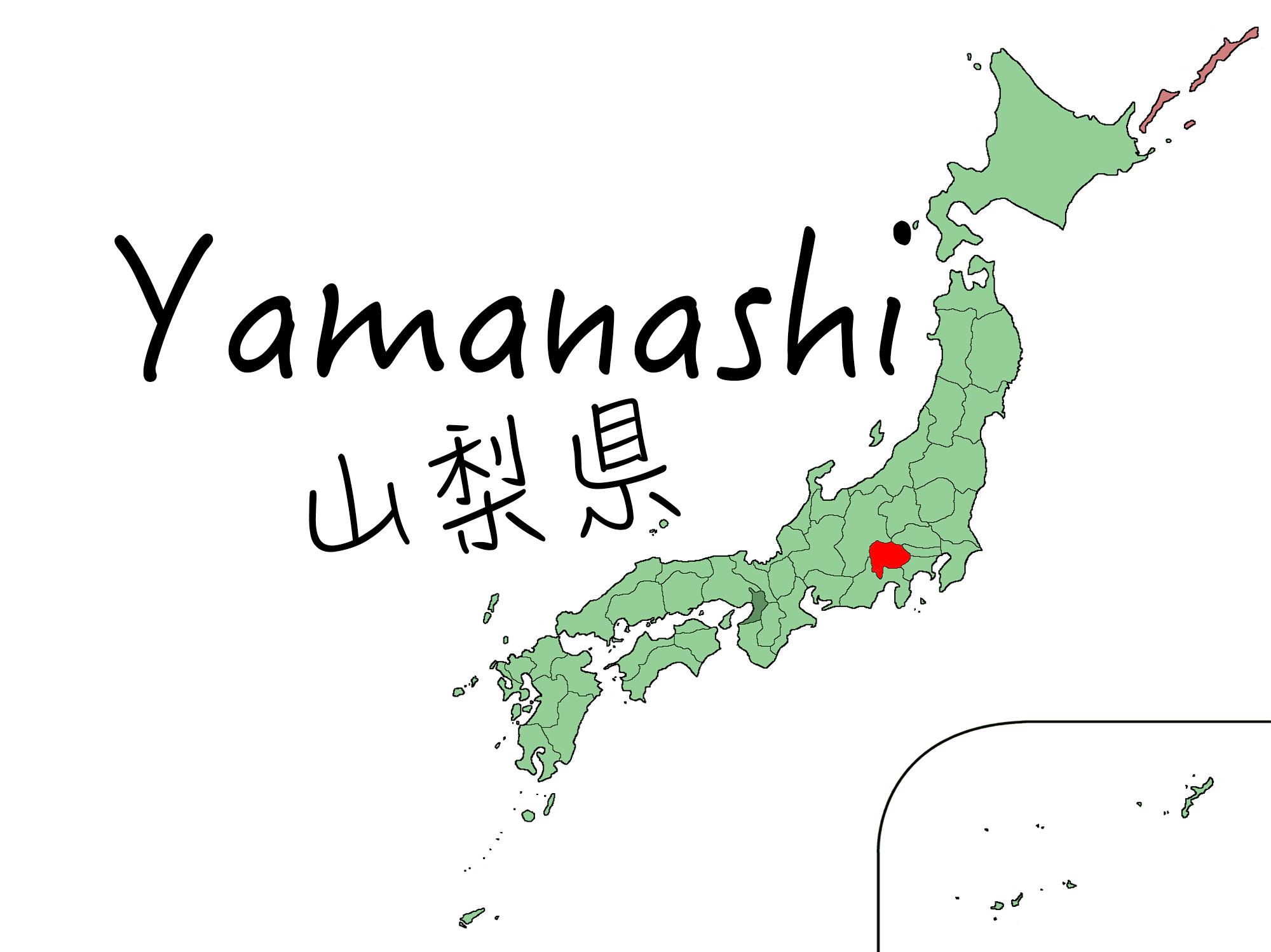 Yamanashi Prefecture is located right in the middle of Japan's main island, Honshu. It's one of the few landlocked prefectures, shares a border with Shizuoka Prefecture and as such part of Mount Fuji is in Yamanashi Prefecture. Be prepared for a lot of jewellery and robotics when you visit – these are the two largest local industries. The mountainous terrain makes this a popular spot for mountaineering and hiking, with plenty of onsen around to relax in after a hard day's walk.
If you're travelling on the maglev (in the near future hopefully) there's a planned stop just south of Kofu (Yamanashi Prefecture's capital) but otherwise you can get the regular train line from Tokyo on the Chuo line and arrive in Yamanashi in just 1.5 hours. If you're coming from Osaka or Nagoya, take the shinkansen to Shizuoka Prefecture and then catch a regular train the rest of the way.
Fruit

Yamanashi Prefecture is the largest producer of grapes, peaches and plums in Japan. Surprisingly, there's also a lot of wine being made here. Grapes are in season from Summer to Autumn while peaches are best between July and August. Wine, on the other hand, is available year round thanks to being bottled, and is said to pair extremely well with washoku Japanese cuisine, as it's made with Japanese grapes.
Bonus fact! Japanese people peel grapes before eating them. They think it's weird to eat the skin, while most westerners would never dream of peeling a grape – it's so tiny!
Water
We've talked about areas that produce exceptionally high quality water before, and it has always translated into sake and noodle making. However, Yamanashi Prefecture's water supply is often bottled and sold around the country. The mineral water is collected at several sites, including from Mount Fuji!
Of course, there's also alcohol. Suntory's Hakushu distillery is in Yamanashi, producing whisky. You can visit for free and pick up some neat souvenirs. Reservation is required though, and in January 2018 renovations will begin in the museum area of the distillery so make sure to check before you book in!
Houtou
Udon noodles are usually round, but houtou are flat udon that are prepared more like dumpling skins than noodles. They're served in a vegetable stew, and pumpkin is a particularly popular choice. Because of the way it's made, and of course how it looks, many locals don't consider it "udon".
Not only is pumpkin popular for houtou, but so are red beans! Houtou noodles are added to red bean soup which usually has a watery consistency but for this dish it's quite thick.
Yoshida udon
Another udon variety that originated in Fujiyoshida City. The noodles are thick and chewy and are served in a miso based soup with various spices added. Each store has their own signature mixture of spices, though you'll probably come across spicy sichuan chilli in most of them.
Sometimes the dish comes with meat, and there are even horse meat options!
Craft beer
There's a growing craft beer in Yamanashi Prefecture, and there's even an Australian right in the thick of it. Outsider Brewing was born in 2012, with Aussie Mark Major and Japanese Satoshi Niwa being the proud parents. They even won first prize for their IPA in 2016's Japan Brewers Cup!
Fujizakura Kogen Beer gets their water straight from Mount Fuji for their brews, but it's made in a German style and the brewery is very British in its decorations! You can drink it at the restaurant attached to the brewery, Sylvans.