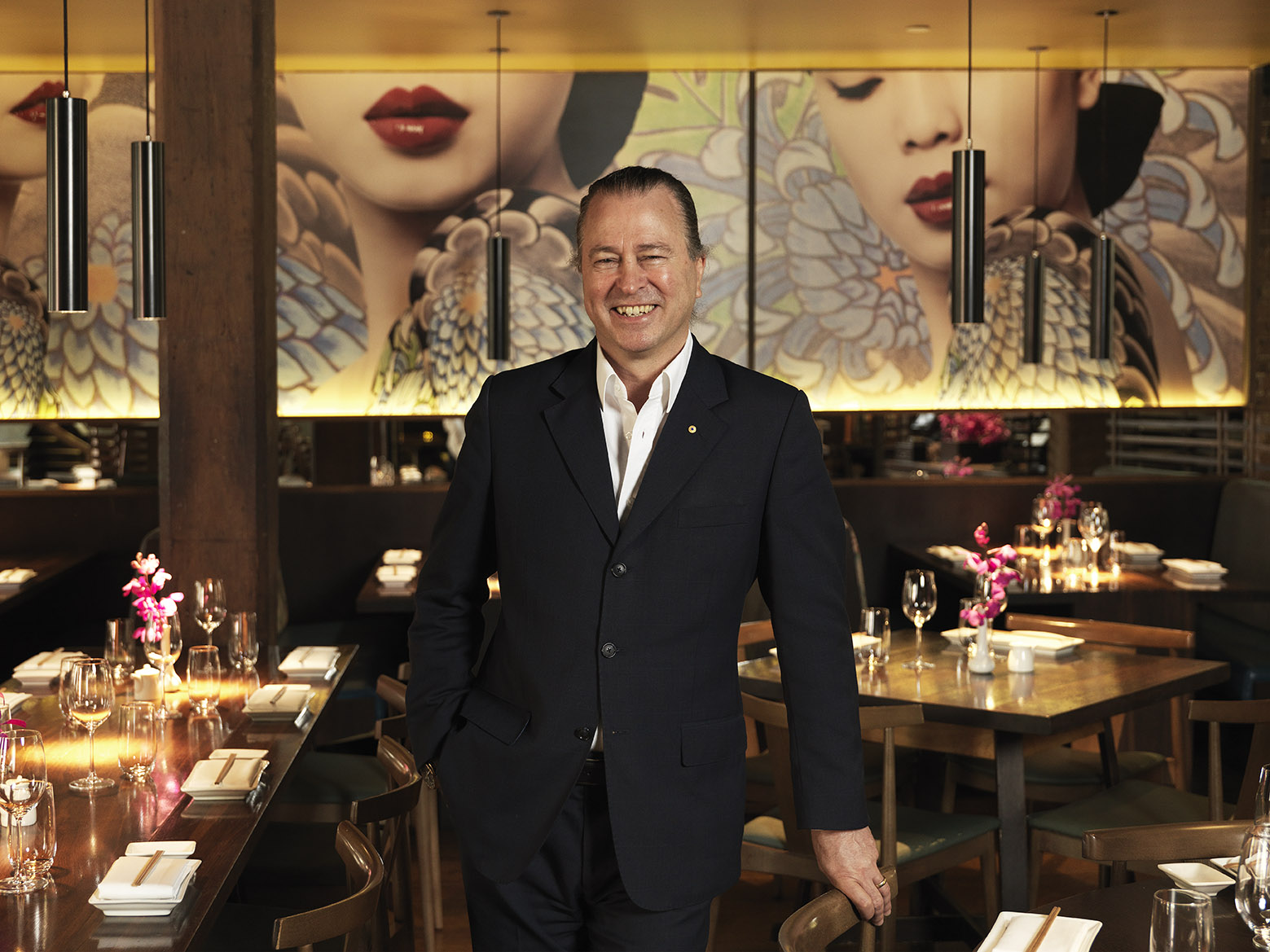 Washoku Lovers met Chef Neil Perry at Fire 2.0, Melbourne Food and Wine Festival and The World's 50 Best Restaurants, and we were very fortunate to have the great opportunity to see him again and try his new dishes at Sake Restaurant & Bar at The Rocks.
First of all, I was very interested to know what Japanese food he could make. I knew he is well travelled, I've been following his Instagram, and he's visited Japan more than 20 times. He obviously got many inspirations from his trip and his experience, but he is not a Japanese chef and he has never worked as a Japanese chef. Washoku Lovers's audience is enthusiastic about Japanese food, most have been to Japan at least once or are dreaming about it, and looking for authentic Japanese restaurants in Australia.
Since I heard about his philosophy of his business and cooking, I almost wanted to cry after hearing how beautiful his spirit is. There is no national or even global standard definition about the authentic Japanese restaurants. I would say his philosophy is just cross cultural.
Sake is part of Rockpool Dining Group, which was formed when Urban Purveyor Group acquired Rockpool Group in November 2016. The group has over 55 restaurants, 3,000 employees including 1200 chefs in the group. Even in a short period, I met lovely people who are working there as wait staff, chefs and managers. I was nervous to speak to the one of Australia's most accomplished chefs, Neil Perry. But he is very friendly and I can see all his staff admire him very much.
Before going in to his new dishes, let me share how beautiful his sprit is. I asked him what is the most important thing for him for all of his staff to be trained in. I could feel his philosophy come from his personality. He is well known as a chef but also very thoughtful and a generous person. He teaches all new comers to respect each other first, and care about each other not only as workers at Sake but also include the people who deliver foods, wine makers and many more people who are involved in the restaurant. He also thinks the environment and mentoring is very important too. Neil Perry said that very good and young chefs are working in the Rockpool Dining Group. He also said that he is hoping everyone can become a better person through the jobs at Rockpool Dining Group. I can now easily understand why he is very passionate about the charities too.
For his new dishes, Neil Perry thinks how important it is to use good quality seafood and fresh seasonings for making Japanese foods. He uses the best quality of produces only such as cape grim beef from Tasmania . His favourite Japanese ingredient is sesame seeds, which add rich flavours into his dishes.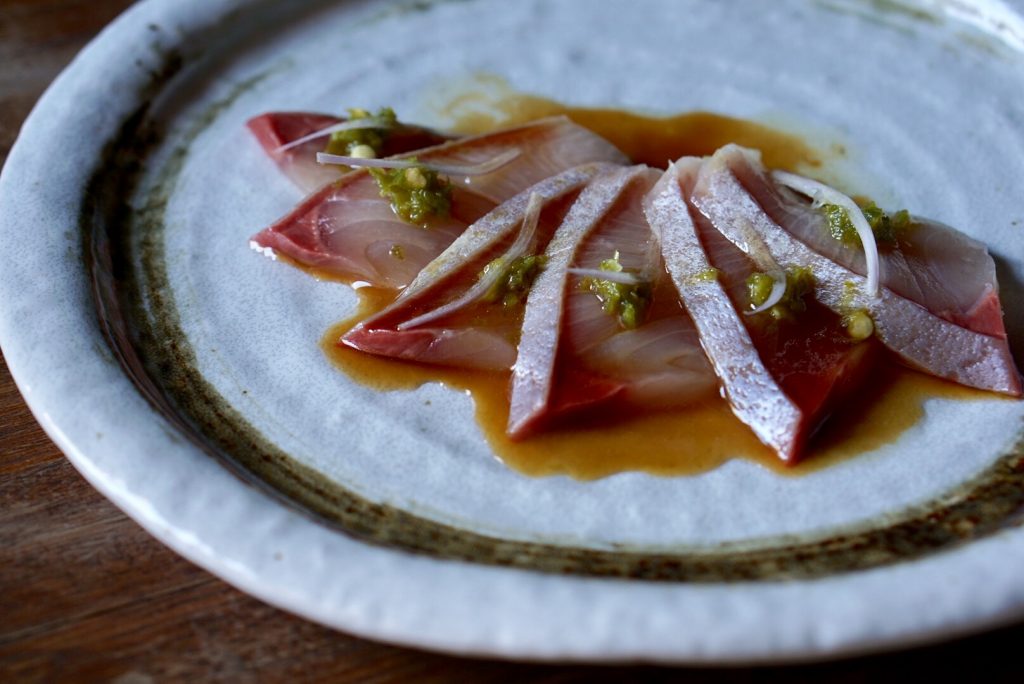 This is his favourite kingfish with yuzu pepper. He said the most important thing for Japanese cooking is to have fresh seafood. Yes, I could taste how fresh this kingfish was. Neil put ponzu over the fish and a squeeze of lime juice. In my mouth, it was just perfectly balanced. The thickness of kingfish brings the rich flavour and the ponzu and lime  add a refreshing taste. Plus, yuzu pepper and thinly sliced leek gave a punch of flavour at the end. As soon as I finished one piece I wanted another, it is very addictive.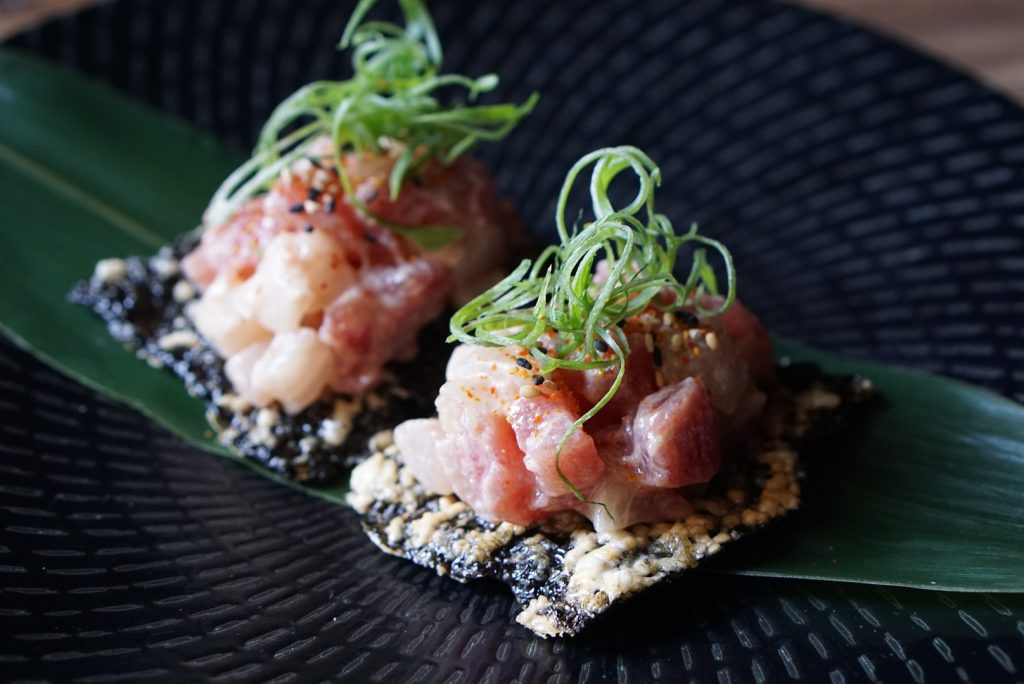 Nori crisps tuna & kingfish: jewel-like cubes of Marine Stewardship Certified tuna and kingfish are marinated in white soy and mirin, lifted with a touch of togarashi and served with green onion and a light sesame dressing. There are a variety of tacos lately. This taco, created by Neil Perry, took so many flavours comes from crispy nori and fresh seafood. Several textures are combined. Its easy to eat with 2 pieces each.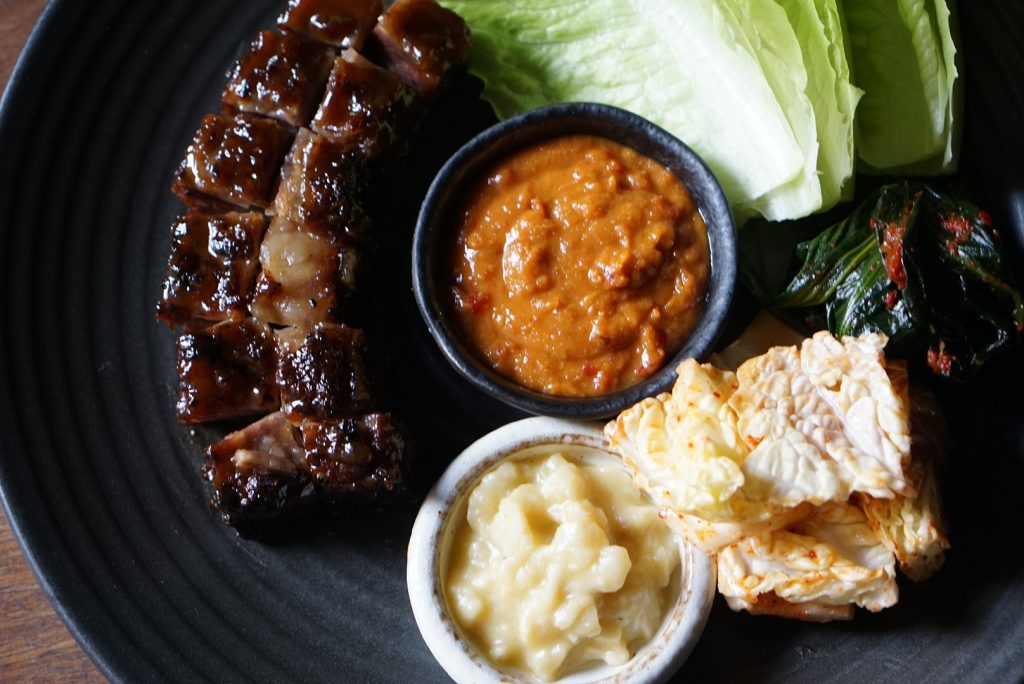 Cape Grim short rib bo ssam: a Japanese twist on a traditional Korean dish with the addition of red miso and chilli, and a smack of umami from dashi-simmered confit garlic. This cape grim beef from Tasmania shows good quality of food is essential for Neil's cooking.
There is no doubt all his new creations are a hit. The balance of the flavour and texture is just perfect, the best quality of produce which are chosen by Neil Perry over the country to combine into his dishes. He shows how much potential washoku has to showcase not only delicious flavours but also best freshness and his fusion highlights how well ingredients can be matched.
Sake has 5 venue: The Rocks and Double Bay in Sydney, Flinders Lane and Hamer Hall in Melbourne and Eagle Street Pier in Brisbane! Enjoy trying Neil Perry's washoku 🙂